Olive Oil Zucchini Layer Cake with Lemon Cream Cheese Buttercream Frosting
When you have extra zucchini, try this olive oil zucchini cake recipe. It's moist, flavorful and awesome to share.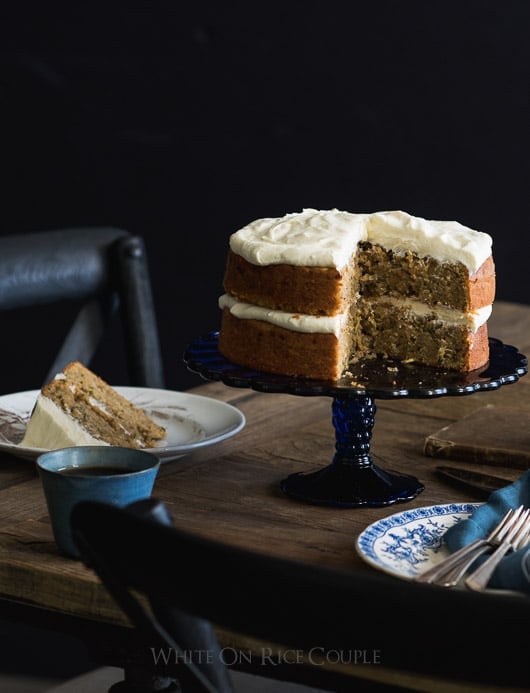 Easy Zucchini Cake Recipe
Let's talk cake. We've had some in-depth conversations about some of our favorite desserts and why they always make their way onto our table. Cake holds a very high rank on our list, but only if it fits a few criteria. Our expectations of cake are really quite simple which is why this layer cake you see above is our go-to cake, especially when we have a bountiful zucchini year.
The criteria? First and foremost, we like un-fussy cakes that don't need to look like they're going to win a beauty pageant. We can leave it to the folks on the Food Network shows. Our favorite cakes don't have to be pretty, they just have to be moist, with a tender crumb and flavorful. It's that simple, not too much to ask, right?
And for the frosting? Thumbs up to frostings that aren't too sweet. First bite into a cake is the frosting and if it's laden with sugar, we give up. In fact, we'll just give up completely and not make too much effort to finish. A simple frosting that is balanced with a bright citrus flavor and sweet like a ripe piece of fruit. Bingo, we're sold.
Loaded with Zucchini
Last Summer when we were developing and testing all our zucchini recipes for this forever-to-finish-magazine project, this cake was staring at us from all directions. We made so many of these cakes and it was hard to not hoard each one in the freezer. Instead, we shared it with friends and neighbors who all agreed that though it might not be the prettiest cake, it definitely hit all the criteria on why it was a winner: moist, tender and not too sweet. And best of all, it's quite easy to make.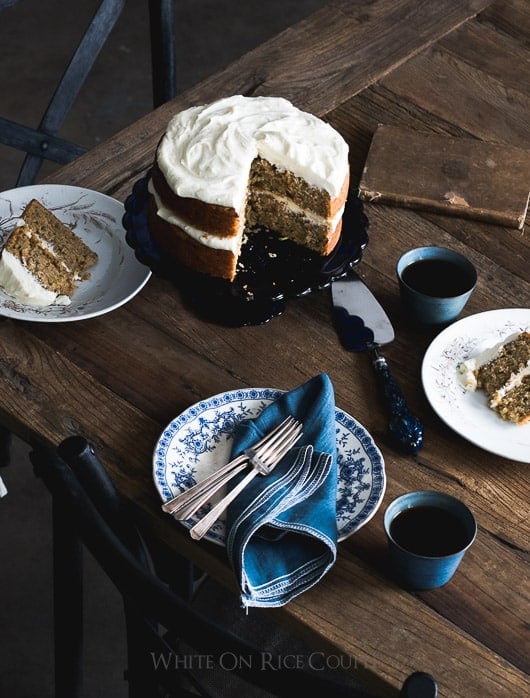 You'll be surprised what you can do with all your excess zucchini this Summer. If you're looking for an alternative to zucchini bread, go for this cake, layer on the frosting and devour it with a great cup of coffee. You'll appreciate our approach to good food without all the fuss.
Enjoy,
diane and todd
Here's our current Zucchini Recipe Collection. And more info about different zucchini varieties.
Olive Oil Zucchini Cake with Lemon Cream Cheese Buttercream Frosting
A cake that works for dinner and breakfast. Don't let any of it go to waste! The brightness and tartness of lemons can vary, so adjust the lemon to taste if needed.Makes one 8-inch cake.
Ingredients
Zucchini Cake Ingredients
1 pound (455g) zucchini , grated
3 cups (375g) all-purpose flour
1 1/2 teaspoons (8ml) baking powder
½ teaspoon (3ml) baking soda
1 1/2 teaspoons (8ml) ground cinnamon
1/2 teaspoon (3ml) fresh grated nutmeg
1/2 teaspoon (3ml) ground clove
1 teaspoon (5ml) kosher salt
4 large eggs
1 cup (220g) packed brown sugar
1 cup (200g) sugar
1 cup (240ml) olive oil
finely grated zest from 2 medium lemons
2 Tablespoons (30ml) fresh lemon juice
2 teaspoons (10ml) vanilla extract
Lemon Frosting Ingredients
12 ounces (340g) cream cheese , at room temperature
1/2 cup (113g or 1 stick) unsalted butter , at room temperature
2 1/2 cups (275g) confectioners sugar
finely grated zest from 1 medium lemon
2 Tablespoons fresh lemon juice
1/2 teaspoon vanilla extract
Instructions
Preheat oven to 350° F. Line the bottom of 2 eight-inch cake pans with parchment paper. Grease and flour the lined pans. Set aside.

Whisk together the flour, baking powder, baking soda, cinnamon, nutmeg, clove and salt. Set aside.

Beat together the eggs, brown sugar, sugar, olive oil, lemon zest, lemon juice, and vanilla extract. Fold in the flour mixture until no dry flour remains. Stir in the grated zucchini.

Divide the batter between the two prepared cake pans. Bake for 40-45 minutes, or until a toothpick comes out clean when inserted in the center. Allow to fully cool to room temperature.

Make the frosting: Beat the cream cheese and butter until smooth. Beat in the confectioner's sugar. Add the lemon zest, lemon juice, and vanilla extract and beat on high for about 3 minutes, or until light and fluffy.

Remove the cakes from the pans. Frost one layer of cake with half the frosting. Lay the other cake on top and frosting with remaining frosting.
Nutrition Information per Serving
Calories: 702kcal, Carbohydrates: 87g, Protein: 7g, Fat: 37g, Saturated Fat: 13g, Trans Fat: 1g, Cholesterol: 106mg, Sodium: 367mg, Potassium: 228mg, Fiber: 1g, Sugar: 61g, Vitamin A: 773IU, Vitamin C: 9mg, Calcium: 98mg, Iron: 2mg
We are a participant in the Amazon Services LLC Associates Program, an affiliate advertising program designed to provide a means for us to earn fees by linking to Amazon.com and affiliated sites.