Grilled Prawns with an Asian Citrus Garlic Butter – Al fresco Inspiration
We're obsessed with this grilled prawns recipe in citrus garlic butter. It's flavorful and amazing. But it's the bright citrus and asian inspired dip that makes it special with the grilled large shrimp.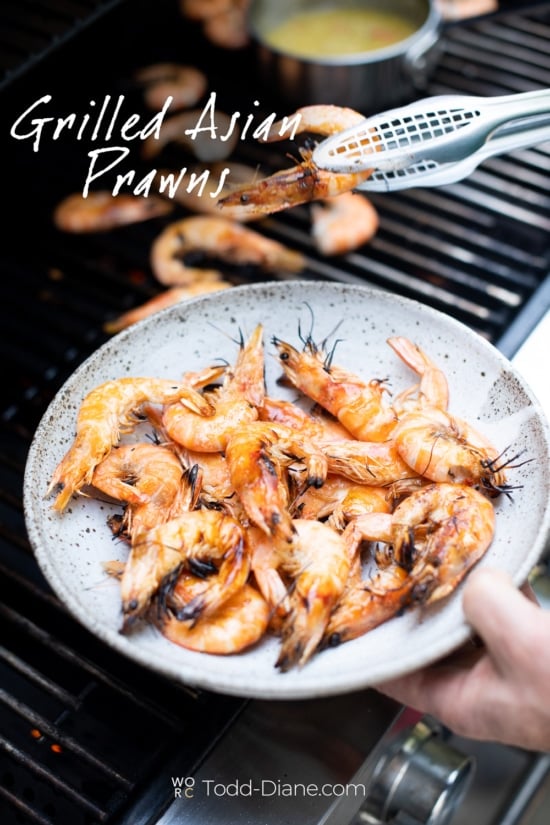 Grilled Prawns Recipe in Garlic Butter
A rare day off, the sun was out, and the air springtime warm. A day peacefully spent meddling about in the garden, harvesting the last of the sugar snap peas and planting tomatoes and veggies. Add a platter of these grilled prawns on the bbq or (grilled large shrimp) and it's a perfect day. As the sun was dropping, hunger set in and we needed something quick, delicious and al fresco. After a day like this, the only apropos ending would a meal licked by the flames of mesquite, so with the inspiration for some grilled prawns .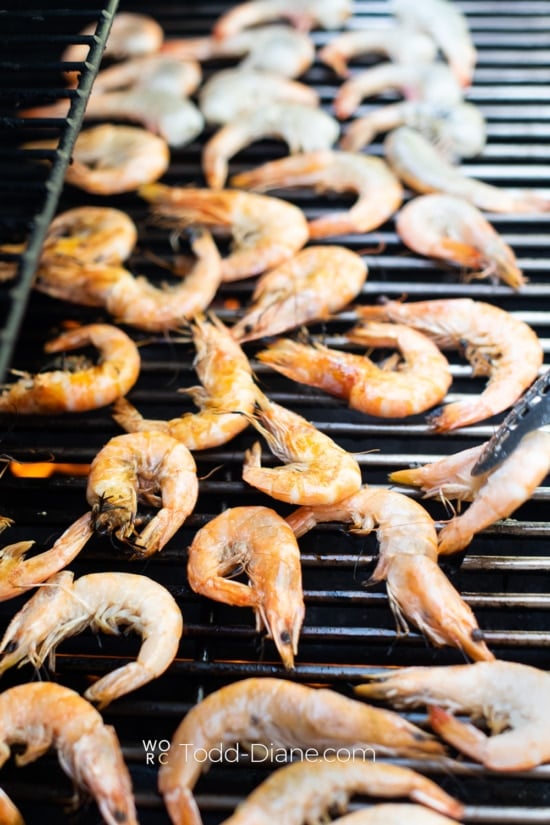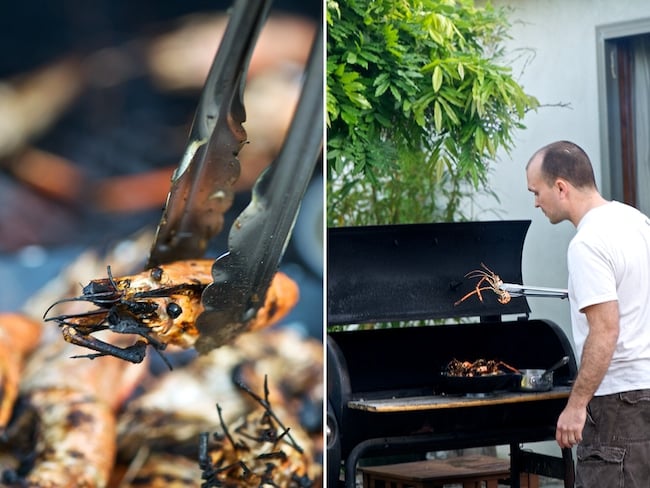 Video: Making the Grilled Prawn with an Asian Citrus Butter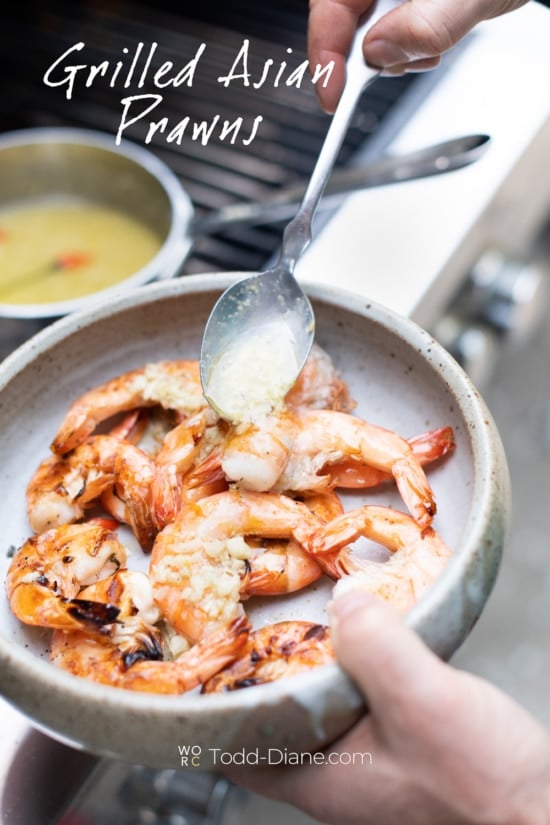 As the mesquite heated up to almost out-of-control hot, we let our noses and tongues guide the way in creating the garlic-butter sauce for the grilled prawns. Gently heating the butter with crushed garlic, adding a little bit of homegrown chilies for a touch of spice, dried yuzu zest for citrusy brightness (although any bright citrus would do), and nuoc mam (fish sauce) for umami and because it makes everything better. The prawns already have a great natural sweetness, so no need to add anything for that taste profile.
The freshwater prawns. were rolled through the garlic butter then sent to grill on the BBQ. With the coals' heat on the verge of an inferno, the slightest outburst of oil would ignite a prawn consuming flare-up. Playing it fast and loose, at moments of flare up, the grill lid would get closed just long enough to starve the flames to help everything settle down, then opened back up again to allow the coals their high-heat oxygen.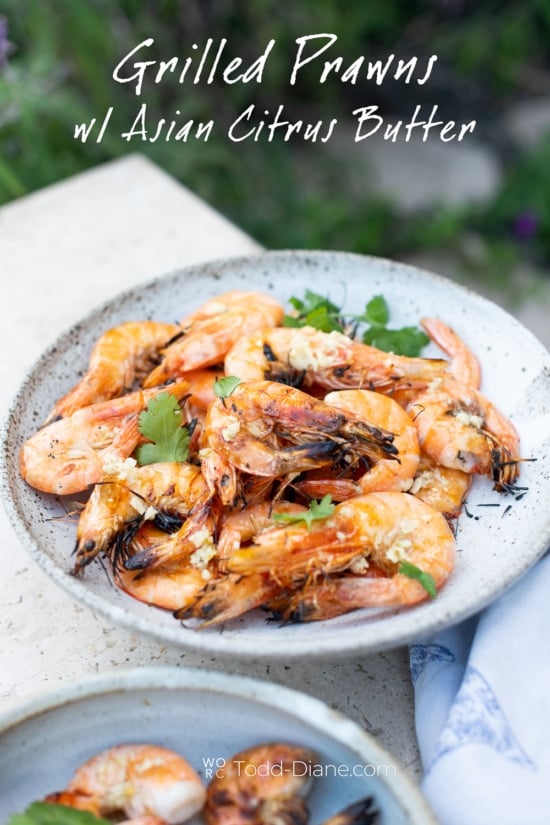 Dancing the line between perfect high heat grilling and flare up combustion, the prawns cooked quickly, charring bits of their extremities and at contact points with the grill. After retrieval with the long tongs, the prawns received a final dousing of the garlic butter, beers were opened, and dinner was served.
Some moments and meals in life are perfect due to their simplicity and spontaneity. It wasn't trying to be a perfect moment. It just was.
As the al fresco opportunities become abundant, let the open air inspire your senses and cook without inhibitions. You may just create a perfect meal. Hope you enjoy these grilled large shrimp or prawns.
-Todd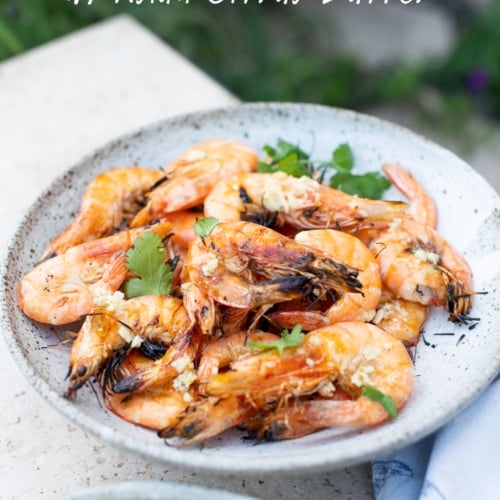 Grilled Prawns with Asian Citrus Garlic Butter
The ingredients are approximations since this dish was quickly put together. The recipe is simple and quick. Use your senses as a guide to develop the flavors you love. You can also increase the garlic butter ingredients to make extra for dipping the grilled prawns into while eating.
Ingredients
2 lbs. (907 g) Freshwater Prawns (or large head-less shrimp)
2 Tablespoons (30 ml) Grapeseed oil (or other high-flash point oil)
1/2 cup (1 stick or 115g) unsalted Butter
6 cloves Garlic , crushed
1 chopped or crushed thai chili , optional for spicy version
2 teaspoons (5 ml) Fish Sauce , or soy sauce
1 teaspoons (5 ml) citrus zest of 1 medium lemon , or 1 lime
1 Tablespoon fresh lemon or lime juice
1/2 teaspoon salt , or to taste
1/4 teaspoon fresh cracked black pepper , or to taste
1 Tablespoons chopped green onion
lemon or lime wedges , for serving
Instructions
Make the Citrus Garlic Butter Sauce: Heat butter over low to med.-low heat. Add garlic, crushed chili, and fish sauce (or soy sauce) and gently cook for about 1 minute. Remove from heat then add citrus zest, juice, salt and pepper. Set sauce aside.

Heat your grill for high heat, direct grilling. *Grilling note - if using charcoal, natural lump charcoal with cook hotter than briquettes. Competition briquettes hotter than regular briquettes.

Rinse prawns and place in a large bowl. Coat with oil and season with about 1 teaspoon salt over prawns.

Give grill grate one last cleaning scrape, oil grate, and put prawns over direct heat. Grill for about 3-5 minutes or until cooked through, turning at least once. (If you have a flare up, close lid for a minute or so to starve flames of oxygen. Open lid back up to allow coals to stay very hot. If the flare ups are persistent, squirt coals with a little water to tame them. You want to try and keep the coals as hot as you can without having live flames charcoal the outsides of the prawns.)

When prawns are just cooked through, remove from grill and place in a large serving bowl/platter. Pour about half of the citrus garlic butter sauce over the prawns. Reserve the remainder of the sauce for dipping.

Add some minced green onion and slices of lemon/lime for serving.
Nutrition Information per Serving
Calories: 414kcal, Carbohydrates: 6g, Protein: 47g, Fat: 22g, Saturated Fat: 8g, Trans Fat: 1g, Cholesterol: 602mg, Sodium: 1983mg, Potassium: 244mg, Fiber: 1g, Sugar: 4g, Vitamin A: 462IU, Vitamin C: 27mg, Calcium: 343mg, Iron: 5mg
This recipe was originally published in 2010 and was updated in 2021.
We are a participant in the Amazon Services LLC Associates Program, an affiliate advertising program designed to provide a means for us to earn fees by linking to Amazon.com and affiliated sites.