Fish Soft Tacos with Zucchini Soft Taco Shells or Zucchini "Tortillas"
Here's our fish taco version with our zucchini soft taco shells recipe or zucchini tortillas. Click Here for the Original Zucchini Tortillas Recipe.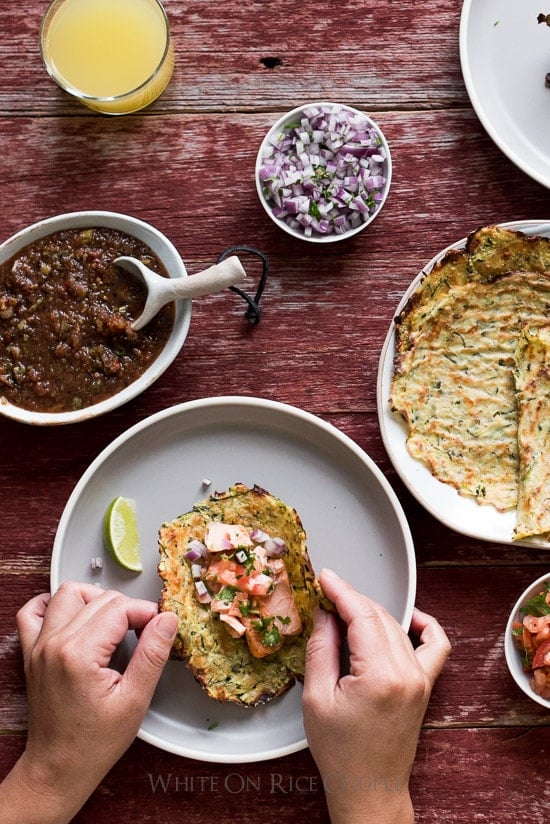 Sometimes you just gotta experiment and take chances in the kitchen. We always are taking chances with new recipes, original ideas and these low carb zucchini "tortillas" are one of our surprise successes. Last week we shared our zucchini "soft" taco shells recipe or wraps made from grated zucchini and to our surprise, it was a huge hit on our Facebook page. Everyone seems to love zucchini soft taco shells or zucchini tortillas and changing it up from the more common cauliflower crusts. And it's the perfect time of year too as we're in the peak of Summer zucchini season.
Watch the Video Making the Zucchini Soft Taco Shells:
As promised, here's one of our zucchini soft taco shells or tortilla taco recipe that we developed last Summer for our magazine project. This recipe doesn't get much easier than this and it's completely flexible to adapt to what ever filling you want. Fish tacos are always a favorite to serve both at home and at the studio for clients. Rarely does anyone ever "not like" a fish taco unless they're vegetarian. Even those who say they don't like seafood, usually have a change of heart (and appetite) when they taste one of these.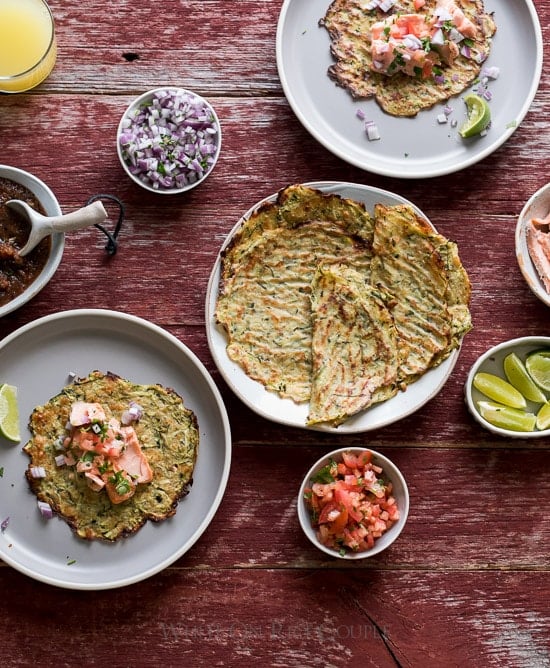 RECIPE: Simply put, add any of your favorite taco fillings with all the toppings and you have a very unique taco spread. It's definitely not traditional, but we've been known to break some food rules so it's right up our alley. Even beyond the taco, these zucchini "wraps" can be filled with other veggies and hummus to make a fabulous hummus wrap. It's that easy of a fish taco recipe with our soft taco zucchini shells!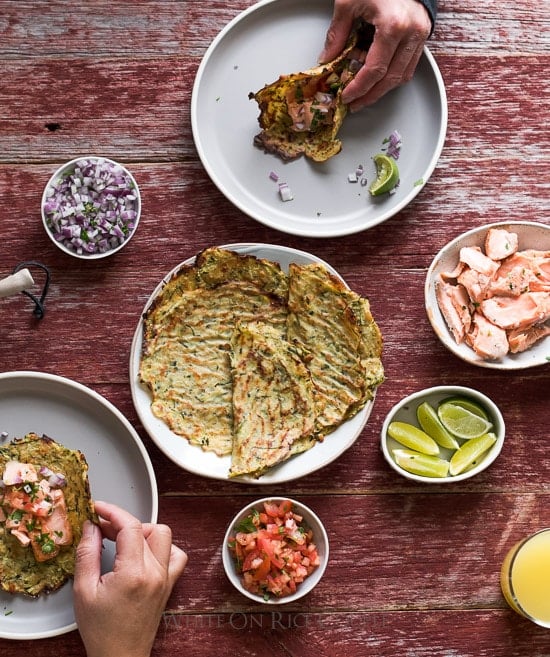 When Summer is bountiful with zucchini, this is one fun way to use up all the excess. Our garden summer squash are doing well and when we get more heat this Summer, they'll grow like monsters before we know it. The weather here in Southern California has been a bit odd, as it's been super humid filled with thunderstorms all weekend. Believe us, it's a wonderful welcome of water to our drought-laden landscape. Some folks might be complaining about July rain, but for the most of us, we're all cheering away and dancing to the tunes of water filled clouds and refreshing water from the sky.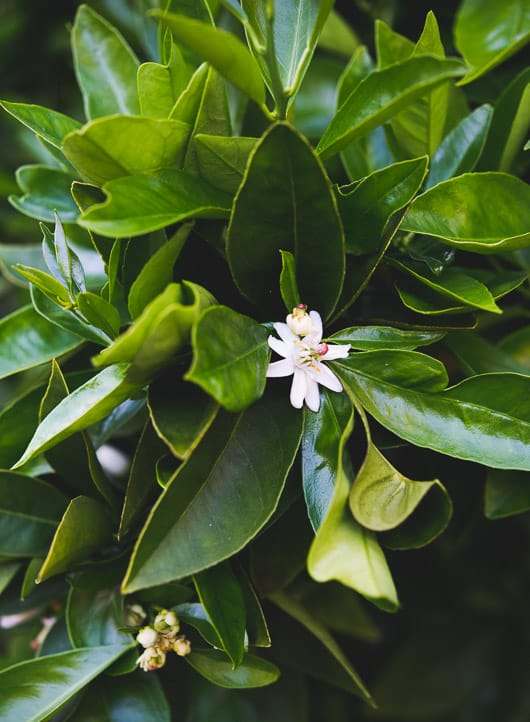 Orange and tomato blossoms love all this wonderful July rain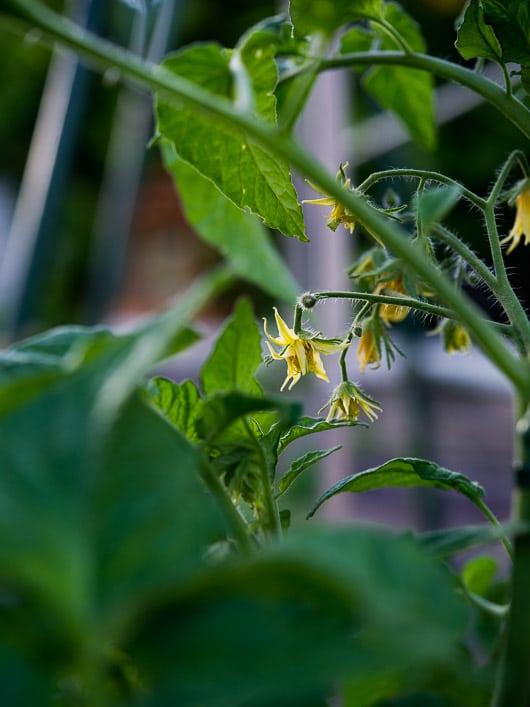 Summer is awesome and hope you're all making the most of this wonderful season!
-Diane and Todd
Here's our current Zucchini Recipe Collection.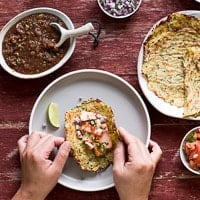 Fish Soft Tacos and Low Carb Zucchini "Tortillas"
Even beyond the taco, these zucchini "wraps" can be filled with other veggies and hummus to make a fabulous hummus wrap. Here is the recipe link for the Zucchini Soft Taco "Tortillas" .
Ingredients
Fish ingredients
1 pound tilapia , salmon, or your favorite fish, cut into 2-inch pieces
2 tablespoons (30ml) olive oil
¼ teaspoon paprika
¼ teaspoon chile powder
¼ teaspoon ground cumin
2 cloves garlic , minced or crushed
kosher or sea salt , to taste
Taco assembly
cheese
thinly sliced cabbage or lettuce
salsa , guacamole, sour cream, and/or cilantro
Instructions
Add all fish ingredients in a medium bowl (fish pieces, olive oil, paprika, chile powder, cumin, garlic, and salt). Combine well to coat all pieces of fish with marinade.

Heat medium skillet on medium-high heat. Place pieces of fish on pan and cook on all sides till fish is tender and cooked through, about 3-7 minutes, depending on the type of fish.

After zucchini soft taco shells are cooked and cooked, gently peel them off the parchment paper. Fill each soft taco shell with fish and taco condiments.
Nutrition Information per Serving
Calories: 280kcal, Carbohydrates: 6g, Protein: 30g, Fat: 14g, Saturated Fat: 4g, Polyunsaturated Fat: 1g, Monounsaturated Fat: 6g, Cholesterol: 99mg, Sodium: 365mg, Potassium: 608mg, Fiber: 1g, Sugar: 2g, Vitamin A: 180IU, Vitamin C: 4mg, Calcium: 182mg, Iron: 1mg
We are a participant in the Amazon Services LLC Associates Program, an affiliate advertising program designed to provide a means for us to earn fees by linking to Amazon.com and affiliated sites.