Grilled Green Tomatoes, An Accidental Dish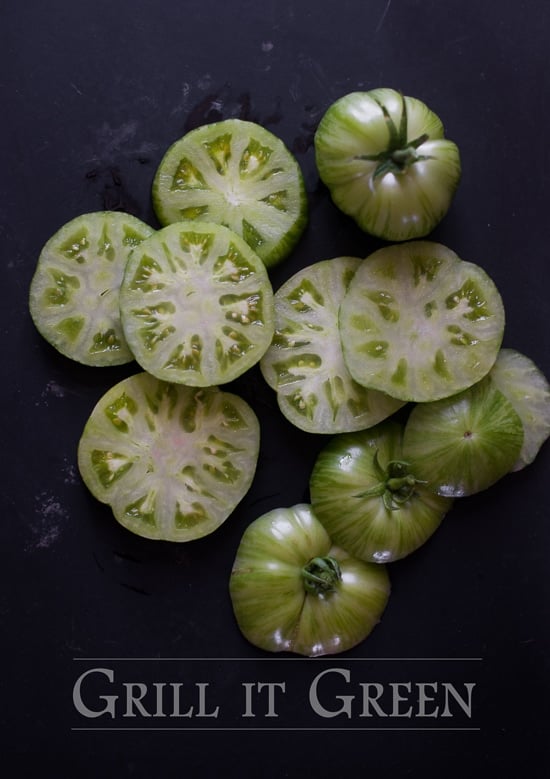 It's always an accident. At some point during my garden duties of tying up the tomato vines on the trellis, I inevitably bump a healthy green tomato and watch it fall to the ground. Darn it. There's nothing more frustrating than to watch a beautiful heirloom tomato grow to it's perfect shape and never see it to it's full ripened stage. My clumsy hands somehow manage to break tender vines that are laden with tomato flowers and accidentally bump green tomatoes off the plants. It's for reasons like these that Todd and I find the excuse to grow about twenty heirloom tomatoes because not only are we "slightly" obsessed, but also to balance out all the green tomatoes that fall to the ground.
I've pickled many-a-green tomatoes and Todd has churned out several batches of fried green tomatoes. But this afternoon, after staring at two beautiful green heirlooms that bumped to the ground, I decided to do something different. My motto for lunch was : Grill-it-Green.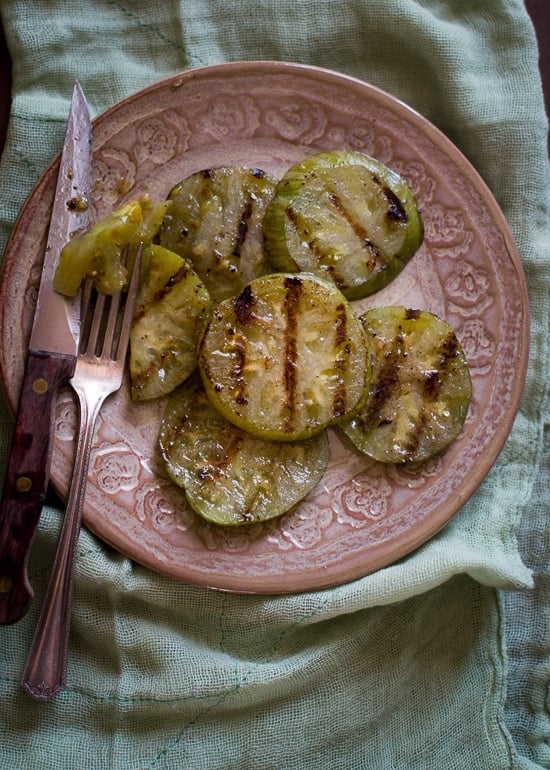 The grill was heating up for a Vietnamese pork lunch and with some leftover marinade, I decided to to just lather the slices of green tomato in the sauce and throw it on the grill. What did I have to lose? If I didn't like the taste of it, at least I tried to make use of fallen green fruit. My marinade was simple and garlicky and if it was good enough for pork, I felt that it would be good enough for two humble and plump green tomatoes.
Oh my. Why didn't I grill green tomatoes before? Why oh why did this just come into my life now?
Every bite was a delicious surprise. I wasn't really expecting much out of this last minute dish. Because I'm so partial to pickled green tomatoes, I didn't think any other green tomato variation was better. Boy, was I wrong and Todd and I ate every single slice on our plates. The combination of a savory marinade combined with the char of the bbq equals perfection on a green tomato.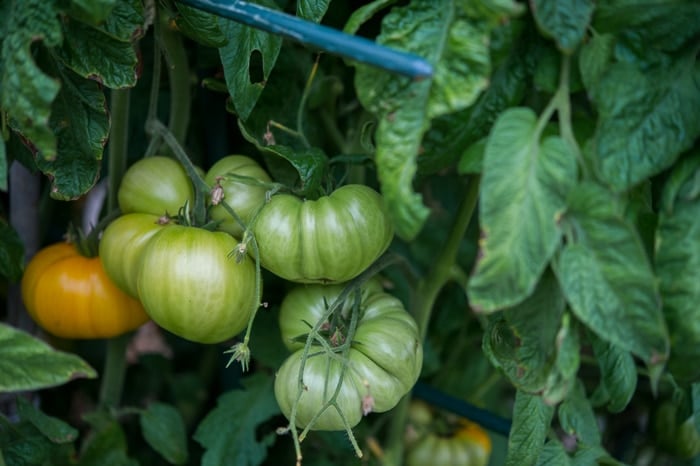 Grilled green tomatoes are a wonderful Summer dish to add to burgers, salads or even just as a side dish. I'm excited to just try a slice of grilled green tomatoes on my next burger. Now that, is a dish that's on my next party menu.
Grilled green tomato salad with feta cheese and herbs? Grilled green tomato grilled cheese sandwiches? Grilled green tomato chutney? Grilled green tomato caprese?
My mind is already churning like mad for all the possibilities for green tomatoes. And you know what that means? Having to "bump" a few more green tomatoes off their vines. Ooooops. Darn it.
hugs,
diane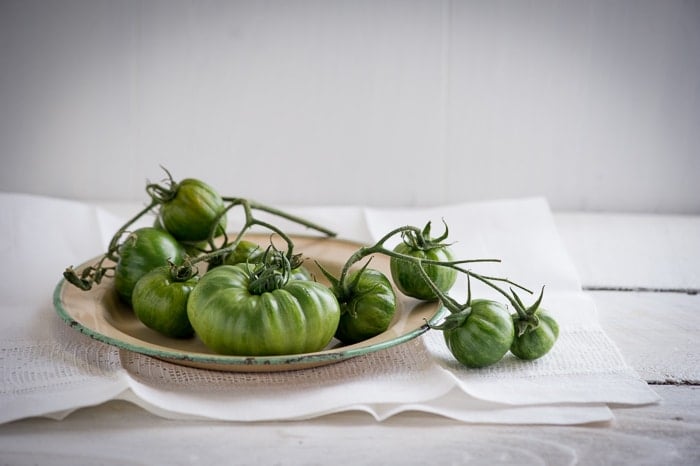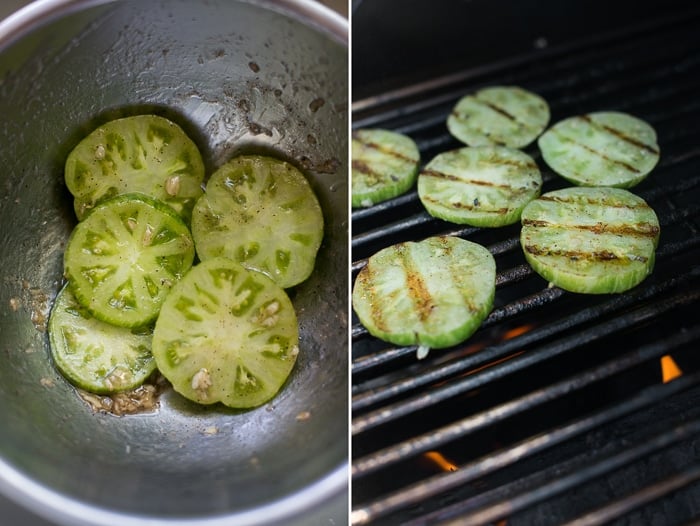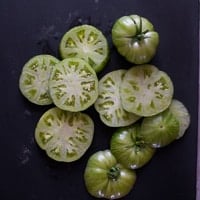 Grilled Green Tomatoes
Cook the tomatoes to the texture that you like. I don't like them too soft. I usually grill them to where they still hold their shape and not falling apart. How thick you cut your tomatoes will determine how long they will cook
Ingredients
About 2 pounds of green tomatoes
1/3 cup cooking oil , such as grape seed oil or olive oil
3 cloves garlic , minced
1 teaspoon brown sugar
1 1/2 Tablespoons fish sauce or soy sauce or Worcestershire sauce (Use Tamari for gluten free)
fresh cracked black pepper to taste
Directions
Heat grill and slice green tomatoes about 1/4 inch thick.

In medium bowl, combine oil, garlic, brown sugar, black pepper and fish sauce (or soy sauce or Worcestershire)

Add green tomatoes slices to bowl and evenly coat all the slices with the marinade.

Grill each side of the tomato until your desired texture (about 2-4 minutes on each side). How thick you slice your tomato will determine how long it cooks.

Serve as a side dish, on burgers or chopped in a salad
Did you make this recipe?
Let us know what you think!
Leave a Comment or share a photo on Instagram with the hashtag #whiteonricecouple.
We are a participant in the Amazon Services LLC Associates Program, an affiliate advertising program designed to provide a means for us to earn fees by linking to Amazon.com and affiliated sites.