Diane's Vietnamese Fried Chicken
Our Vietnamese fried chicken recipe is a family recipe and story that brings back fond food memories.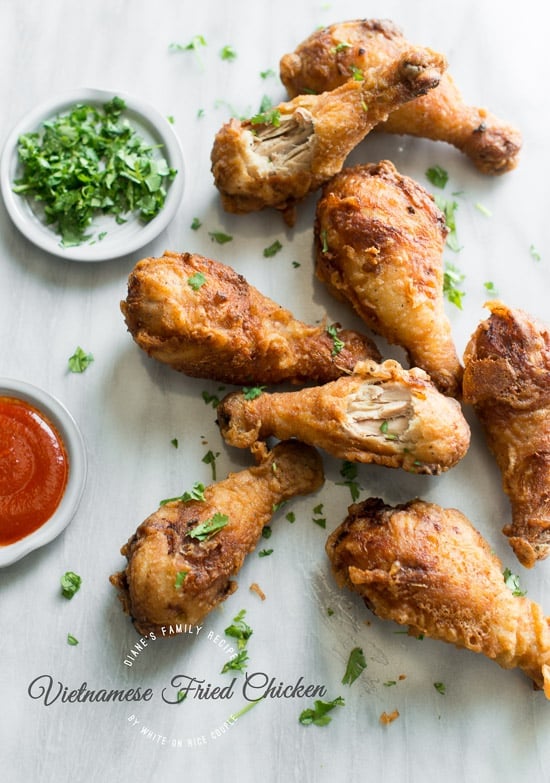 Easy Vietnamese Fried Chicken Recipe
When my 5 younger siblings and I were growing up, we were addicted to American food in the craziest of ways. Mom and Dad always had their garden fresh soups, healthy fish and vegetable dishes. But we wanted to eat what the Teenage Mutant Nina Turtles ate, which was pizza and more pizza. We always felt so deprived when we couldn't eat mutant ninja turtle-style. Another evening of fresh homemade dinner was like six kids being force-fed mashed greens (or insert your most terrifying food as a kid).
Second on our most favorite American-food dishes were hamburgers, and in third place was fried chicken. Oh, fried chicken. The kind that KFC served in the bucket or Popeye's served when we were lucky enough to drive through for lunch on our way to visit Auntie in Reno, Nevada. Those fried chicken dinners were rare, but glorious to an always-hungry thirteen year old.
Though we couldn't afford to eat out often, my parents tried their best to accommodate our American food cravings. They themselves loved fried chicken and especially coleslaw. There was just something so special about coleslaw for them. We didn't care, as long as we could each have a drumstick (or three), Mom and Dad can order what ever they wanted.
Video of this Crispy, Delicious Vietnamese Fried Chicken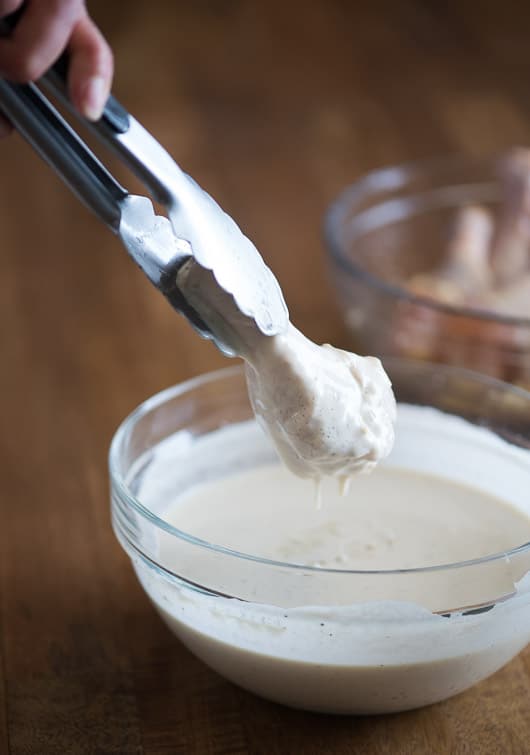 My Family Recipe and Technique
So when Mom and Dad were hungry for fried chicken, they made it at home. Oh boy. American fried chicken made by Mom and Dad? I'm proud to say that it was delicious. Different, but delicious. What made their fried chicken so different was that they had no idea how KFC got that crispy outside crust. They've never battered chicken with flour before, so in their kitchen experiments, they figured out that Colonel Sanders must have used some type of wet flour batter. After a few tries, they had their variation of a Vietnamese-style American fried chicken that was delicious and to die for.
Love their hearts and effort. They tried to please us American-food-hungry kids and ended up with a fabulous Vietnamese version of fried chicken.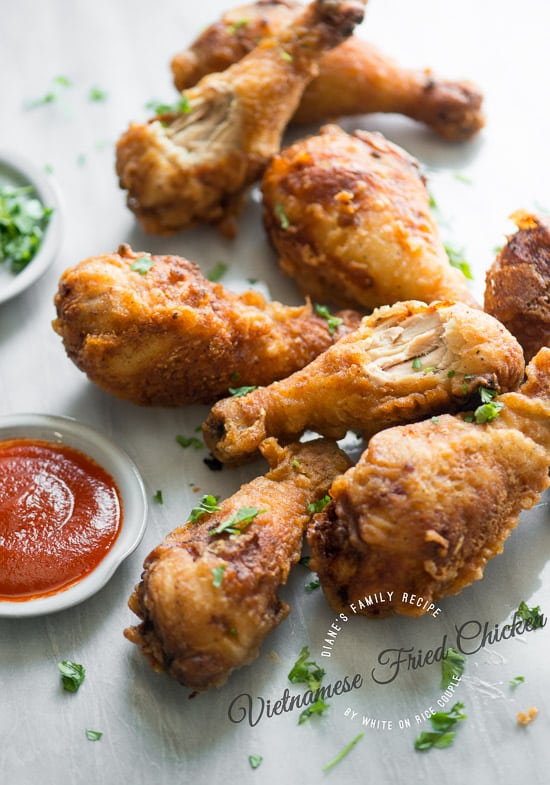 Mom and Dad's marinade of fish sauce is what gives this fried chicken a kick-up savory flavor and over the years, I've added garlic and sometimes a few other simple spices. The flour crust itself is their concoction or "guess" as to what KFC and Popeye's chicken used. My parents' version of the chicken is dipped in a wet flour mixture and then fried to a beautiful crispy brown. Their Vietnamese fried chicken crust is light and crispy on the outside and super juicy and flavorful on the inside.
I've shared images of this Vietnamese fried chicken online many times and so many of you have asked for the recipe. Well, here it is and I can't take credit for all of it. So when you make this and take a bite out of this amazing Vietnamese fried chicken, please think of Mom and Dad!
enjoy,
diane
Recipe was originally published in 2014 and was updated with a new video in 2019.
Here's another great fried chicken recipe with buttermilk. The crust is amazing too.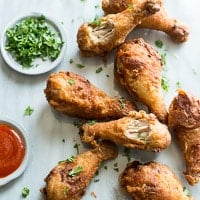 Diane's Vietnamese Fried Chicken Recipe
The great flavor from this marinade comes from the fish sauce. If you're still new to fish sauce, don't be afraid of it. Use less if you want to, but don't replace it. The magical flavor is what makes this chicken so great. And the wet flour mixture gives a nice and fluffy outside crunch.
Ingredients
3 pounds chicken drumsticks or thighs , skin-on and bone-in
For the marinade:
1/4 cup vegetable oil (60ml)
1/4 cup fish sauce (60ml)
1 Tablespoon Brown Sugar (15g)
1 Tablespoon rice vinegar (15ml)
4-5 large cloves garlic , finely minced or crushed
1/2 teaspoon fresh ground black pepper
For frying:
1 1/4 cups all-purpose flour (170g)
1 teaspoon baking powder (5ml)
1.5 cups cold water (360ml) , about
Oil for frying
Instructions
Make the marinade: In large bowl, combine the vegetable oil, fish sauce, brown sugar, rice vinegar, garlic and black pepper. Set aside.

Rinse the chicken and pat it dry. Add the chicken to the marinade and gently toss the chicken in to get it coated evenly. Marinate the chicken for at least 1 hour (2-3 hours preferred) so the chicken can soak up all the flavor. Gently stir up the chicken in the marinade at least twice during the 1-3 hours so that all the pieces of chicken get an even soak in the marinade.

Make the flour coating: In a large bowl, combine the flour and baking powder. Slowly add the cold water and whisk to combine. Start with about 1.5 cups and add more if needed. Break up any clumps of flour so that the mixture is smooth. What you want to get is a thick and moist flour mixture that will cling to the chicken. Please see reference photo on the post.

Heat a large frying pan or Dutch oven. Fill the pan or Dutch oven with oil about 1-inch deep. Heat the oil to 350-375°F.

Gently remove the chicken from the marinade and let the excess drip off. Dip the chicken in to the wet flour mixture. Allow excess to drip off and place the chicken in the hot oil.

Cooking in small batches, fry the chicken on both sides until crispy and cooked through, about 10-15 minutes. Don't crowd the chicken.

Garnish with minced cilantro (optional). Serve warm with hot sauce and/or rice.
Nutrition Information per Serving
Calories: 411kcal, Carbohydrates: 19g, Protein: 30g, Fat: 23g, Saturated Fat: 11g, Cholesterol: 140mg, Sodium: 922mg, Potassium: 464mg, Fiber: 1g, Sugar: 2g, Vitamin A: 70IU, Vitamin C: 1mg, Calcium: 57mg, Iron: 2mg
We are a participant in the Amazon Services LLC Associates Program, an affiliate advertising program designed to provide a means for us to earn fees by linking to Amazon.com and affiliated sites.