Sweet Chili Garlic Extra Spicy Asian Crispy Chicken Wings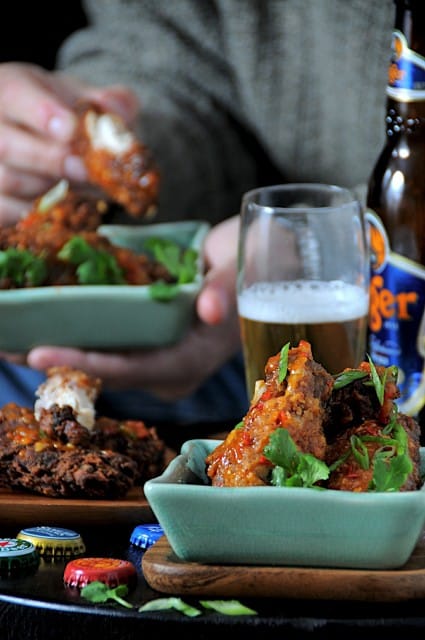 Tis' the season for appetizers, delicious and flavorful small bites that we never, ever get tired of. When the jolly and hectic holidays arrive, we're in a non stop dinner party mode, which can be either jolly or hectic. Between our weekly gathering of friends, family, neighbors and staff, thinking about what to serve small to medium to large groups every time can be very time consuming.
Appetizers are our tried and true dishes that are easy to make and easy to please. Having a few plates of appetizers out, a couple of cocktails, great conversation and roaring music can quickly fill up our guests and distract them from thinking that they need a full meal. Often times, we ourselves, can eat a plate appetizers and call it a dinner! Who doesn't love appetizers? Who can't live off appetizers? At a hectic party, just munching and boozing is perfectly legal and satisfying.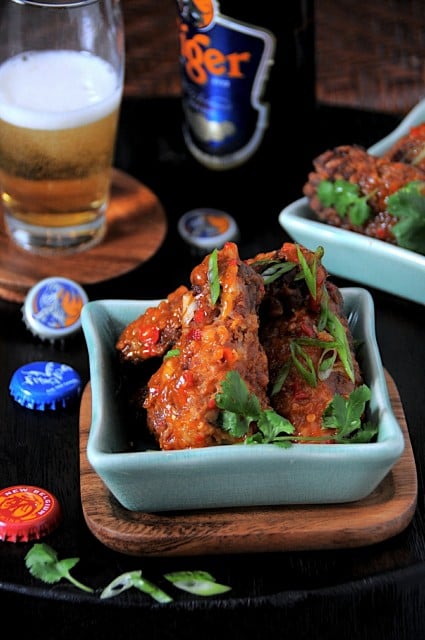 Extra Spicy Chicken Wing Sauce for the Fearless
We love our appetizers, especially these crispy chicken wings with an spicy/sweet Asian sauce…yum, yum, yum. Give us a big plate of these crispy asian chicken wings, a couple of beers each and our bellies are happy.
And that's just two of us! If we make this for our gang of brothers and their friends, we're looking at making maybe, at least, 20 pounds of  crispy chicken wings? How many kegs of beers? Brothers, if you're reading this, we'll provide the crispy chicken wings, YOU GUYS provide the beer! These crispy chicken wings are addicting not only because of the sauce that it's tossed in, but because they're fried to a gold crisp.
Every bite is slightly crunchy from the flour batter, the chicken meat is juicy down to the bone and the  sweet/spicy sauce is finger biting good. When we made these, we ate them so quick and had to force ourselves to stop so that we can take the pictures. Getting our fingers all wrapped up with chicken wings glistening with sweet/spicy sauce  makes it really, really hard to want to wash our hands, grab the camera and play photographer.
Oh, yes, we forgot. We have a food blog and we must….take…a picture… Interrupting a feast of crispy chicken wings for a picture took a little persuasion, but had to have something to show everyone how fun it is to eat with your hands and drink lots of beer. The only way to enjoy chicken wings, hot wings, or buffalo wings (what ever you want to call them) is with cold beer. That's our pairing for this dish, just some good beer of your choice to wash it all down with.
Fry these chicken wings up ahead of time if you wish and they'll still stay crispy. Right before you serve them, just top them of with the chicken wing sauce and top with some fresh scallions and cilantro. Definitely customize the sauce to your spice level too. Hook the chicken wings up with some extra heat and you will be rewarded with great flavors!
-diane and todd 
Here's all our Chicken Wings Recipes if you're hungry for more or something less spicy.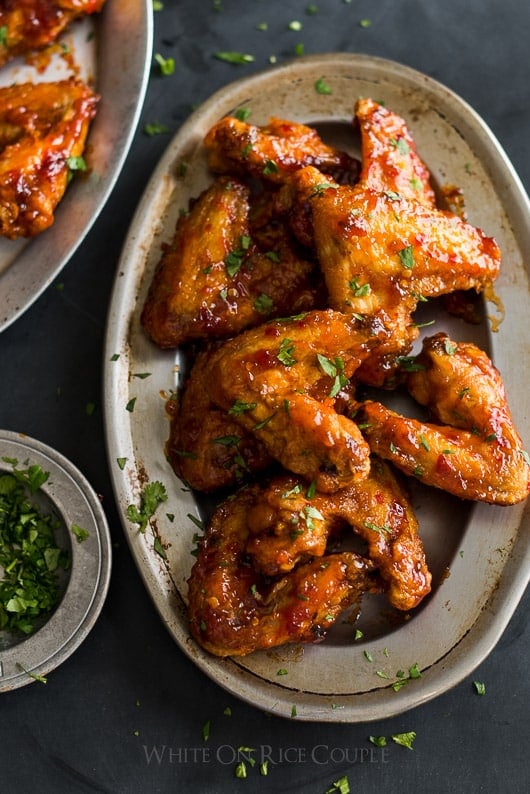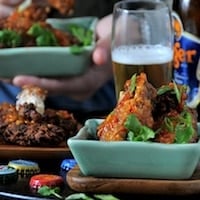 Sweet and Extra Spicy Crispy Asian Chicken Wings
Chicken wings can be prepared in different ways to achieve their crispness: fried or baked, with flour or not. Visit this write up on different ways to prepare chicken wings. This recipe shows a baked technique, but you can certainly fry them in oil or air fry them for a crispier wing.
Ingredients
Chicken Wings
2 pounds chicken wings , rinsed and patted dry
salt , to taste
black pepper, , to taste
Sweet-Spicy Chili Sauce
1 Tablespoon cornstarch
1 Tablespoon water
1 Tablespoon oil
2 cloves garlic , finely minced
1 cup water
1 Tablespoon sugar
1/2 teaspoon salt
2 Tablespoons fish sauce or soy sauce (We highly recommend fish sauce)
3 Tablespoons garlic chili sauce , tabasco sauce, or sriracha sauce. OR about 2 finely minced thai chilis. Use a little less of these if you want it more mild, or use more if you want it extra spicy!
1 Tablespoon vinegar
lots of fresh ground black pepper to taste
Directions
For the Sweet Spicy Chili Sauce: In small bowl, combine cornstarch and about 1 Tablespoon of water until mixture becomes  watery, almost milky consistency. Combine well to break apart any cornstarch lumps, then set aside.

Heat saucepan on medium-high heat, then add oil and garlic. Cook until it becomes slightly golden, about 30 seconds-1 minute. Add 1 cup of water, sugar, salt, fish sauce, garlic chili sauce, vinegar, and black pepper. Combine well and allow to slowly come to boil. Once mixture comes to a boil, immediately reduce heat to low simmer.

Slowly add the cornstarch/water mixture until it becomes thick enough to allow sauce to cling to wings.

Cook the Wings: Preheat oven to 425° F. Line a baking sheet pan with parchment paper.

On prepared baking sheet pan, spread chicken wings out in one even layer (we don't coat our wings with oil before baking, but you can if you want. We find that the oil just makes the wings greasier. The wings release enough fat already). Season chicken wings with salt and pepper.

Bake for about 45-50 minutes until golden brown, flipping the wings halfway through baking, after the first 25 minutes or so.

In a bowl, add cooked chicken wings and toss with chili sauce. Top with some sliced green onion and/or cilantro.
Recipe Notes
Crispy Wing Alternate Cooking Methods
Traditional Fry in Oil (uses about 1/2-3/4 cup of cornstarch to coat wings).
Toss the wings in cornstarch to coat, shaking off excess cornstarch. 
Heat about 2-inches of oil in a large pot to 375°F. Fry in batches for about 8 minutes per batch, or until golden and cooked through. Make sure to turn the wings a couple times while cooking so they cook evenly. Season with salt & pepper.
Air Fryer Chicken Wings
(here's our favorite
Air Fryer
)
Season wings with salt & pepper. 
Air Fry at 400°F for 25-30 minutes, flipping 2-3 times while cooking.
Toss with a little sauce, and then air fry for another 2-4 minutes. Different models and sizes of air fryers cook quicker than others. So adjust times accordingly. 
Did you make this recipe?
Let us know what you think!
Leave a Comment or share a photo on Instagram with the hashtag #whiteonricecouple.
We are a participant in the Amazon Services LLC Associates Program, an affiliate advertising program designed to provide a means for us to earn fees by linking to Amazon.com and affiliated sites.