Pitcher Pineapple Margaritas
Ready for a party? Our pitcher pineapple margaritas are party perfect! Make your life easier by making a big batch to serve instead of single serving cocktails. This pineapple margarita pitcher recipe is so good and will be your go-to party cocktail.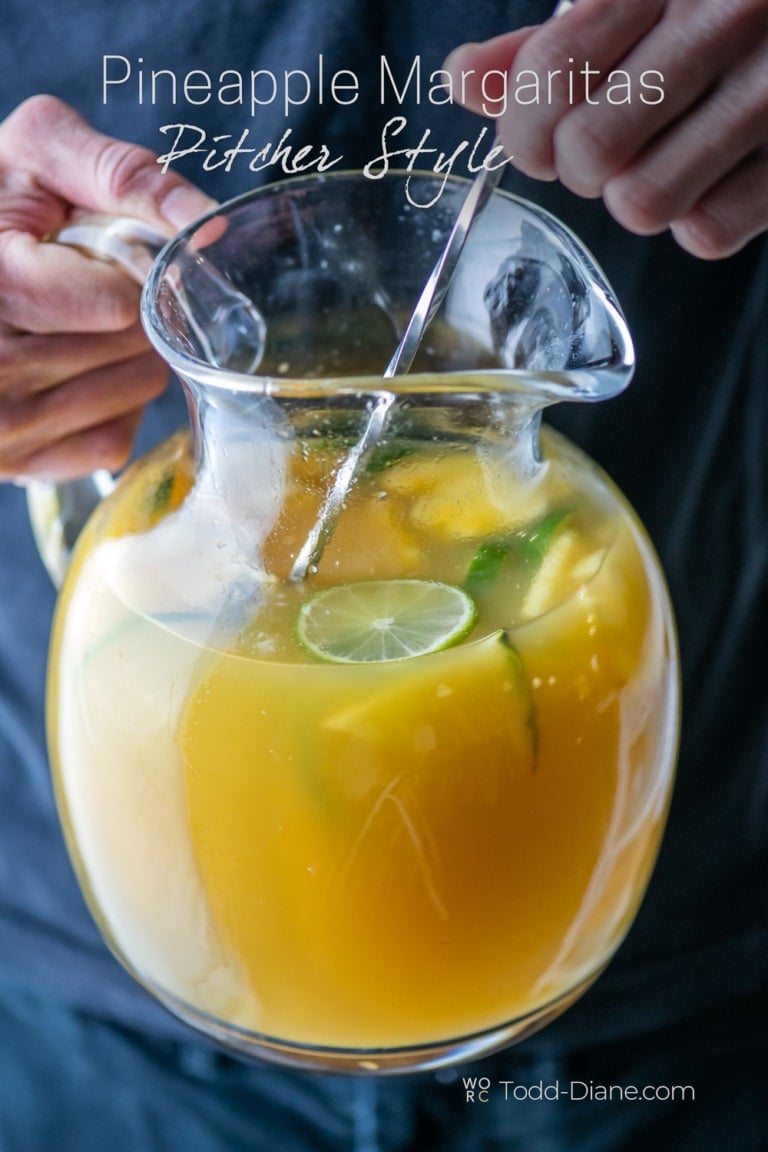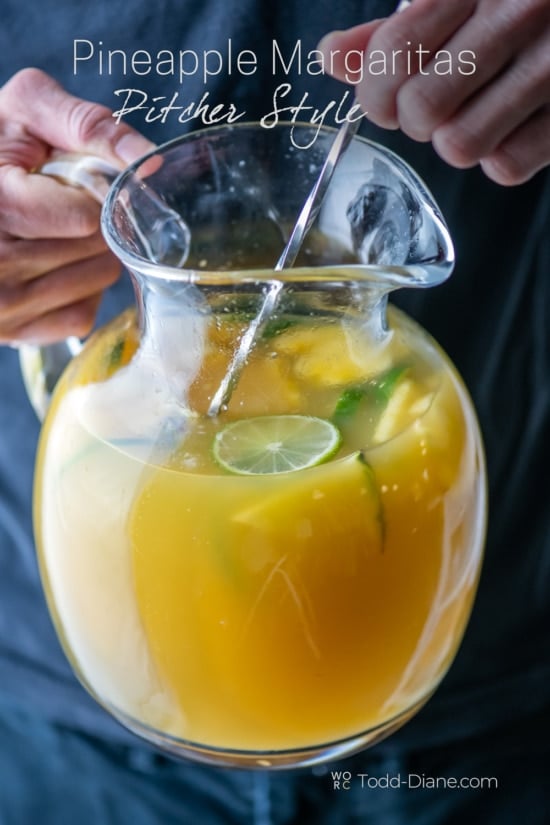 Easy Pitcher Pineapple Margaritas
When we're having a big party, it's really hard to make single cocktails for guests. We save those customized bespoke drinks for smaller, intimate dinner parties. But when it's all about fun in the sun and outdoor gatherings, pitcher cocktail recipes are our go-to option. These pineapple margaritas are simple to mix in one big pitcher, chill, then serve when guests arrive. That way, we can spend more time enjoying the party and catching up to everyones lives rather than shaking cocktails all day long.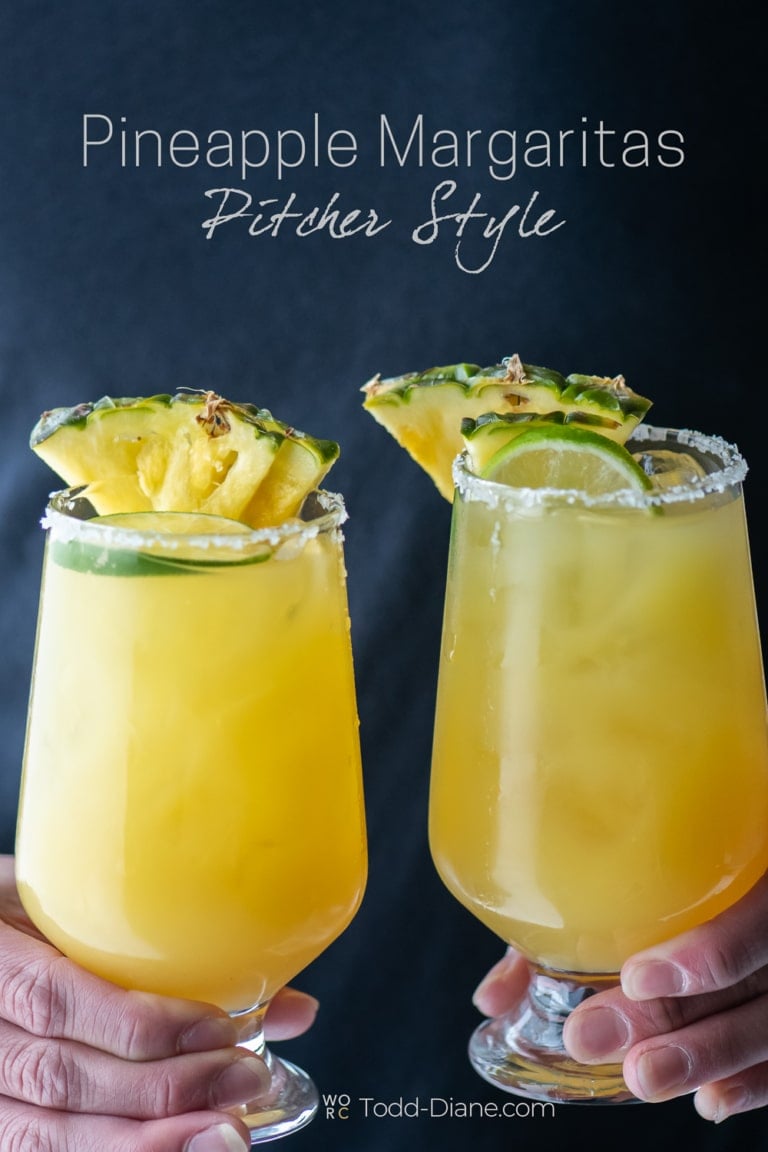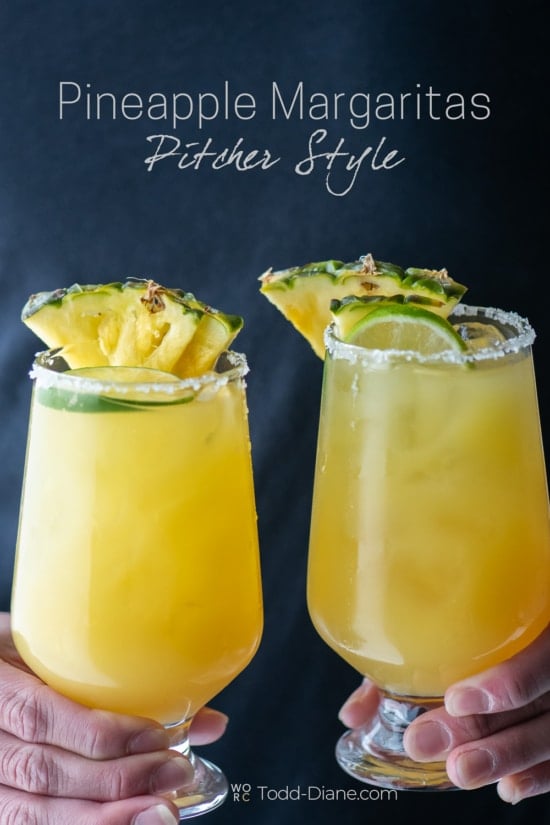 Video: Pitcher Pineapple Margaritas Recipe
Frozen, Canned, Jarred or Fresh Pineapple Juice?
There's different styles for pineapple juice for our pitcher margarita recipe. We've tried so many different options and they are all delicious. Fresh pineapple juice is our favorite but is so much more time consuming and can be more expensive than buying many of the bottled/canned pineapple juices. But if you find a nice sale on pineapples and if you've got the time, then go for it! Juice of 1 pineapple makes about 1.5 cups of juice. But we've found other quality jarred and canned pineapple juice brands that are equally delicious and can save time and money. Here's some of our favorite pineapple juice options:
Can you make-ahead Pitcher Margaritas?
Sure! This is our preferred way. For parties, this is the perfect party cocktail pitcher to make ahead of time. Just mix all the ingredients in the pitcher the night before. Chill the pitcher so it's extra cold before serving. But don't add the slices of lime and pineapple yet. Add those to the pitcher right before serving. The cocktails will last about 3-4 days after mixing. Too long after that, the flavors become dull and not as bright. We like to not let the margaritas sit too long in the fridge.
Tips on How To Make Pitcher Party Margaritas
If you plan on making 2-3 pitchers worth of drinks, that's great. You can make these all the night before.
Serve them in smaller 6-8 oz. glasses. Don't get your guests all inebriated too quick. Start in smaller portions and allow guests to add more drink as they're eating. This is responsible drinking. These pineapple margaritas are so good that they're super easy to drink fast. The alcohol will hit later, so allow your guests to pace themselves.
Add some fresh slices of lime and pineapple to add an extra fruit flavor to the whole pitcher and individual drinks. As guests are serving themselves, have a small plate of the lime and pineapple slices.
If you like your margaritas a little more citrusy, add some extra lime juice.
Love spice and heat? Add a few slices of jalapenos in the pitcher for a spicy pineapple margarita version.
All recipe details are in the recipe box below.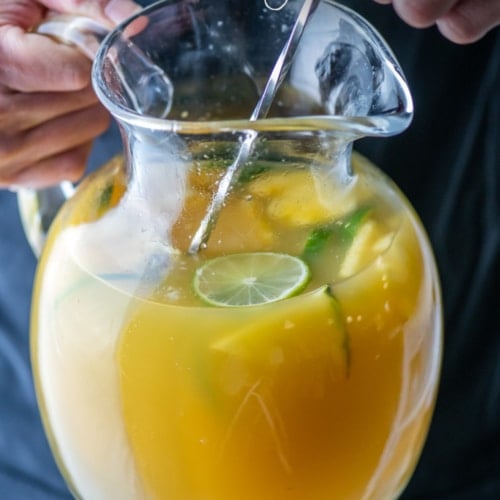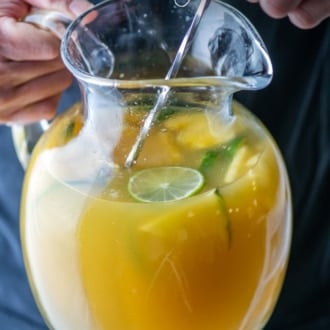 Pitcher Pineapple Margaritas
Make sure to taste and adjust the amounts as needed. The sweetness and acidity of the juices and will vary greatly depending if you are using fresh juices or between different bought juices. Fresh juices will makes these margaritas extraordinary, but they are still quite good with purchased pineapple and orange juice. The only juice that we personally always want to use fresh is the lime juice. Bottled lime juice isn't to our liking. See note below recipe for making fresh pineapple juice using just a blender. These pineapple margaritas are almost too easy to drink. Start the party out with smaller portions to keep everyone from over-imbibing too quickly.
Ingredients
3 cups (710 ml) pineapple juice
1/2 cup (120 ml) orange juice
1/4 cup (60 ml) fresh lime Juice
1 cup (240 ml) tequila
1/2 cup (120 ml) orange liqueur of choice (Cointreau, Grand Marnier, triple sec, etc)
ice
flaky salt for rim of glasses, optional
fresh pineapple and lime slices , for garnish
Instructions
Combine the pineapple juice, orange juice, lime juice, tequila, and orange liqueur in pitcher until well combined. If you want to make it pretty, add some pineapple & lime slices to the pitcher. Chill until ready to serve.

When ready to serve, rub rim of glasses with a lime slice and dip in salt if desired. Add ice to the glasses
Notes
To Make Fresh Pineapple Juice (with just a blender): 1 pineapple makes about 1.5 cups of juice Peel, core, and blend 2-3 fresh, ripe pineapples. Strain the pineapple through a fine mesh strainer to extract the fresh juice.
Nutrition Information per Serving
Calories: 171kcal, Carbohydrates: 18g, Protein: 0.5g, Fat: 0.2g, Saturated Fat: 0.03g, Polyunsaturated Fat: 0.1g, Monounsaturated Fat: 0.02g, Sodium: 4mg, Potassium: 160mg, Fiber: 0.2g, Sugar: 15g, Vitamin A: 39IU, Vitamin C: 19mg, Calcium: 14mg, Iron: 0.3mg
How To Make Spicy Pineapple Margaritas?
Oooh, spicy cocktails are always delicious and popular. Just add a few slices of your favorite chili pepper to the pitcher, then mix it in. Spice level will vary so much depending on the type of chiles, so start slow. Maybe add just 1-2 slices of chili, then taste. If you want it more spicy, add extra until it's perfect to your personal taste. Here's some different fresh chili options if you're wanting to serve spicy margarita cocktails
Fresh Jalapenos
Serrano chiles
Habanero chiles
Thai Birds Eye Thai Chili
Ghost pepper and carolina reapers: are crazy spicy!! Be careful and maybe just add a small thin slice first, unless you already know what to expect with this chilies.
Can you make mocktail pineapple margaritas with non-alcoholic tequila?
It's simple to make non-alcoholic mocktail margaritas. Don't use the orange liquor and just use fresh orange juice. To replace the tequila, there's plenty of tequila substitutes out there. Here's some new non-alcoholic tequila alternatives for mocktails. Also, you can control the sweetness of the margarita by adding a little more lime juice.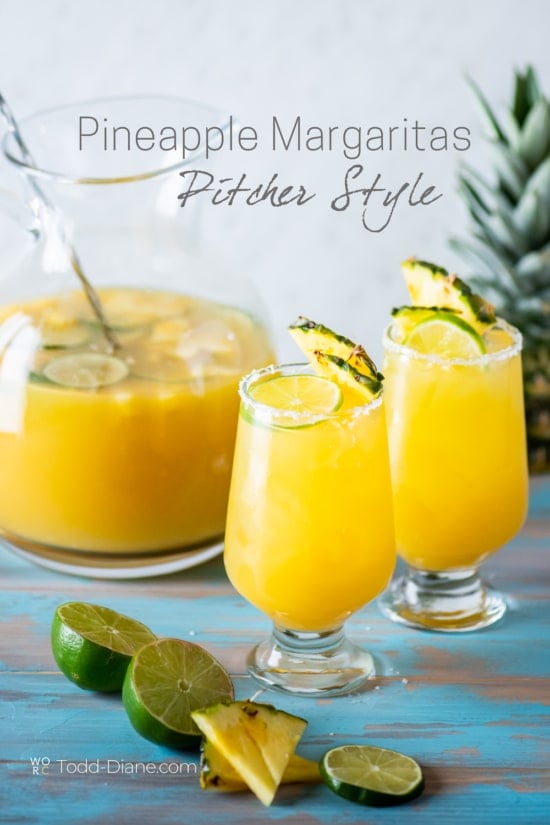 Is it necessary to have the salt rim?
No, it's not mandatory especially if you're trying to lower your salt intake. These margaritas are just as delicious without the margarita salt! All that sodium isn't necessary. If you want, you can garnish with some fresh pineapple chunks or slices of fresh pineapple slices, pineapple wedges and/or fresh jalapeno slices. Hope you enjoy our pineapple margarita recipe!
Do you need to use lime wedges?
Definitely try to use fresh lime juice. Bottled lime juice just doesn't taste the same. The lime gives it a nice brightness to the cocktails. As for lime wedges, they are completely optional. It does make a great presentation to have some floating in the pitcher. And they are perfect for wetting the rim if you want to salt the glasses (plus gives a little extra flavor!)
More Great Cocktail Recipes:
We are a participant in the Amazon Services LLC Associates Program, an affiliate advertising program designed to provide a means for us to earn fees by linking to Amazon.com and affiliated sites.