Meyer Lemon Margarita
This Meyer lemon margarita recipe was one of our first recipe posts back in 2010. It's fun to see how our photography and garden has changed over the years!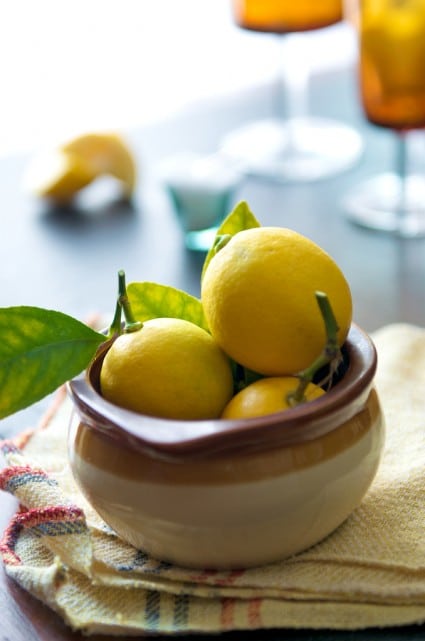 Meyer Lemon Margaritas
I have a little confession. I didn't used to be very fond of Meyer Lemons. In fact, a scratch and sniff of a Meyer lemon rind rekindled memories of small stink bugs that gathered in mini-swarms during the warm summer months on ranch where I first teethed.
The bugs were small and innocent, yet when threatened they'd release a malodorous spray in the vicinity of any foe. Stumble upon a swarm of these little buggers and I'd be dancing about like a pinball trying not to run into one, lest I upset their delicacies. Many times failure would leave me perfumed with "eau de pew". Worse yet, memories of them flying kamikaze into my maw still leave me cringing and wanting to rinse my mouth clean. It'll teach you to keep you mouth shut, I guarantee.
Flavorful Meyer Lemon Margaritas
And these little golden treasures of the culinary world, the beautiful, brillant-yellow Meyer lemons, reminded me of that smell. Go figure. The juice is harmlessly tart, being lower on acid which gently softens its bite, and slightly sweet which adds an extra dimension over the typically delicious classic lemon, the Eureka. However, for me, the oils in the rind nearly alway trigger those foul olfactory memories of the stink bug.
Over ten years ago, Diane and I bought our first citrus tree to put on our tiny patio. A beautiful little lemon tree. A Meyer lemon tree. At that time I had no idea what a Meyer lemon was. A lemon is a lemon, right?
When our pride of the patio developed its first fruit, Diane squealed with joy while I sniffed the brilliant yellow prize and was instantly transported back to my childhood run-ins with the stink bugs. I put on my best happy face and gave her back the lemon grenade to enjoy all by herself.
Wonders of Meyer Lemon Juice
Years do funny things to our senses and slowly the Meyer lemon became less offensive to me. The juice was always wonderful on the palate, but it took a while before I could fully embrace the love of the Meyer. The sense of smell is very powerful, but within the last few years, my heart and nose have warmed to the Meyer lemon and my love for them now equals that which I extend to all of our other citrus. We'll both joyfully coax and pamper our Meyer lemon tree trying to get it to produce as much of its fruit as the branches will bear.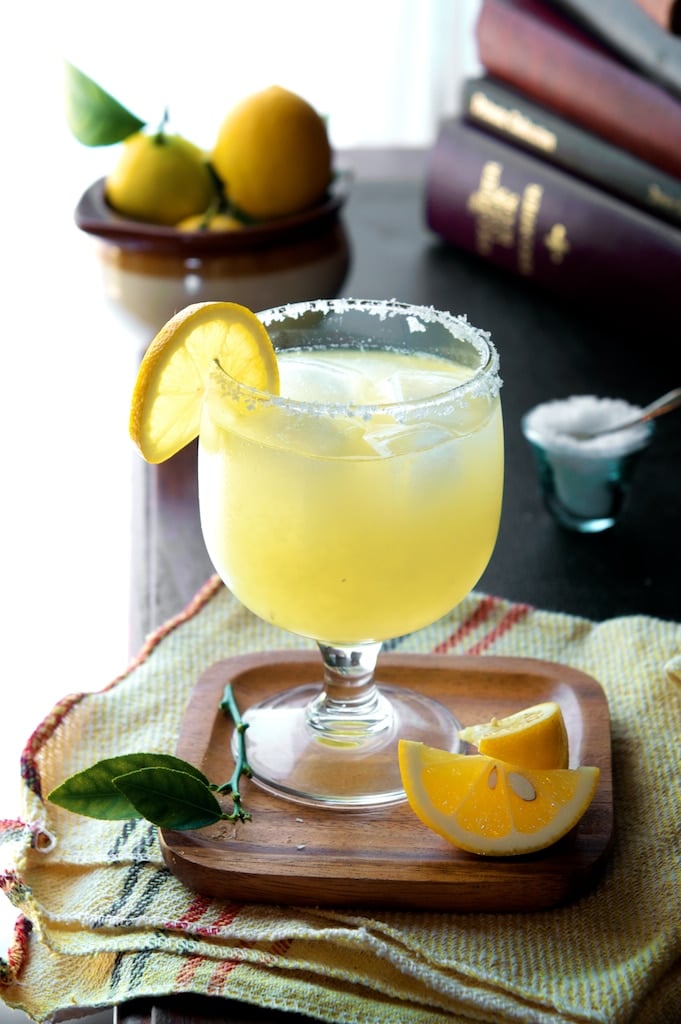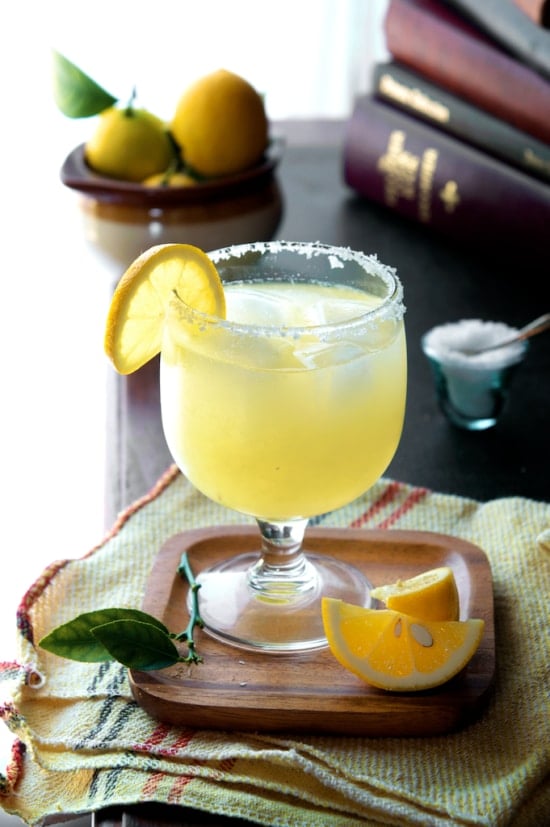 Love of Lemons
We've always enjoyed using the juice of the Meyer lemon for cooking. Meyer lemon muffins or Meyer lemon curd are absolutely delectable. The gentle lemony tang combined with the touch of sweetness that Meyer lemons behold are a joy to the palate. However I had never used them for cocktails until one of our dear LA friends, Sara, mentioned their favorite drink of the summer was the Meyer Lemon Margarita. They had picked their tree bare concocting these enticing cocktails.
Intrigued and always on the hunt for another delicious cocktail, especially one which pulls from our garden, we sliced & iced a Meyer lemon with shot of tequila and hit of triple. At first sip our eyes widened. I immediately head back into the garden to snag a few more Meyer lemons and soon we began to wrap ourselves up in the warm tingle of tequila softened, sweetened and balanced by the golden elixir of the Meyer lemon. And after changing from triple sec to simple syrup and orange bitters (although you could always use a good orange liqueur), we had a cocktail which will always be in our house go-to list.
The Meyer Lemon pairs exceptionally well with tequila and we would be hard pressed to say if we like a classic Margarita or these Meyer Lemon Margaritas better. They each have their own delicious draw, this one slightly sweeter and more floral, the classic slightly brighter. Time to do a taste off with the garden fruit to see who's flavor reigns supreme.
-Todd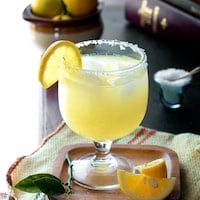 Meyer Lemon Margarita
Meyer lemons have such a unique floral quality. They bring a different element to a traditional margarita that is supe refreshing.
Ingredients
1 1/2 ounces (45ml) fresh Meyer Lemon Juice
1/2 ounce (15ml) fresh Lime Juice (optional - for brighter tasting cocktail)
2 ounces (60ml) Tequila
3/4 ounce (20ml) Simple Syrup , or to taste
dash orange bitters
kosher or sea salt for rimming glass
Instructions
Rub the rim of an old fashioned glass (or whatever similar vessel you prefer) with a meyer lemon slice. Swirl the rim through a small pile of kosher or sea salt to salt the rim.

Put the meyer lemon juice, optional lime juice) tequila, simple syrup, and bitters in an ice filled cocktail shaker. Shake vigorously for 15 seconds.

Put a few cubes of ice in your prepared glass. Strain the cocktail into the glass and enjoy.
Notes
Note 1: A basic simple syrup is a 1:1 ratio of sugar dissolved in water. example- One cup sugar dissolved in one cup of water. We usually make larger batches and keep on hand in the refrigerator.
Nutrition Information per Serving
Calories: 201kcal, Carbohydrates: 20g, Protein: 1g, Fat: 1g, Saturated Fat: 1g, Sodium: 14mg, Potassium: 75mg, Fiber: 1g, Sugar: 17g, Vitamin A: 10IU, Vitamin C: 21mg, Calcium: 7mg, Iron: 1mg
Cocktails & Beyond – Here's some of our favorite finds:
We tend to be a bit obsessive over our cocktail tools. Here's some of our favorites we've collected and put to use over the years: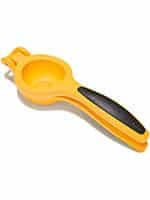 OXO Citrus Squeezer
– What is the difference between an ok cocktail & a great one? Most of the time, fresh citrus juice. If you don't have one, get yourself a squeezer.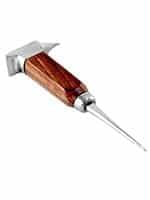 Japanese Style Ice Pick
– My favorite cocktail tool. With swag and great function, it's perfect for cocktail geeks like us.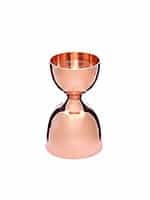 Cocktail Kingdom Leopold Jigger
– We have a dozen jiggers, but this one is my favorite. Love the copper-plating, quickly gives a lived in patina. Love the lines on the inside marking off different measurements.
Check out our Cocktail Recipes Here and our Complete Whiskey Guide.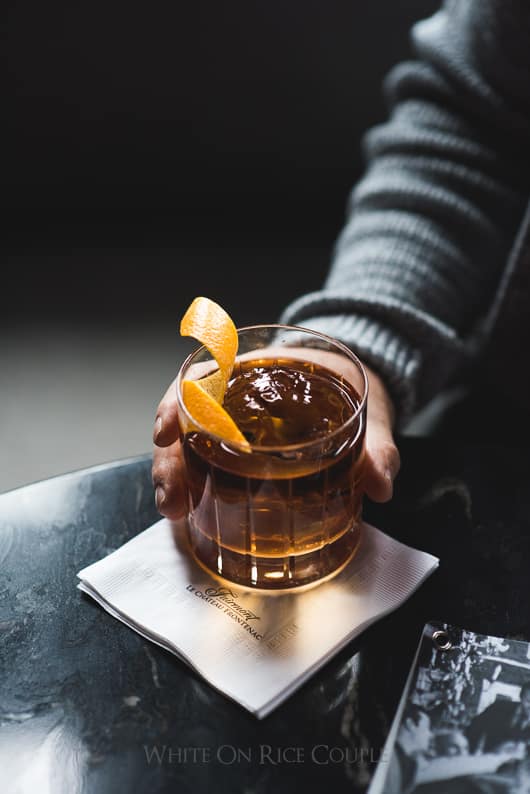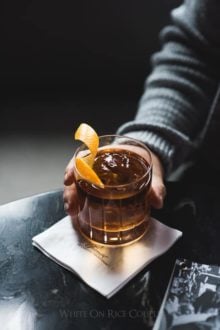 We are a participant in the Amazon Services LLC Associates Program, an affiliate advertising program designed to provide a means for us to earn fees by linking to Amazon.com and affiliated sites.