Frozen Peach Margarita
Frozen peach margaritas are the perfect cocktail that you can make for your next party. The blender does all the easy work and you get to relax with a refreshing drink.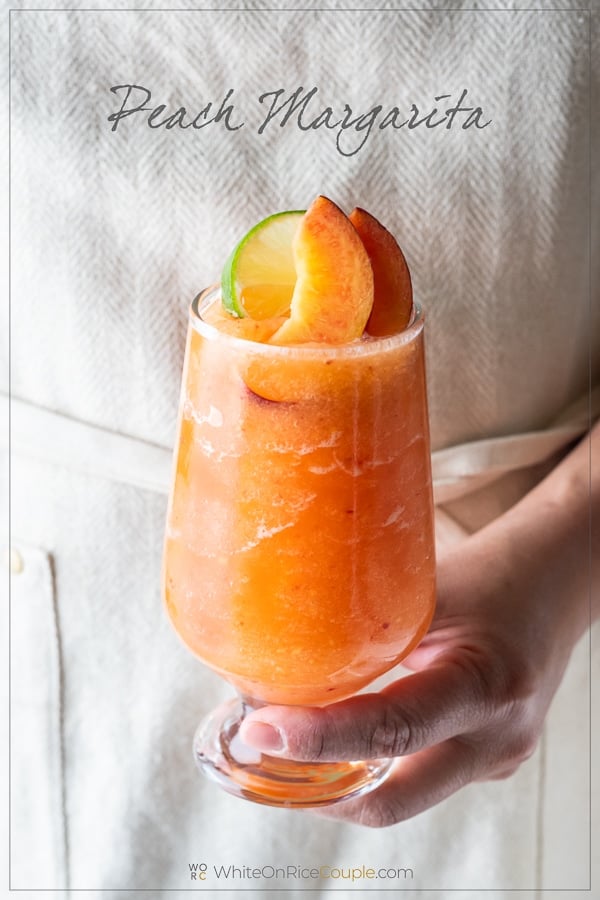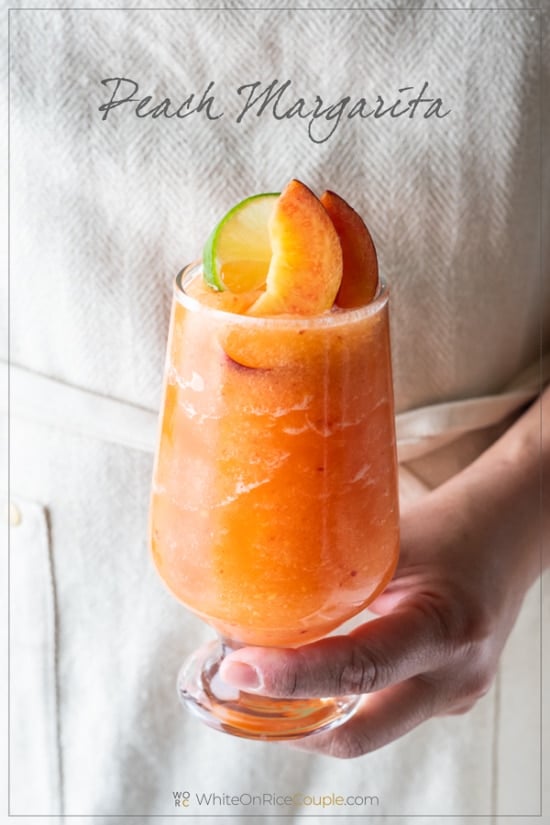 Frozen Peach Margaritas Recipe
We're always thinking about margaritas as we love snacking on fresh salsa and chips. But we've moved beyond the chips and every time we eat something salty and spicy, this popular tequila based drink comes to mind. We have several variations of margaritas, none of which we ever get bored of. What ever fresh fruit or juice we can find, we'll test a margarita version with it. It's habit forming to see how many variations of this popular drink we can create.
Making Peach Margaritas Video
Use fresh or frozen peaches?
One version we didn't have was a blended or frozen margarita recipe. So with Summer at it's peak, it's appropriate to share our blended peach margaritas that is perfect for all the warm days. This peach version is equally refreshing and always ice cold to keep you cool during long hot Summer months. You can use either fresh or frozen peaches and both turn out great. If you're using frozen, then you can use less ice. Also, the drink will be more frozen which will last longer when you're lounging in the warm outdoors. Fresh peaches require more ice and will be more flavor if you can get your hands on some awesome tree ripen Summer fruit.
There you have it. A fun and fruity Summer drink to keep yourself hydrated during all our Summer festivities.
-diane and todd
How to Make Frozen Peach Margaritas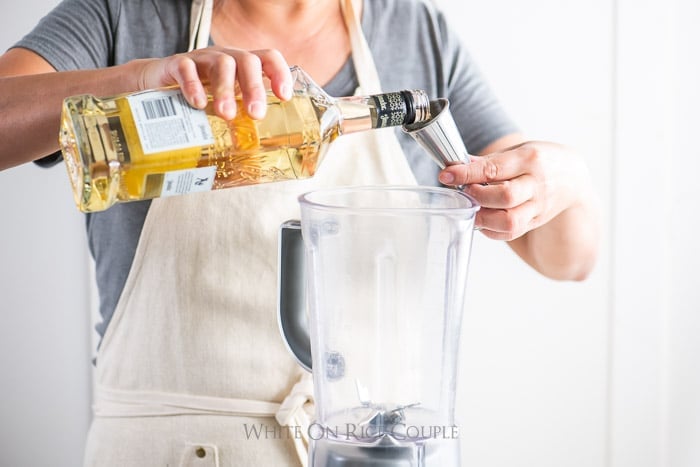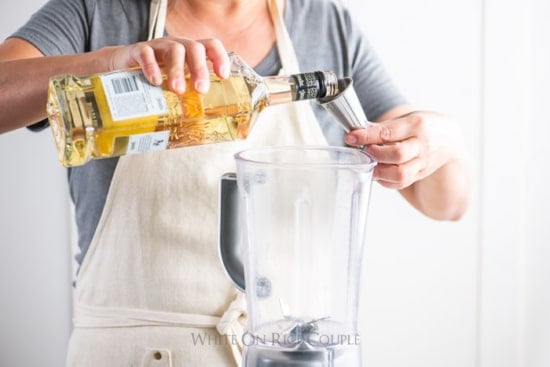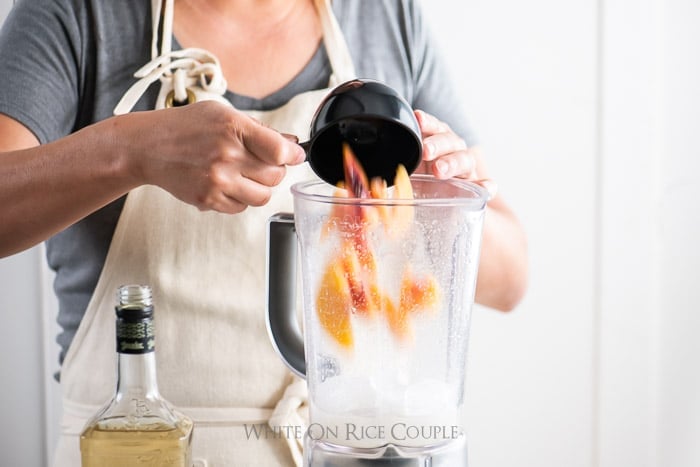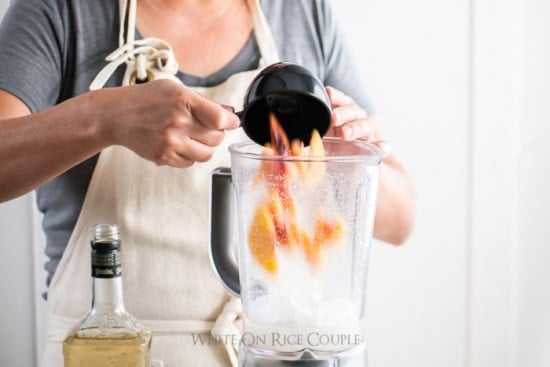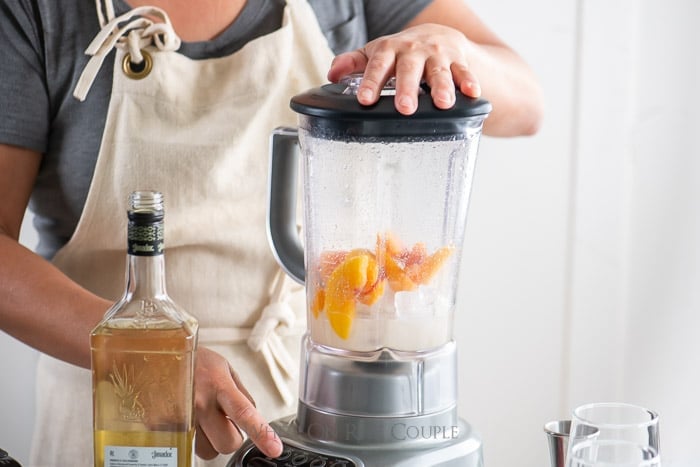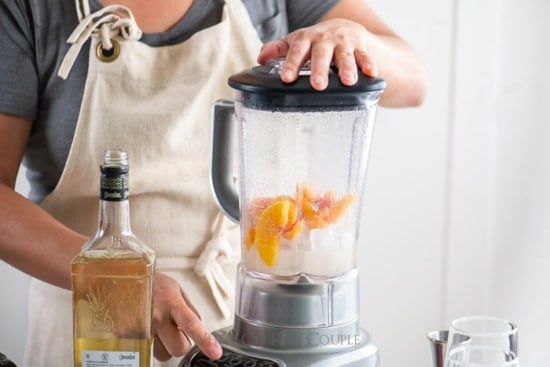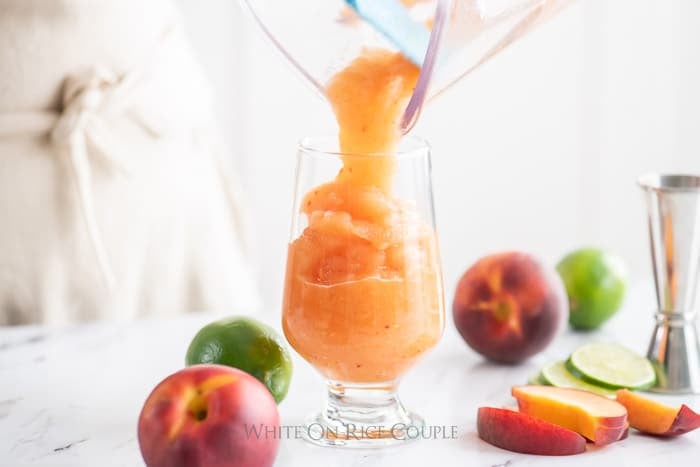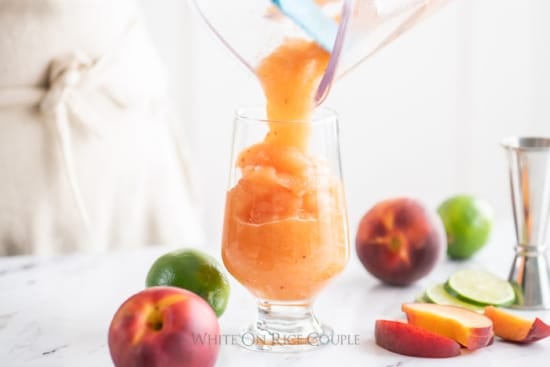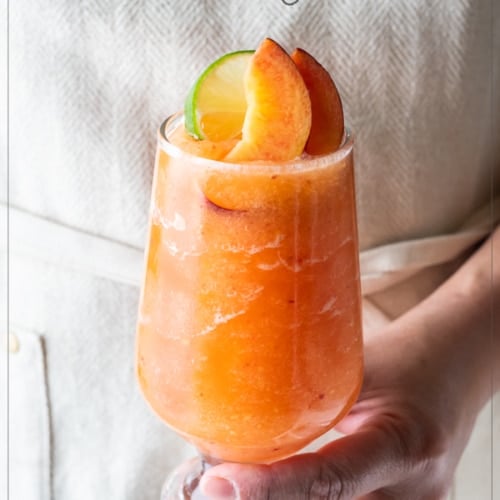 Blended Peach Margarita Recipe
We use frozen peaches for this blended cocktail, saving the use of a little less ice and concentrating the flavor. But the taste of fresh peaches can't be beat. If using fresh peaches, use 2 large peaches, peeled & cubed. Add an addition 1/2-1 cup of ice when blending. Or freeze your peeled & cubed fresh peaches & use as directed in the recipe.Fresh lime juice will also be significantly better than using bottled lime juice.
Ingredients
1/2 cup (120 ml) Tequila , preferrably Resposada or Anejo
1/2 cup (120 ml) fresh Lime Juice (usually about 3-4 limes)
1/4-1/2 cup (50-100 g) Sugar , or @ 1/2 cup (120ml) simple syrup, depending on your sweetness preference
2 cups (300 g) frozen Peach pieces
1/2 cup (120 ml) Ice , approximately
(optional) peach and/or lime slices , for garnish
Instructions
Notes
Note 1: A basic simple syrup is a 1:1 ratio of sugar dissolved in water. We'll usually make 1 cup sugar heated & dissolved in 1 cup of water. Let it cool before using. We usually make larger batches and keep on hand in the refrigerator.
Nutrition Information per Serving
Calories: 311kcal, Carbohydrates: 45g, Protein: 2g, Fat: 1g, Saturated Fat: 1g, Sodium: 5mg, Potassium: 363mg, Fiber: 3g, Sugar: 39g, Vitamin A: 532IU, Vitamin C: 28mg, Calcium: 18mg, Iron: 1mg
Cocktails & Beyond – Here's some of our favorite finds:
We tend to be a bit obsessive over our cocktail tools. Here's some of our favorites we've collected and put to use over the years: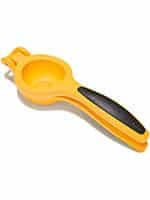 OXO Citrus Squeezer
– What is the difference between an ok cocktail & a great one? Most of the time, fresh citrus juice. If you don't have one, get yourself a squeezer.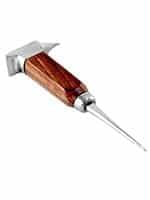 Japanese Style Ice Pick
– My favorite cocktail tool. With swag and great function, it's perfect for cocktail geeks like us.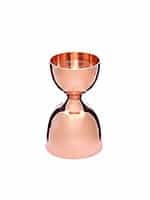 Cocktail Kingdom Leopold Jigger
– We have a dozen jiggers, but this one is my favorite. Love the copper-plating, quickly gives a lived in patina. Love the lines on the inside marking off different measurements.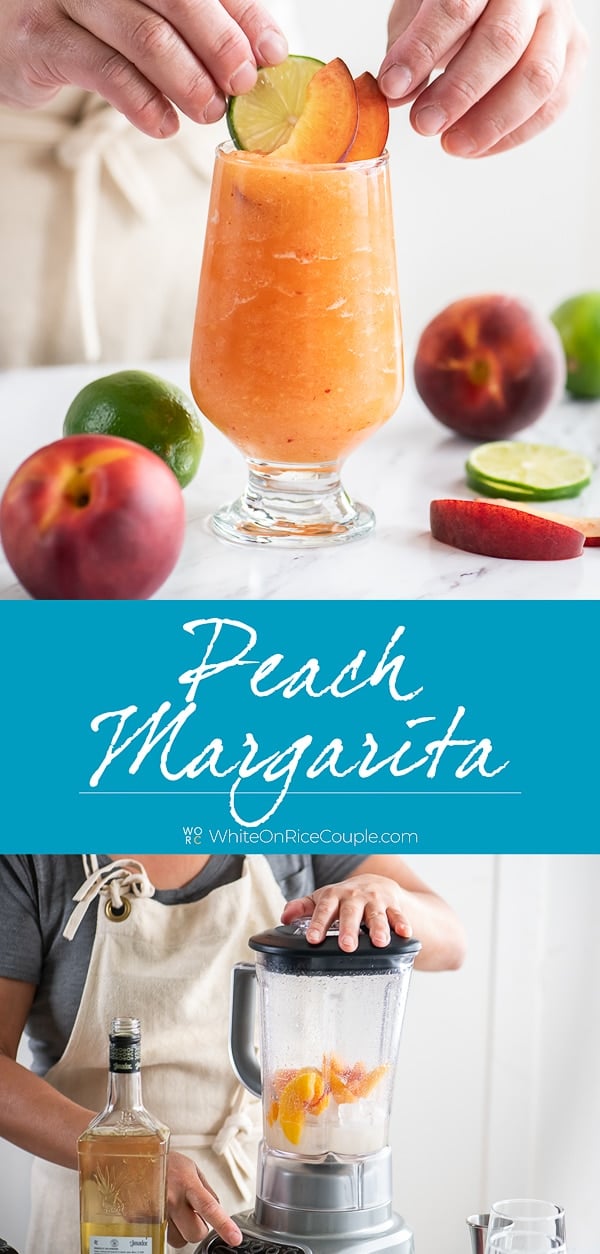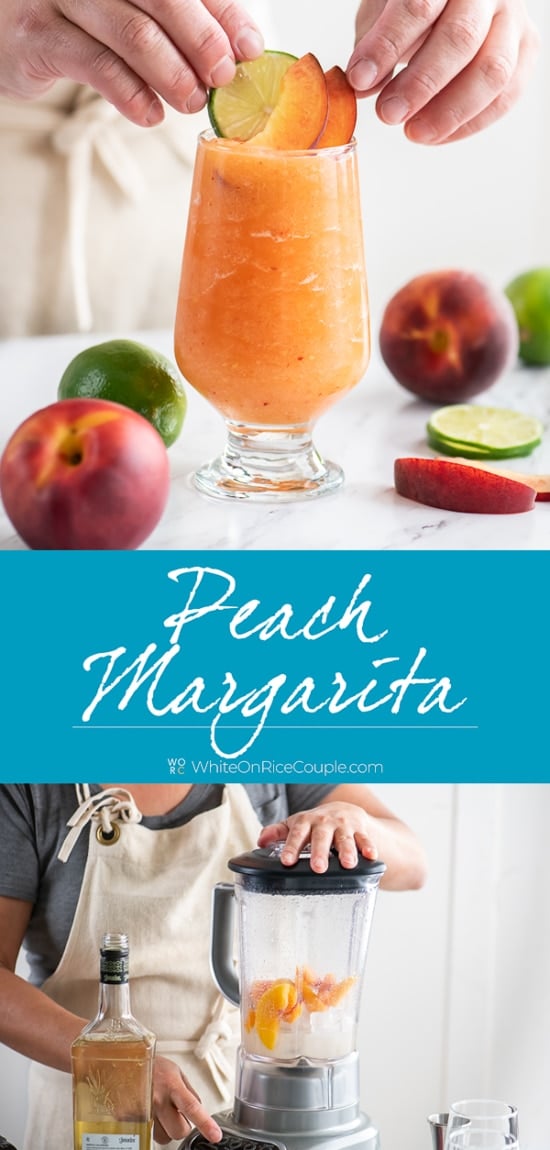 Our extensive–> margarita recipe collection Here's our completes–> Cocktail and Drink Recipes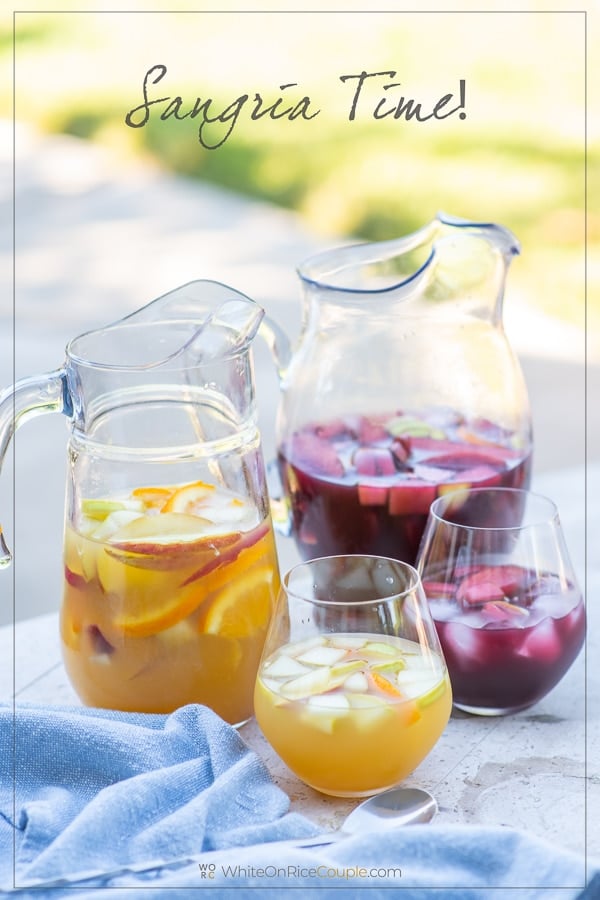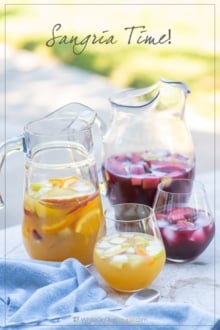 This recipe was originally published in 2020.
We are a participant in the Amazon Services LLC Associates Program, an affiliate advertising program designed to provide a means for us to earn fees by linking to Amazon.com and affiliated sites.