Mexican Grilled Street Corn (Elotes) Salad
If you've never had Mexican street corn before, you're in for a real treat. Here's our party bowl version and it's absolutely delicious.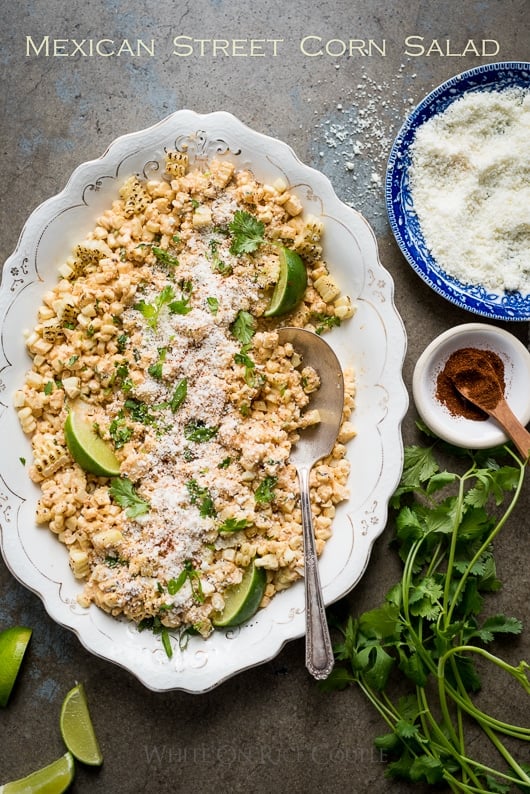 Mexican Street Corn Salad Recipe
The warmer weather has arrived and so has everything else that pairs with it: Summer grilling, potlucks, parties and lots and lots of sweet corn for Mexican street corn. Few foods say summer like fresh corn. Those sweet juicy kernels clustered around the cob pleading for someone to eat them. Last month we were wanting to cook more corn recipes for clients on-set and wanted to make a corn salad recipe that was easy to eat. Basically everyone loves corn so much and we all agreed that it's easier to eat the kernels by the spoon-ful than to bite it off the cob. Besides, it's much cleaner to shovel all the kernels in our mouths than to make a mess off the cob.
Our solution was to make this wonderful Mexican street corn grilled to perfection, which is essentially the de-kerneled version of the Mexican street corn-on-the-cob. Wow, everyone LOVED this corn recipe and on that day we had 10 eaters, and they all killed this salad. All the textures and flavors were truly wonderful and it's not a surprise that this classic dish is such a hit. There's so many recipes for Mexican street corn out there that it's fun to see everyones different flavor profiles. Our version has lots of garlic and cilantro, which is what everyone loved so much.
Watch this scrumptious Mexican Street Corn Video:
grilled corn and cheese mixture is all it takes for this awesome salad
Grilled vs. Stove Top
After making several versions of this Mexican street corn, both on the grill and just cooked on stovetop, we found that both tasted wonderful. Cooking the corn kernels on a cast iron pan, on the stove top actually gave a much sweeter flavor because it released some of the sweet corn juices. Both versions were well received and it's going to be a definite regular on our lunch menus. We're making it again this week for a bunch of garden parties because this Summer weather is screaming out for more corn.
A few years ago we actually tried growing our own corn and the results were ok. The ears didn't get all that huge and the kernels didn't fully develop. Maybe it needed more sun, or maybe it was the variety, but have any of you had success growing it in your garden? Any tips for us newbie corn growers out here in Southern California?
Happy Eating!
Here's another street corn recipe idea for ya and more of our popular recipes. This recipe was originally published in 2017 and re-published in 2020.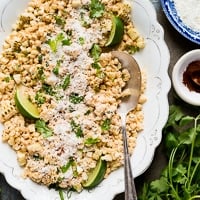 Mexican Grilled Street Corn (ELOTES) Salad
We shucked the corn for this salad version for easier serving when we have large parties. But you can certainly serve it the corn-on-the-cob. Just make the cheese mixture ahead of time. Then grill your corn and top it with the cheese mixture and extra cojita and cilantro! If you're making this salad version, best flavor is if you cook it on a hot cast iron pan because you can get the char which gives great flavor.For a stylish grilled corn on the cob (and for easier handling) just pull back the husks, but don't pull them all the way off.
Ingredients
1/4 cup (60 ml) sour cream or Mexican crema
2 Tablespoons (30 ml) mayonnaise
1/3 cup (60 g) finely crumbled cotija cheese or feta cheese, plus more for serving
1/2 teaspoon (2.5 ml) smoked paprika
1/2 teaspoon (2.5 ml) chili powder , plus more for serving
1/2 teaspoon (2.5 ml) garlic powder
2-3 Tablespoons (30-45 ml) finely chopped cilantro leaves , and extra for garnish (optional)
1/4 teaspoon (1.25 ml) kosher salt , or to taste
4 ears (4 ears) corn , husked *see headnote
2 Tablespoons (30 ml) olive oil
Kosher salt , to taste
fresh cracked black pepper ,to taste
2 stalks (2 stalks) green onions , sliced thin
1 (1 ) lime , cut into wedges
Instructions
In bowl, combine sour cream, mayonnaise, cheese, smoked paprika, chili powder, garlic powder, cilantro and salt in a large bowl. Set aside.
For Grilled Whole Corn-on-the-Cob Version:
Heat grill on high heat or heat coals for direct grilling. Season husked corn with salt and pepper. Grill until nicely charred and tender all around.

For the grilled whole corn-on-the-cob, immediately after grilling, brush corn with sauce. If desired top with extra cheese, spices, sliced green onions, cilantro and serve with lime wedges.
Sautéed De-Kerneled Corn Salad Version:
Heat large skillet on medium high heat. Add olive oil, then add corn and green onions. Cook corn until slightly charred and brown, around 5 minutes, just until the corn is plump and cooked. Transfer corn to a large bowl and allow to cool.

Pour cheese mixture over corn and gently stir until combined. Add extra cheese for topping, paprika or chili powder. You can add extra sliced green onion and cilantro for garnish. Serve with lime wedges. *Reminder* for this salad version, make sure to allow the kernels to cool completely. If not and you're adding the cheese sauce to hot corn kernels, you might end up with a cheesy corn soup/stew. Which isn't all that bad tasting either!
Nutrition Information
Calories: 221kcal, Carbohydrates: 14g, Protein: 4g, Fat: 17g, Saturated Fat: 5g, Cholesterol: 21mg, Sodium: 319mg, Potassium: 216mg, Fiber: 1g, Sugar: 5g, Vitamin A: 460IU, Vitamin C: 8.3mg, Calcium: 82mg, Iron: 0.6mg
More Easy Recipes:
We are a participant in the Amazon Services LLC Associates Program, an affiliate advertising program designed to provide a means for us to earn fees by linking to Amazon.com and affiliated sites.