Chili Martini Recipe
This Chili Martini Cocktail Recipe was one of our first recipe posts back in 2008. An oldie but goodie! The spicy, sweet and bright flavors are fantastic if you love a little heat in your drinks.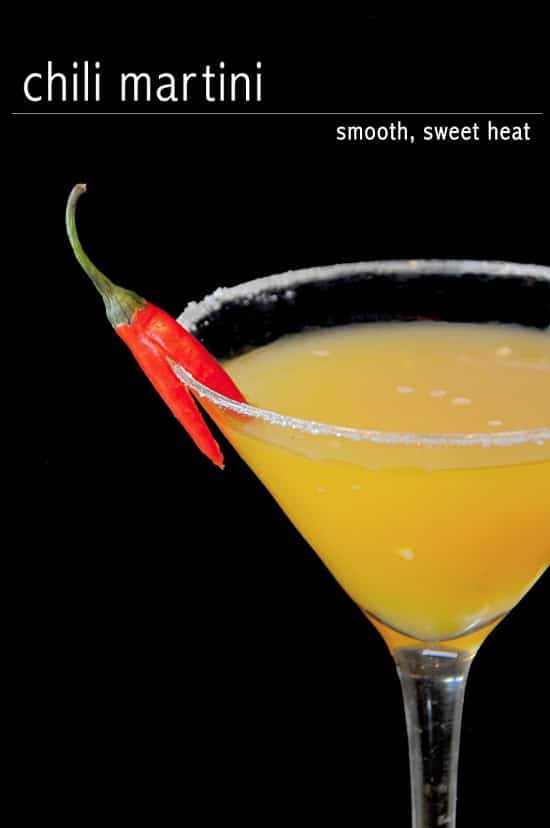 Please, don't cringe at the name of this cocktail. Give me a chance to quickly explain this fabulous drink to you before you frown at the thought of a spicy cocktail (for those of you spice hounds who are already drooling, please immediately proceed to the recipe and mix yourself a few glasses!) I've always appreciated drinks of all sorts. From sweet, pretty, fruity concoctions that make me giggle like a girl to straight from the bottle whiskey that almost grows hairs on my chest, I enjoy them all.
Best Chili Martini Recipe
It all started during my six big days of eating and drinking at the Club Med Food and Wine Festival in Ixtapa, Mexico with Jaden. Every day was fabulous and filled with mixology demonstrations from some of the finest bartenders in Mexico. Our thirsty group of Jaden, Kim, Kate , Morgan, Jay, and I took advantage of every sample and sip that was offered to us. We're all adventurous folks and accepting of anything inebriating, especially when it was all free! But the most memorable one was the chili martini cocktail infused with a healthy dose of fresh serrano chili.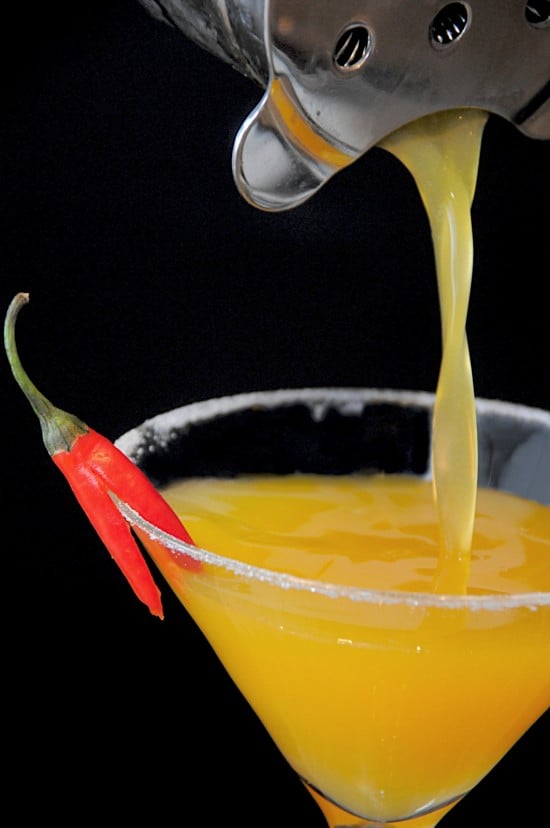 I've had many cocktails in my days, but never anything with spicy, chili undertones. This was like a revelation, it rocked my cocktail world.
Spicy, fruit, flavorful
The first fruity sip of peach and hint of chili blended together nicely, but after that, it was magic. The slow, smooth tinge of serrano chili heat that flowed down my throat afterward was warming, exciting and delicious. The slightly grassy/fruity blend of the serrano heat, coupled with the sweet nectar of the peach juice was just so different, but satisfying and addicting. Of course, you can add just as much heat as you like, but a little bit of chili goes a long way. We've made it with red thai chili's as well and the results are just as wonderful. Use what ever chili you wish!
I was perfectly happy with the amount of blend spicy and fruity balance of the chili cocktail martini. There wasn't too much heat to make me uncomfortable nor to put my mouth on fire, but just enough to make me always CRAVE a chili martini. Besides, a girl should never stop adding a bit of spice to her life. Hope you enjoy this Chili Martini Cocktail Recipe as much as we do.
Cheers,
-Diane
Check out our Cocktail Recipes Here and our Complete Whiskey Guide.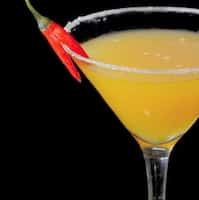 Chili Martini Cocktail Recipe
**Warning- start with a little bit of chili first because each chili's level of spiciness varies. Continue to add more chilies to your liking.
Ingredients
1/2 Serrano or Thai chili , sliced (remove seeds for less spicy or adjust amount to your heat preference)
1/2 ounce (15ml) simple syrup *see note below
1/2 ounce (15ml) fresh lime juice
1 1/2 ounces (45ml) vodka or gin
2 ounces (60ml) pineapple, peach, nectarine, or mango juice
Instructions
If you want a spicier cocktail, in a shaker, muddle the chili with simply syrup. For a moderately spicy cocktail, just add the sliced chili and simple syrup into the shaker (without muddling) and add all the remaining cocktail ingredients (see next step).

Add lime juice, vodka (or gin) and juice of choice (pineapple, peach, nectarine, or mango juice) to the shaker. Add ice and shake vigorously for 15 seconds.

Strain into a cocktail glass. Garnish if desired. For a sweeter treat, sugar the rim before pouring cocktail.
Notes
Note 1:
To make simple syrup combine an equal amount of sugar and water. Heat to dissolve. It keeps for over a month in the fridge, so feel free to make a large batch to always have on hand.
Nutrition Information per Serving
Calories: 130kcal, Carbohydrates: 8g, Protein: 1g, Fat: 1g, Sodium: 2mg, Potassium: 93mg, Fiber: 1g, Sugar: 6g, Vitamin A: 59IU, Vitamin C: 8mg, Calcium: 8mg, Iron: 1mg
More food travel stories and recipes:
We are a participant in the Amazon Services LLC Associates Program, an affiliate advertising program designed to provide a means for us to earn fees by linking to Amazon.com and affiliated sites.