Honey Mustard Spare Ribs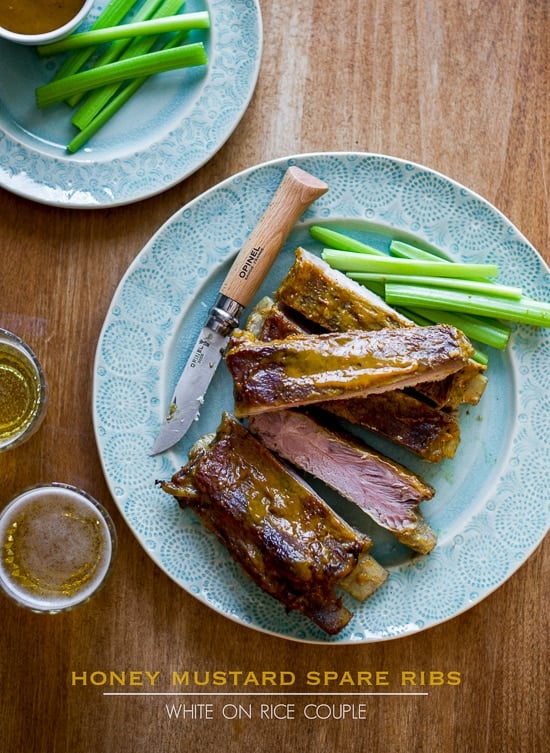 Honey Mustard Spare Ribs Recipe
Hi guys, Todd here. It's nearly time for the big game. A season's worth of hopes, rooting, agony, and aspiration takes a hearty dish to feed and nurture.
More often than not, when it comes to game night, we'll turn to either chicken wings or ribs. Rather than gnawing on one's knuckles or annoyingly fidget during the game, having ribs or chicken wings to gnaw on is so satisfying. Plus they go great with game time beer. Wings are great for our smaller gatherings, but the ribs are awesome for bigger groups or big eaters. Buy a few slabs, cut 'em in half to fit some baking dishes, add some apple juice while baking, make an awesome sauce or two for finishing the ribs, then bake & forget them. When the ribs bake covered in the apple juice, they come out super tender. Then we'll finish the baking uncovered, sauced up a couple times to bake the sauce into the ribs. And to finish sauce them one more time. Unless we want to get fancy, in that case we'll broil them for a couple minutes to give a nice little singe on the finish.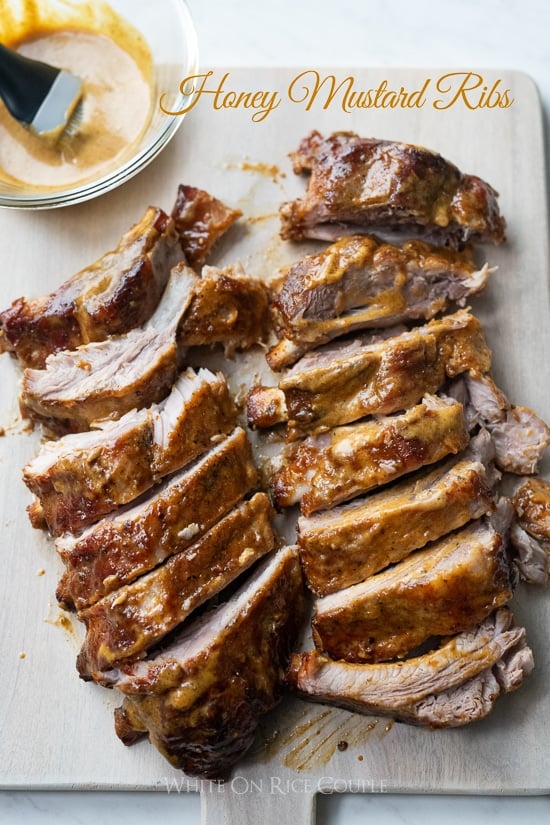 Video: Juicy & Tender Oven Baked Honey Mustard Pork Ribs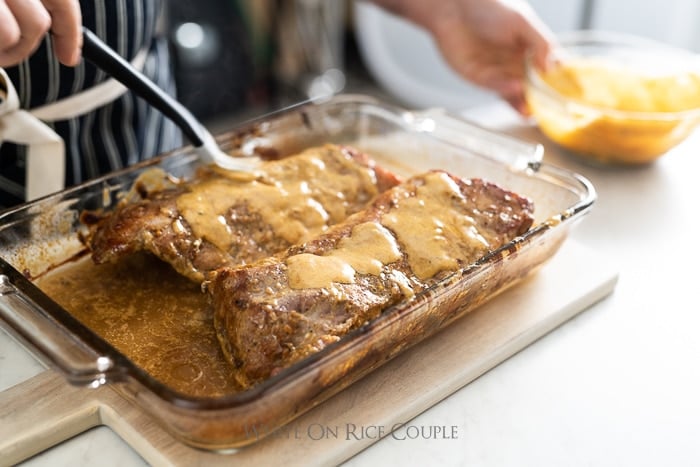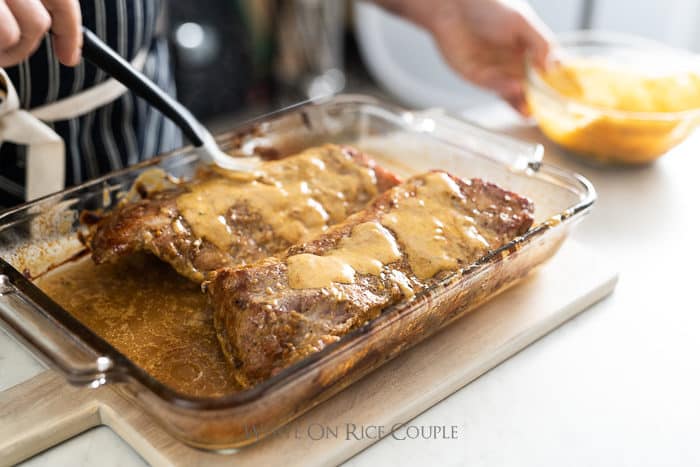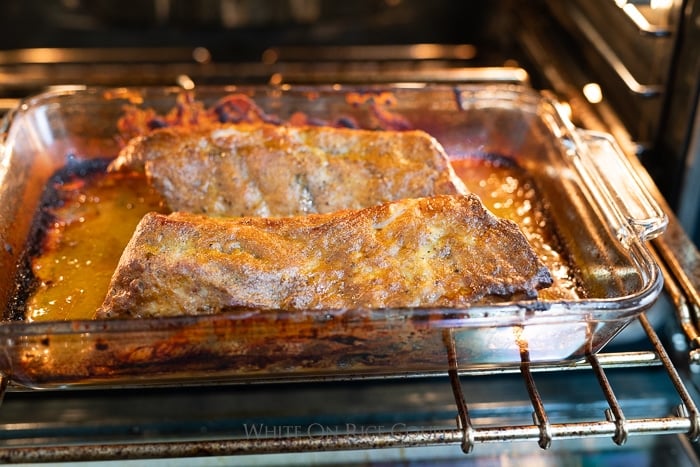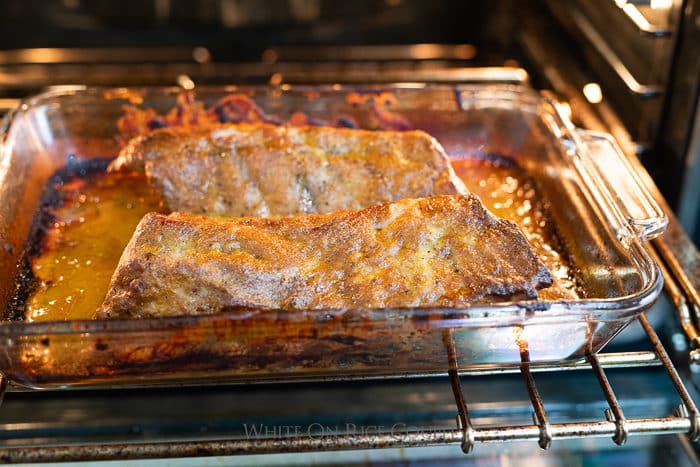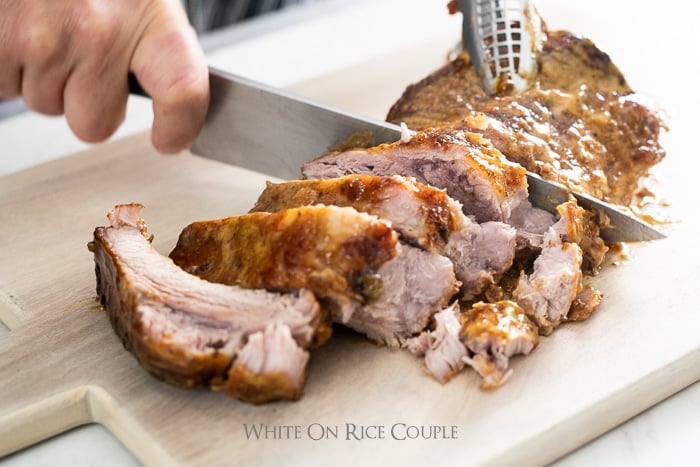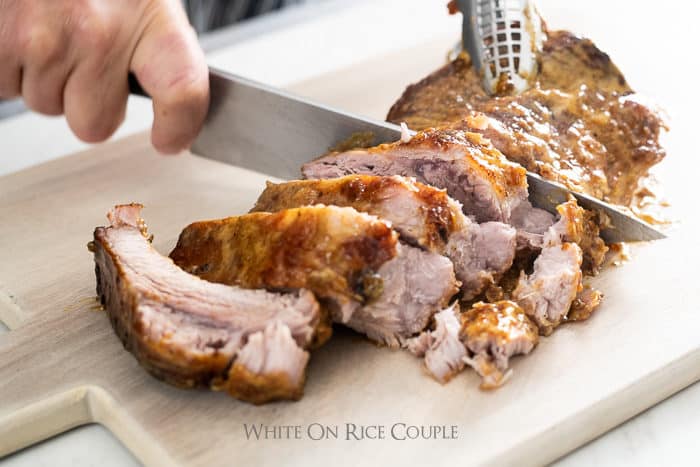 Ribs are great with a couple no-fuss techniques for baking en-masse. For quicker cleanup when cooking the ribs, we'll wrap them in a foil "boat" with a bit of apple juice and seasoned with salt and pepper, bake them until nearly tender, then open it up, sauce 'em and finish baking. If we want an easier prep, then we'll plop the ribs down in a baking dish, pour in the apple juice, season the ribs, then cover with foil. Bake for about an hour, then sauce and continue baking. The wings will get flour tossed, baked, then tossed in a sauce after. The sauces can be done ahead of time and we'll make up a few sauces which can apply to either the ribs or the wings. Beautiful and efficient.
-Todd
How to Make Bourbon Maple Ribs in Oven
Baking Dish Method – Quick & Easy! Cut the racks in half if needed to fit in your baking dish. Pour some apple juice over the rib & season with salt & pepper, cover with foil and then bake. After the first hour, brush both sides of ribs with sauce. Finish baking uncovered, brushing with sauce another couple times.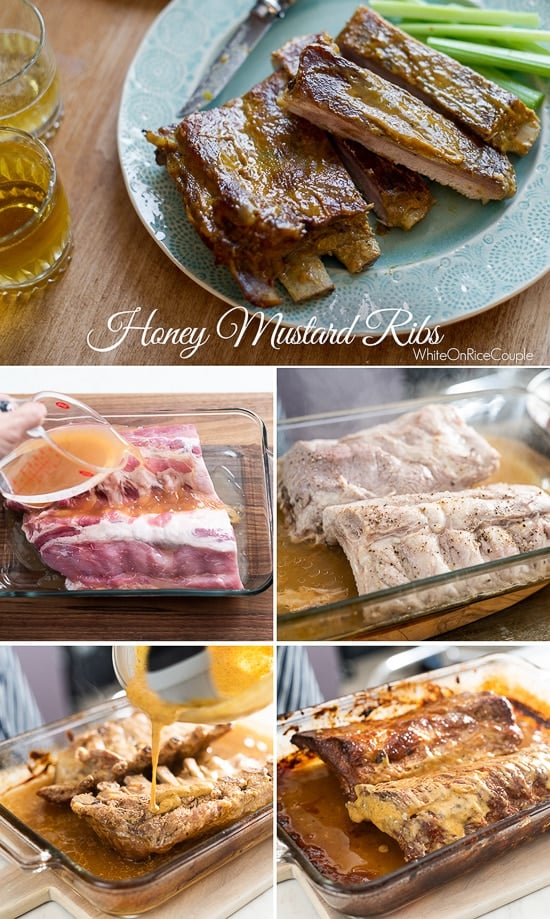 Foil "Boat" Method – Great for easier cleanup! Cut the racks in half to help make them more manageable. Create foil "boats" out of a double layer of foil. After the first hour, brush both sides of ribs with sauce. Keep foil sides upright to keep the juices surrounding the ribs as you finish baking, brushing the ribs with the sauce a couple more times.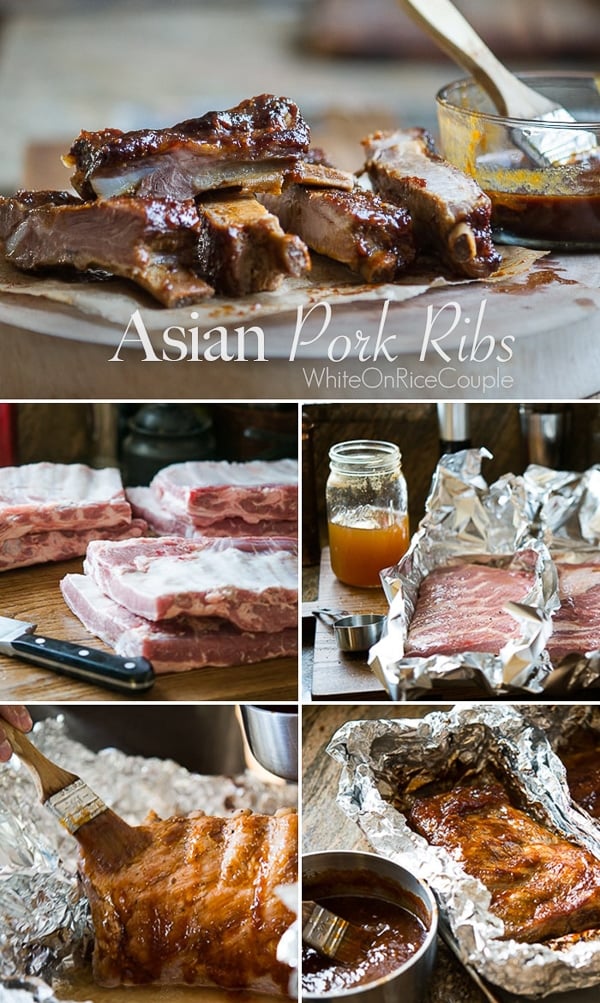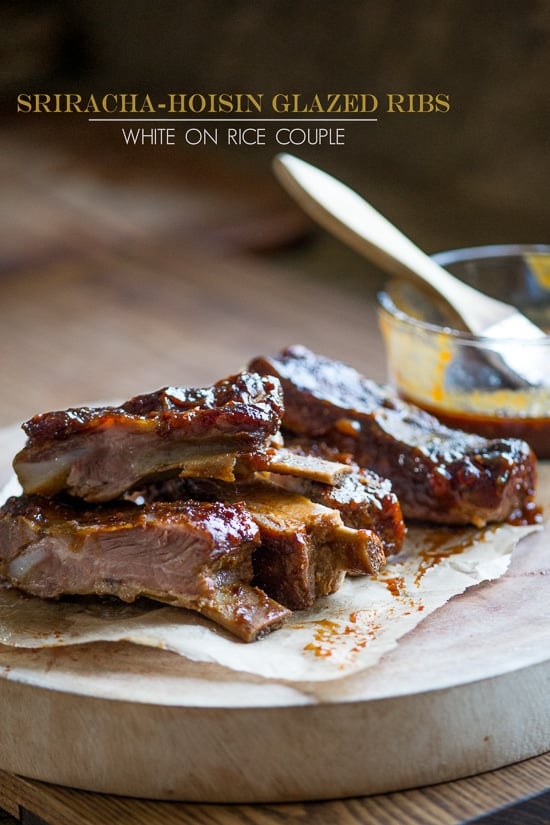 Our main go-to pork spare rib sauces: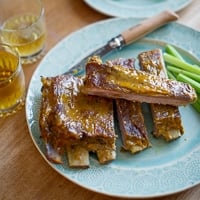 Honey Mustard Pork Ribs - Oven Baked
This same sauce is great on chicken wings. The method for cooking the spare ribs is our all-time favorite for non-smoker ribs. The apple juice sealed in with the ribs is the best, helping keep the ribs super moist and tender and giving a nice additional flavor to the ribs. We will nearly always use St. Louis cut spare ribs, but the recipe will work great with baby back ribs too.
Ingredients
Ribs
3 pound (1360g) rack St. Louis cut (preferrably) Spare Ribs , rinsed & patted dry
1 Tablespoon (15g) Kosher Salt
fresh cracked Black Pepper to taste
1 cup (240ml) Apple Juice
Mustard Sauce
1/2 cup (120ml) Mustard , whichever your preferred type - Regular, Deli, Whole Grain, Dijon, etc...
1/4 cup (60ml) Mayonnaise or Sour Cream
1/4 cup (60ml) Honey
2 teaspoons (10ml) Soy Sauce , or Worcestershire sauce
1/2 teaspoon Smoked Paprika
1/2 teaspoon Garlic Powder
1/4 teaspoon Cayenne Pepper , optional
fresh cracked Black Pepper , to taste
Instructions
Make the Honey Mustard Sauce
Whisk together sauce ingredients in a bowl (mustard, mayonnaise, honey, soy sauce or Worcestershire sauce, smoked paprika, garlic powder, cayenne, and black pepper). Set aside until ready to sauce the ribs.
Cook the Ribs
Preheat oven to 350°F (175°C). If needed, remove the silver skin from the bone side of the ribs (some butchers will have this already removed for you.)

Cut the rib rack in half and place the ribs, meaty side up, in a 9x11 inch baking dish (or other appropriately sized dish). Pour the apple juice over the ribs and then season both sides with salt & pepper. Cover with aluminum foil.

Bake for 1 hour. Remove from oven, remove foil, and brush both sides of the ribs with sauce.Return to oven uncovered. Bake for another 45 minutes. Brush the ribs with sauce again, then bake for another 45 minutes.

Remove ribs from oven. Brush the ribs a with a little more sauce, slice & serve (for a little extra crust follow next step before slicing).

Optional for a little extra crust - Heat oven to broil and place oven rack about 6 inches down from the top. Brush ribs with glaze again and broil for 2 minutes or until slightly singed. Slice & serve.
Notes
For an easier cleanup, you can bake the ribs in a foil "boats".
Make 2 "boats" out of doubled up sheets of heavy duty foil large enough to enclose each rib section (*refer to

sriracha-hoisin ribs photos for visual guide

). Place ribs, meaty side up, in boats and pour 1/2 cup of apple juice in each of the boats.

Seal foil boats closed around the ribs, trapping the juice in with the ribs and being careful not to break the foil. Place on sheet pans. Bake as directed in the recipe above (however leaving the foil open but with the sides standing up enough to keep the juices around the ribs when it calls to bake uncovered).
Nutrition Information
Calories: 684kcal, Carbohydrates: 27g, Protein: 28g, Fat: 52g, Saturated Fat: 15g, Trans Fat: 1g, Cholesterol: 142mg, Sodium: 2495mg, Potassium: 550mg, Fiber: 1g, Sugar: 24g, Vitamin A: 207IU, Vitamin C: 1mg, Calcium: 54mg, Iron: 2mg
We are a participant in the Amazon Services LLC Associates Program, an affiliate advertising program designed to provide a means for us to earn fees by linking to Amazon.com and affiliated sites.