Succulent & Tender Asian Pork Ribs with Sriracha-Hoisin Glaze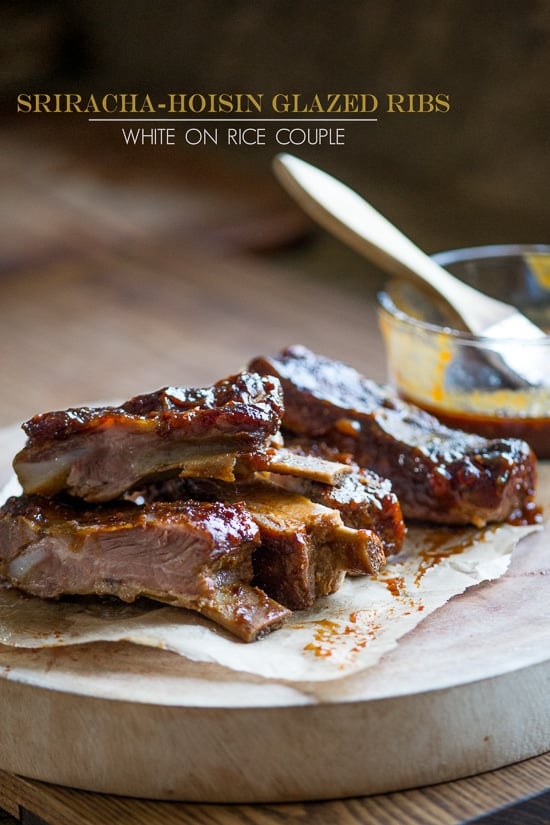 By Friday, the fever pitch is nearly at its bursting point. The workday's best day of the week, the harbinger of the weekend, and it seems like the day lasts for an eternity. After all, it is almost game day. For me, football fan-aticism is a fairly new emotion. You see, I grew up in northeastern Oregon. The state has no NFL team, and even though many will be quick to chime in, "but you have the Ducks", referring to the University of Oregon's furious flock, when I was growing up, they were as intimidating as… well, a duck.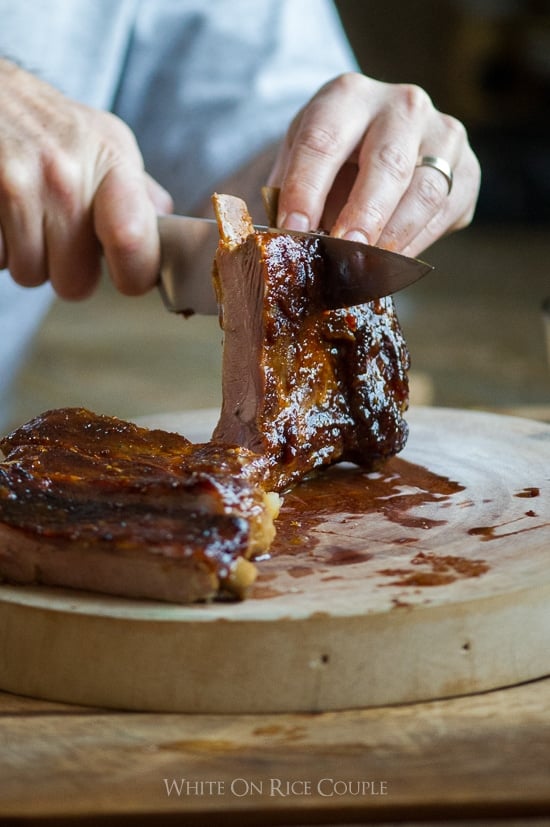 So even though I grew up playing backyard football and got all grass stained nearly every recess; even though I played jr. high & high school football; and despite watching the NFL games as a second helping of Sunday service, I can't say I grew up a fanatic. Not like I've seen those who've grown up in a serious football culture, whether it be NFL or college football.
Take one example: a few years ago while in Nashville, Diane and I were standing line waiting to board the bus to haul everyone over to the night's Grand Ole Opry show and we're chatting it up with the couple behind us. Several minutes into the conversation the husband politely excuses himself.
He makes his way over to a complete stranger and greets him, "Roll Tide". The stranger extends the "Roll Tide" wishes back, and then the husband quietly makes his way back over to us and continues the conversation without a hitch. Anyone who has seen the ESPN "Roll Tide" commercial would be rolling, and here I wast thinking ESPN was exaggerating the "Roll Tide" culture for a little commercial comedy. However sometimes life is funny enough you just have to show it as is.
Video Making these Awesome Asian Sriracha & Hoisin Pork Ribs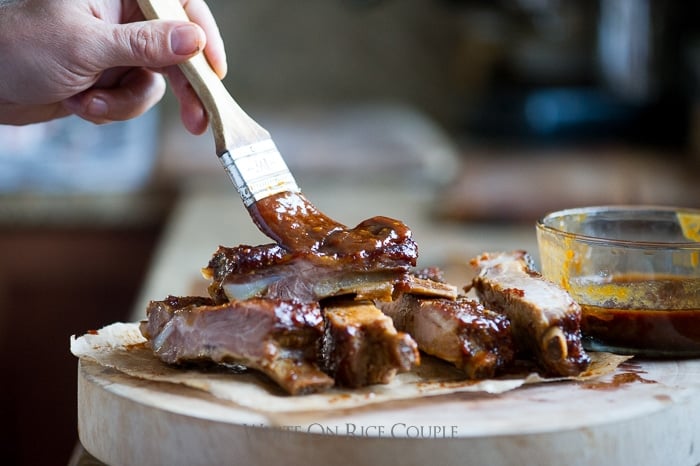 Today I have my adopted team, not having one rooted in family blood. My week is filled with Patriot hopes, speculations, and rooting. A loss leads to several days of mourning while a win lifts the spirits throughout the whole week. Friends who are a rival team's fanatic get a hefty dose of taunting after a beat down, while those who express disregard for our teams stars or coach roll off the back like rain hitting an armadillo. Normally not the chatty type, I can ramble for hours with other football fans; commiserating, teasing, sharing hopes and recognizing rivalries.
Just like the "Roll Tide" husband, friendships will be quickly formed with those of the same loyalty. There is that instant fist thumping over the heart understanding. "I get you, man" or "dudette" as the case may be. After all fandom isn't limited to the boys. There are girls which are just as hardcore football fans as any of the boys. One of the most passionate fans I've had the pleasure of knowing is our dear friend Rachael, a New England Patriot fanatic.
So as all of us fans deal with our weekly emotional roller coaster as our teams win and lose, here a pork rib recipe to gnaw on. After all, ribs are one of the perfect dude (or dudette) game day foods.
Super Tender Sriracha Hoisin Glazed Ribs
This is a tender fall off the bone rib recipe which is done in the oven. We usually use St. Louis cut spare ribs but the recipe will work great for any spare rib or baby back rib cut. The sauce is made to have a balance between the sweetness of the hoisin with the spice of the sriracha sauce. They aren't devilishly spicy, however if that is your preference, up the sriracha amount or sub in another spicier sauce. We will often use our homemade sriracha sauce which we've spiced up with the garden's habaneros and devil peppers. Zesty!
First bake the ribs with apple juice covered for an hour. While they roast, make the sauce (although you could also make the sauce days in advance. It keeps quite well). After the first hour of roasting, open up the foil and brush the ribs with the sauce, roast for 45 minutes, brush again, roast 45 minutes more, then brush one more time. If you like, you can run them under the broiler for a couple minutes to give them a little singe.
I must say, these asian pork ribs are crazy good. Moist, tender, almost fall off the bone but with just enough bite. The flavor is slightly sweet with a spicy tingle afterglow. Grab a beer and turn on the tube. Game's on! And remember, "It isn't crazy, it's sports".
-Todd
How to Make Asian Pork Ribs in the Oven
Baking Dish Method – Quick & Easy! Cut the racks in half if needed to fit in your baking dish. Pour some apple juice over the rib & season with salt & pepper, cover with foil and then bake. After the first hour, brush both sides of ribs with sauce. Finish baking uncovered, brushing with sauce another couple times.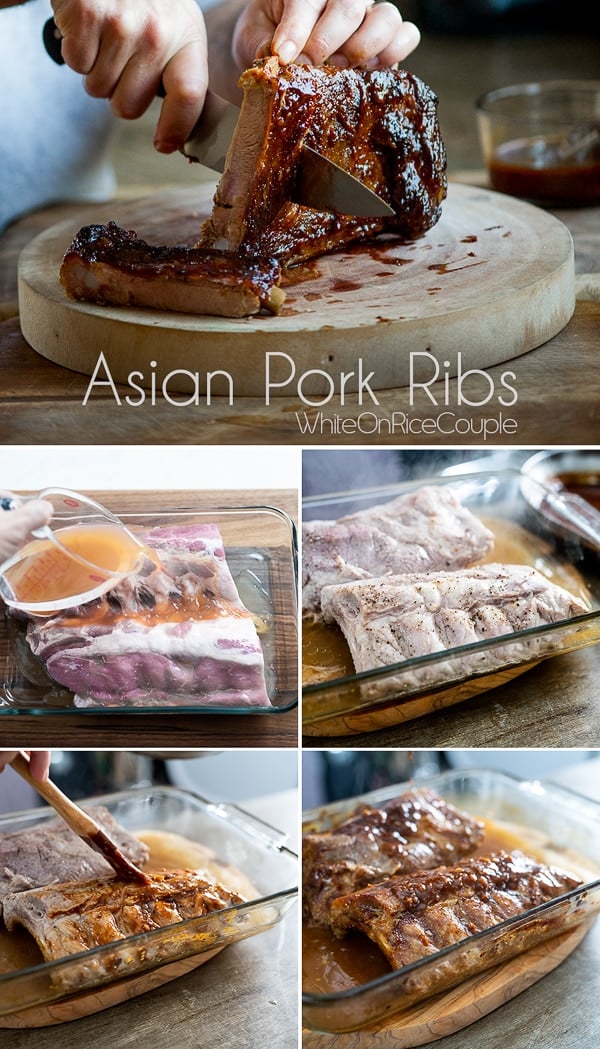 Foil "Boat" Method – Great for easier cleanup! Cut the racks in half to help make them more manageable. Create foil "boats" out of a double layer of foil. After the first hour, brush both sides of ribs with sauce. Keep foil sides upright to keep the juices surrounding the ribs as you finish baking, brushing the ribs with the sauce a couple more times.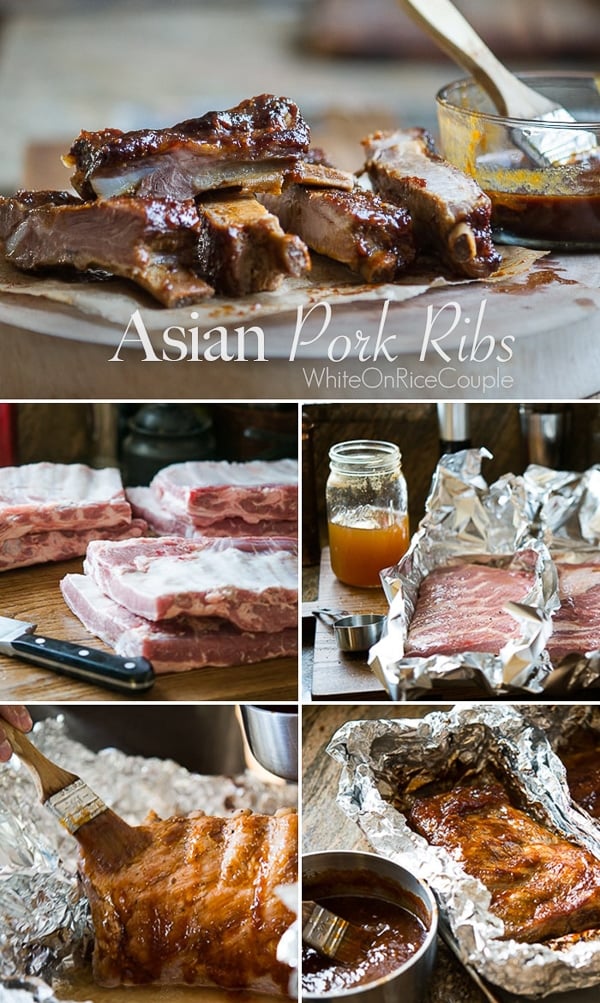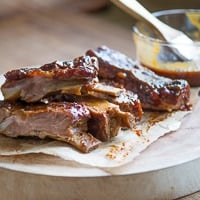 Asian Sriracha-Hoisin Pork Ribs - Oven Baked
We usually make these with the St. Louis cut spare ribs. They are a nice meaty rib with a good balance of meat to bone. You can make them with any cut though, just adjust the baking times if needed. These aren't especially spicy, just giving a hit of spice as an afterglow, so if spice is your thing add a little extra sriracha or toss in another devilish hot sauce. We will often use our homemade sriracha sauce which we personally zing up with habaneros and Goat's Weed peppers.
The recipe is based off an average St. Louis cut rack of ribs (@ 3 pounds). We will usually just make the glaze as the ribs are cooking in the first hour, but you can always make it days ahead of time if needed. The ribs also reheat very well in the oven or on the grill. Keep them wrapped in foil and reheat at 350°F for about 10 minutes or until warm, and then broil & serve. It is nice and easy to make the ribs the night before and re-heat on game day.
Ingredients
Ribs
3 pound rack St. Louis cut (preferably) Spare Ribs (1360g) , rinsed and patted dry
1 Tablespoon Kosher or Sea Salt (15g)
fresh cracked Black Pepper to taste
1 cup Apple Juice (240ml)
Hoisin-Sriracha Sauce
2 Tablespoons Grape Seed Oil (30 ml) (or other clean tasting oil)
4 cloves Garlic , crushed or minced
2 Tablespoons finely grated Ginger (@ 3" knob)
2/3 cup Hoisin (160ml)
1/4 cup Sriracha Sauce (60ml)
1 Tablespoon Fish Sauce (15ml)
1/4 cup Apple Cider Vinegar (60ml)
Instructions
Sauce Instructions
Heat oil in a saucepan over medium heat. Add garlic and ginger and cook 1-2 minutes or until light golden.

Add hoisin, sriracha, fish sauce, and apple cider vinegar and stir well. Cook for 5 minutes and then remove from heat and set aside to cool.
Ribs Instructions
Preheat oven to 350°F (175°C). If needed, remove the silver skin from the bone side of the ribs (some butchers will have this already removed for you.)

Cut the rib rack in half and place the ribs, meaty side up, in a 9x11 inch baking dish (or other appropriately sized dish). Pour the apple juice over the ribs and then season both sides with salt & pepper. Cover with aluminum foil.

Bake for 1 hour. Remove from oven, remove foil, and brush both sides of the ribs with sauce.

Return to oven uncovered. Bake for another 45 minutes uncovered. Brush the ribs with sauce again.

Check the tenderness of the ribs. Bake for another 15-45 minutes, depending on how tender you like your ribs.

Remove ribs from oven. Brush the ribs a with a little more sauce, slice & serve (for a little extra crust follow next step before slicing).

Optional for a little extra crust - Heat oven to broil and place oven rack about 6 inches down from the top. Brush ribs with glaze again and broil for 2 minutes or until slightly singed. Slice & serve.
Notes
For an easier cleanup, you can bake the ribs in a foil "boats".
Make 2 "boats" out of doubled up sheets of heavy duty foil large enough to enclose each rib section (*refer to

sriracha-hoisin ribs photos for visual guide

). Place ribs, meaty side up, in boats and pour 1/2 cup of apple juice in each of the boats.

Seal foil boats closed around the ribs, trapping the juice in with the ribs and being careful not to break the foil. Place on sheet pans. Bake as directed in the recipe above (however leaving the foil open but with the sides standing up enough to keep the juices around the ribs when it calls to bake uncovered).
Nutrition Information per Serving
Calories: 676kcal, Carbohydrates: 29g, Protein: 28g, Fat: 49g, Saturated Fat: 14g, Trans Fat: 1g, Cholesterol: 137mg, Sodium: 3376mg, Potassium: 601mg, Fiber: 2g, Sugar: 19g, Vitamin A: 28IU, Vitamin C: 13mg, Calcium: 56mg, Iron: 2mg
We are a participant in the Amazon Services LLC Associates Program, an affiliate advertising program designed to provide a means for us to earn fees by linking to Amazon.com and affiliated sites.