Heirloom Tomato Galette
If you love Summer as much as we do, you'll love this homemade heirloom tomato galette. It's a savory masterpiece.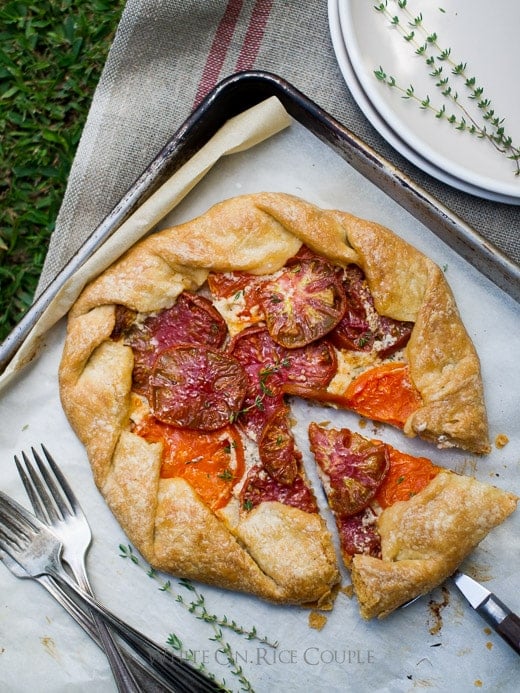 Summer' Bounty Heirloom Tomato Galette Recipe
We're trying to be good kids this is the Summer by making it a season of "to-do's". If any of you have one of these lists, we've probably got you beat by a mile. Or two. We've just go so much we want to do and so little time. Well, we committed ourselves to being focused over the last few weeks, thus the lack of posting.
Top of our list was finishing up house maintenance duties that have been neglected for a while. You'd be proud to know that we finally replaced our old wood side-gates. Yes! We built out two new small decks going into the garden and replaced the top wood on our front deck. In the process we discovered ironwood, which is amazing. We also had our outside garage lights fixed and they're now finally working after about 3 years. Yay! Let there be light!
Video making this beautiful Heirloom Tomato Galette:
Here's some pics from when we shot Bountiful – Sierra likes to guard the table, while Lexi (she was so little) hopes to find food under the table.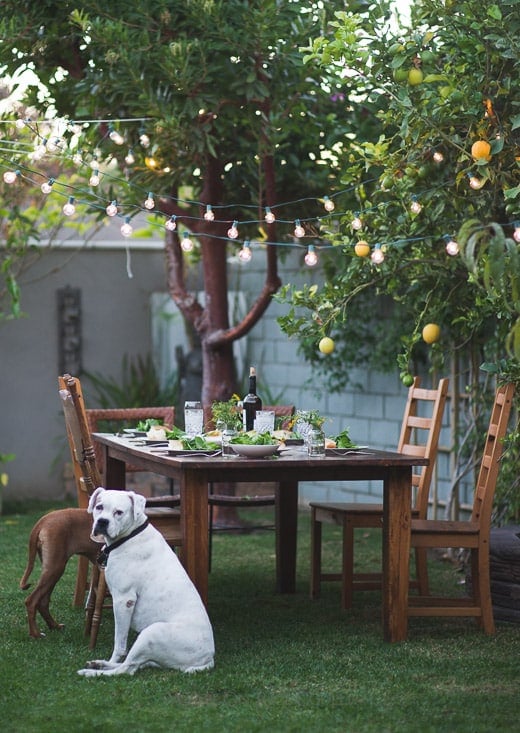 Somewhere down on our list is to eat more heirloom tomatoes. Basically, don't travel so much in Summer so that we can actually be home to enjoy eating from the garden more. That's what we've also been focusing on this Summer, which is to work locally more and take less travel jobs because we enjoy being home so much!
We're feeling satisfied at this point in our career that we don't need to hop on a plane to work as much. Yeah, travel is nice. More than nice, we love it. But it had gotten to a point when actually being home for more than seven days at a time was a luxury for us. So it's nice to dial it back a little and appreciate every moment sitting in the garden and eating more heirloom tomatoes.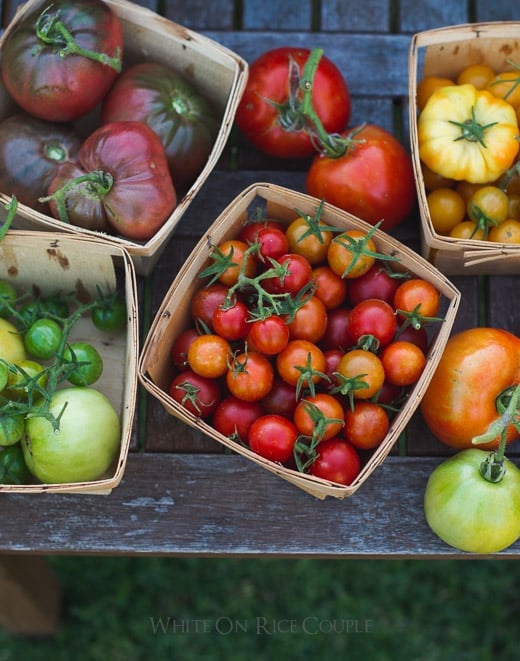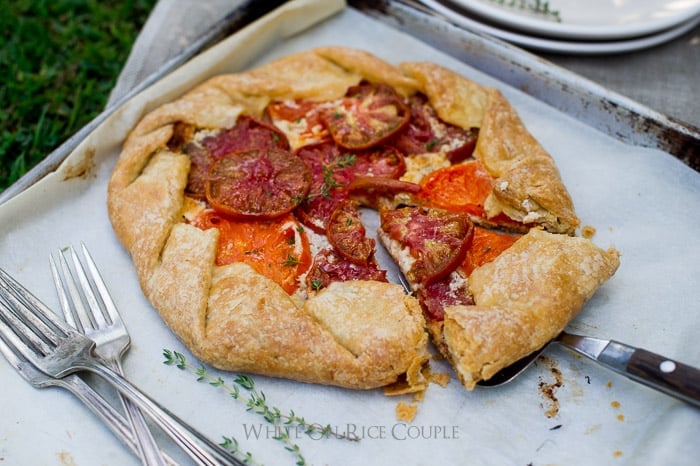 Heirloom tomatoes always seem to ripen at once and when they do, it is time to feast on them for every minute of every meal of the day. This tomato galette is one of our favorite recipes that we shared in our cookbook, Bountiful. It's a great way to use up those tomatoes that are overflowing at the markets and in gardens.
Hope you all are having a marvelous Summer. We're enjoying every minute of it and you can get more glimpses of our garden and Summer adventures on Instagram for White On Rice Couple. And we're still hoping to finish our "to-do" list by July. Wish us luck!
Happy Summer,
diane and todd
This recipe post was originally published in 2014 and we re-published it in 2016 with updates on the recipe and included a new recipe video! Enjoy.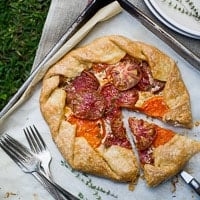 Heirloom Tomato Galette Recipe
Recipe is adapted from our cookbook,
Bountiful
. One of our favorite ways to use pastry is to make a galette.
We've changed this crust recipe to make a single galette. If we are making two galettes worth of dough (or if you want to save the extra dough) we prefer to add an egg into the dough. For a two crust amount of dough, use 1/4 cup of water and one egg mixed together to bind the dough into a ball.
The base of the galette interior uses our Sweet Onion Dip. If you are making the dip, just set some aside for this galette and add a bit of thyme, otherwise you can make a mini portion as shown in the recipe below.
Makes one 8-inch Galette.
Ingredients
for the filling
1/4 cup (50 g) freshly grated Parmesan
2 ounces (57 g) cream cheese , at room temperature
1/4 cup (60 g) mayonnaise
1/4 (1/4 ) medium onion , diced (about 1/4 cup / 40g)
1/2 teaspoon (2.5 ml) fresh thyme leaves , optional
1/4 teaspoon (1.25 ml) freshly cracked black pepper , or to taste
for the crust and finishing the galette
1 cup (125 g) flour
1/4 cup (57 g) cold unsalted butter , (1/2 stick) cut into 1/2-inch (12-mm) pieces
1/2 teaspoon (2.5 ml) kosher or sea salt
1/4 cup (60 ml) cold water
Heavy cream or egg wash , for brushing crust
3 to 4 (3-4 ) medium tomatoes , sliced 1/4 inch (6 mm) thick
kosher or sea salt , to taste
fresh cracked black pepper , to taste
Instructions
Preheat the oven to 375°F (190°C). Line two sheet pans with parchment paper.
Make the Filling:
In a bowl, mix the Parmesan, cream cheese, mayonnaise, onion, thyme (optional), and pepper to taste until well combined. Set aside.
Make the Crust:
In a separate bowl, pinch together the flour, butter, and salt with your fingertips until most of the big chunks of butter are flattened or broken up. Incorporate the cold water into the flour until the mixture binds together and forms a rough ball (you may need to gently knead the ball to incorporate the last of the flour).

Flatten the ball into a disk. Wrap in plastic wrap and place it in the fridge. Chill for 30 minutes or up to overnight.

On a floured surface, roll the disk out to a circle slightly larger than 10 inches (25-cm) in diameter.

Trim the dough into an even 10-inch (25-cm) circle (we use a 10-inch / 25-cm ring mold to cut the dough). Gently wrap the dough around a rolling pin, then unroll it onto one of the prepared sheet pans. Spoon the Parmesan–cream cheese mixture in the center of dough circle, spreading the mixture out evenly to within about 2 inches (5 cm) of the outside edge.

Place one to two layers of sliced tomatoes over the cheese mixture. Fold the edge of the dough over the tomatoes. Brush the crust with the cream or egg wash. Season crust and tomatoes with salt and pepper.

Bake for 50 to 60 minutes, or until the crust is golden, rotating the pans halfway through so the galette will bake evenly. Serve warm or at room temperature.
Nutrition Information
Calories: 270kcal, Carbohydrates: 19g, Protein: 5g, Fat: 19g, Saturated Fat: 8g, Cholesterol: 38mg, Sodium: 352mg, Potassium: 187mg, Fiber: 1g, Sugar: 2g, Vitamin A: 910IU, Vitamin C: 9mg, Calcium: 67mg, Iron: 1.2mg
We are a participant in the Amazon Services LLC Associates Program, an affiliate advertising program designed to provide a means for us to earn fees by linking to Amazon.com and affiliated sites.