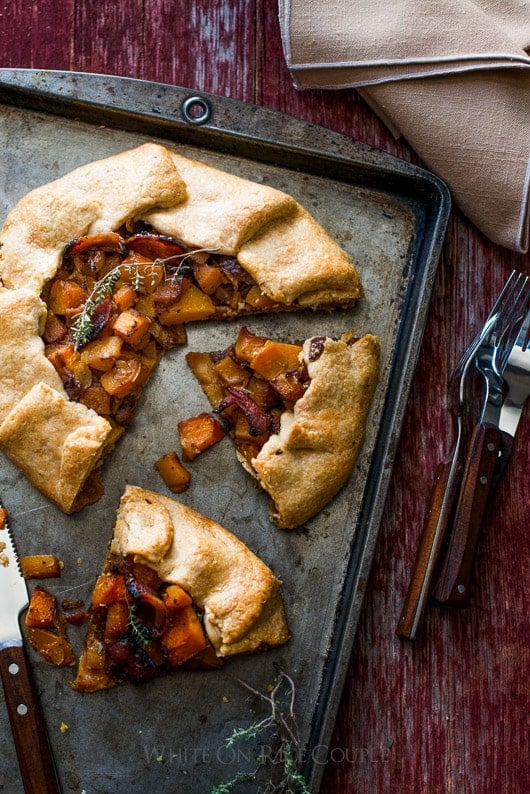 We thought about making a galette in the wood fired oven today. This was the day that we set aside as our practice day to make sure we stay consistent and don't burn all our food, especially if we plan a big dinner party around the oven. But with so many things on our "practice cooking list", adding a galette would be over-load.
Seriously, a galette on top of the loaves of parmesan bread, bialys, wine and onion dip, chicken wings and apple pastries? Did we really need to add another galette to our practice list? We both looked at each other and said, "no more food".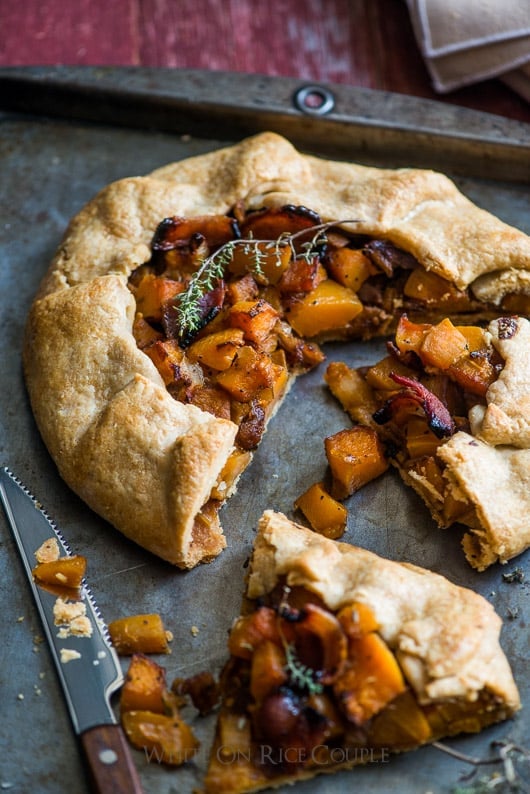 But alas, we remembered we had this recipe: an awesome butternut squash galette recipe and photo saved in our archives to share for our Christmas gathering and it totally slipped our memories until today.
Butternut squash, bacon and parmesan galette for Christmas. It's the perfect, elegant yet easy dish to share when everyone else is bringing cookies, cookies and more cookies.
We're so glad we didn't make the galette today and we'll save it for Christmas because we'll enjoy it much more when we don't have three loaves of bread, a mound of bialys, chicken wings and a ton more of food to squeeze into our bellies. And don't worry, we don't waste any of our food. It's going to all our neighbors and friends!
Hope you all spend time with the ones you love, eat awesome food, share great stories, laughs and hugs. That's what Christmas is all about.
Happy Holidays Everyone!
diane and todd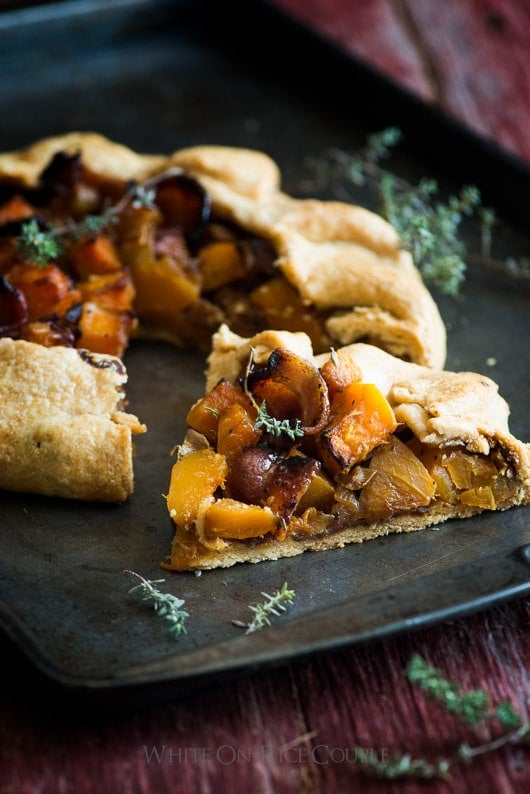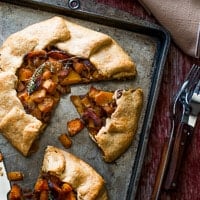 Butternut Squash and Bacon Galette Recipe
Ingredients
Filling Ingredients
1

small butternut squash

(about 1 pound or 455g)

4

slices

bacon

, cut into 1" pieces

1

medium onion

, diced

3

cloves

garlic

, minced

2

teaspoons

(10ml) Worcestershire sauce

1/4

teaspoon

fresh or dried thyme leaves

1/2

teaspoon

paprika

kosher or sea salt to taste

fresh cracked black pepper to taste

1/4

cup

grated parmesan cheese add on top before baking
Galette dough ingredients
1 1/4

cups

(155g) all-purpose Flour

1/2

cup

cold unsalted Butter

(1 stick or 113g), cut into 1/2-inch (12mm) pieces

1

teaspoon

Sugar

1/2

teaspoon

kosher or sea Salt

1/4

cup

(60ml) cold Water

(you may not end up using the full amount)

Egg wash

(one egg mixed with 2 tablespoons of water) or Heavy Cream, for brushing the crust
Directions
Make the filling: Peel, seed, and cut butternut squash in 1-inch cubes. Set aside.

Heat large skillet over medium high heat. Fry the bacon until the bacon is slightly crisp, but not over-cooked. When bacon is slightly crisp, remove bacon pieces from pan (keep dripping in the pan) and set aside. Bacon will crisp further when baked in the galette.

In the same skillet with the bacon drippings still over medium high heat, add the onion and garlic. Cook onions and garlic until soft. Add the butternut squash, Worcestershire sauce, thyme, paprika, salt and pepper. Reduce heat to medium and cook butternut squash until tender, about 15-20 minutes.

Taste a piece of the butternut squash to make sure it's tender and to taste for additional salt/pepper seasoning if needed. Remove skillet from heat. Set butternut squash filling aside until ready to fill galette.

Preheat the oven to 375°F (190°C). Line a baking sheet pan with parchment paper.

Make the crust: In a bowl, pinch together the flour, butter, sugar, and salt with your fingertips until most of the big chunks of butter are flattened or broken up and there is no remaining dry flour sections.

Incorporate the enough of the cold water into the flour until the mixture binds together and forms a rough ball. Knead the ball just until the dough begins to become smooth. Don't overwork the dough or else it will become tough. 

Roll the dough into a ball, and then flatten into a disk. Wrap in plastic wrap and chill for at least 30 minutes (can be chilled overnight or frozen for future use).

On a floured surface, roll the disk out to a circle about 12 inches (25-cm) in diameter. Gently transfer the dough onto the prepared sheet pan.

Spreading the butternut squash mixture out evenly to within about 2 inches (5 cm) of the outside edge. Sprinkle the parmesan cheese over the filling. Fold the edge of the dough over the filling, creasing and folding until completing the circle. Brush the crust with the egg wash or heavy cream.

Bake for 50 to 60 minutes, or until the crust is golden. Serve warm or at room temperature.