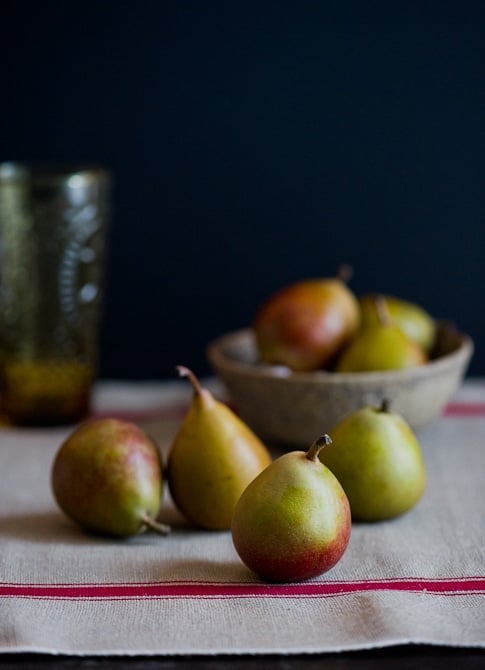 Fall Fest is here and it's a continuation of Summer Fest, a cross-blog recipe (and tip) swap. These events were started by Margaret Roach of Away to Gardenand Deb Puchalla of Food Network. Previous themes were Spinach,  Apples, Fall Salads and Pumpkin/Squash. For this week, it's all about Pears.
Join and share yourblog write ups. Just post your link or recipe or idea in the comments below this post, and also share on the blogs of the other participants who are co-hosting as well.
Although our local So Cal weather may not know whether it wants to be fall or summer, cool and rainy one week – spiking into the hundreds the next, the markets' seasonal rhythms are a true indicator that autumn has officially settled in. The late summer fruiting glory of pluots are starting to look a little "meh", melons are being replaced by winter squash and pumpkins as the rotund market table dominators,  and the apple and pear varieties have exponentially grown.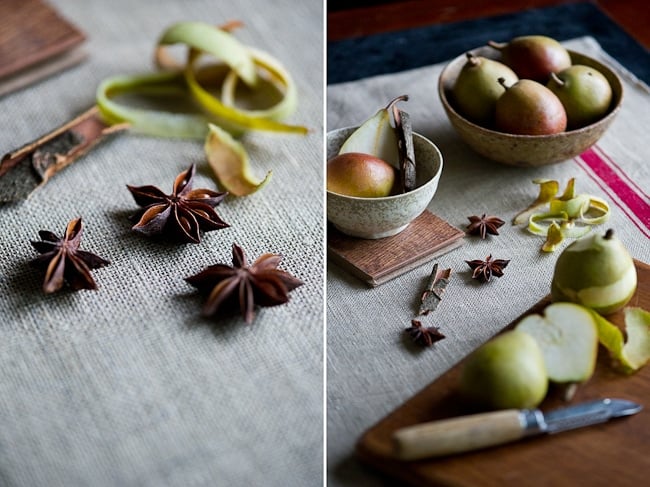 The last couple days the weather has turned exceptionally fall-esque, with deep, gray clouds settling in overhead and a damp chill (for Southern California) has caused our poor pups to need a covering of fleece to keep from shivering all night.  We keep telling them that there are dogs out there which have to sleep outside, but they just look up with their eyes in disbelief and with pleads of more blankets.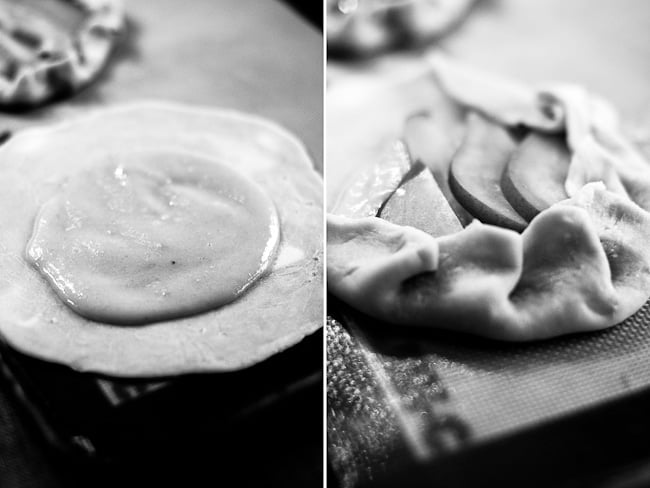 add pastry cream, poached pear slices, then fold in edges
This morning's rain and rare thunder had both pups in a state of un-ease. Dante, the big principessa refuses to subject himself to rain.  He'll hold his bladder all day in order to avoid dampening his delicate coat. The little white one, Sierra, is slightly more uncouth and will get wet and dirty at any opportunity, but the thunder makes her nervous and she attaches herself as a white shadow to the nearest big person.
But the weather sets the perfect mood for baking pears.  Nothing is more comforting than to have the oven warm the house while the scents of clove, cinnamon, vanilla mingle with the roasted pears.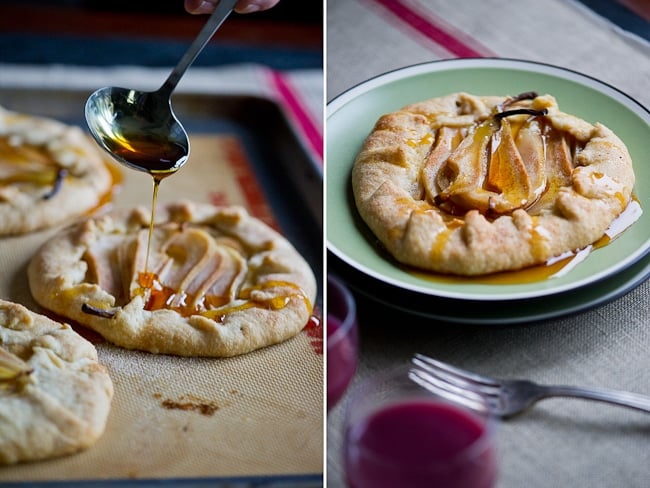 This recipe is a bit involved, but it combines several of my favorite dessert elements, so I never mind the extra effort. The smell of butter and flour mixing together in making the crust is one of my favorite smells.  And pastry cream is easily my favorite dessert filling to make. When made well, it is absolutely divine. Plus the pear galettes are stunningly delicious, incase the enjoyment of the process isn't enough for you ;).
You can make several of the components ahead of time, even form the galettes earlier in the day, keep them in the  fridge for several hours, then bake them fresh for dessert.  The crust actually benefits from the extra chilling.
If you'd prefer a less involved pear dessert, one of our favorites is the Caramel Roasted Pears from Pam Anderson's Perfect One-Dish Dinners Cookbook.
-Todd
Pear Galette Recipe
Yield: 6 small Galettes or 2-3 large Galettes
The pears are macerated for a bit in brandy after being poached. For those abstaining, you can easily skip this step and substitute more water instead of the brandy in the caramel sauce. to make them virgin galettes. Also, if almond isn't your thing, just use the straight pastry cream skipping adding the almond paste mix. This is one of the tastiest, flaky crusts we've had (is also our pie crust dough). Easy to make, too. Lard makes crust flaky, butter makes crust tasty. That's why both are used here. Also, flaky crusts like cold temperatures, so keep your ingredients cold even in between steps to help make your crust happy. The caramel sauce keeps very well, so we make larger batches and always have on hand. The pastry cream keeps a couple days in the fridge if you want to make that ahead of time, as well. Just cover it with a sheet of wax paper to keep a skin from forming.
Ingredients:
5-6 med. sized Pears, ripe but still firm, peeled if desired and sliced in half
1/2 c Brandy
Spiced Poaching Liquid
4 c (960 ml) Water
1 lb (455g) Sugar
1/2 Lemon, cut into wedges
1 t (5ml) Vanilla Extract
6 whole Cloves
2 whole Anise Stars
1 Cinnamon Stick
Galette Crust Dough
2 1/4 c (355g) Flour
1/2 T (8g) Sea Salt
1/2 lb (225g) cold unsalted Butter
1/4 c (70g) cold Lard
1/3 c (80ml) Ice Water, approx.
Pastry Cream
1 c (240 ml) Milk
2 T (18g) Cornstarch
4 T (60g) Sugar
1/8 t (2g) Sea Salt
1 Egg
1/4 t Vanilla Extract
Almond Paste Mix
8 oz (200 g) Almond Paste
1/2 c (100g) Sugar
2 Egg Whites
Caramel Sauce
1 c (200g) Sugar
1/2 t fresh Lemon Juice
1/3 c Brandy
1/3 c Water
2 Cinnamon Sticks
@ 2 T Cinnamon Sugar (1:3 Cinnamon:Sugar ratio)
Directions:
Poach the Pears. Combine Spiced Poaching Liquid ingredients in a large saucepan. Bring to a boil, then poach pears just until soft (@ 5 min.) Set pears aside in a gallon freezer bag, and macerate with the 1/2 c brandy.
Make the Galette Dough. Combine flour and salt on a work surface or bowl.
Cut up the cold butter and lard into manageable pieces, then add it to the flour and pinch down to hazelnut size pieces with your fingers.
Add ice water and mix just until the dough comes together. It should be a rough looking, lumpy ball with chunks of butter still. Divide into even balls for the number of crusts you will be making (2 lrg, 6 sml). Flatten the ball, then wrap and put in fridge for at least 30 min.
Make Pastry Cream. Bring milk to boil in a small saucepan. While milk heats, combine cornstarch, sugar, salt, and egg in a small bowl. Whisk until well incorporated. After milk is hot, pour 1/3 of milk into egg mixture, whisking constantly. Pour tempered egg mix into saucepan with remaining milk and return to heat. Heat over med. heat until pastry cream thickens, stirring constantly. Add vanilla extract, then pass through a fine mesh sieve to filter out any lumps.
Make Almond Paste Mix. Combine almond paste and sugar in a mixer bowl. Mix using a paddle attachment until well mixed. Slowly add egg whites and mix until well combined. Add into Pastry Cream and set aside.
Make Caramel Sauce. (Be very careful. Nothing is worse than a caramel burn!) Put sugar and lemon juice in a small, heavy bottom saucepan. Allow sugar to melt and caramelize, stirring just occasionally. After sugar reaches a nice deep golden brown, carefully add brandy and water (it will bubble viciously for a bit). Allow to bubble for a bit then while still on the heat, stir well to incorporate the liquid with the caramel. Continue heating until you are able to dissolve all of the caramel into the liquid. Add cinnamon sticks and set aside to cool.

Preheat oven to 375°F. Line 2 sheet pans with parchment paper.

Slice Pears into 1/8" slices. Use a melon baller to remove cores on slices.
Form Galettes. Working with one dough ball at a time (leave others in fridge), placing the dough between two sheets of plastic wrap and roll out to a circle. Occasionally peel back plastic wrap, then place back on so you take out the wrinkles. Roll to about 1/8″ thick.
Place dough on sheet, removing the plastic wrap. Pour a few tablespoons of almond/pastry cream mix into center of dough. Layer on pears, then fold the edges of the dough around the pears. Sprinkle cinnamon sugar on top of galettes. Repeat process for remaining dough balls.
Place sheet pans in oven and bake for approx. 35 min or until crust is golden brown. Before serving drizzle cinnamon caramel sauce over pears. Best served warm.
Hello! All images & content are copyright protected. Please do not use our images without prior permission and do not re-publish this recipe. Simply link back to this post for the recipe. Thank you.
Recipe Note for Salt: All recipes containing salt are based on kosher or sea salt amounts, not table salt. If using table salt, reduce the amount used to taste.
More Fall Salad Recipes for Fall Fest. Share your links on our host's blogs!
Caroline at the Wright Recipes:Three Favorite Pear Recipes
Caron at San Diego Foodstuff: Pear, Pecan, Parmesan Scones
Paige at The Sister Project:A Gingery Pear Crisp
Nicole at Pinch My Salt: Sour Cream Pear Cake
Gilded Fork: Harvest Risotto with Caramelized Pears
Margaret at A Way to Garden: Of Pears and Cookbooks, a Delicious GiveawayRoberto at Food2:5 Ways to Warm Up to PearsMichelle at Cooking Channel: What to Pair With PearsKirsten at Food Network: Baking Up Pear DessertsLiz at Healthy Eats: Vanilla Poached Pears, With VariationsFood Network UK: Pear Necessities
Alana: Musings on Pears and Cheese
[ad]