Hard Lemonade-Battered Fried Chicken
Beer battered fried chicken is a favorite for many reasons, primarily for the crispy batter that we all strive to perfect. So when we wanted to get creative and mix up our fried-chicken-routine with mike's hard lemonade, it was an obvious choice to experiment in the kitchen. mike's citrusy malt beverage has all the perfect components to substitute for beer and best of all, the fantastic all natural flavors of the bright lemon is a win-win pairing. We're thinking if it is delicious to drink, why not cook with it?
making the hard-lemonade batter
We have always shared mike's hard lemonade at our outdoor parties because there's always those folks who don't drink beer, wine, nor cocktails. So having a big ice tub filled to the brim with all the different flavors of mike's hard lemonade ensures that everyone stays hydrated behind the pitchers of iced tea and cold water. Hard lemonades are super refreshing, especially when you have good friends to share it with.
So here we are again taking this refreshing drink to a culinary level beyond the glass. We made a simple batter and infused it work bubbly mike's hard lemonade. This recipe is as easy as any fried chicken recipe can get.
What results is a big, happy batch of fantastic fried chicken whose crust will blow your mind. Inside is juicy chicken that's flavorful that will make you obsess about having 2-3 more pieces.
We're not kidding about how easy and delicious this fried choice recipe is. In fact, experiment on your own terms and for the batter, try the different flavors of mike's hard lemonade like dark cherry, peach and blackberry.
You won't be disappointed, especially with this outdoor grilling and al fresco party season in full swing. Best of all, pair it with another cold serving of your favorite hard lemonade flavor and you'll wish that Summer will linger-on a bit longer.
Enjoy!
-diane and todd
Here's a great round-up of our favorite appetizers pairing list with mike's hard lemonade and a fun boozy peaches-n-cream float recipe.
This is a sponsored story and all opinions are our own. We enjoy sharing things we enjoy and thanks for being part of our food obsession!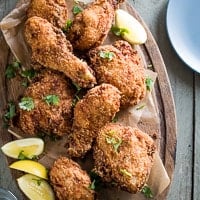 Hard Lemonade Fried Chicken
See post for additional recipe details and options.
Ingredients
4 lbs. (1820g) chicken drumsticks and thighs
1 1/2 cups (190g) flour
1 1/2 teaspoons (7ml) baking powder
1 teaspoon (5ml) garlic powder
1 teaspoon (5ml) onion powder
2 teaspoons (10ml) kosher salt , plus additional for seasoning chicken
1 teaspoon (5ml) black pepper , plus additional for seasoning chicken
one 12 ounce can (355ml) mike's hard lemonade
3 cups (190g) Japanese panko bread crumbs (optional)
oil for deep frying
chopped cilantro or fresh parsley , optional for garnish
Instructions
Clean and pat dry chicken. Season both sides with salt and pepper.

In large bowl whisk together flour, baking powder, garlic powder, onion powder, 2 teaspoons salt, and 1 teaspoon black pepper. Whisk in the mike's hard lemonade.

In another bowl add the panko bread crumbs.

Heat about 1-1/2 inches of oil in a deep skillet pan or pot. Heat the oil to 350-375° F.

Coat the chicken with the flour/hard lemonade batter. Then coat the chicken with the panko (optional) and place the chicken in the hot oil.

Cooking in small batches, fry the chicken on both sides until crispy and cooked through, about 10-15 minutes. Don't crowd the chicken.

Garnish with chopped cilantro or parsley (optional).
Nutrition Information
Calories: 523kcal, Carbohydrates: 20g, Protein: 43g, Fat: 28g, Saturated Fat: 6g, Trans Fat: 1g, Cholesterol: 209mg, Sodium: 899mg, Potassium: 549mg, Fiber: 1g, Sugar: 1g, Vitamin A: 106IU, Vitamin C: 1mg, Calcium: 74mg, Iron: 3mg
We are a participant in the Amazon Services LLC Associates Program, an affiliate advertising program designed to provide a means for us to earn fees by linking to Amazon.com and affiliated sites.