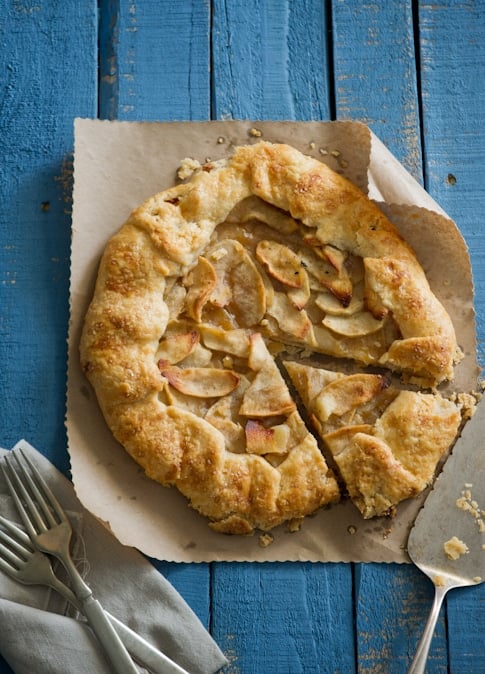 It has been coursing through my blood lately. It happens to many of us this time of year. The air grows cool and crisp, Halloween is just around the corner, and the desire for autumn's comforts fill our bones. And the top of the comfort list lies the glorious apple. I've got to get my apple mojo on.
For me the apple craving began about a month ago. We had a shoot for one of Whole Foods local apple farmers. Few things compare to picking apples fresh off the tree and biting into that sweet crispness, tinged with touch of tartness.
Every time I pick an apple from a tree it brings me back to my childhood and our three apples trees growing by the house on the ranch. We'd pick and eat until our bellies were full. The sweet smell of the apples filling the autumn air. Then, filling our arms, we'd bring the horses their favorite treat.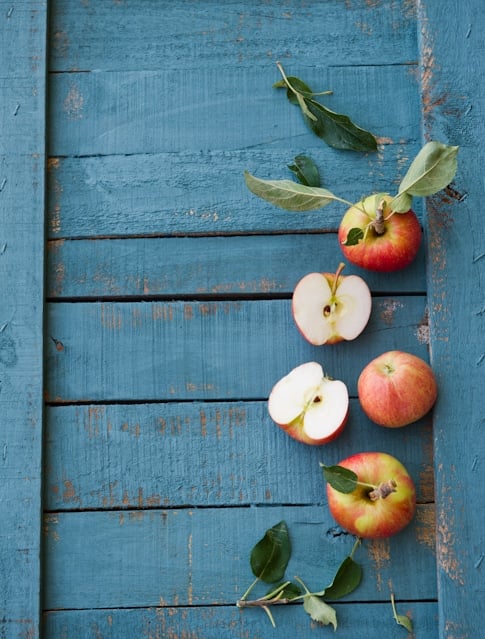 I can still remember one of our colts first apple moment like it was yesterday. Doc, who had been born earlier that year, would watch all the other horses devour apple after apple with envy. As much as he would try, he couldn't bite into the apples yet. They just kept slipping out of his mouth, spinning away.
After watching him struggle for a while, I decided to help him out. He still had that young colt jumpiness combined with an adorable curiosity. I eased within a few feet of him, then bit off a big chunk of apple. Holding out my hand with apple piece lingering on fingertips, Doc's curiosity overwhelmed his nervousness.
He took the apple from my hand and experienced his first sweet bite. After a few more pieces he decided I was alright in his book. For most of his life, he was always a bit of a smart ass to catch. But not for me. Doc never forgot who helped him eat his first apples.
So after our Whole Foods shoot, the need for apples started to fill my lingering thoughts. It wasn't long after that Diane and I took a West Coast roadtrip through California, Oregon, and finishing up in Seattle, Washington. Wandering through farmer's markets and boutique grocers, buying up apples for our drives and explorations, the apples were rockin. So crisp, juicy, and sweet.
Up in Seattle we hooked up with Jennie from In Jennie's Kitchen. Being the food fanatics we all are, and given the time of year and how good the local apples had been, talk soon fell to apples and all their glory. Even amongst the daily struggle to find a new normal after suddenly losing her husband a mere 2 months ago, the talk of food and cooking just lit Jennie up, exuding her love and warmth. She mentioned a Brown Butter Apple Pie she makes, and I knew without hesitation that I was going to have to make that as soon as I got home.
Jennie is one of those cooks, who I know after talking to them for even a moment about food, that their cooking is going to rock. Jennie, and the cooks and chefs I know like her, exude a certain culinary mojo. It is something I felt in my grandma, Diane, Michael Ruhlman, and chef Josef Centeno, among others. There is a particular love, sense of craft, and honesty to their approach to cooking. I trust their taste and have never been disappointed. These are good people to have in your life. And kitchen.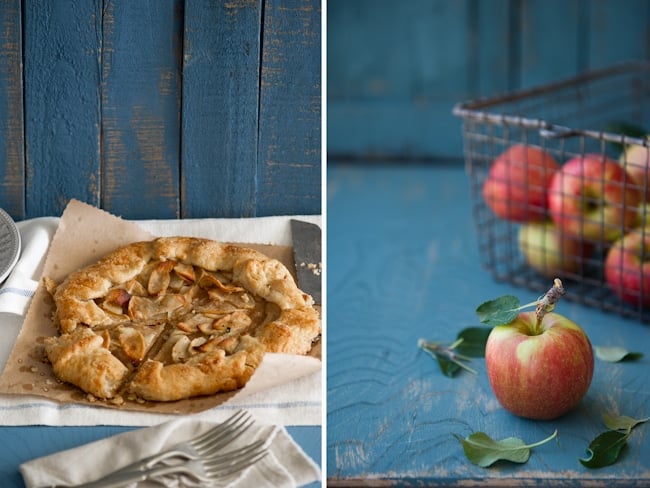 So after returning home from our road trip, I set out to make Jennie's brown butter apple pie. Only I don't like rolling out pie crust tops. I have serious pie envy for those able to create gorgeous pie tops. Martha Stewart I am not.
So I play to my strong suit. Rather than fight making the top, I opt for the rustic apple galette. Using a technique I learned from our pastry chef where I used to manage, I roll the dough out in between two sheets of plastic wrap. This allows you to roll the dough out quicker and thinner (my preference in pies) and still handle it easily.
The crust recipe I always use yields an amazing, buttery, flaky crust. I've yet to have another crust I prefer over it. I was torn whether to deviate from my home standard or use Jennie's crust recipe. In the end I chose to stay with my usual recipe, but that was mostly due to the familiarity and ease I have with making it. I've no doubt hers is equally incredible.
The end result was nothing short of amazing. The best apple galette I've had. Partly due to the apples being so extraordinary at peak season, part great recipe, and part love. I had intended to add some Bourbon to the apple filling, but forgot to when cooking. I think I'm just going to have to do a little private taste off and make these galettes again.
-Todd
P.S. In the comments, Susan from The Wimpy Vegetarian asked about our favorite apple for the galette. It is such a great question, we'd like to pass it on to everyone and have you all tell what apples you like the most for pies, tarts, and galettes. Share your favorite baking variety and where you live or get them from so we all can get a regional perspective. We can all learn from each other.  —  We usually use Fujis, sometimes mixed with Granny Smiths. But here in So Cal, our apple selection isn't as extraordinary as many cooler climate areas. Can't wait to hear everyone else's favorite.
Brown Butter Apple Galette Recipe
Yield: Two Galettes
Cook Time: 1 hour
Filling is based off of In Jennies' Kitchen Brown Butter Apple Pie recipe. It may be surprising to see a lack of spices, but as Jennie mentions in her post, it allows for the "intense flavor of roasted apples" be highlighted. After making the filling this way, I agree with her completely. For the type of apples, try to find a nice crisp, sweet-tart apples. Granny Smiths are a classic choice. We often use Fujis. Other good varieties are Jonathan, Jonagold, Pippin, Gravenstein, Braeburn, and Pink Lady Apples.
Ingredients:
Crust Ingredients
2 1/2 cups (310g) all-purpose flour
2 teaspoons (10ml) sugar
1 teaspoon (5ml) Kosher or sea salt
1/2 pound (225g or 2 sticks) cold unsalted butter, cut into 1/2-inch pieces
1/3 cup (80ml) ice water, approx. (you may end up not using all of the water)
heavy cream, to brush crust
pinch of coarse sugar or turbinado sugar, optional
pinch of sea salt flakes or Kosher salt, optional
Filling Ingredients
1 cup (225g or two sticks) unsalted butter
6 medium apples, peeled, cored, and sliced thin
1/4 cup (50g) sugar
1/3 cup (75g) packed brown sugar
1/4 cup (30g) all-purpose flour
1 Tablespoon (15ml) fresh squeezed lemon juice
Directions:
Make the Crust Dough
Combine flour, sugar, and salt on a work surface or bowl.
Add the butter to the flour and pinch down to pea sized pieces with your fingers.
Add ice water and mix just until the dough comes together. It should be a rough looking, lumpy ball with chunks of butter.
Divide into 2 even balls then flatten each ball (helps expedite the chilling process), then wrap and put to rest in fridge for at least 30 min.
Preheat Oven to 425°F
Make Filling (after dough is chilled)
Place the apples, sugars, and flour in a large bowl. Toss well until sugar and flour evenly coat the apples.
Heat the butter in a large skillet over medium heat. Butter will foam, then settle down. Continue to cook and the now separated solids will begin to brown and develop a toasty, nut aroma. Remove from heat and allow to cool for 5-10 minutes.
Pour browned butter over apples (scraping the pan to get all the tasty, toasty bits). Add fresh lemon juice, and toss apples to completely coat with browned butter and lemon juice. Set aside while you roll out the dough.
Finish Making Galette and Bake
Roll out the dough. Take one ball out at a time (leaving the others in the refrigerator until you are ready to roll each one) and place dough between two sheets of plastic wrap and roll out. Occasionally peel back plastic wrap and re-lay wrap on dough to help remove wrinkles. Roll to about 1/8″ thick and evenly round. Remove top layer of plastic wrap, and quickly but carefully flip dough onto a baking sheet so the remaining plastic wrap is now face up. Remove last layer of plastic wrap.
Place 1/2 of the apple filling into the center of the rolled out dough. Spread apples into an even circle, leaving a border of 2" of bare dough. Fold dough up over apples, creasing every couple inches. Repeat rolling and filling process with other ball of dough and remaining apple mix.
Brush crusts of dough with heavy cream. Lightly sprinkle turbinado or coarse sugar on crust. Very lightly sprinkle a pinch of sea salt flakes on crust.
Bake for 20 minutes, then turn temperature down to 350°F. Continue to bake for another 30-35 minutes or until crust is golden brown.
Hello! All images & content are copyright protected. Please do not use our images without prior permission and do not re-publish this recipe. Simply link back to this post for the recipe. Thank you.
Recipe Note for Salt: All recipes containing salt are based on kosher or sea salt amounts, not table salt. If using table salt, reduce the amount used to taste.
[ad]