Boozy Peaches and Cream Ice Cream Float with Hard Peach Lemonade
Celebrate Summer!
This time of year when the weather is great and everyone is having outdoor pool parties or backyard bbq's, guests usually tote-in-hand a few bottles of wine or a case of beer. Sure, that's great to share with our hostess and party-goers, but this season we changed things up a bit so that we can bring something fun, sweet and inebriating beyond the typical pie-dessert and beer/wine contribution. mike's hard lemonade in dessert is always quick to please and a pleasant surprise.
We tell our host and hostess that we'll bring the dessert. During a time when peaches, cherries and black berries are booming with ripeness, we'll always oblige with dessert flavors that highlight the Summer season. But instead of the pie, which most likely a few people will already be bringing, we opt for the fun & boozy sweet alternative: boozy ice cream floats with mike's hard lemonade. We've always been fans of mike's hard lemonade because the flavor of the lemon was always fresh, bright and natural from their high quality ingredients. The citrus flavor really comes through and for everyone who didn't drink beer or wine, mike's always filled the void. Now they've expanded to outstanding flavors beyond our wildest dreams.
Boozy ice cream floats with mike's hard lemonade is amazing. Every cool, sweet and refreshing sip has the burst of Summer fruit flavors and the perfect touch of alcohol that balances the dessert and adds energy to the party. But there is one drawback to this boozy dessert party: which flavor to choose?! It's tough when you have cold cans of hard dark cherry, blackberry, peach and lemonades starting back at you.
decisions, decisions, decisions…
We usually chose mike's hard peach lemonade first because it's always a wonderful combination to have peaches and ice cream for our Summer outdoor gatherings. Peaches and cream is always a favorite amongst everyone who parties with us, so replacing regular soda with mike's hard peach lemonade is a hit.
Though sometimes, our automatic go-to boozy ice cream float is the dark cherry and black berry flavors. Or most of the time, it just get's too complicated and confusing so we'll have mini-boozy-floats so we can savor all of mike's awesome flavors in their Flavors of America Variety Pack. That makes life so much easier. We can focus more time on enjoying the gathering than having to decide which flavor to choose. Mini-boozy floats should definitely be a serious option.
This Summer, do something different and bring a pack of the Flavors of America hard lemonade variety pack and a 2 gallons of ice cream to your next backyard party. Guaranteed, you'll liven up the gathering because it's the perfect flavors to make this season memorable and fun!
Enjoy,
-todd and diane
Here's a great round-up of our appetizer pairings with mike's hard lemonades.
This is a sponsored story and all opinions are our own. We enjoy sharing things we enjoy and thanks for being part of our food obsession!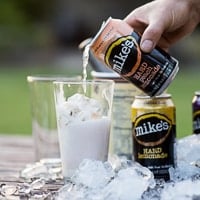 Boozy Peaches n Cream Ice Cream Float
Ingredients
one 12-ounce can of mike's hard peach lemonade (or other mike's hard lemonade flavor of choice)-chilled
2-3 scoops vanilla ice cream or flavor of choice
optional - fresh fruit to garnish
Instructions
Add the ice cream scoops into a 16-18 ounce glass. Slowly pour the mike's hard peach lemonade along the inside wall of the glass. Fill as much as possible without the foam spilling over.

Wait for the foam to subside or sip some off the top. Fill with remainder of the mike's hard peach lemonade. If desired, garnish with fresh fruit. Enjoy!
We are a participant in the Amazon Services LLC Associates Program, an affiliate advertising program designed to provide a means for us to earn fees by linking to Amazon.com and affiliated sites.