Movies at Dinner: Spaghetti Squash with Sausage
This spaghetti squash with sausage recipe is a classic and always a reader favorite. Enjoy!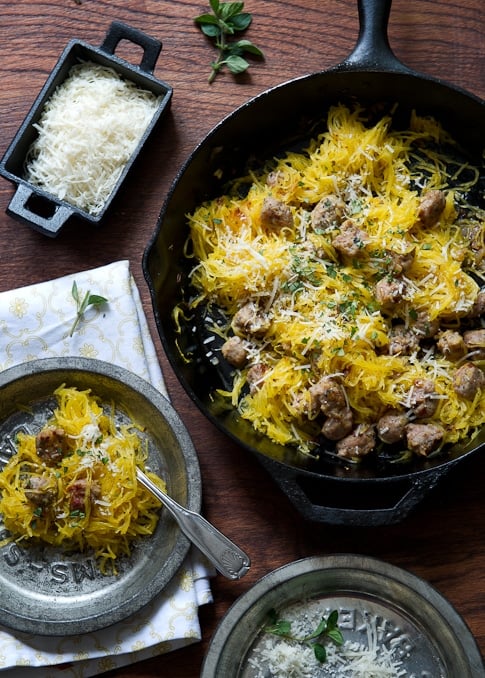 Spaghetti Squash and Sausage Recipe
Films and Food. Oh, when they are good, they are sooooo good. Take the dialog from the following iconic scene:
"Goddamn, that's a pretty fu**ing good milkshake."
"Told ya."
"I don't know if it's worth five dollars, but it's pretty fu**ing good"
It's hard to order a milkshake, especially not a $5 shake without thinking of Pulp Fiction. I can't even order a high-$$$ everyday eatable without thinking of Pulp Fiction. The $12 burger? $16 pho? They all get the Vincent Vega skepticism.
Video for Delicious Spaghetti Squash with Sausage recipe: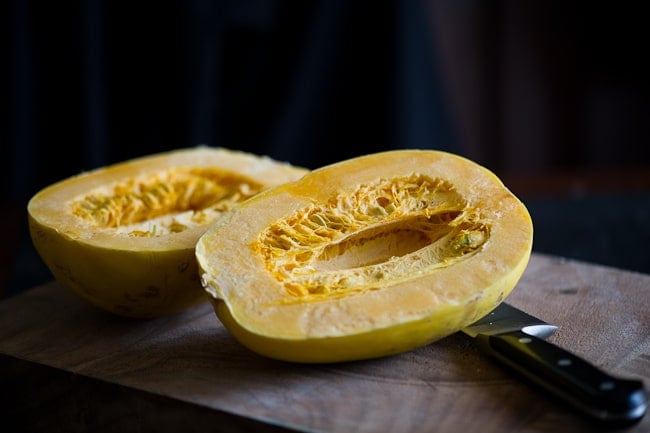 This film and food connection extend way past burgers, shakes, and the cult dialog of Pulp Fiction. Sometimes it is the music linking the food & film forever in our minds. Mambo Italiano and Big Night, anyone? Or take Paolo Conte's "Via con me" and the kitchen scenes of Mostly Martha.
Other times it will be a certain dish or ingredient which sparks the TCM flashback. Spice and chocolate – Chocolat. Any mention of bear meat – A Chef in Love. (Weird, I know but if you've seen the movie you'll know what I'm talking about.) Nearly all of our Top 10 Food Films will inspire some sort of culinary trigger.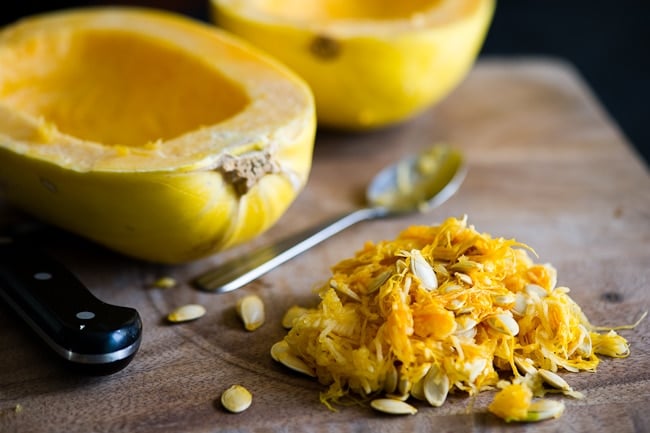 Sometimes they will even inspire or influence our cooking or techniques. I first tackled the challenge of Puff Pastry due to Babette's Feast. And an obscure scene from Dinner Rush forever changed how I cook sausage.
One of the boys in the kitchen whips up a quick meal of sausage and pasta for the boss (Danny Aiello). To cook the sausage, he took an uncooked sausage, pulled pinches of sausage out of the casing, dropped the perfect little balls into the pan and quickly sauteed them up.
So simple. So brilliant. Something I had never seen or read about. We didn't grow up in an Italian household so my ways about cooking Italian stemmed from books. And now, the movies have become our teachers too.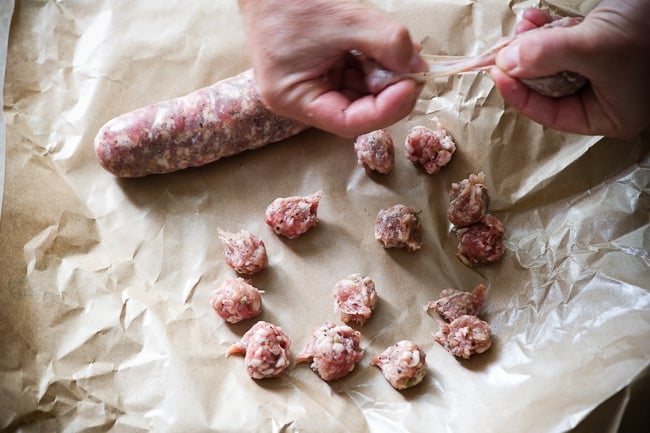 In a salute to the great food movies, here's a simple little dish using this movie inspired cooking technique… Roasted Spaghetti Squash with Sausage.
We love spaghetti squash. It is a perfect winter squash, giving up a great texture when cooked right. Try not to cook it until it gets mushy. It should still have a little bite like… spaghetti. Mangia!
-Todd
P.S. Would love to hear your food and film connections! Whether it is just your favorite food movies or scenes (can't end this without giving a shoutout to Tampopo – one of our favorites of all time), foods you associate with a movie, or anything else related. Hit us with your Fave Fives.
How to make this spaghetti squash with sausage recipe:
roast in oven until squash separate easily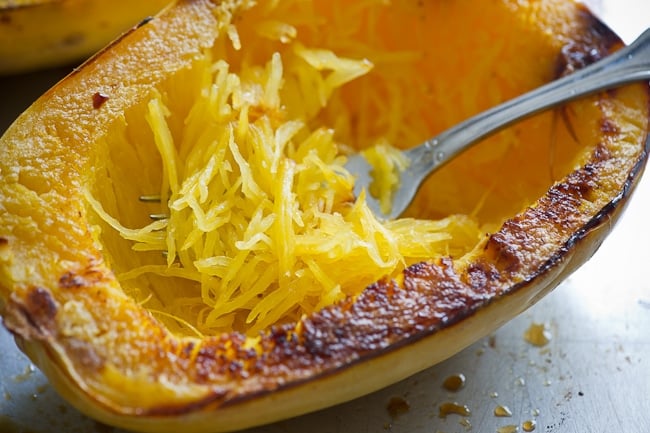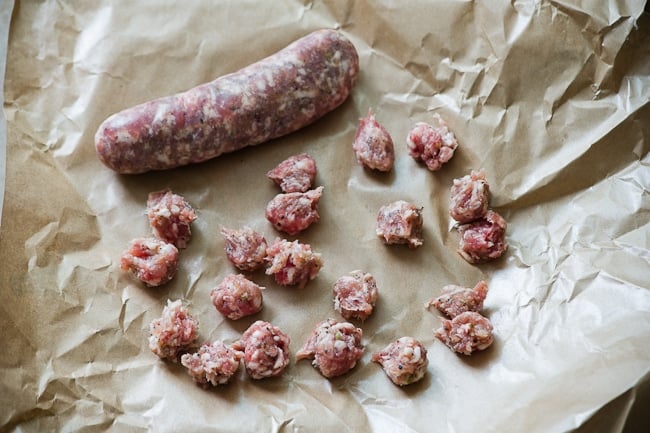 sauté onions or shallots and garlic until lightly golden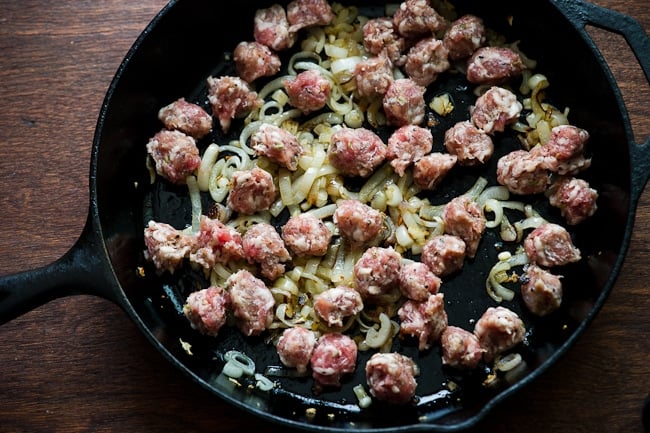 cook pinched sausage until golden brown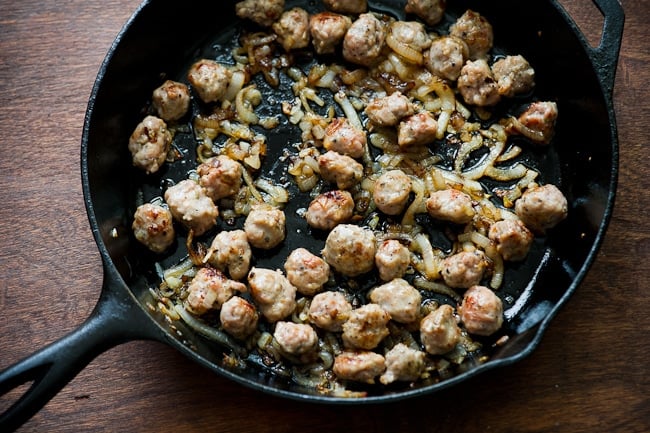 add squash, cook until heated, toss with parmesan cheese & herbs. Enjoy!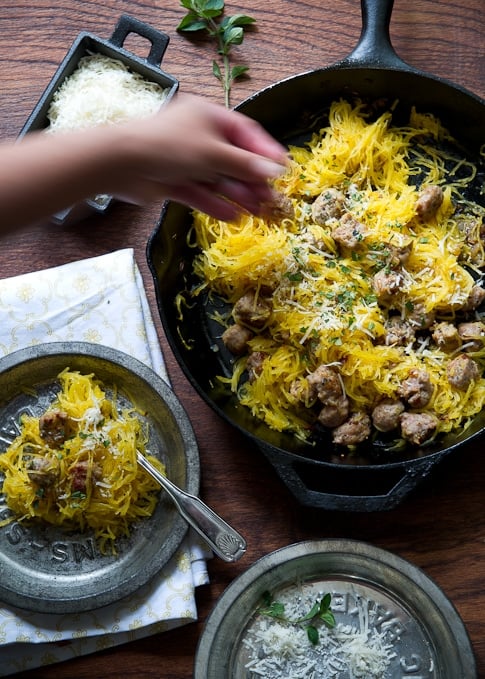 Dive in. This spaghetti squash with sausage is soooo good.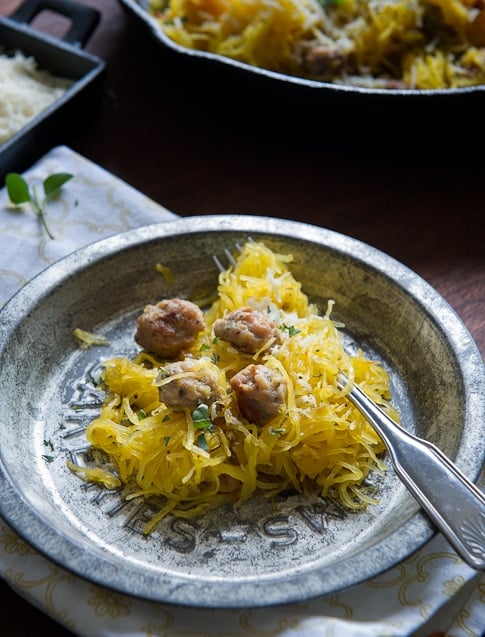 Favorites for Spiralizing Vegetables :

Nothing beats tried and true kitchen tools and products, plus a little bonus of some of our favorites for entertaining. Here's some of the favorites:
Paderno Spiralizer
– The Classic! We've lost track of how many meals this one has made for us. Fantastic spiralizer.
KitchenAid Spiralizer Attachment
– Spiralize, peel, core, slice. All from the power of the KitchenAid stand mixer.
OXO Julienne Peeler
– For those who love it simple. This great julienne peeler has seen a lot of mileage in our kitchen.
This recipe was originally published in 2011 and re-published in 2020 with updated video.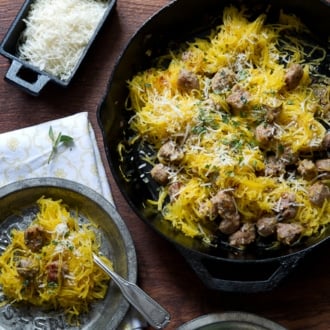 Roasted Spaghetti Squash with Sausage
There are lots of recipes quickly microwaving spaghetti squash to cook it, but I just like the taste and texture of roasting the squash better. It brings out the aromas and fills the kitchen. If pressed for time to make dinner, since the squash is warmed in the pan with the sausage at the end, one could always roast the spaghetti squash ahead of time and then quickly heat it with the sausage at dinner time. Try not to over cook the squash until it becomes overly soft. It should still have a bit of a bite to the texture.
Ingredients
1 Spaghetti Squash (@3lbs or 1.35 kg)
2 Tablespoons (30 ml) Olive Oil , divided
1/2 large onion , thickly sliced
3 cloves Garlic , crushed or finely minced
1 pound (454 g) uncooked Sausage (any kind you prefer)
1 cup (100 g) freshly grated Parmesan cheese
1 Tablespoon (15 ml) finely chopped fresh Oregano (or 1 teaspoon dried oregano), or other complimentary herb to the sausage
Kosher Salt , to taste
fresh Cracked Black Pepper , to taste
Instructions
Preheat Oven to 375°F. Oil a sheet pan with 1 Tablespoon of olive oil.

Slice spaghetti squash in half lengthwise. (Kitchen Tip: Use the tip of the knife to first pierce and get the cut started. Once you get the first cut started the rest of the squash should slice easily.) Scoop out the seeds and strands, then place cut side down on the prepared sheet pan.

Bake for 45 minutes, or until the squash flesh separates easily into strands with a fork. When cool enough to handle, finish loosening and removing the "spaghetti" from the shells and set aside.

Pinch and pull small balls of sausage out of the casing (or make small balls from bulk sausage). Continue making small balls out of all of the sausage.

Heat a large saute pan over medium heat. Heat remaining 1 Tablespoon of olive oil in pan, then add onions and garlic. Cook until soft, stirring every 30 seconds, then add sausage. Cook untouched until bottom side of sausage starts to brown, then stir. Continue cooking and stirring occasionally until the sausage is cooked through (@ 2-3 minutes depending on heat and size of sausage).Add spaghetti squash strands to the sausage and continue cooking until heated (usually less than a minute.)

Remove from heat. Toss in paremsan cheese and oregano. Season with salt and fresh cracked pepper. Serve immediately.
Nutrition Information per Serving
Calories: 601kcal, Carbohydrates: 21g, Protein: 29g, Fat: 46g, Saturated Fat: 16g, Cholesterol: 104mg, Sodium: 1146mg, Potassium: 618mg, Fiber: 4g, Sugar: 8g, Vitamin A: 612IU, Vitamin C: 8mg, Calcium: 370mg, Iron: 3mg
We are a participant in the Amazon Services LLC Associates Program, an affiliate advertising program designed to provide a means for us to earn fees by linking to Amazon.com and affiliated sites.