Roast Spaghetti Squash with Sausage (or Meat) Tomato Sauce
This simple spaghetti squash recipe with meat tomato sauce is a great everyday low carb meal for the entire family. Enjoy!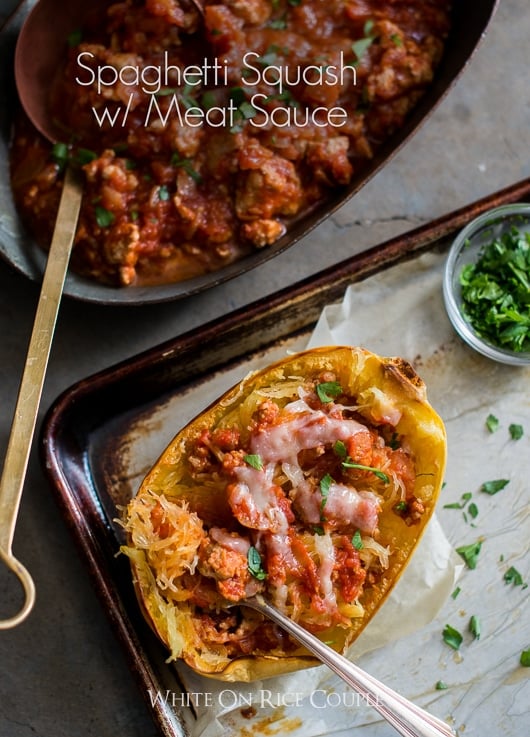 Spaghetti Squash Recipe with Meat Sauce
For Thanksgiving last week we were visiting family in Eastern Oregon and there was a brief period that we were in minus 6 degree F weather. Brrr. -6 degrees F? That's what we said, especially for us Southern California folk that live in 80 degree Winters. When visiting cold weather, it's dishes like oven roasted spaghetti squash that keeps us warm and satisfied!
We departed from the Grande Ronde Valley at 6:30 am and it was dark, cold and snowy. Heading up through Deadmans Pass in the Blue Mountains this time of year should always be driven with caution, especially when the fresh snow can easily hide black ice. At about 25 degrees F, we were well prepared with our layers of warm clothes. As we headed up the pass, the weather immediately started dropping. 15 degrees F. Then it dropped to 5 degrees F. Then minus 1. Whoa. When it hit minus 6, we were thinking, "how cool. Thank goodness we're in the heated car!".
Watch the quick video for making the Spaghetti Squash with a Meat Tomato Sauce
this is what minus 6 below F looks like….from the car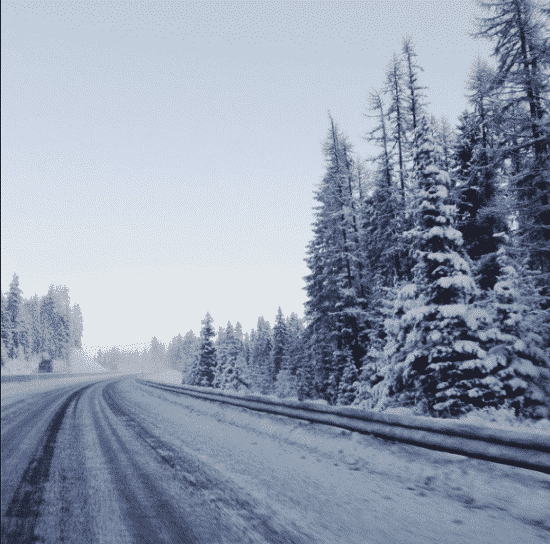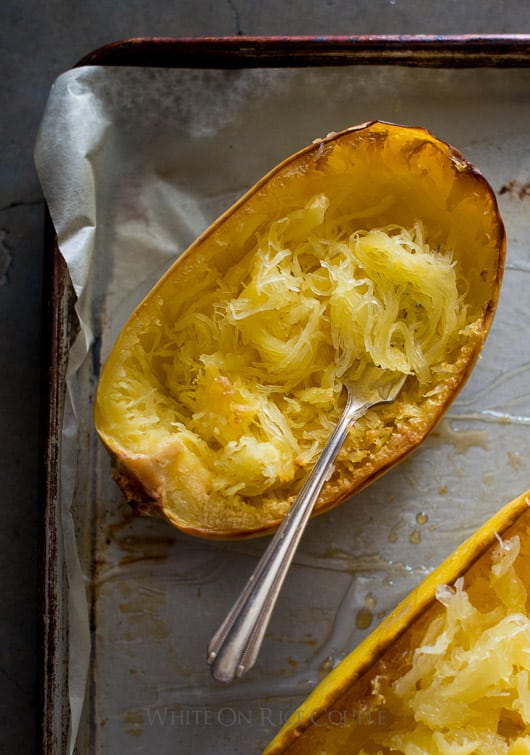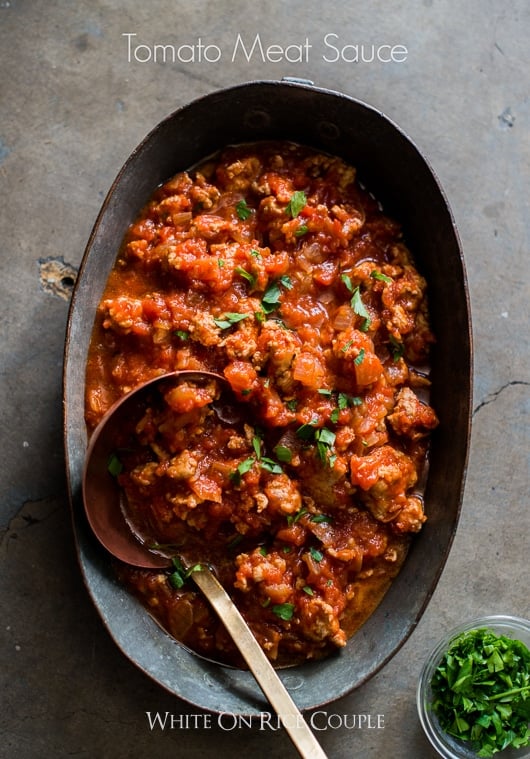 Thankfully, we made it up and down the pass in good shape, no slipping or sliding on black ice. As we made good time, we made it to Portland a little early for our flight. So guess what the most obvious thing to do is when you're in Portland? Why, eat lunch at Pok Pok, of course.
After we made it home, we were still craving more warm, comfort foods because we finally are getting rain and though it's not frigid outside, it's cool enough to keep those cravings alive.
This roast spaghetti squash recipe is one of those simple weeknight recipes that we can whip together quickly and still have a great home cooked dinner thats satisfying and healthy. We really need these lighter spaghetti squash dinners after a weeklong Thanksgiving eating fest with our families.
Hope you all had a safe and delicious Thanksgiving. Now it's onward to Christmas! Can't believe we're already in December!
Enjoy,
diane and todd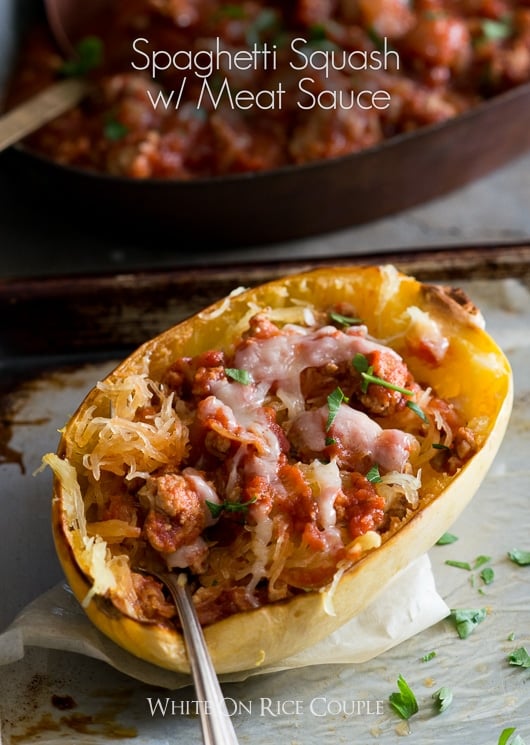 More Spaghetti Squash Recipes you might want to devour:
Roast Spaghetti Squash with Sausage and Parmesan Recipe
Mediterranean Spaghetti Squash Recipe from Kalyns Kitchen
Roast Spaghetti Squash with Sriracha and Turkey
Spaghetti Squash Primavera from Skinny Taste
If you love Spaghetti Squash, you'll probably love Spiralizing. Check out some Favorites for Spiralizing & Entertaining:

Nothing beats tried and true kitchen tools and products, plus a little bonus of some of our favorites for entertaining. Here's some of the favorites:
Paderno Spiralizer
– The Classic! We've lost track of how many meals this one has made for us. Fantastic spiralizer.
KitchenAid Spiralizer Attachment
– Spiralize, peel, core, slice. All from the power of the KitchenAid stand mixer.
OXO Julienne Peeler
– For those who love it simple. This great julienne peeler has seen a lot of mileage in our kitchen.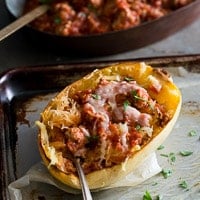 Roast Spaghetti Squash with Sausage (or Meat) Tomato Sauce Recipe
This recipe is so easy and adaptable to what ever meat you like. Add sausage, ground turkey or chicken and it all tastes great. You can even skip the meat and make it vegetarian. The possibilities are endless!
Ingredients
1 (1) spaghetti squash , about 3 pounds (1365g)
2 tablespoons (30 ml) olive oil , divided
1 pound (454 g) uncooked sausage (removed from casing) or any ground meat
1 medium (1 medium) onion , minced
2 cloves (2 cloves ) garlic , minced
14.5 ounces (411 g) tomato sauce , crushed, or diced tomatoes (choose your tomato texture!)
kosher salt or sea salt , or more to taste
fresh cracked black pepper , to taste
1/2 cup (50 g) grated parmesan cheese , or to taste
little bit of different spices: dried thyme , oregano, paprika or anything you like (optional)
1/4 cup (15 g) fresh parsley , minced (optional)
Instructions
Preheat Oven to 375°F. Oil a sheet pan with the first one tablespoon of olive oil.

Slice spaghetti squash in half lengthwise. (Use the tip of the knife to first pierce and get the cut started. Once you get the first cut started the rest of the squash should slice easily.) Scoop out the seeds and stringy strands, then place cut side down on the prepared sheet pan.

Bake for about 45 minutes, or until the squash flesh separates easily into strands with a fork. Finish loosening and removing the "spaghetti" from the shells and set aside.

While the spaghetti squash roasts, make the sauce: Heat a large pan over medium-high heat and then add the remaining 1 tablespoon oil. Add onion and garlic, cook until translucent. Add meat and break up any large lumps. Cook the meat until browned and almost cooked through.

Add tomato sauce (or crushed or diced tomatoes), salt and pepper to taste. Add optional spices. Simmer sauce on low heat for about 20 minutes.

Scoop spaghetti squash to a serving bowl and top with meat tomato sauce. Or loosen the spaghetti squash in shell and serve the sauce on top of squash in the same shell.

Top with parmesan cheese and parsley. Serve warm.
Nutrition Information per Serving
Calories: 574kcal, Carbohydrates: 26g, Protein: 25g, Fat: 42g, Saturated Fat: 13g, Cholesterol: 92mg, Sodium: 1495mg, Potassium: 958mg, Fiber: 5g, Sugar: 12g, Vitamin A: 1245IU, Vitamin C: 20.5mg, Calcium: 232mg, Iron: 3.5mg
We are a participant in the Amazon Services LLC Associates Program, an affiliate advertising program designed to provide a means for us to earn fees by linking to Amazon.com and affiliated sites.