Curry Coconut Milk Chicken Thighs
If you enjoy curries, you must make these curry coconut milk chicken thighs now. It is so good, and so simple to make.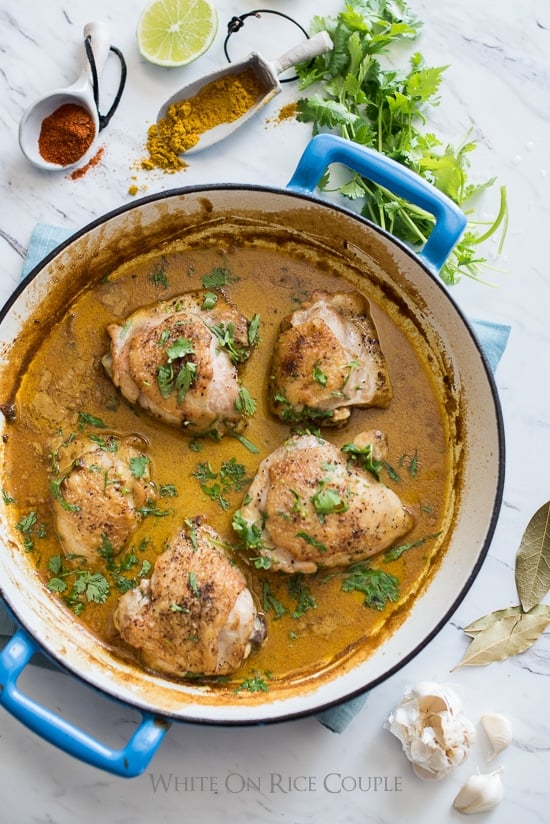 Juicy Chicken Thighs in Curry Recipe
We know we have a winner when Diane's mom devours a dish. She is always a gracious eater, but usually samples like a hummingbird. Little sips and nibbles. However, these curry coconut milk chicken thighs garnered a hearty eating and a couple days of compliments.
It began as a combination of two of our favorites, a nice homemade curry and our baked milk chicken thighs. Curries are always great and lends so well to these curry coconut milk chicken thighs. It seems like every Asian culture has their own take on curry. Spices, thicknesses, and textures all varying. There isn't a right or wrong way to make curry, just as long as you like the flavors and textures.
Video: Curry Coconut Milk Baked Chicken Thighs Recipe: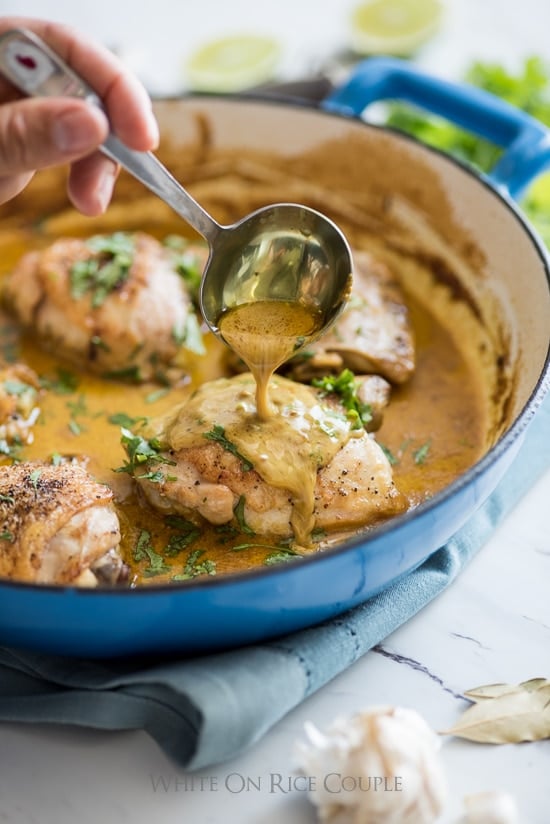 How To Make Our Homemade Curry Mix
Curry is a combination of what ever spices you like. We'll usually start with a light browning aromatics like garlic and sometimes onions or shallots in oil or butter. Then add our favorite curry blend and additional individual spices. If we are feeling ambitious we'll mix up combinations of individual favorite spices, toast them create a very original blend from scratch. But usually we'll enjoy the simplicity of a favorite curry blend for the spice mix, adding in an extra spice or two for a customized flavor or additional heat.
Cooking note: We tend to think of spices as lasting forever in the cupboard, but really the fresher the spices the better. After time they'll start to lose their brightness and fullness of flavor. An older spice will work fine, but a fresher version is usually noticeably better.
Coconut Milk Chicken Thighs
After adding the spices to the garlic, we'll give it a quick stir or two, and then add our liquid. For this curry we were craving a coconut milk style curry, so in goes the coconut milk along with some broth. Then add any other flavoring elements desired; ginger, lemongrass, bay leaves, etc…
If you want to make it even more over-the-top, add in your favorite veggies before you bake. The sky's the limit here as to what you can add. Carrots, sliced onions, zucchini, potatoes, celery, water chestnuts, bamboo shoots, sugar snap peas, green beans, bell peppers. There's nothing fussy about a good curry and a ton of was to adapt it to your own preferences.
drench the chicken in curry sauce and devour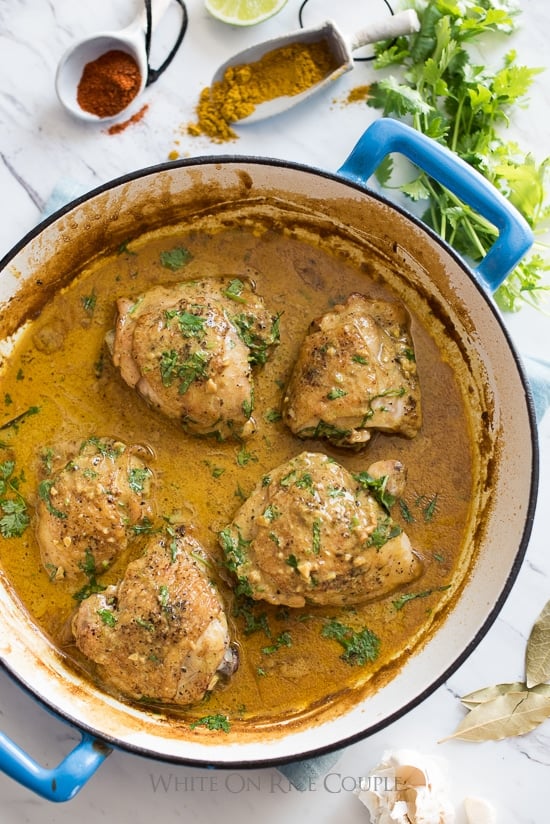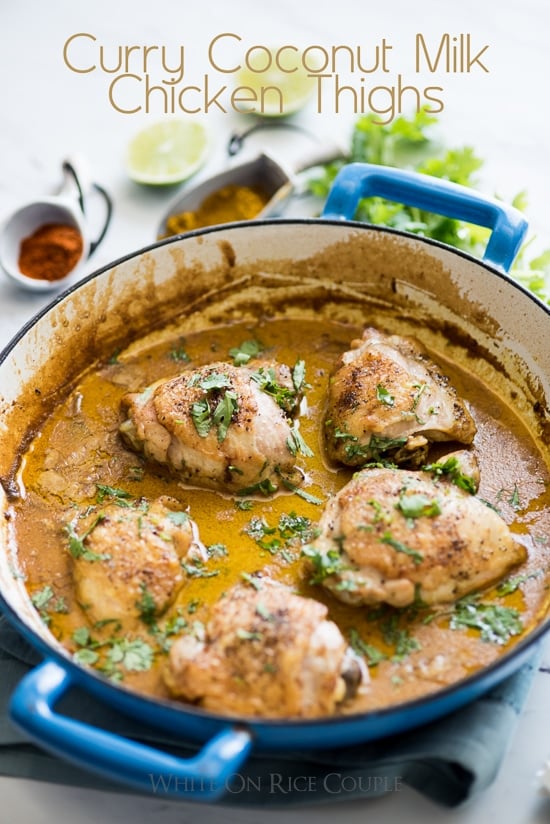 The second factor in this recipe is the baked milk chicken thighs. When we first started cooking the milk chicken thighs we were enamored. Juicy, easy to throw together, and put in the oven and forget about it until the timer goes off. Well the love hasn't faded.
This curry dish combines the two together perfectly. Season and sear the chicken, remove and make the curry in the same pan. And then add back in the chicken, place it in the oven and an easy 30 minutes later you have a perfect meal.
Enjoy!
Todd & Diane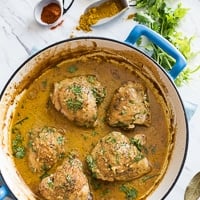 Curry Coconut Milk Roast Chicken Thighs
Adapted from our milk chicken thighs, but this time with an Asian flair. Coconut milk, curry, cumin and bright lime zest really adds a wonderful curry take on our popular chicken recipe. Add what ever veggies you want before you bake it in the oven. Potatoes, carrots, eggplant, the veggie possibilities are endless!
Ingredients
for the chicken thighs:
2 pounds (907 g) chicken thighs (about 6 thighs), bone-in and skin-on
kosher salt or sea salt, to taste
fresh ground black pepper , to taste
1 Tablespoon (15 ml) butter or olive oil
3 cloves (3 cloves) garlic , minced
1 (1) bay leaf
1 Tablespoon (15 ml) curry powder
1 teaspoon (5 ml) ground cumin
1/2 teaspoon (2.5 ml) cayenne pepper , or to taste
1 Tablespoon (15 ml) fish sauce (or soy sauce), or to taste
zest of 2 limes
1 cup (226 g) coconut milk
1 cup (240 ml) chicken broth
1/2 cup (120 ml) minced cilantro
for serving:
Cooked Rice or Crusty Bread
Instructions
Preheat oven to 400° F (205°C).

Wash and pat dry chicken thighs. Season both sides of chicken thighs with salt and pepper.

In a large oven-proof skillet, melt butter or add oil on medium high heat. Place chicken skin-side down first and sear each side of the chicken until crispy brown, about 2-3 minutes per side. Remove chicken from pan and set aside.

In the same skillet over medium heat add garlic and cook until fragrant, about 1 minute. Add bay leaf, curry powder, cumin, cayenne pepper, fish sauce, and lime zest. Then add coconut milk and chicken broth. Stir until combined. Bring liquid to a low simmer.

Place chicken back into the skillet and transfer to oven. Roast the chicken for about 25-30 minutes or until fully cooked. Internal temperature of chicken should be about 175° F (80°C).

After chicken is cooked, top with minced cilantro and serve over rice or with slices of crusty bread.
Nutrition Information per Serving
Calories: 432kcal, Carbohydrates: 3g, Protein: 25g, Fat: 35g, Saturated Fat: 15g, Cholesterol: 153mg, Sodium: 518mg, Potassium: 460mg, Vitamin A: 255IU, Vitamin C: 3.5mg, Calcium: 32mg, Iron: 2.8mg
It all started with our favorite Milk Chicken Thighs recipe: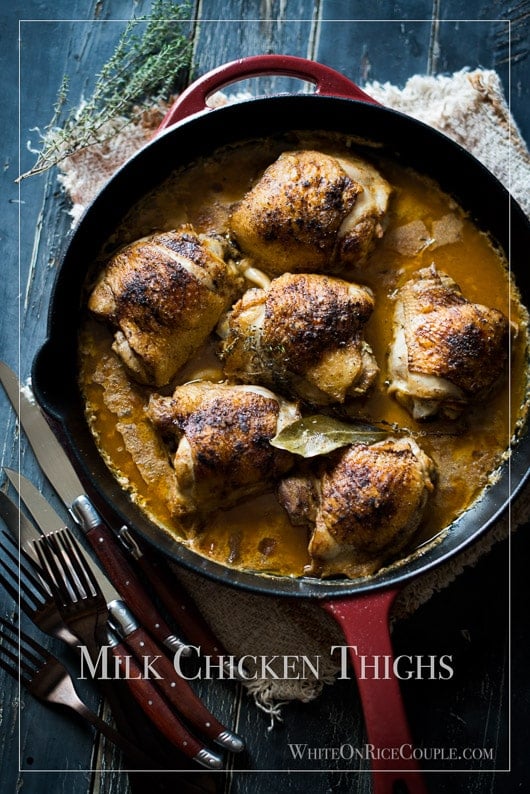 Our recipe was original published in 2016 and re-published in 2020.
We are a participant in the Amazon Services LLC Associates Program, an affiliate advertising program designed to provide a means for us to earn fees by linking to Amazon.com and affiliated sites.