Easy Homemade Fudge

Easy Homemade Fudge Recipe
I love a really good easy fudge recipe. The only problem is that I had a grandma who would make us her amazing fudge every Christmas season. It left me with such expectations that every time I eat any fudge, it nearly always fails to satisfy. Grandma's fudge had a perfect texture, smooth, just soft enough without being too squish-able. Never gritty and not overly sweet. The chocolate comes through first and foremost in a smooth, luscious bite. Grandma always had swagger in the kitchen, but it was lovingly wrapped in her complete humility and the twinkle in her eye.
What seems like forever ago, I had found grandma's fudge recipe notecard and started faithfully replicating her Christmas giving of fudge every year. At first it took me a while to read between the lines in the sparsely written recipe card, but it wasn't long before I started to understand the nuances in the technique and we could consistently make a successful batch vs one that Diane & I would scuttle off to the side and eventually eat, not feeling it good enough to be passed on to others. When we finally felt we understood it enough to pass on the recipe & share it with everyone, we gladly shared the recipe & a bit of grandma's story.
Video of our Easy Fudge Recipe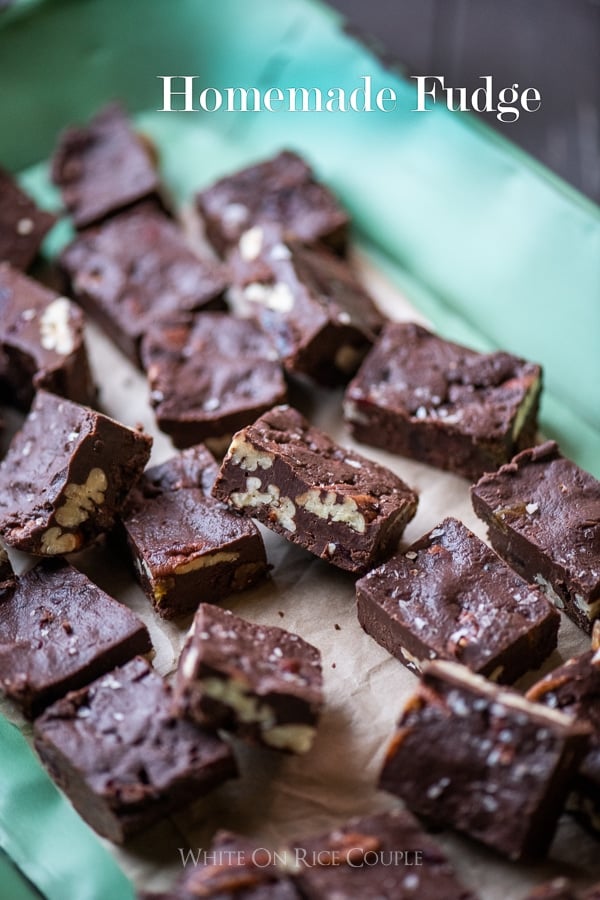 Fast forward 10 years, we are still making grandma's fudge every holiday season to share with friends and family. Many happy bellies and quite a few filled pockets (we would have just given you a bag if you asked, silly), there are so many loving souls we've been able to share what grandma started. Only one little thing… for the last couple years it hasn't been grandma's recipe. Knowing how I struggled to initially understand the correct "soft ball stage" in making the fudge, and even though I could now make it spot-on by sight and feel, we knew there would be many a soul going through the same learning curve.
So we modernized grandma's easy fudge recipe to make it easier and more successful for anyone wanting to share to love. The texture and right level of sweetness is still as it was in grandma's recipe. I can't tell the difference in taste between the two recipes, but our new version is so much easier to make with much less chance of meh-batches. As with grandma's original recipe, feel free to leave out the roasted nuts or dried fruit it that isn't to your fancy. That was how she made it for us and how I'll always love it. We've added an optional touch of flaky sea salt on the top if you like. And as always "Keep chunks of fudge airtight or wrap with plastic wrap and give to friends, loved ones, and save a secret stash for yourself to eat."
Happy cooking everyone!
Todd & Diane
Step By Step Instructions for our Easy Fudge Recipe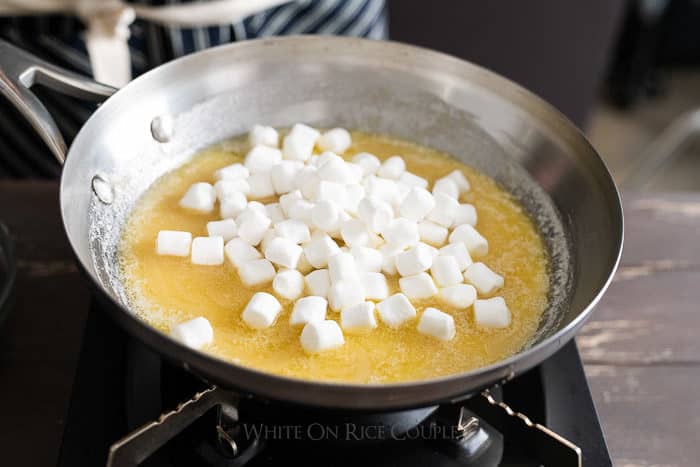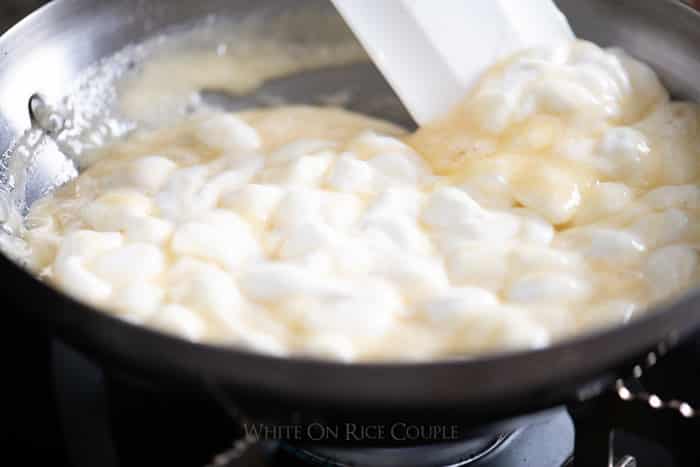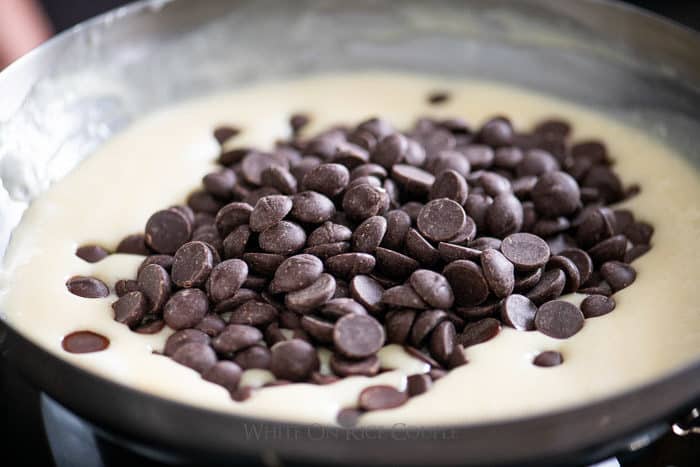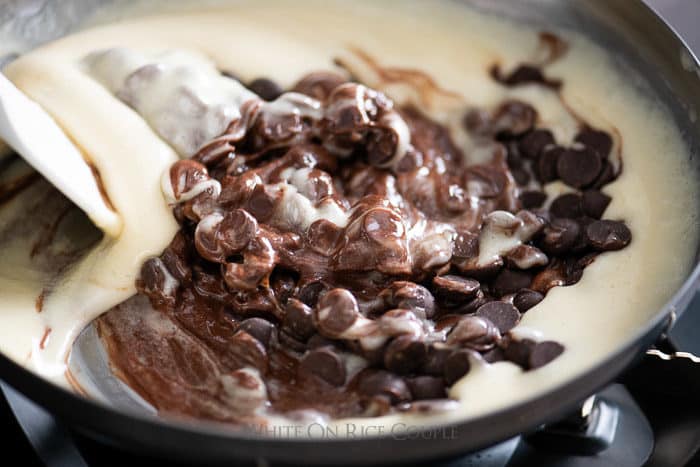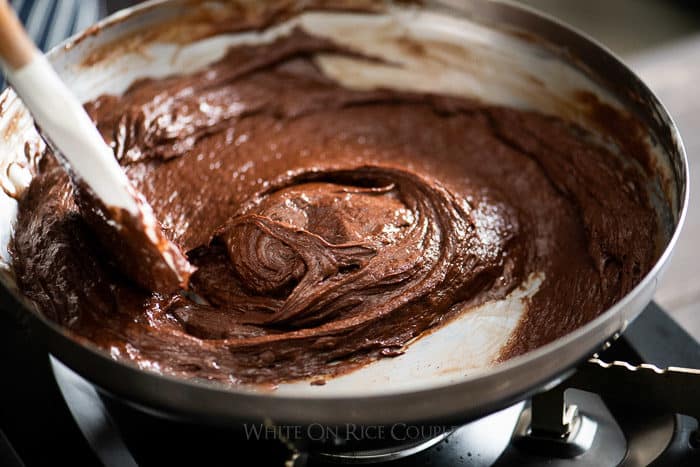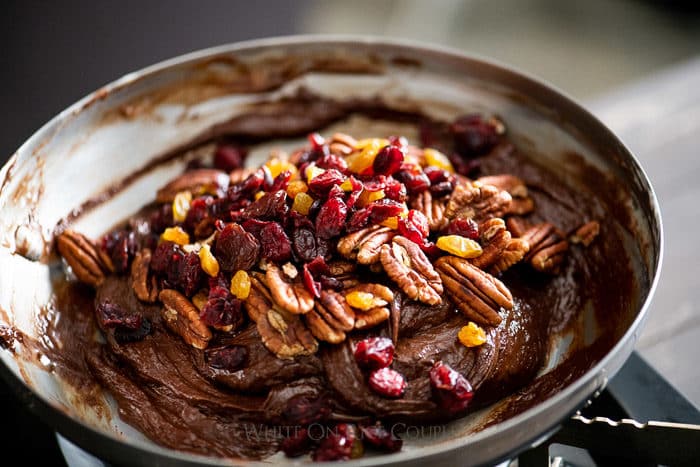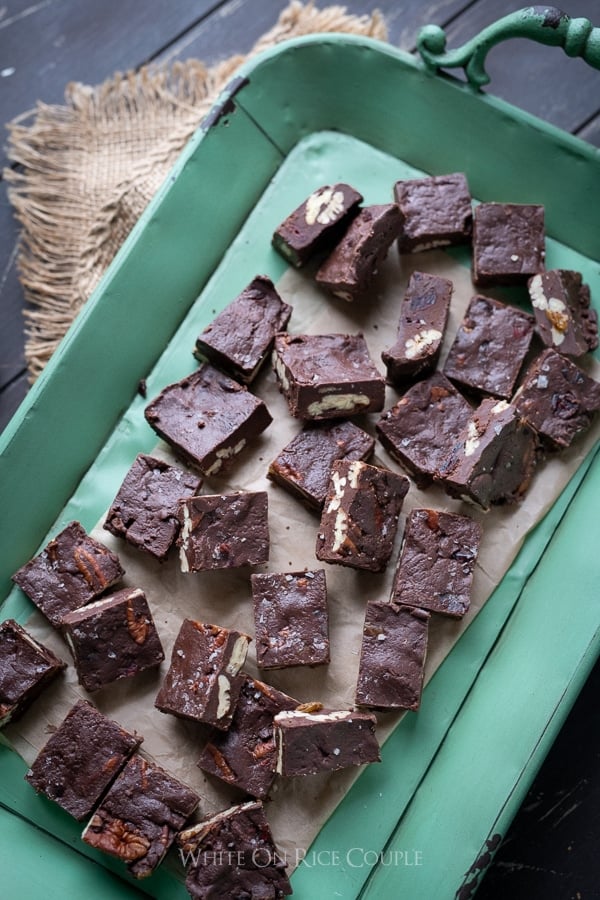 This recipe was originally published in 2019.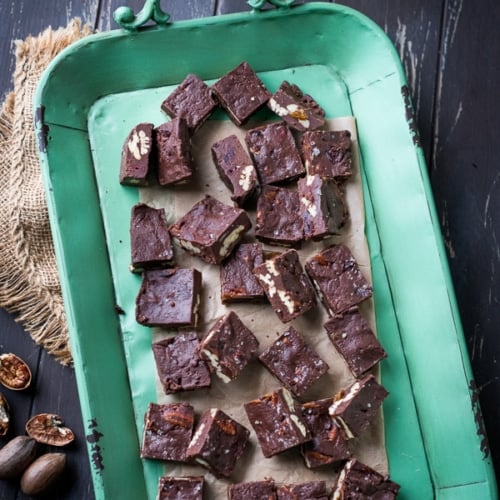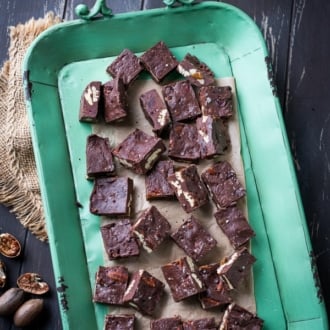 Homemade Fudge
You can use regular marshmallows instead of the mini, they just take a but more work to melt and incorporate. Feel free to leave out or add more nuts and dried fruit. For our favorite people, we'll soak the dried fruit in dark rum, bourbon, or coffee liquor for about an hour before mixing into the fudge. There is a stovetop and a microwave version, whichever way you prefer.
Ingredients
1/2 cup sweetened condensed milk (not evaporated milk)
1/4 cup butter
1 cup mini marshmallows
12 ounces chocolate chips
1 cup roasted nuts - pecans, walnuts, peanuts, hazelnuts, etc… (optional)
1 cup dried fruit - raisins, dried cranberries, cherries, blueberries, etc… (optional)
Flaky salt , optional for topping fudge
Instructions
Line an 8x8 inch baking pan with aluminum foil. Set aside.
Stovetop Method
In a large saucepan, combine the sweetened condensed milk and butter then cook over medium-low heat until the butter is melted. Stir in the marshmallows and cook until the marshmallows are melted, stirring constantly.

Remove from heat and stir in the chocolate chips. Stir until completely melted and evenly incorporated. Continue to the Finish Steps.
Microwave Method
In large microwave safe bowl, combine sweetened condensed milk, butter, and marshmallows. Microwave on High in 20-30 second intervals or until the marshmallows are completely melted and smooth, stirring between each interval.

Stir in the chocolate chips until completely melted and evenly incorporated (if needed, microwave for another 15-30 seconds to get it warm enough to melt all of the chocolate chips). Continue to the Finish Steps.
Finish
Stir in the optional nuts and dried fruit.

Pour the fudge mixture into the prepped baking pan and lightly press to evenly flatten the fudge and to press into the edges of pan to make sure fudge fills the corners. Sprinkle the optional flaky salt on top.

Allow the fudge to cool completely to room temperature (at least 3-4 hours). Once the fudge is completely cooled, remove from the pan and peel off the foil. Cut into desired pieces. And as always "Keep chunks of fudge airtight or wrap with plastic wrap and give to friends, loved ones, and save a secret stash for yourself to eat."
Notes
Cooking Tips: Try not to overheat everything when melting. Heat just enough and rely on stirring to help with the melting.
Nutrition Information
Calories: 205kcal, Carbohydrates: 25g, Protein: 4g, Fat: 11g, Saturated Fat: 5g, Cholesterol: 11mg, Sodium: 83mg, Potassium: 89mg, Fiber: 1g, Sugar: 22g, Vitamin A: 129IU, Vitamin C: 1mg, Calcium: 51mg, Iron: 1mg
Check out of more of our Dessert Recipes Here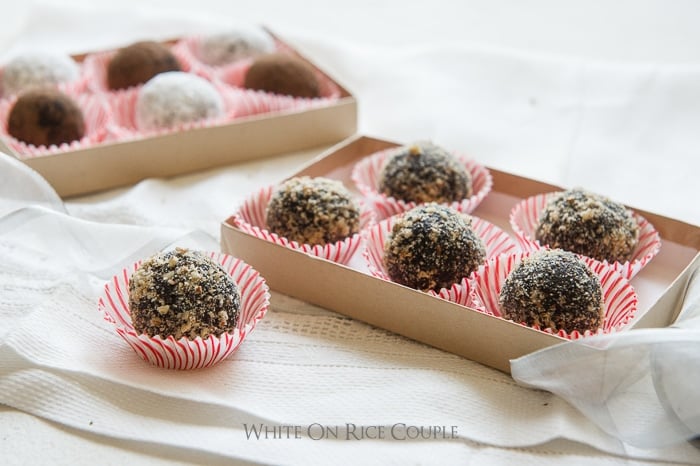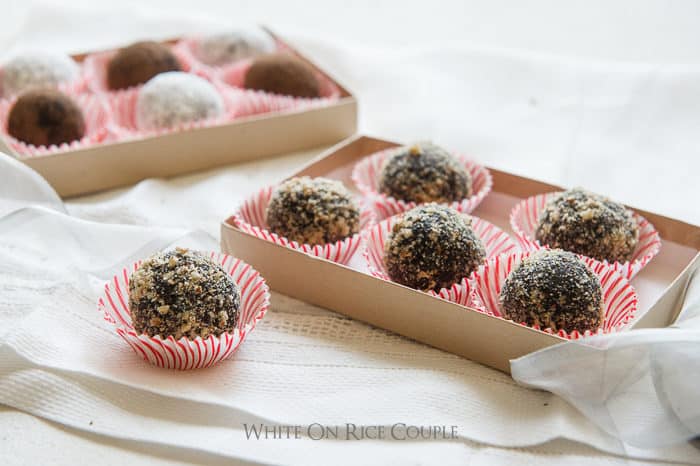 Here's morefudge recipe ideas to explore.
We are a participant in the Amazon Services LLC Associates Program, an affiliate advertising program designed to provide a means for us to earn fees by linking to Amazon.com and affiliated sites.