Baked Milk Chicken Thighs
If you've never had baked milk chicken thighs before, you're in for a real treat. It's an easy recipe for juicy chicken thighs. You'll be obsessed. The rich, creamy sauce and tender juicy chicken is outstanding.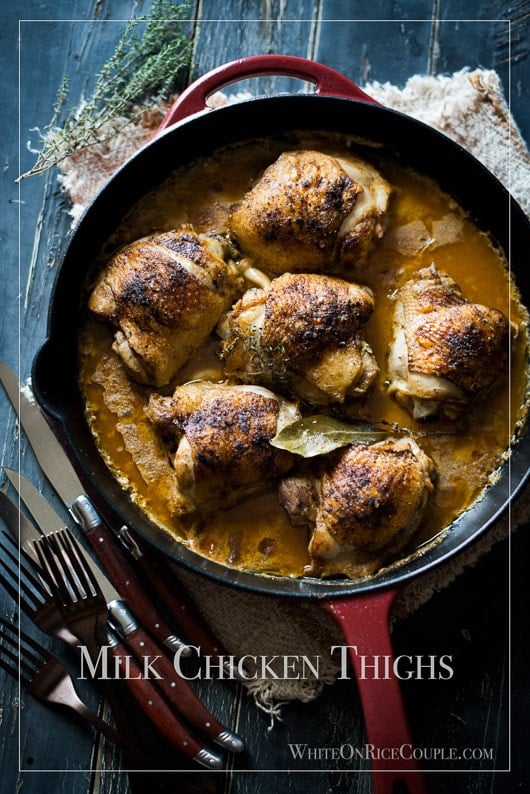 Baked Chicken Thighs in Milk
It's nice and cold outside. The kind of cold that we Southern Californian's don't often get, around 45°F at night. For us, that's enough chill to have everyone put on our "heavy" winter sweaters and cozy up to a cup of hot tea or coffee. Even this time of year, memories of Summer & Fall heat and drought haunt the back of our minds, so you'll understand why we're celebrating when we're pulling out our warm clothes.
When it get's to this cold temperature, it's time for us to get busy with oven cooking because that's what we're craving. In fact, we've been wanting to experiment with so many oven recipes but because of the heat, we've been avoiding the oven for so long.
Video: Juicy milk chicken thighs recipe: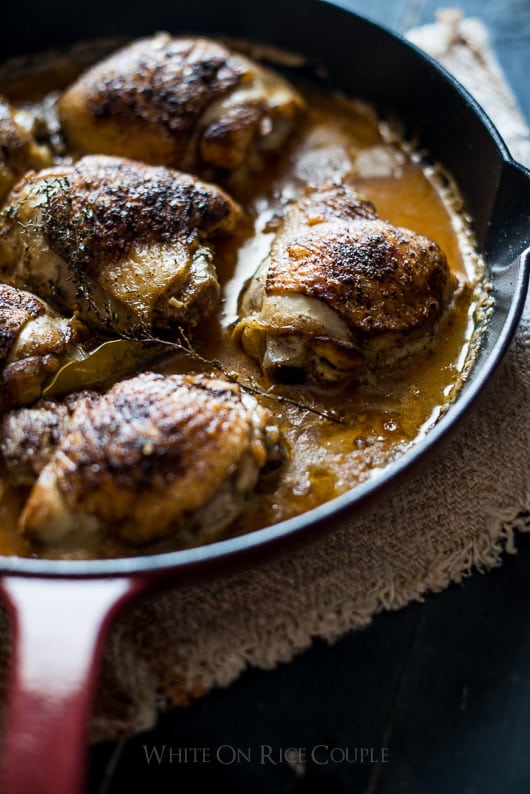 Instead of fearing the oven heating up the house, we get to relish in it. We've been indulging in anything that give us warm comfort and what you see here is one perfect example of why we love cold weather cooking.
Tender and Juicy Chicken Recipe
Behold, these tender chicken thighs roasted in milk will rock your world. We've been seeing so much inspiration from Jamie Oliver's milk chicken that we couldn't help it but to make it right away. Because we were pressed for time (starving!) and cause we only had chicken thighs in the house, we resorted to a shorter version of his recipe. Along with some of our personal spices, this version of chicken milk is outstanding.
For the love of chicken thighs, warm oven comfort food and the spirit of the season, we're so happy to fill our bellies with a recipe that will be a go-to for the "brrrrrr" cold season.
Enjoy the recipe!
-diane and todd
Write up was orginally published in 2015 and was updated in 2020.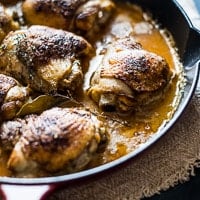 Milk Roasted Chicken Thighs Recipe
Roasting the chicken thighs in milk makes the chicken very tender. It also gives a nice and fragrant, savory sauce that can be made further into a gravy. This recipe is inspired from Jamie Oliver's whole roast chicken in milk, which he adds lemon juice.
Ingredients
For the chicken thighs:
3 pounds (1.4 kg) chicken thighs (about 6 thighs), bone-in and skin-on.
1 teaspoon (5 ml) ground cumin
1 teaspoon (5 ml) paprika
kosher salt , to taste
fresh ground black pepper , to taste
2 Tablespoons (30 ml) butter , divided
3 cloves (3 cloves) garlic , minced
1 (1) bay leaf
1 cup (240 ml) milk
3/4 cup (180 ml) chicken broth
1 teaspoon (8 ml) dried thyme leaves (or fresh thyme)
zest of 1 lemon
For the gravy (optional):
2 Tablespoons (30 ml) butter
2 Tablespoons (30 ml) all-purpose flour
Instructions
Preheat oven to 400°F.

Pat dry chicken thighs. Season both sides of chicken thighs with ground cumin, paprika, salt and pepper.

In a large oven proof skillet, melt 1 tablespoon of butter on medium-high heat. Place chicken skin-side down and sear each side of the chicken until crispy brown, about 2-3 minutes per side. Remove chicken from pan and set aside. Using paper towels, drain the excess remaining fat from the skillet.

In the same skillet over medium heat, melt the remaining 1 tablespoon of butter, add garlic and cook until fragrant, about 1 minute. Add bay leaf, milk, chicken broth, thyme, and lemon zest. Bring liquid to a low simmer.

Place chicken back into the skillet and transfer to oven. Roast the chicken for about 25-30 minutes or until fully cooked. Internal temperature of chicken should be about 175°F.

After chicken is cooked, serve with the milk sauce. But if you want to make a delicious and thicker gravy out of it then remove the chicken from the pan. Heat up the pan of milk sauce again to a low simmer. Whisk in butter and flour until all flour clumps are removed. Sauce will get thicker as it cooks.

Once gravy is thick and creamy, remove from heat and serve immediately.
Nutrition Information per Serving
Calories: 604kcal, Carbohydrates: 6g, Protein: 39g, Fat: 47g, Saturated Fat: 16g, Cholesterol: 246mg, Sodium: 367mg, Potassium: 562mg, Fiber: 1g, Sugar: 2g, Vitamin A: 640IU, Vitamin C: 3mg, Calcium: 75mg, Iron: 2mg
More Easy Recipes:
We are a participant in the Amazon Services LLC Associates Program, an affiliate advertising program designed to provide a means for us to earn fees by linking to Amazon.com and affiliated sites.