Hearty Beef Stew in Slow Cooker or Instant Pot
The weather is perfect for this beef stew recipe. It's been cold outside and when we mean cold, it's down to the low 50's. Some of you friends might be laughing at us as you're sitting in blizzard county, but remember that So Cal is always notoriously mild during Winter. Yes, we're quite spoiled here when we're basking in warm afternoon sun during the Winter. But that doesn't keep us from craving warm, comforting foods to keep us warm when it's 55°F outside. That's when this hearty beef stew comes in as a stellar weeknight dinner to feed and fuel us after a long day.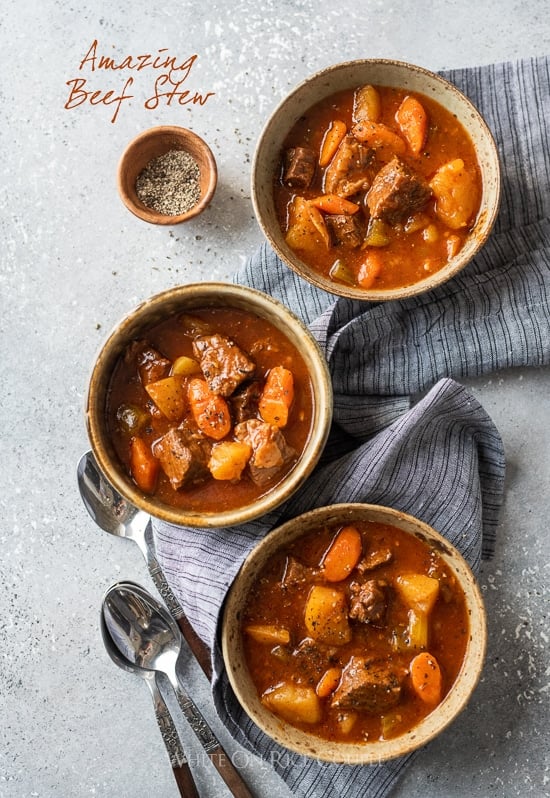 Video: Saucy and Flavorful Beef Stew Recipe
We're not new to the Instant Pot cooking craze and we definitely have our fair share of slow cookers. So when we're craving this awesome and flavorful beef stew, we have the perfect cookers to make dinner simple. The Instant Pot is a fantastic tool because it cooks even frozen meats to tender perfection. If you forgot to put out your meat to thaw, the Instant pot can cook it much quicker than a slow cooker can.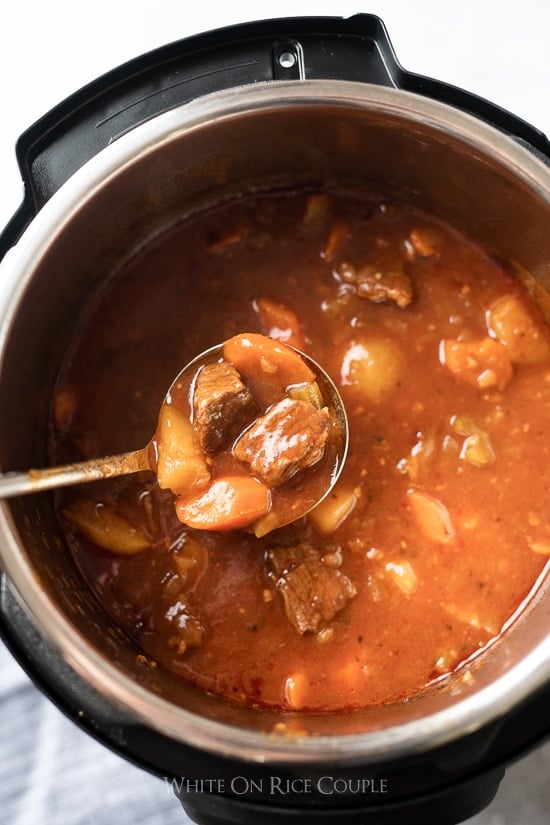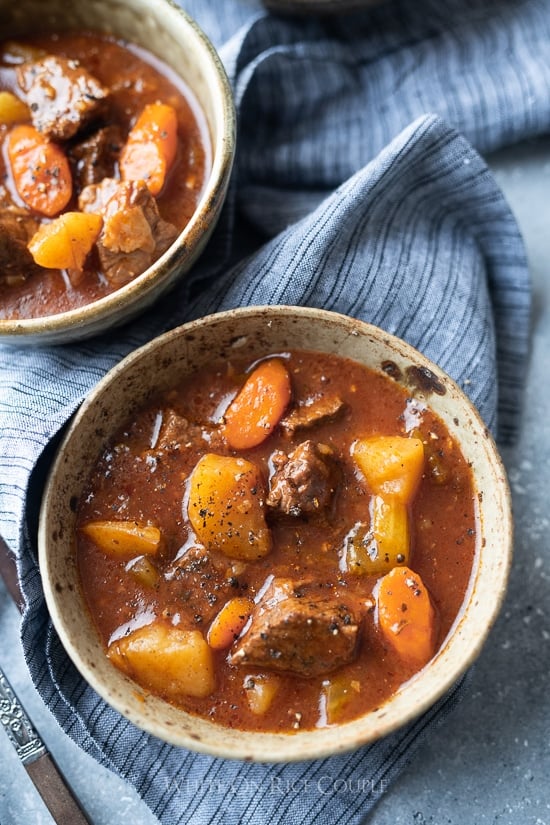 So which cooker to reach for when making our beef stew? Well, if you have all day you can just make it in your slow cooker. And when you come home, dinner is served! If you're short on time or need dinner quicker, then the Instant Pot or pressure cooker should be your go-to cooker. So basically if you plan ahead and are not rushed for dinner, then the slow cooker will do just fine. If you were a little more spontaneous and not-so-organized like we were, then the Instant pot will have dinner in about an hour.
Rich and Flavorful Beef Stew with Veggies
The flavors of our beef stew are rich and savory. It's because we love adding soy sauce or Worcetershire to the mix. The combination of the umami and the beef, stewing with all the veggies creates a fantastic bowl of flavorful stew. Everything binds tougher perfectly and you'll have enough food to feed a family of 4 for two days. Or if you have leftovers, make a beef stew pot pie. That's next on our list!
Enjoy,
diane and todd
Photos: How To Make Beef Stew in Instant Pot or Slow Cooker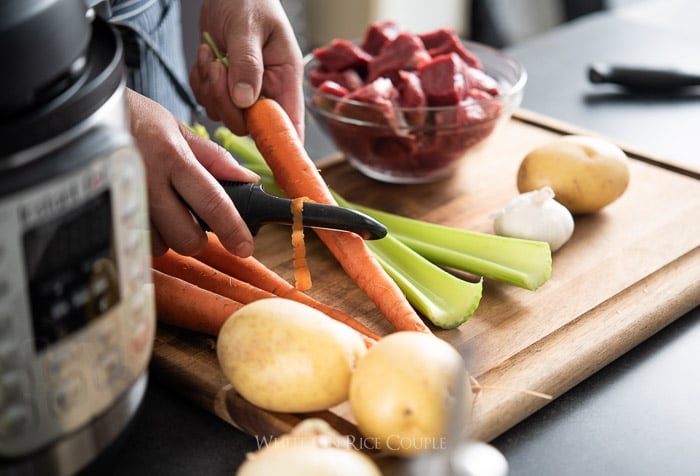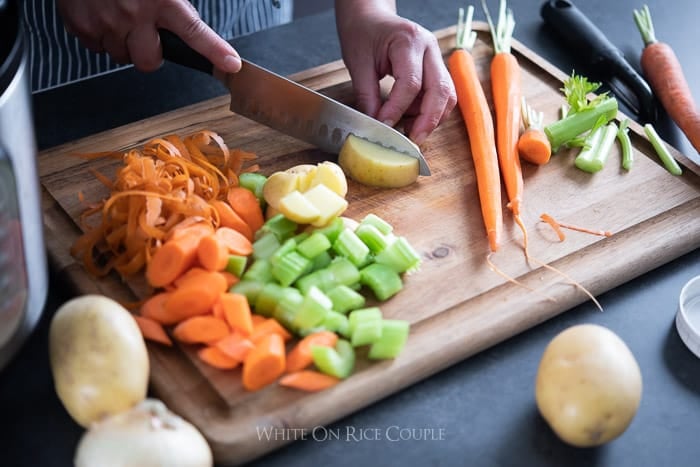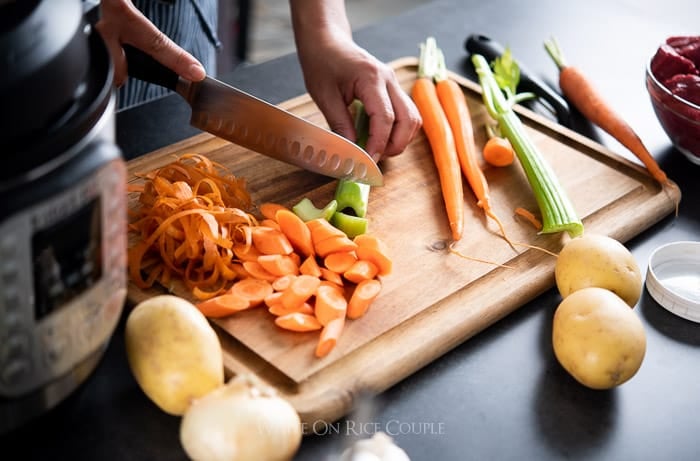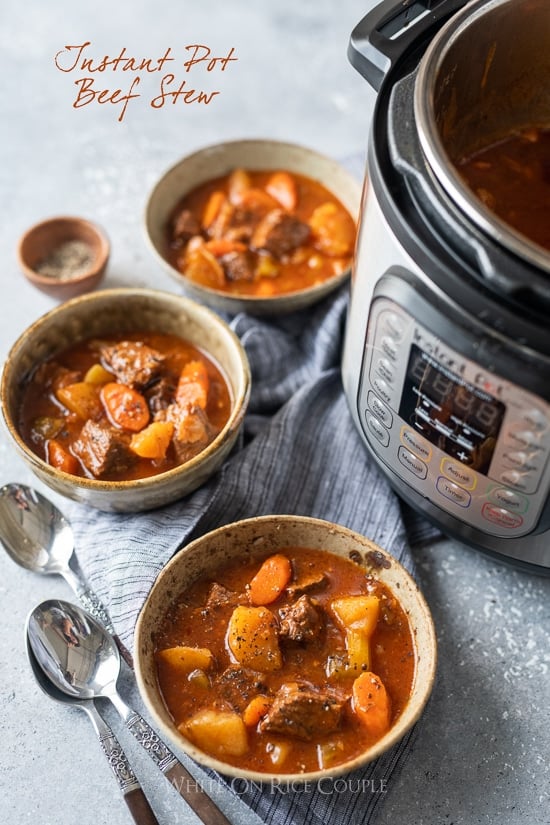 Our Favorite Cookers:
Whether you prefer a slow cooker, pressure cooker, or a multi-cooker, these kitchen counter appliances help make dinner a little easier for the busy household: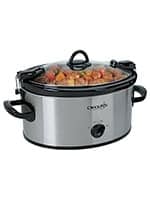 The Crockpot 6qt. Slow Cooker
– The original slow cooker. On this on the lid locks down which is great for transporting to potlucks and such. Simple, inexpensive and reliable.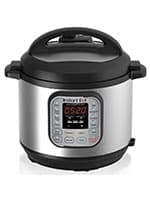 Instant Pot Multi-use Pressure Cooker
– It has cult-like following for a reason. It's a pressure cooker and so much more. Pressure Cooker, Slow Cooker, Rice Cooker, Steamer, Sauté, & Yogurt Maker. It's awesome! If you want a pressure cooker that has a few more bells and whistles (like hands free steam release), this
Breville Pressure Cooker
is also great.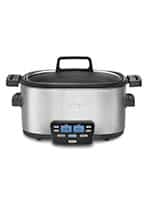 Cuisinart Multi-Cooker
– If pressure cooking is a not your thing but want a bit more than just a slow cooker, this multi-cooker is perfect for you. It can Sauté, Steam, and Slow Cook. Perfect to create those one pot meals.
Here's some more great Instant Pot, Slow Cooker and Comfort Food Recipes: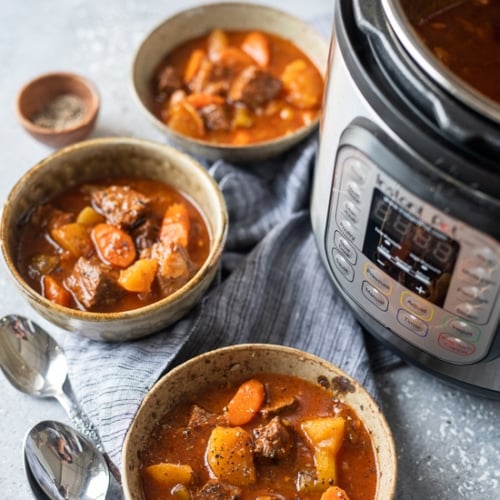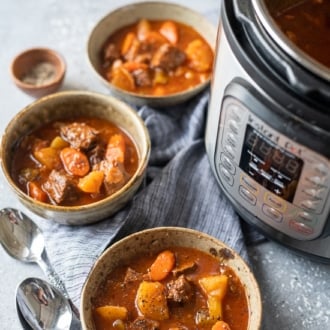 Amazing Beef Stew (Instant Pot, Slow Cooker)
If it's your first time using the Instant Pot, it always takes about 10-15 minutes for the Instant Pot to come to pressure. Once that happens, it will cook for 45 minutes. So anticipate total cooking time to be about 1 hour for Instant Pot. We tested this recipe with frozen beef and it still turned out tender and perfect! Our recipe is more saucy because we love sauce! If you want less sauce you can always add less tomato sauce.
Ingredients
2 pounds (907 g) chuck roast , cut into bite sized pieces or beef stew meat
1 Tablespoon (15 ml) olive oil or butter
1 medium (1 medium) onion , chopped
4 cloves (4 cloves) garlic , minced or crushed
4 (4) carrots , cut into bite sized pieces
1 pound (454 g) potatoes , cut into bite sized pieces
2 stalks (2 stalks) celery , chopped
2 cups (480 ml) beef broth
14 ounces (397 g) tomato sauce (about 1 3/4 cups)
2 Tablespoons (30 ml) soy sauce or Worcestershire sauce
1 teaspoon (5 ml) dried basil or your favorite herb
1 Tablespoon (15 ml) sugar
1 teaspoon (5 ml) salt ,
1/2 teaspoon (2.5 ml) black pepper
3 Tablespoons (45 ml) corn starch
3 Tablespoons (45 ml) water
Instructions
For Instant Pot (Pressure Cooker)
Turn Instant Pot on "Sauté" setting and add the olive oil or melt the butter in the pot. Optional for additional beef caramelization: Add the beef and sauté until browned on all sides (if quicker method is desired, just add the beef in with the carrots & potatoes).

Add onions and garlic. Sauté for 3-5 minutes or until tender and slightly browned.

Add the carrots, potatoes, celery, beef broth, tomato sauce, soy sauce/Worcestershire, dried basil, sugar, salt and black pepper. Gently stir everything to combine well

Close the lid, close the lid vent, and pressure cook on high pressure for 45 minutes. (These are the steps we did for our Instant Pot- Press "Cancel" to stop the "Sauté" setting. Press the "Manual" button. Set the time to 45 minutes.)

After the cooking time is complete, press "Cancel" and carefully release the pressure. Whisk together the cornstarch and water until smooth.

Once pressure completely releases, open lid and add the corn starch/water mixture. Gently stir the beef stew and close the lid for about 5 minutes for the gravy to thicken. Once stew thickens, enjoy!
For Slow Cooker
Combine all ingredient except water & cornstarch in slow cooker (beef, olive oil, onion, garlic, carrots, potatoes, broth, tomato sauce, soy/Worcestershire sauce, herbs, sugar, salt, and pepper).

Cover and cook the stew on low for 7 hours or about 4 hours on high.

Whisk together the cornstarch and water until smooth. Stir into the beef stew, cover with the lid, and cook for about 5 minutes or until it slightly thickens the stew. Enjoy!
Nutrition Information per Serving
Calories: 310kcal, Carbohydrates: 19g, Protein: 25g, Fat: 15g, Saturated Fat: 6g, Cholesterol: 78mg, Sodium: 1153mg, Potassium: 966mg, Fiber: 3g, Sugar: 5g, Vitamin A: 5370IU, Vitamin C: 13.5mg, Calcium: 69mg, Iron: 5.2mg
More Easy Recipes:
This recipe was originally published in 2018 and re-published in 2020.
We are a participant in the Amazon Services LLC Associates Program, an affiliate advertising program designed to provide a means for us to earn fees by linking to Amazon.com and affiliated sites.