Gabrielle's Winter Creamed Corn and Tomato Soup
Tomato and Corn Soup Recipe
Last week in writing about my confessions of coffee snobbery got me thinking about food snobbery in general. You know what I mean; "If it's not seasonal, local, and organic then it's not going on my table", or the "fast food… forget about it" crowd, (unless it is from a fast food chain that has a cult following and then it is ok).
Then there is the tamed down version of a food snob, a foodie. Another title which not long ago many wore as a badge of honor yet over the last couple years has sullied into a term most of us would prefer not be labeled. It doesn't carry the same "holier than thou" connotation as a food snob, but its minions have managed to tarnish the usage in the general public's eye.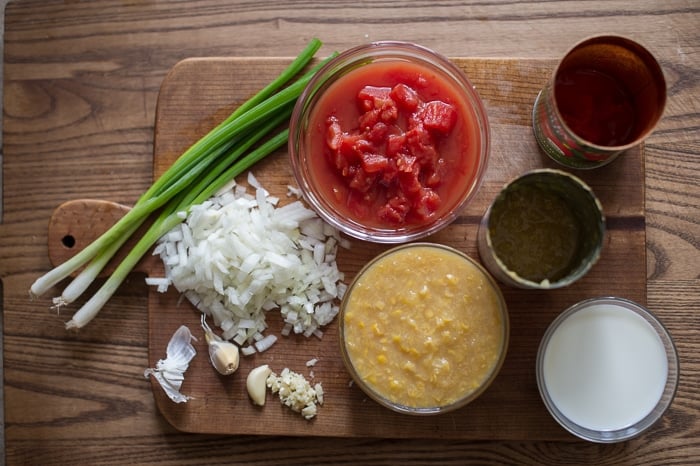 Check out urban dictionary for foodie and the first entry you get sounds kind of appealing: "A person that spends a keen amount of attention and energy on knowing the ingredients of food, the proper preparation of food, and finds great enjoyment in top-notch ingredients and exemplary preparation." But that entry was from back in 2006, nearly a century ago in today's digital age. Think about it, Myspace was THE Thing back then.
Second entry for foodie in urban dictionary is a bit more modern, "A douchebag who likes food." Ouch.
However all of this focus on food and its qualities in our recent history has been a great thing. Farmers markets are thriving, the populace in general has an increased awareness in their food, where it comes from, and in its quality. American restaurants and cuisine is no longer the laughing stock of the rest of the world. Things of the past which were feared nearly lost; home gardens, canning, curing meats are now not only no longer at risk of being forgotten, they are cool to do. Nothing like buying a slab of pork belly and making your own bacon for a little bad-ass recognition around the water cooler.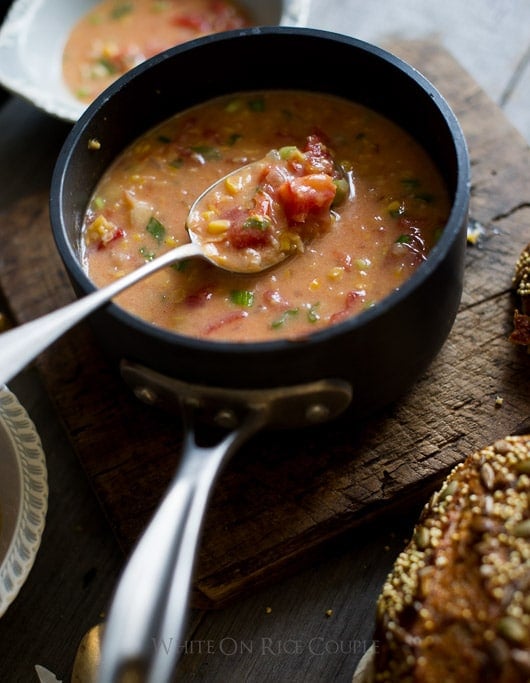 We all are a part if it, one way or another. From those who are embarrassingly fanatical to the impassive home gardener. Together we influence the food culture surrounding us, from our home kitchens, to our markets, to the farmers' fields. Where do you stand in the food cycle?
For Diane and me, it seems hard to define in words. We're massive garden geeks, building our garden around most things edible. We'd rather spend a Friday night making puff pastry or doing a roast than hitting the clubs (God we are getting old-although we did that in our 20's so go figure). We can appreciate the artistry behind a 3 star restaurant but more often hit up a well-ran gastropub, and we are more than happy with the occasional Shake Shack or other burger run.
Warm & Comforting Tomato and Corn Soup Video:
Even with us growing so much of our own food and having amazing farmers' markets surrounding us nearly all week long, we still have a pantry stocked with a few nice canned goods to supplement our own summertime canning. There are times when you come home and want something quick and uncomplicated. And fixing up a meal from canned ingredients doesn't automatically make you a Sandra Lee.
Anytime I think about the subject of canned foods, a particular friend comes to mind.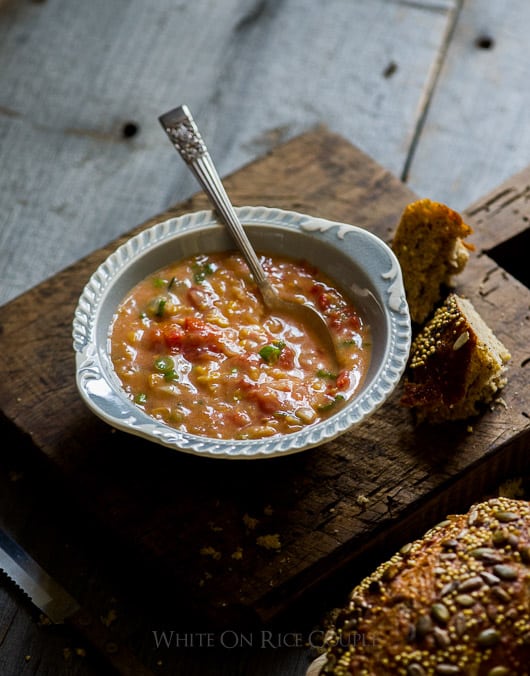 Her name was Gabrielle. An amazing artist, world traveler, and a kind soul. She was living on a houseboat and when Diane and I were in her area, she invited us over for an afternoon chat. We settled into the cozy cushions in the "living room" while she effortlessly made a quick soup using canned tomatoes and creamed corn. Served with a crust loaf of bread while the salty, cool ocean air wrapped around our senses and it was one of those perfect meals you never forget.
This incredible tomato corn soup was humble, deeply satisfying and truly made from the heart. That's what good food is about, nurturing what you have on hand, made with love and from the heart.
Even though is has probably been over a decade since we've seen Gabrielle, there isn't a time when we have the soup in which we don't think of her. And for us, a meal from a can will never automatically carry a negative connotation.
-todd
We're re-sharing this favorite recipe, originally published in 2012, with a new video for you all. Thank you!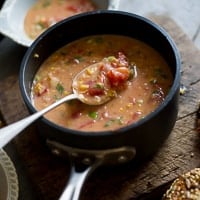 Gabrielle's Simple Tomato and Corn Soup
Serve with your favorite bread or crackers. This makes a great cool weather, quick hearty meal.
Ingredients
15 oz. (425 g) diced tomatoes , if you use salt-free then add salt to taste
15 oz. (425 g) creamed corn
1 cup (236 g) low fat milk
1/2 medium onion , minced
3 cloves garlic , minced
2 Tablespoons (30 ml) olive oil
about 3-4 green onion stalks , chopped
additional salt and pepper to taste
Instructions
Heat medium pot, add olive oil. Once oil is hot, add onion and garlic and cook until transluscent.

Add canned tomatoes. Cook for about 3 minutes until combined well with onion/garlic mixture.Add canned creamed corn and milk. Stir to combine evenly, then slowly bring to boil.

Reduce heat, add green onions and salt/pepper to taste.Cook for about 5 minutes until soup is combined well. Serve warm with your favorite bread or crackers.
Nutrition Information per Serving
Calories: 138kcal, Carbohydrates: 18g, Protein: 2g, Fat: 7g, Saturated Fat: 3g, Sodium: 332mg, Potassium: 248mg, Fiber: 2g, Sugar: 4g, Vitamin A: 136IU, Vitamin C: 11mg, Calcium: 29mg, Iron: 1mg
We are a participant in the Amazon Services LLC Associates Program, an affiliate advertising program designed to provide a means for us to earn fees by linking to Amazon.com and affiliated sites.