Crispy Quinoa Fritters with Green Tomato Chutney and Green Zebra Heirloom Tomatoes
This quinoa fritters recipe is a continuing series we're sharing for Summer on our favorite heirloom tomatoes that we're growing. And we have a delicious recipe included too! You can visit all our tomato recipes on our tomato page.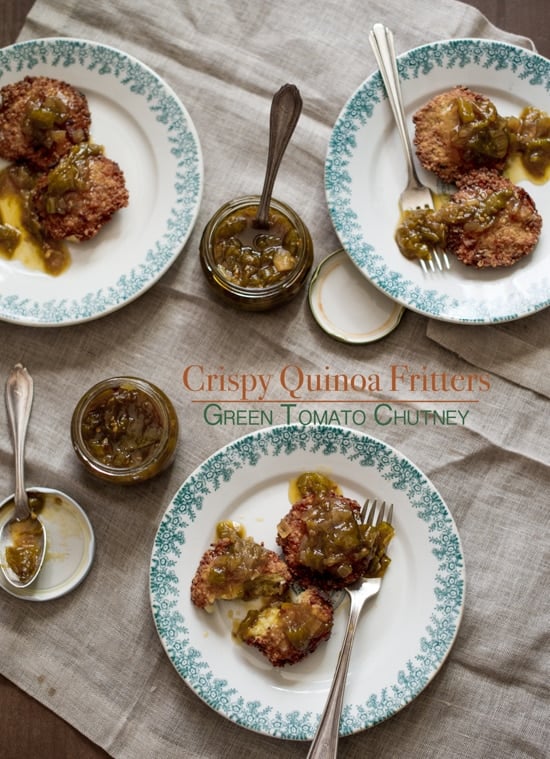 Quinoa Fritters Recipe
What a delicious surprise these quinoa fritters were. Wow. Not that we were expecting them to be bad, but we weren't expecting them to have much flavor. Don't get me wrong, I absolutely love quinoa and usually use it as a base for salads and main entrees. But I really thought these fritters would be rather bland when fried up. That's why I added a half cup of parmigiano reggiano cheese into the recipe and maybe that was what made it so good? Either way, bad on me for judging a dish before I could even make it.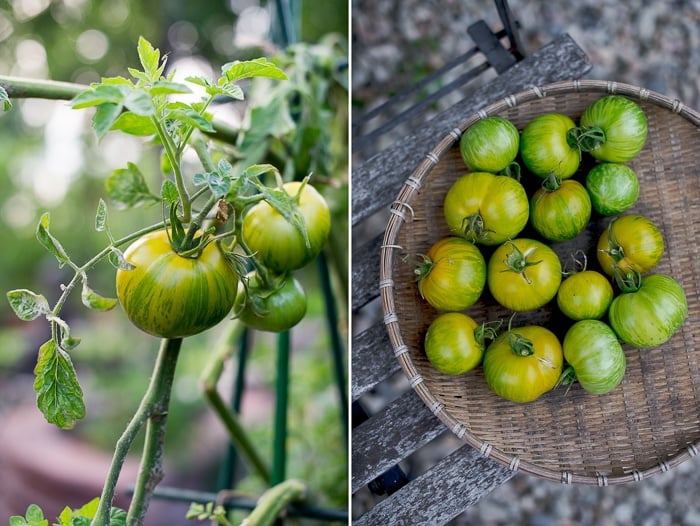 Do you ever have that happen to you? Pre-judge how something tastes before you even taste it? I used to do it to soft cooked zucchini. Yuck. For years, all I could think was yuck. I don't know what it was, but I never really warmed up to the thought of soft, soggy zucchini. It wasn't until Todd made a grated zucchini stir fry for me that I my heart and tolerance for it changed. Maybe it was one of those childhood experience that drives me away from certain foods because I didn't have it in a way that I like it. Now that I'm older, I try not to pre-judge ingredients I don't like because I've learned that someone can always surprise me with it cooked in a way that I would enjoy.
So back to the fritters. Yes, I judged fried quinoa. Shame on me. But I've totally made a complete 100% turnaround and want to scream to the world now that "I love quinoa fritters!".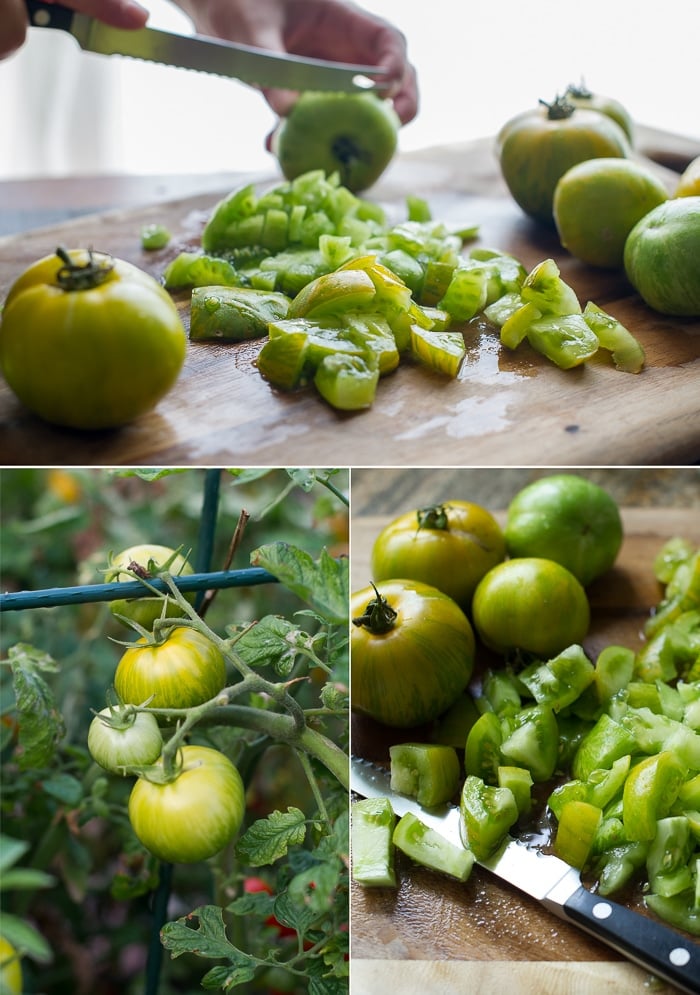 Crispy and Crunchy Delicious
Oh goodness, these are so good, I popped two fritters in my mouth within 2 minutes flat. Of course, not both at the same time. But certainly, one after the other quicker than lightening.
What makes these fritters so good is that they're crunchy on the outside and flavorful on the inside. The Parmesan cheese definitely helps on flavor, but I also seasoned the fritters well, giving them extra flavor and balance. Coupled with the green tomato chutney, it was the perfect marriage of crunch, sweet and tangy flavor all in one. It's one of my favorite dishes to date and that's saying so much for a girl who turned her nose up on fried quinoa.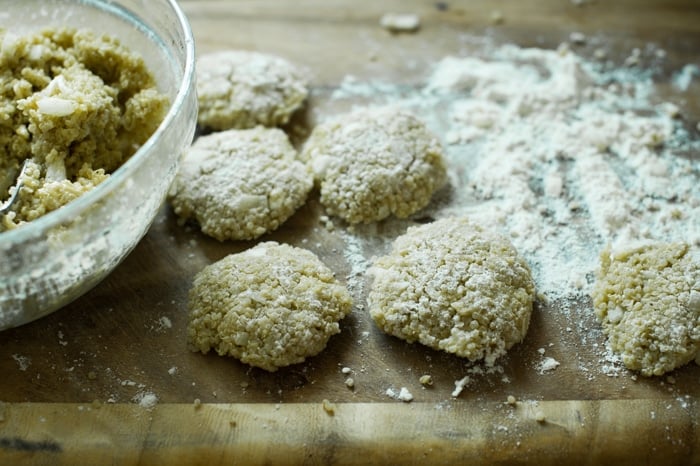 Crispy Quinoa Fritters : Before (above) and After (below)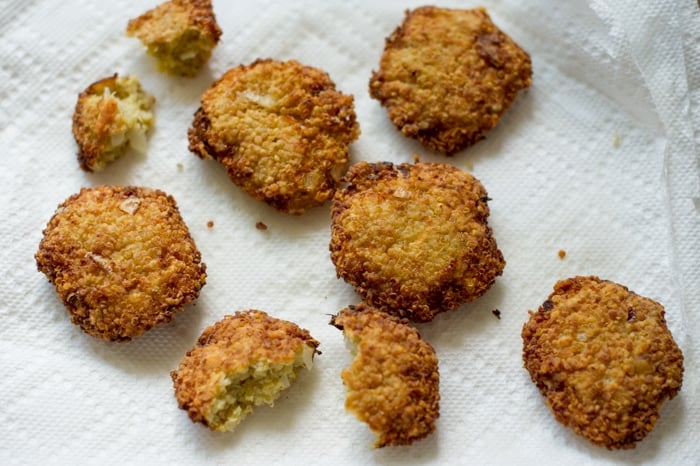 Flavorful Tomato Chutney
The green tomato chutney certainly brings out the flavor of this quinoa fritters recipe and we have plenty of green tomatoes to go around in the garden. This time around, we used our green zebra heirloom tomatoes and they were perfect for the recipe. Green Zebra tomatoes are tangy with great firm texture. So we were able to use a combination of both very ripe green zebras and more firm, hard ones. They proved to be the perfect tomato for most of our green tomato recipes.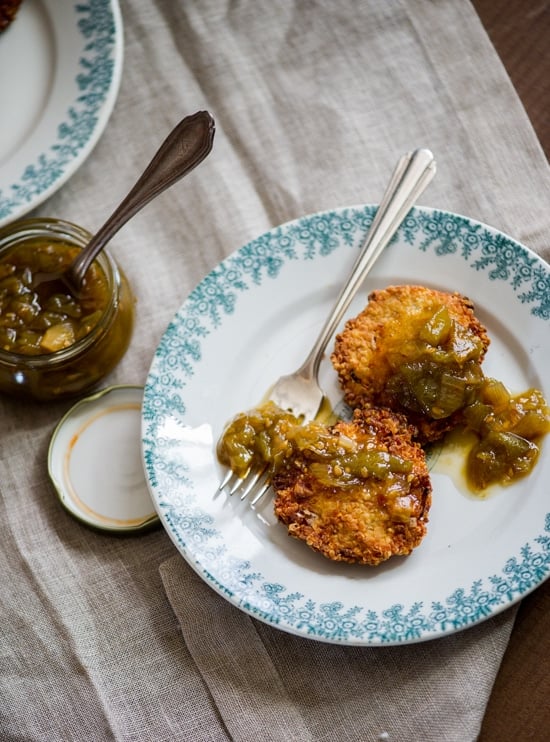 Have you ever grown green zebra tomatoes? They're like monsters. We've never had a green zebra that didn't fruit like mad, giving plenty of tomatoes to feed the neighborhood. Unlike other heirloom tomatoes that are sensitive to disease, our green zebras seem to hold up o their own and don't take much care. Every time we turn around, there's a new cluster of green zebras waiting to be plucked, picked or chutney-ized.
Hope your Summer is going well if you're growing tomatoes, hope your getting a bumper crop! Enjoy our crispy quinoa fritters recipe!
hugs,
diane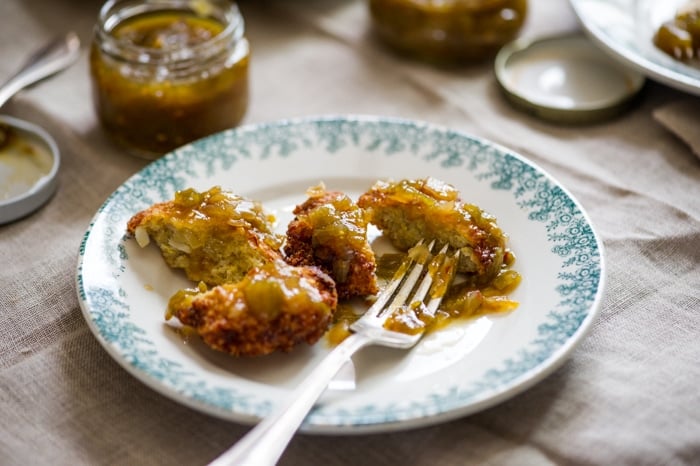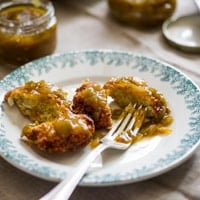 Crispy Quinoa Fritters with Green Tomato Chutney
The hardest part of making the quinoa fritters is getting them into a patty. They have a tendency to stick to the hands, so try to wash your hands often, cleaning them of the loose quinoa and flour. Try to make the quinoa patties firm, so that they don't break apart. As soon as you get them into a patty, carefully fry them in the hot oil. I fried them a little bit longer to get a crispy outside and they were still delicious on the inside.
For the Green Tomato Chutney, I used this recipe.
Ideally this recipe should take one long day or over two days. The quinoa needs to be pre-cooked, then allowed to cool completely. I cooked the quinoa the night before and refrigerated it, giving it a firmer texture. You can also make the chutney ahead of time too, allowing the chutney to cool completely too before eating.
Ingredients
1 cup (170 g) raw quinoa
1/2 cup (50 g) grated parmesan cheese
2 large eggs
1/2 cup (62.5 g) all-purpose flour
additional flour for dusting
1/2 teaspoon (2.5 ml) smoked paprika
1 small onion , finely minced (the smaller the mince is, the easier it will be to mold the patties)
1 teaspoon (5 ml) sea salt , or to taste (I liberally seasoned the quinoa mix)
lots of fresh cracked black pepper to taste
vegetable oil for frying
Instructions
Cook quinoa to package instructions (should be about 2 cups water-1 cup quinoa. Simmer covered for 12-15 minutes). Allow to cool completely.

In large bowl, combine cooked quinoa, eggs, parmesan cheese, flour, onion, paprika, salt and black pepper. Mix thoroughly to combine all the ingredients, but be gentle to not make the quinoa mushy.

In large skillet, add oil for frying, about 1/2 inch in depth. Heat the oil to medium/high heat.

Use about 3 Tablespoons of quinoa mix and form into a tight ball, then press down to form a patty. Add a little bit of flour around outside of the patty to keep it from sticking to your hands.

Finish making all the patties, then fry them in oil, on both sides until crispy brown. This should take about 3-5 minutes on each side.

Blot hot fritters on paper towels. Serve quinoa fritters with green tomato chutney.
Nutrition Information per Serving
Calories: 207kcal, Carbohydrates: 28g, Protein: 11g, Fat: 6g, Saturated Fat: 2g, Trans Fat: 1g, Cholesterol: 69mg, Sodium: 541mg, Potassium: 225mg, Fiber: 3g, Sugar: 1g, Vitamin A: 248IU, Vitamin C: 1mg, Calcium: 120mg, Iron: 2mg
Check out more quinoa recipes here.
We are a participant in the Amazon Services LLC Associates Program, an affiliate advertising program designed to provide a means for us to earn fees by linking to Amazon.com and affiliated sites.