15 min. Creamy Garlic Alfredo Sauce for Fettuccine and Everything. 
Well, we meant "almost" everything. We all need a simple Alfredo sauce recipe to have at our disposal. You never know when you need a quick fettuccini Alfredo for pasta, vegetables or meats. You'll love these creamy garlic sauce flavors.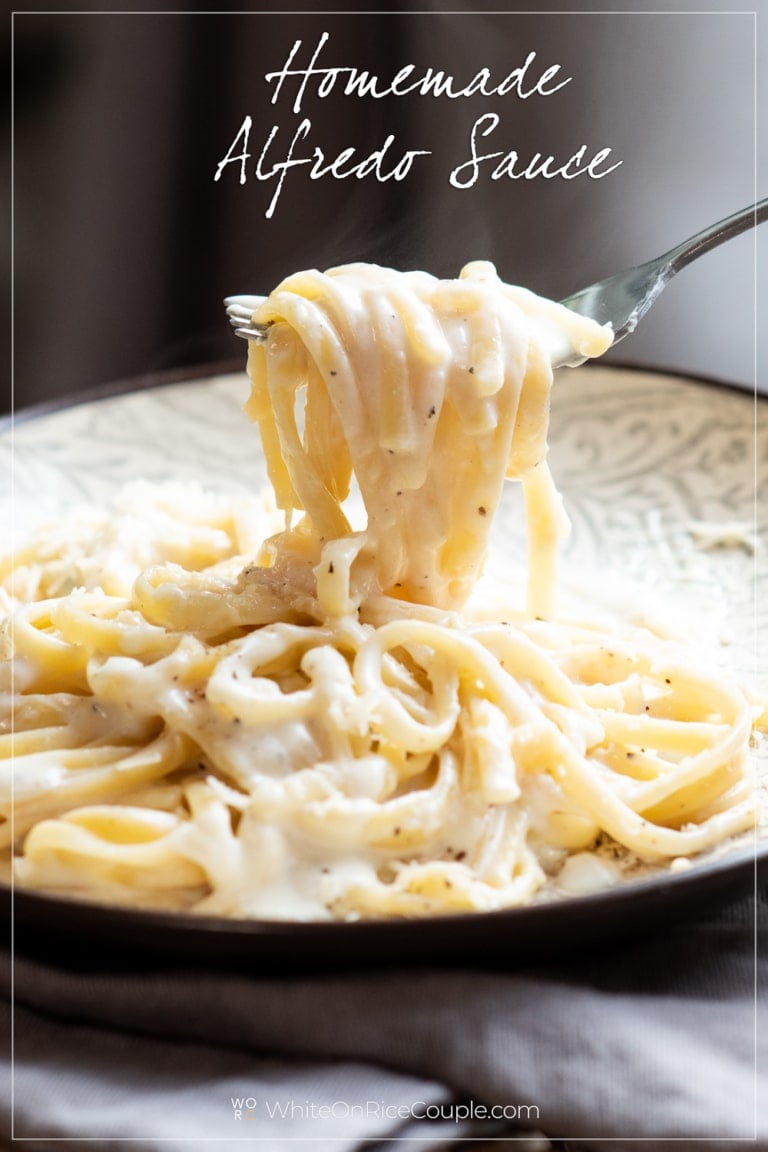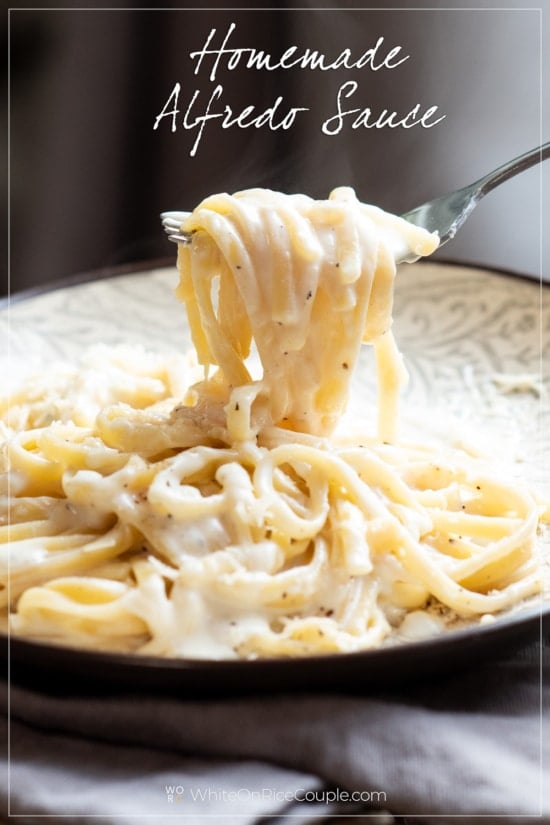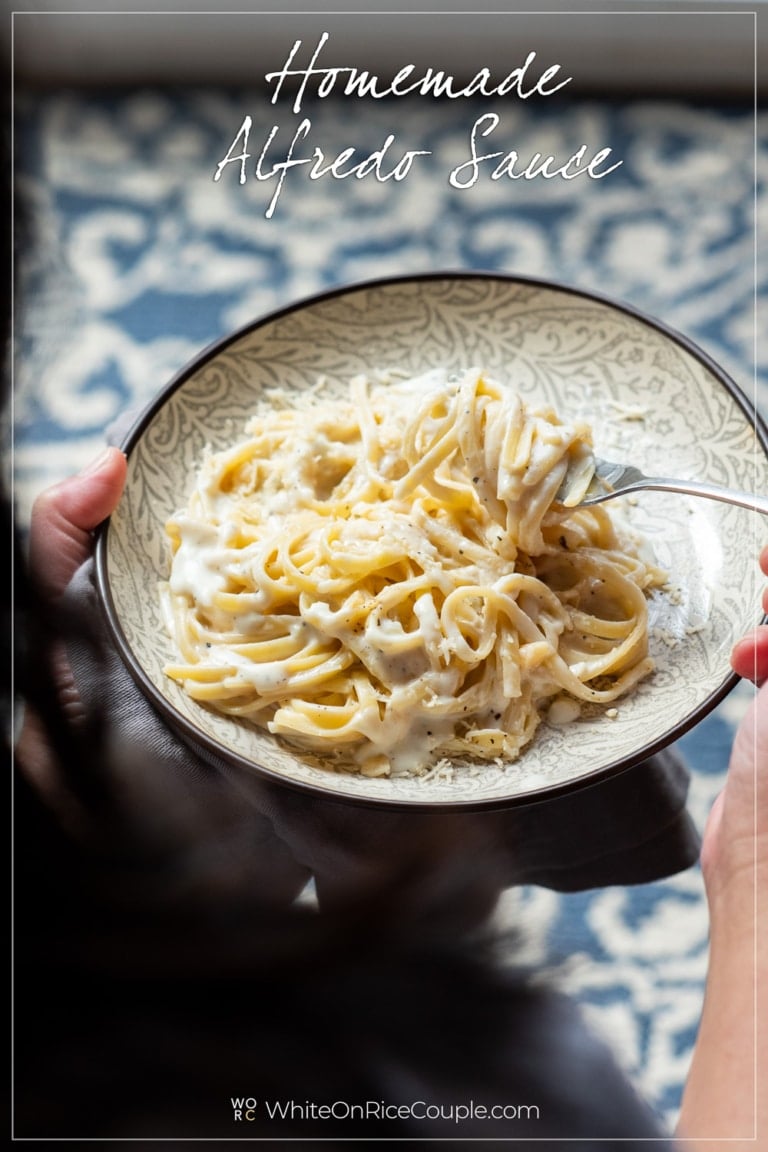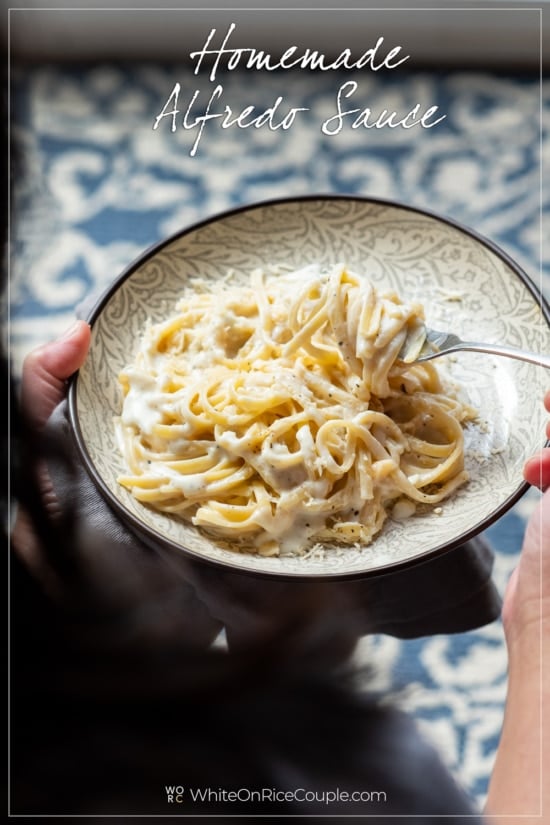 Easy Alfredo sauce recipe
There's so much to love about our creamy garlic Alfredo sauce and use it on your favorite dishes. Guaranteed it will be a go-to sauce that your family will love. Making this classic sauce from scratch is so much better than buying it in the jar. It's a quick and easy recipe for homemade Alfredo sauce that can be eaten right away or bottled for later. The flavors are fantastic, fresh, cheesy and creamy without any artificial ingredients.
Video: 15 Min. Alfredo Sauce Recipe
Simple Ingredients for Creamy garlic Alfredo sauce
With just a few fresh ingredients you have a fresh creamy garlic sauce to serve and it's budget friendly too. We developed this recipe using simple everyday ingredients. It's a no fuss grocery list that will result in a flavorful pot of cheesy goodness.
For this Alfredo sauce recipe try to use quality Parmesan cheese. You can really taste the difference in a good Parmesan cheese, especially Parmigiano-Reggiano.
Fresh garlic: crushing a few closed of fresh garlic makes this sauce especially aromatic.
Milk instead of heavy dream. We made this with milk, which is even easier because milk is usually in everyone's fridge. The sauce is still nice and rich by using milk.
Add enough salt, especially if you're not using Parmigiano-Reggiano and have a cheese that doesn't have a lot of flavor. Adding enough salt really brings out the flavor in the sauce. Otherwise, it can be bland.
If you really want a lot of garlic flavor, add about 1/2 teaspoon of garlic powder in addition to the minced garlic.
All recipe details are in the recipe box below.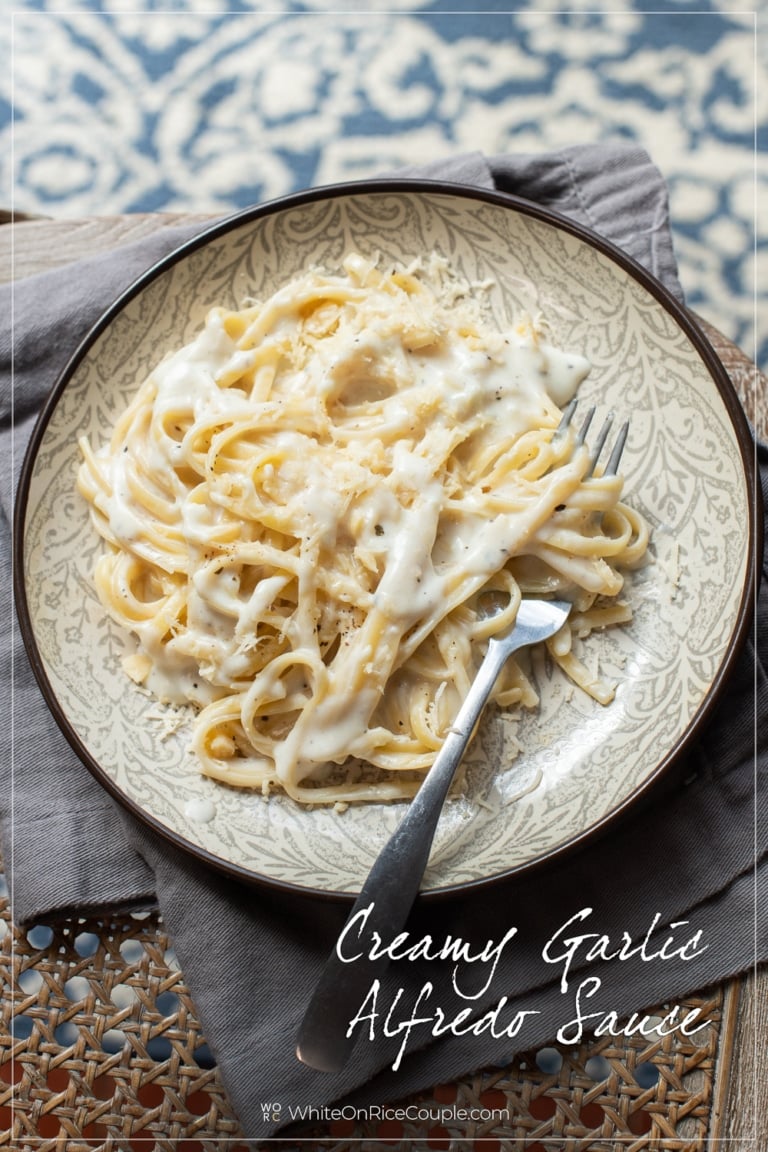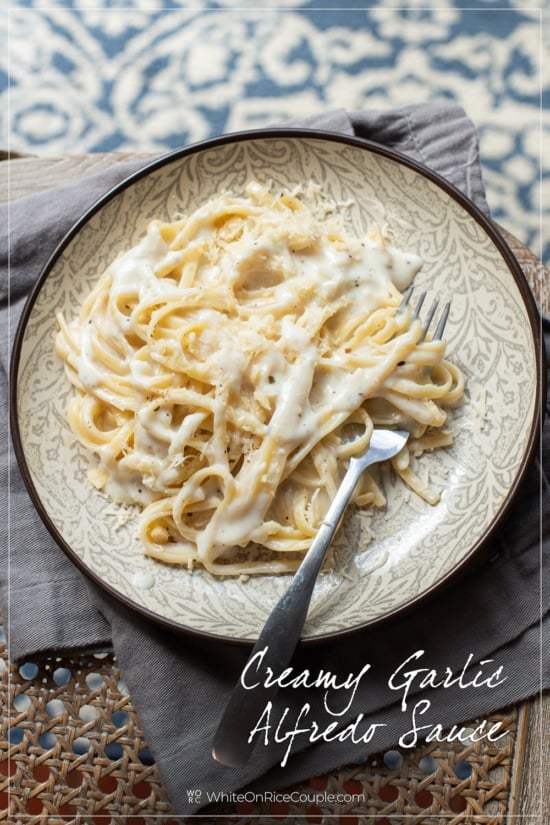 Alfredo Sauce from Scratch – Beyond the Pasta
Making it from scratch is a game changer and you'll wonder why you never made fresh Alfredo sauce before. Best of all, this sauce goes beyond the classic fettuccine pasta. You can add it to what ever pasta, noodles or starch that you want. Add it to your poached eggs, use it as a cheese dip or add it to warm mashed potatoes. Serve it over chicken or with your seared or grilled shrimp. Even baked potatoes or fries is a killer way to enjoy this sauce. Drizzle it on top of some vegetables or just dip some bread in it. It's crazy delicious to realize all the possibilities you can serve this everyday white sauce. Enjoy or easy alfredo sauce recipe!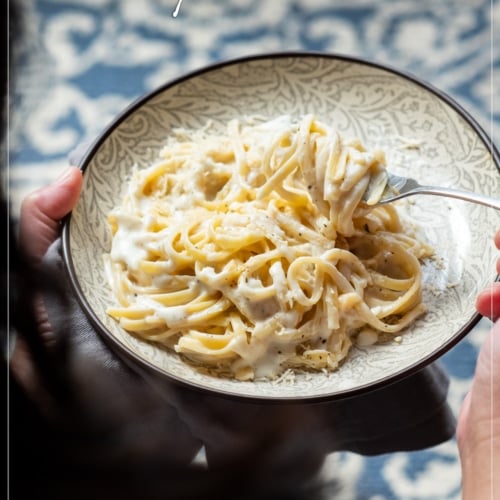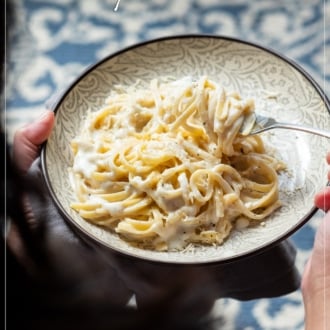 15 Minute Creamy Garlic Alfredo Sauce
For extra garlic flavor, add about 1/2 teaspoon garlic powder. Although Alfredo sauce is often made with cream, we created this recipe with milk because most folks have milk in the fridge and it dials back the richness just a touch. If you want to use heavy cream, then just eliminate the flour and replace the milk with heavy cream.Makes about 2 1/2 cups of sauce.
Ingredients
1/4 cup (57 g) butter (1/2 stick)
4 cloves garlic , minced (or 2 teaspoons garlic powder)
1/4 cup (30 g) all-purpose flour
2 cups (480 ml) milk
1/4 teaspoon (1.25 ml) dried herbs (basil, oregano, thyme, etc.)
1/2 teaspoon (2.5 ml) dried mustard powder
1 cup (100 g) freshly grated Parmigiano-Reggiano (or similar cheese)
1 teaspoon (5 ml) salt , or to taste
1/2 teaspoon (2.5 ml) fresh cracked black pepper
Instructions
In a sauce pan over medium-high heat, cook the butter and garlic, stirring often. Cook until garlic is translucent and fragrant (about 1 minute after the butter is melted).

Whisk in the flour completely. Slowly whisk in the milk. Make sure any flour lumps are smoothed out and bring sauce to a low boil. Reduce heat to low.

Stir in the dried herbs, mustard powder, parmesan, salt, and pepper. Continue cooking, whisking often, until sauce is smooth and thickens.

Serve the sauce while warm with your favorite pasta or if you're saving the sauce for later, allow the sauce to completely cool. Pour the sauce into mason jars or a container. Keep in fridge and use within 5 days.
Nutrition Information
Calories: 308kcal, Carbohydrates: 14g, Protein: 14g, Fat: 22g, Saturated Fat: 14g, Polyunsaturated Fat: 1g, Monounsaturated Fat: 6g, Trans Fat: 1g, Cholesterol: 62mg, Sodium: 1120mg, Potassium: 236mg, Fiber: 1g, Sugar: 6g, Vitamin A: 752IU, Vitamin C: 1mg, Calcium: 459mg, Iron: 1mg
We are a participant in the Amazon Services LLC Associates Program, an affiliate advertising program designed to provide a means for us to earn fees by linking to Amazon.com and affiliated sites.