Homemade Pasta & Shrimp Scampi
Hope you enjoy our Shrimp Scampi Recipe with Homemade Fresh Pasta because. It's going to be a favorite dinner for you like it is for us! Cheers.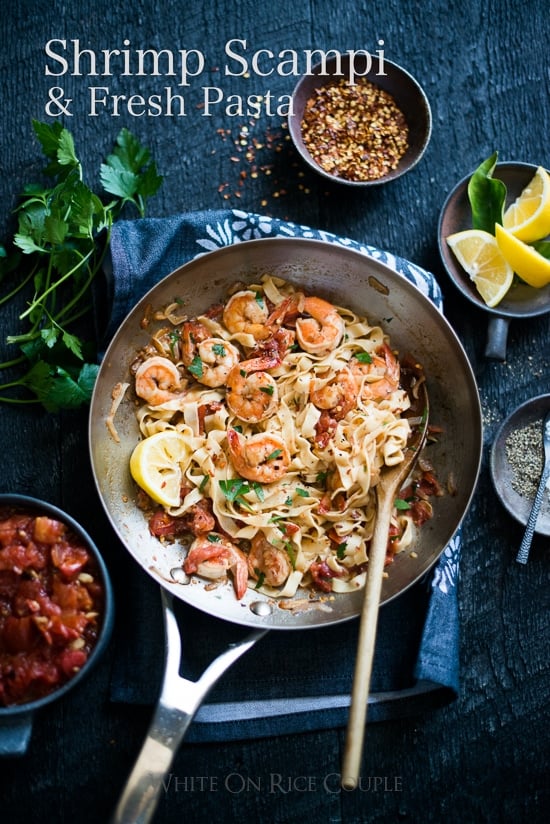 Homemade Shrimp Scampi Recipe
It started over 21 years ago, our fresh pasta obsession. For us, making and eating homemade pasta is soul warming comfort. Remembering way-back-when into our first forays into pasta making it wasn't always a relaxing comfort to make. There was the time we were cooking for a big party and prepping late into the night. We were determined to have a lasagna with a homemade pasta and halfway into making it we realized that we didn't have a big enough pasta pot to boil the sheets of lasagna. We focused on everything about making the pasta and fillings but didn't realize that with the long sheets of pasta we would need a much bigger pot than anything we had at the time.
Enjoy our Video of Our Shrimp Scampi with Fresh Pasta:
So at 1 am, we hopped in the car and drove to our local 24-hour department store in search of a party-pasta-pot worthy of our beloved homemade lasagna. Well, we had no such luck and ended up back home at 2:30 am feeling defeated. But luckily we were able to find one a few hours later (at a decent hour when stores are normally open) and our culinary drama and dilemma was a thing of the past.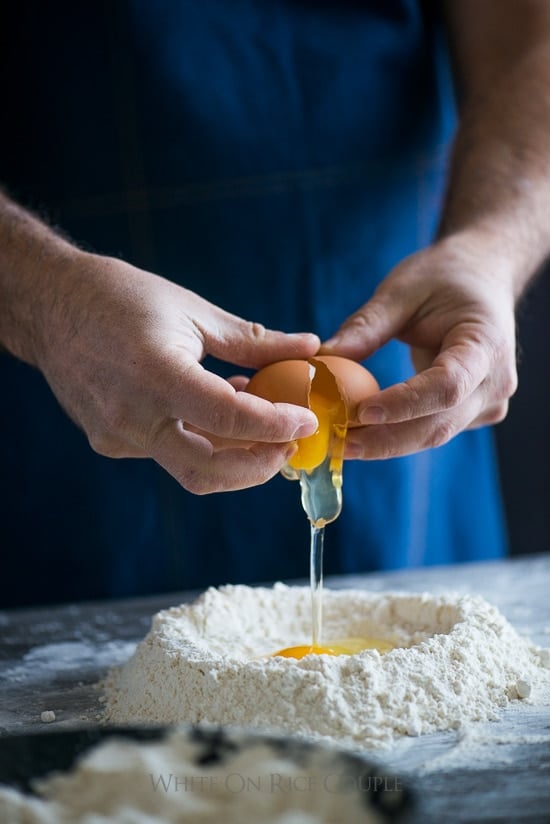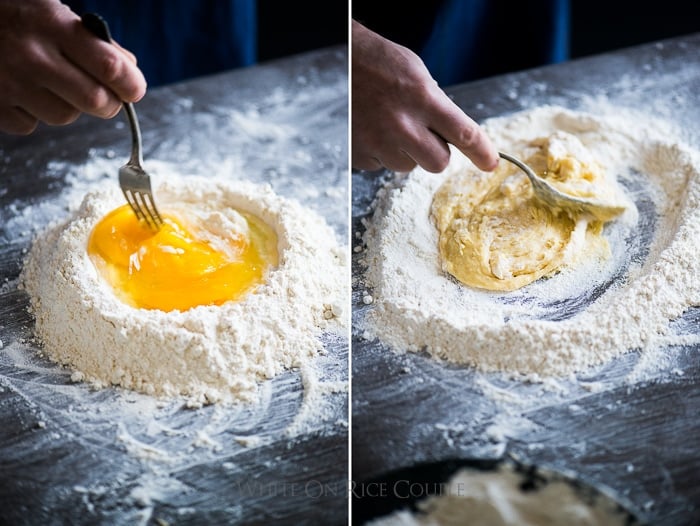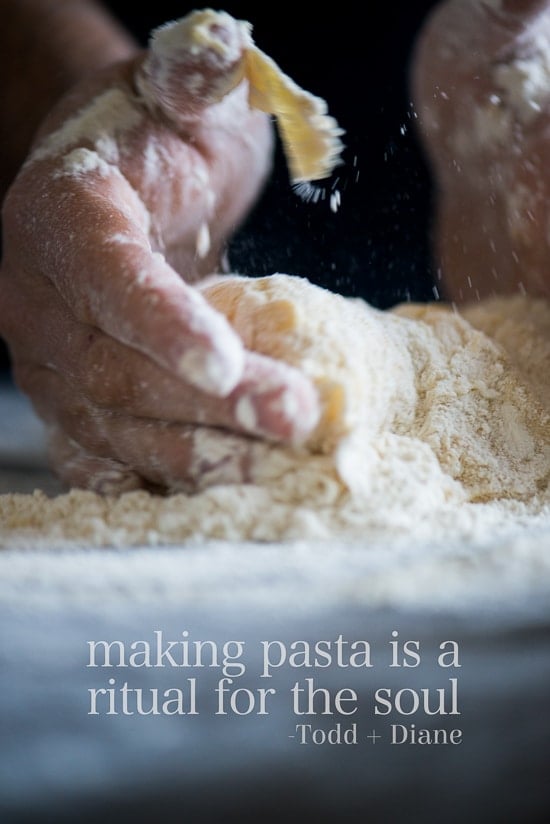 Fast forward over two decades later, and making fresh pasta for us has become an easy meal made with grace and love. Ironically, even after 9 years of blogging we've never posted a fresh pasta recipe or a shrimp scampi recipe. Maybe it was because it was a regular thing on our menu that we overlooked it's unique value to our blog readers. When we make or eat something so often, we forget that we should share it on the blog. Now we finally have it here, a story of our pasta obsession!
Homemade pasta is truly one of the easiest dishes to make and it's not as intimidating as some think. If you start with simple fettuccine you'll gain the confidence to move upwards on the pasta-making ladder and eventually you'll find yourself exploring so many other different shapes and sizes that you'll be a truly pasta-junkie, just like us.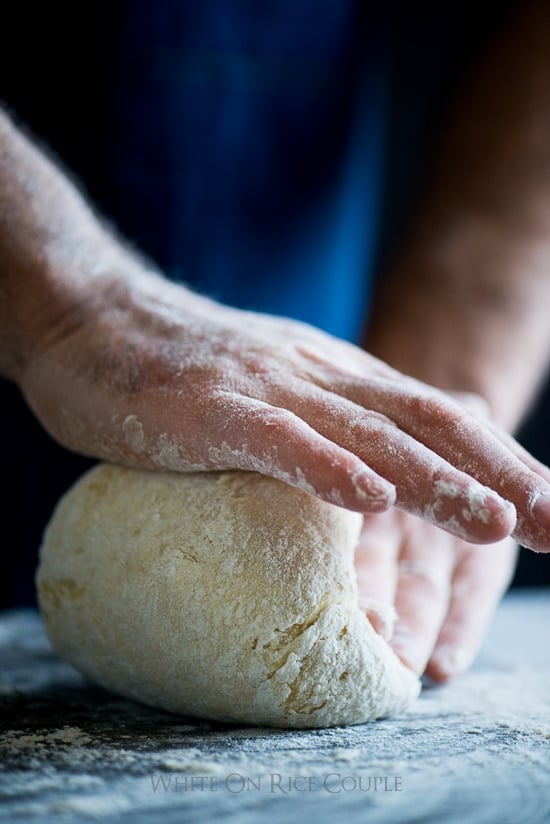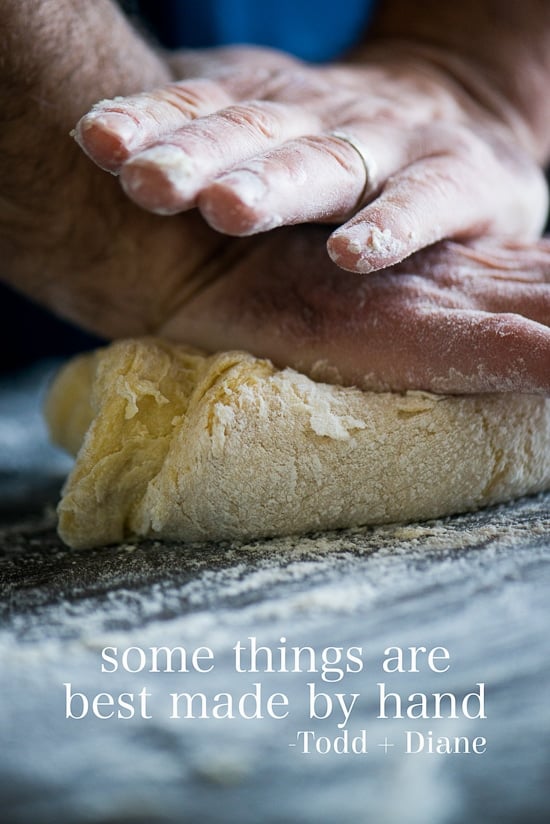 We love making fresh hand-cut pasta too, but something when we're making big batches for parties, we rely on one of our favorite tools, the KitchenAid pasta attachment. It's an awesome KitchenAid tool to use when it comes to pasta making for this shrimp scampi recipe. Freeing your hands from cranking and feeding the dough through the rollers, making fresh pasta with the stand mixer attachment it a dream. I remember one time we were photographing a pasta making class at a culinary school in Manhattan. The students were hand cranking away, making their pasta, and then the instructor whips out a KitchenAid stand mixer with the pasta attachment and rolls out his pasta. The students were dazed and in awe, and quite a bit jealous, to which the instructor replied with a bit of a smirk, "You haven't earned the right to use it yet."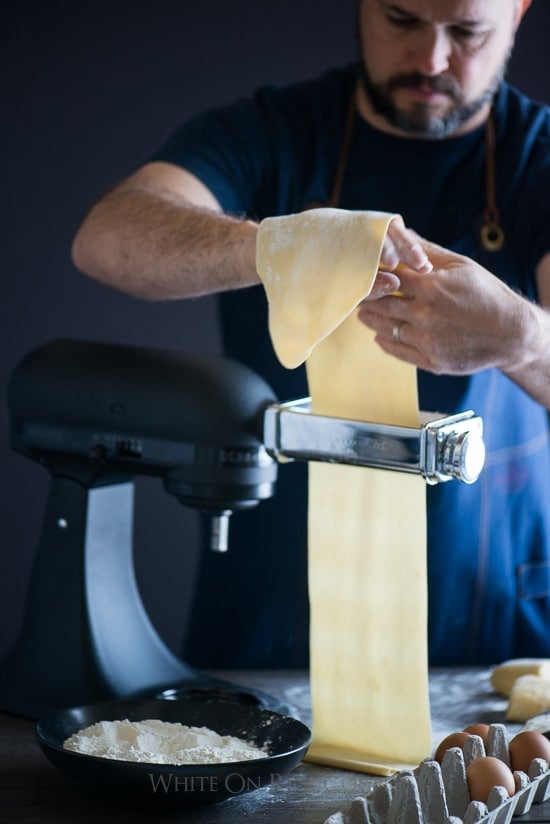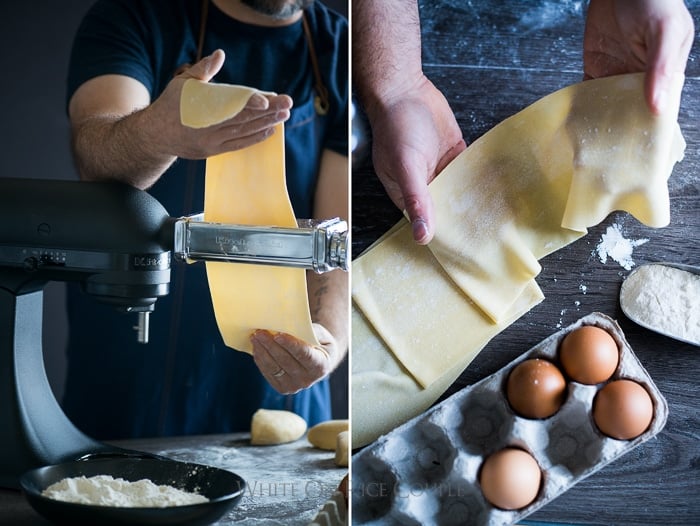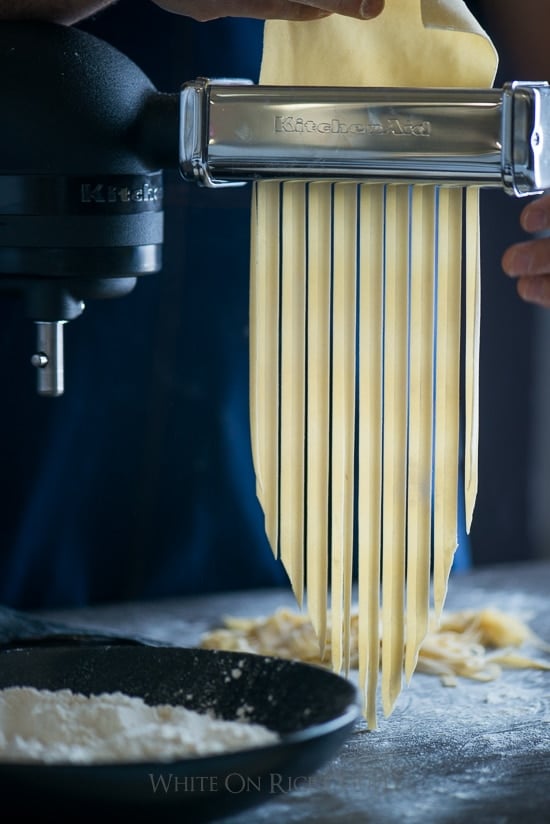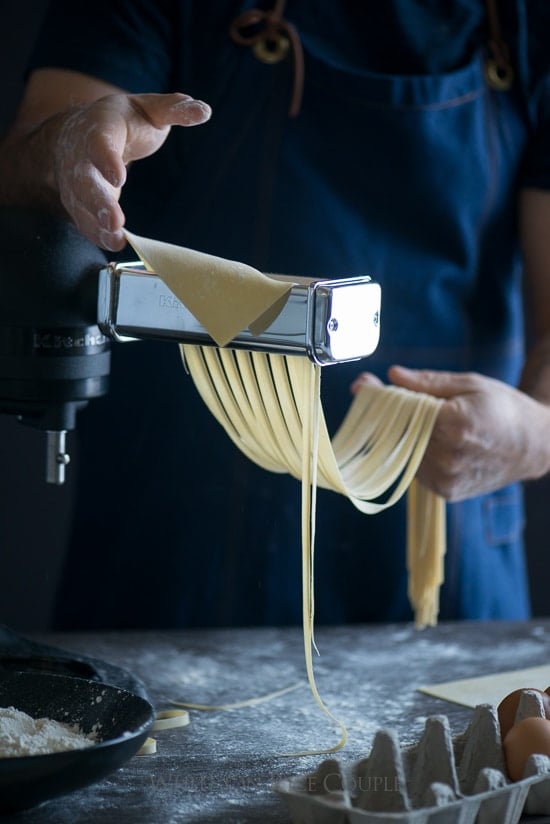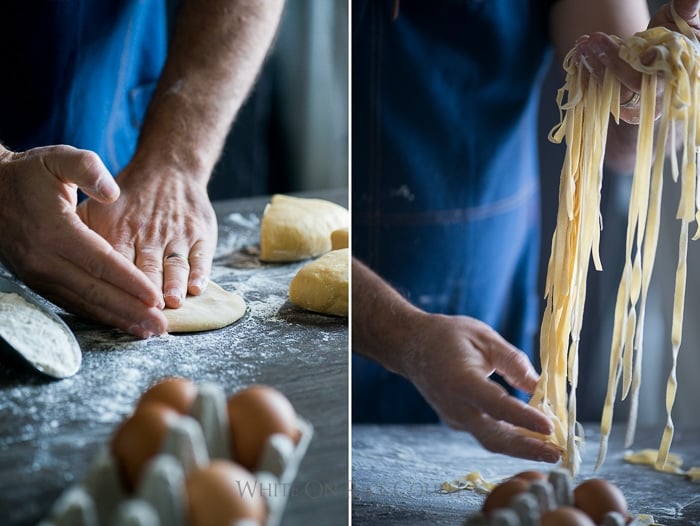 Easy Shrimp Scampi Sauce
Our shrimp scampi sauce is super easy to make as well and it's a killer way to have an easy pasta dinner without fussy ingredients. When we made this shrimp scampi and pasta for the video, we couldn't stop eating it straight from the pan. So what you see in the video is truly dat! We had three other people to feed in the studio and we had more than enough pasta to feed two or even three studio teams.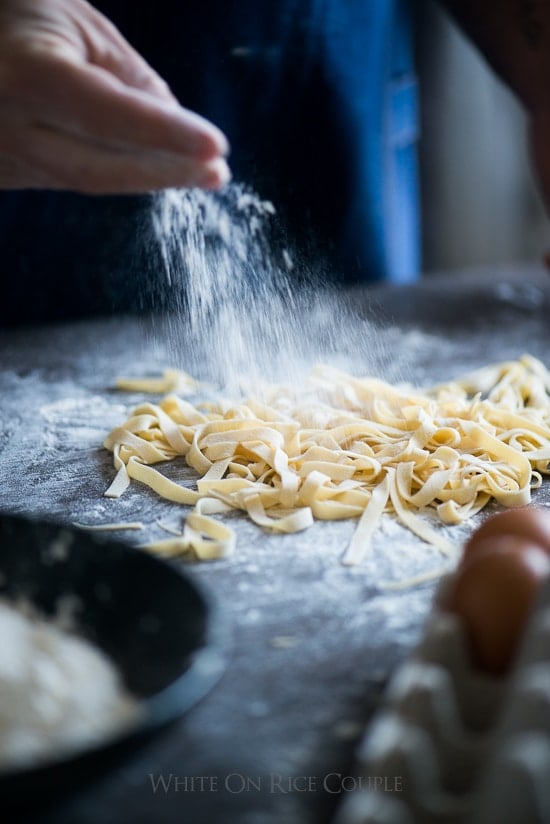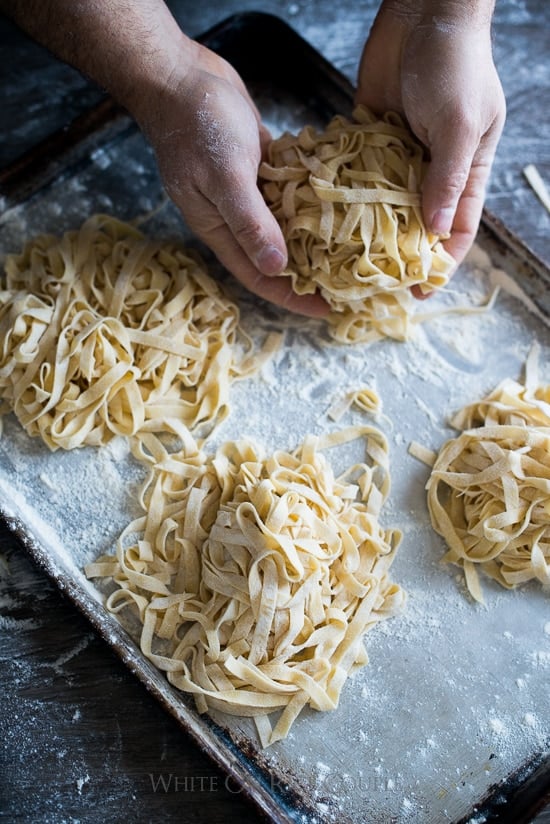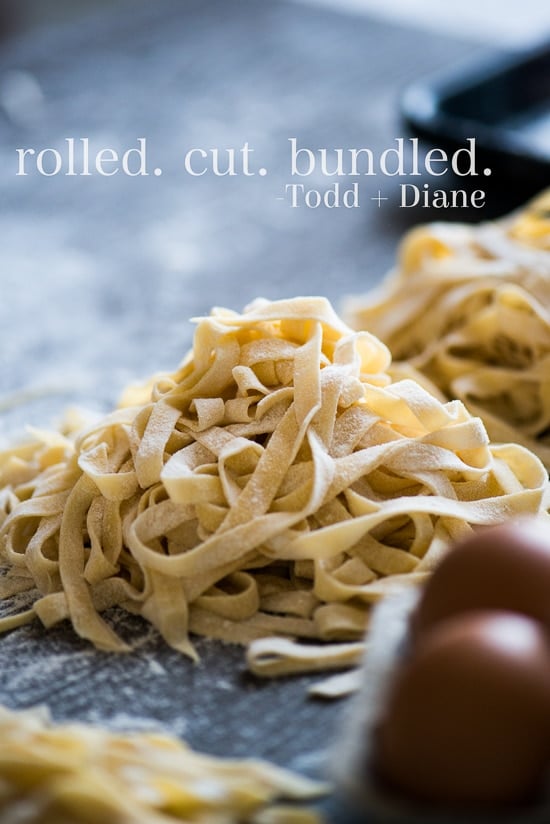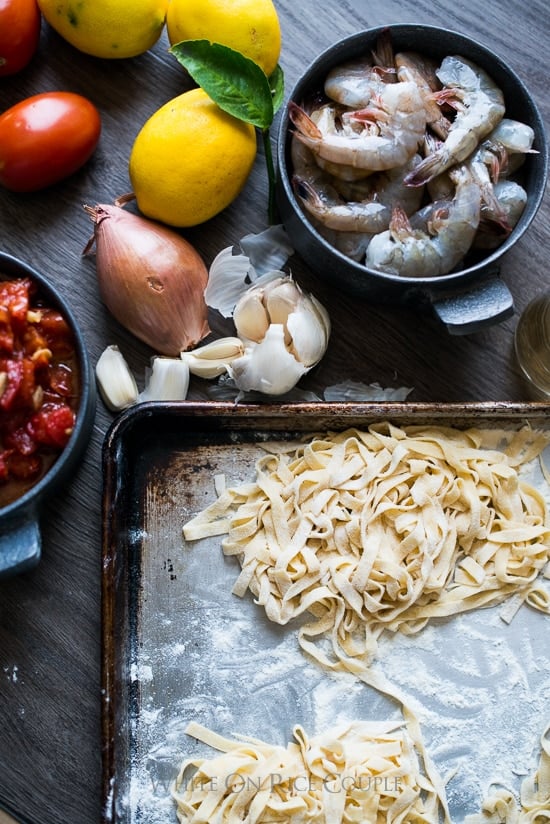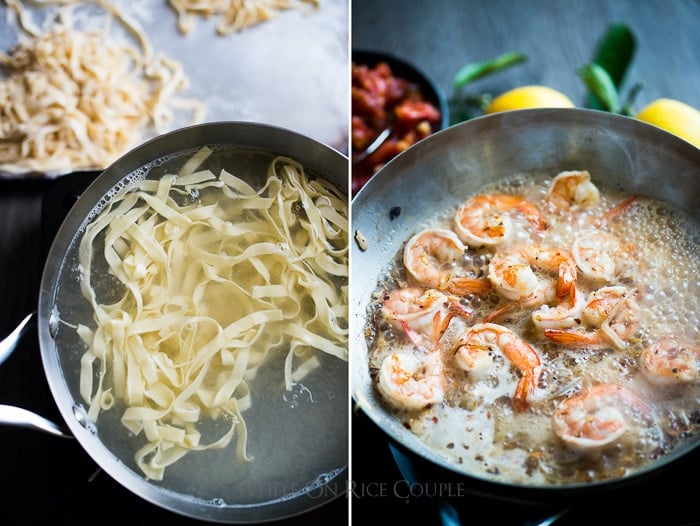 If you've never attempted fresh pasta, we hope you give it a try because once you've made your first batch, it's hard to not make it again and again and again. Let's all celebrate pasta because yup, every once in a while, these type of carbs are totally worth the bite.
If you start to become obsessed with pasta making here's a couple of our favorite books which have taught us a ton about pasta making. Mastering Pasta by Marc Vetri and David Joachim and The Fine Art of Italian Cooking by Giuliano Bugialli.
Enjoy,
diane and todd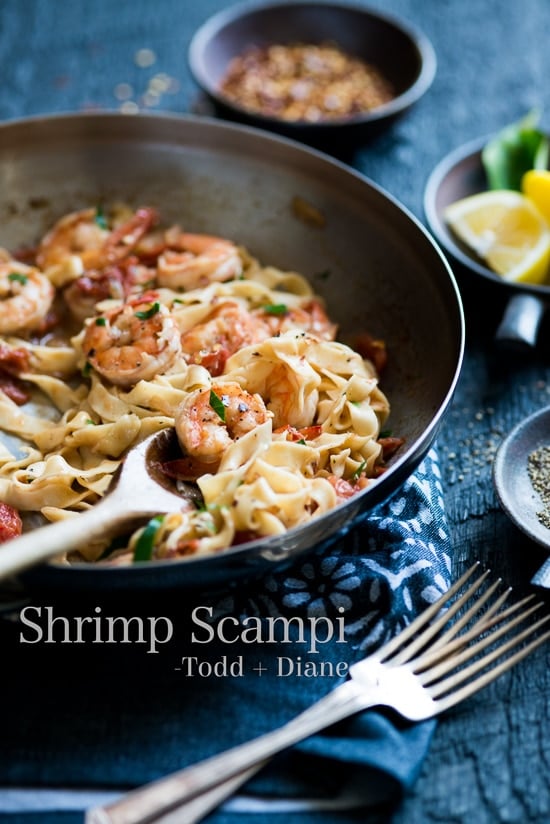 Here's a pesto chicken pasta salad, air fryer shrimp for you to enjoy.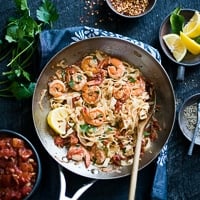 Shrimp Scampi with Fresh Pasta
It is preferable to weigh out the flour instead of measuring by volume as different flours will have slightly different volumes, however if you make it by weight, the doughs will be more consistent.Pasta rolling tip: As the dough gets thinner when you are rolling, use the flat of your hand or the backside of your hand to drape the pasta across instead of using just your fingers. You'll be less likely to puncture or stretch the dough unevenly.If you aren't going to serve all of the pasta, you can freeze the uncooked noodles in a zip-lock bag for up to a month in the freezer. Take the dough straight from the freezer to the boiling pasta water when ready to use.
Ingredients
Pasta Dough
2 1/3 cups (300g) all-purpose flour
3 eggs
1 tablespoon (15ml) olive oil
1 tablespoon (15ml) water
Shrimp Scampi
1 tablespoon (15ml) olive oil
2 cloves garlic , minced or sliced
1 large shallot , diced (or 1/2 small onion)
1/2 lb (225g) shrimp, peeled and deveined
1/4 teaspoon chili flakes
kosher or sea salt , to taste
fresh cracked black pepper , to taste
1/2 cup (120ml) dry white wine
1/4 cup (20ml) chunky tomato sauce, or chopped tomatoes
about 1 Tablespoon (15ml) fresh lemon juice, or to taste
fresh chopped Italian parsley , for garnish
Instructions
Make the pasta: In a stand mixer fit with the paddle attachment or on a work surface, mound the flour and then make a well in the center of the flour. Add the eggs, olive oil, and water to the well. On low - medium speed or with a fork, mix the center of eggs, olive oil and water slowly incorporating the flour as you go. After a dough starts to come together (usually in a couple minutes), turn to dough onto a lightly floured surface.

Knead the dough until it feels smooth (about 5 minutes), lightly adding flour as needed to keep the dough from sticking. Shape the dough into a ball and then flatten into a disc. Wrap in plastic wrap and set aside at room temperature for at least 30 minutes to let the dough relax.

Cut the dough into 4 pieces. Shape the first piece of dough into an oval nearly as wide as your pasta roller. Lightly flour the work surface and the dough piece. Pass the dusted dough through the widest setting of your pasta roller. Fold the dough in thirds, keeping the dough roughly a rectangle. Press the dough thinner with your hands so that it can pass easily through the pasta roller without bunching up.

Dust the dough again lightly with flour. Reduce the pasta roller setting to next widest setting and pass the dough through the rollers again. Repeat dusting with flour and rolling through progressively reduced the pasta roller settings, one setting at time (don't get impatient and skip settings). As the dough gets thinner, drape the dough sheets over the back of your hand to feed it through the rollers.

When the dough reaches your desired thickness (for this pasta we'll usually roll it out to the third narrowest setting - #6 on the KitchenAid attachment), lay the dough sheet on a lightly floured surface. Cut the dough into your desired pasta length (for us it's usually about 1-foot long). Either cut the dough sections with the fettuccine pasta cutter attachment or cut into noodle strands with a wheel or knife by hand. Gently toss the noodles with a bit of flour and set aside in a light pile. Repeat the rolling and cutting with the remaining 3 dough pieces.

Cover the noodles with a dry towel, set aside and cook within 1 hour or refrigerate them for up to 4 hours. You can also freeze them for up to a month in a zip-lock and then take the pasta straight from the freezer to the boiling pasta water.

Make the Shrimp Scampi: Start to bring a large pot of well salted water to a rolling boil for the pasta while you make the shrimp scampi. Heat a large skillet over medium-high heat. Add the olive oil and then add the garlic, shallots and shrimp. Season the shrimp with the chili flakes, salt, and pepper. Stirring the shrimp occasionally as the cook, sear until the shrimp are nearly cooked through, 2-3 minutes.

Add the white wine and simmer until the wine is reduced in half. Stir in the tomatoes or tomato sauce and cook for 1 minute or until heated through. Reduce the sauce heat to low and begin to boil the pasta.

Boil the Pasta and Finish: Add the pasta to the boiling salted water and boil pasta for about 1 minute or until the pasta is tender. Using spider strainer or tongs, remove the pasta from the water and add to the shrimp scampi. Toss pasta with the shrimp and sauce.

Add lemon juice and fresh parsley and then serve on warm plates. Enjoy!
Nutrition Information per Serving
Calories: 467kcal, Carbohydrates: 59g, Protein: 24g, Fat: 12g, Saturated Fat: 2g, Cholesterol: 266mg, Sodium: 574mg, Potassium: 262mg, Fiber: 2g, Sugar: 2g, Vitamin A: 282IU, Vitamin C: 4mg, Calcium: 117mg, Iron: 5mg
This recipe was originally published in 2017 and re-published in 2021.
We are a participant in the Amazon Services LLC Associates Program, an affiliate advertising program designed to provide a means for us to earn fees by linking to Amazon.com and affiliated sites.