Spicy White Bean Dip
Our spicy white bean dip has so much Asian-inspired flavors. It's a quick and easy go-to dip anytime you need a great appetizer to share. Or make it ahead for a fantastic sandwich spread for lunch with this easy Cannellini Bean Dip.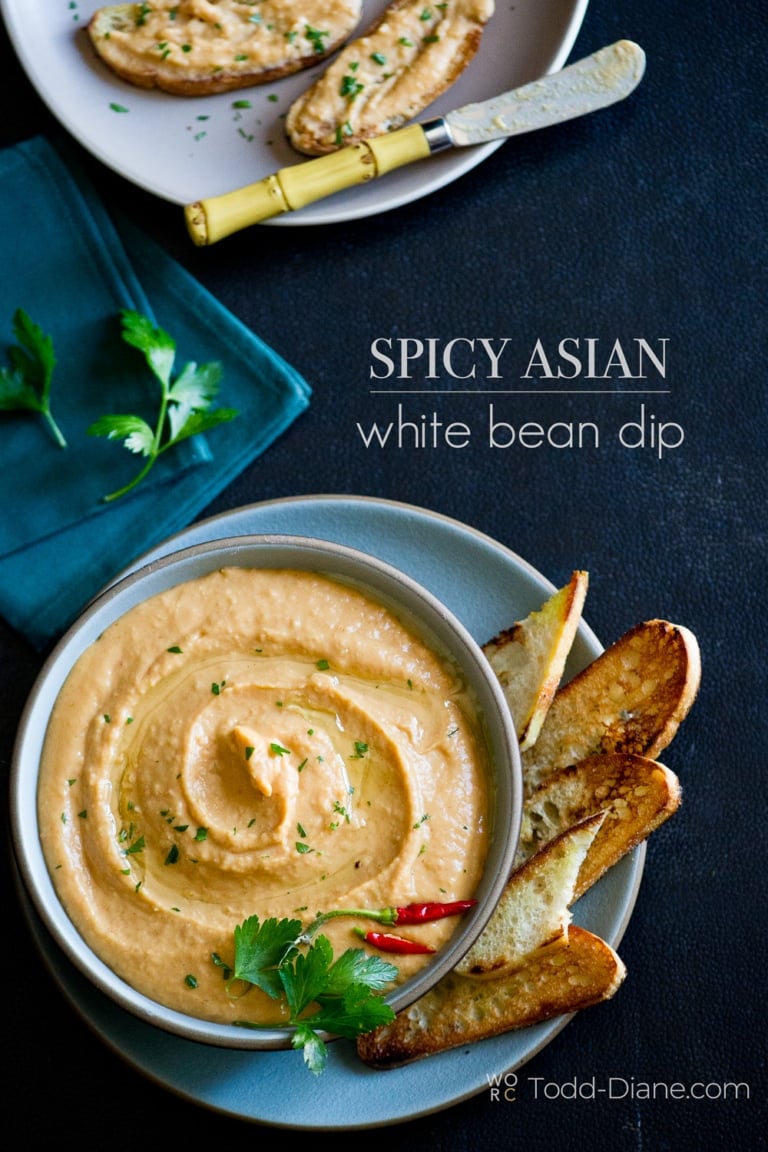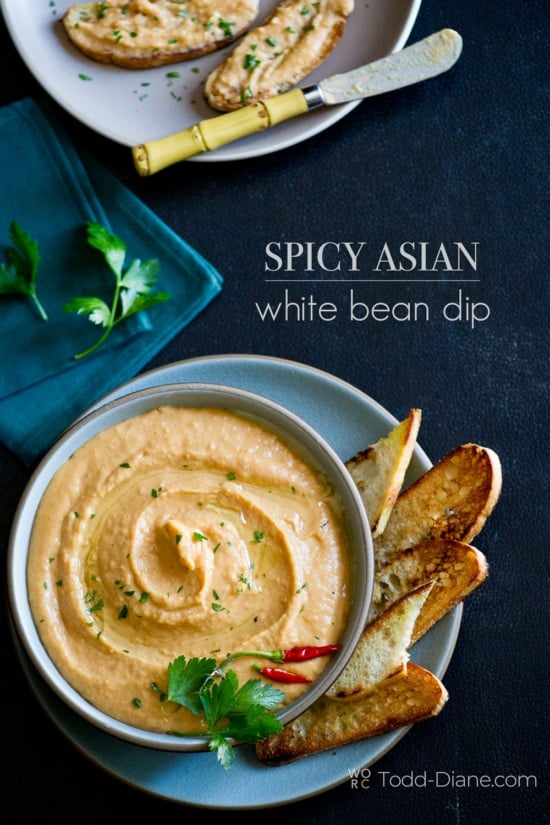 Spicy White Bean Dip
Homemade spicy sriracha, fresh chilies sauces and pretty much anything with dip recipes has been on our eating repertoire as of late. Since making our last batch of spicy garlic knots, cravings for more heat keeps our stomachs rumbling for daily spice. Just the other day, we were making our latest batch of homemade kim chi and went triple the spicy level! Fingers crossed we don't regret adding all that heat.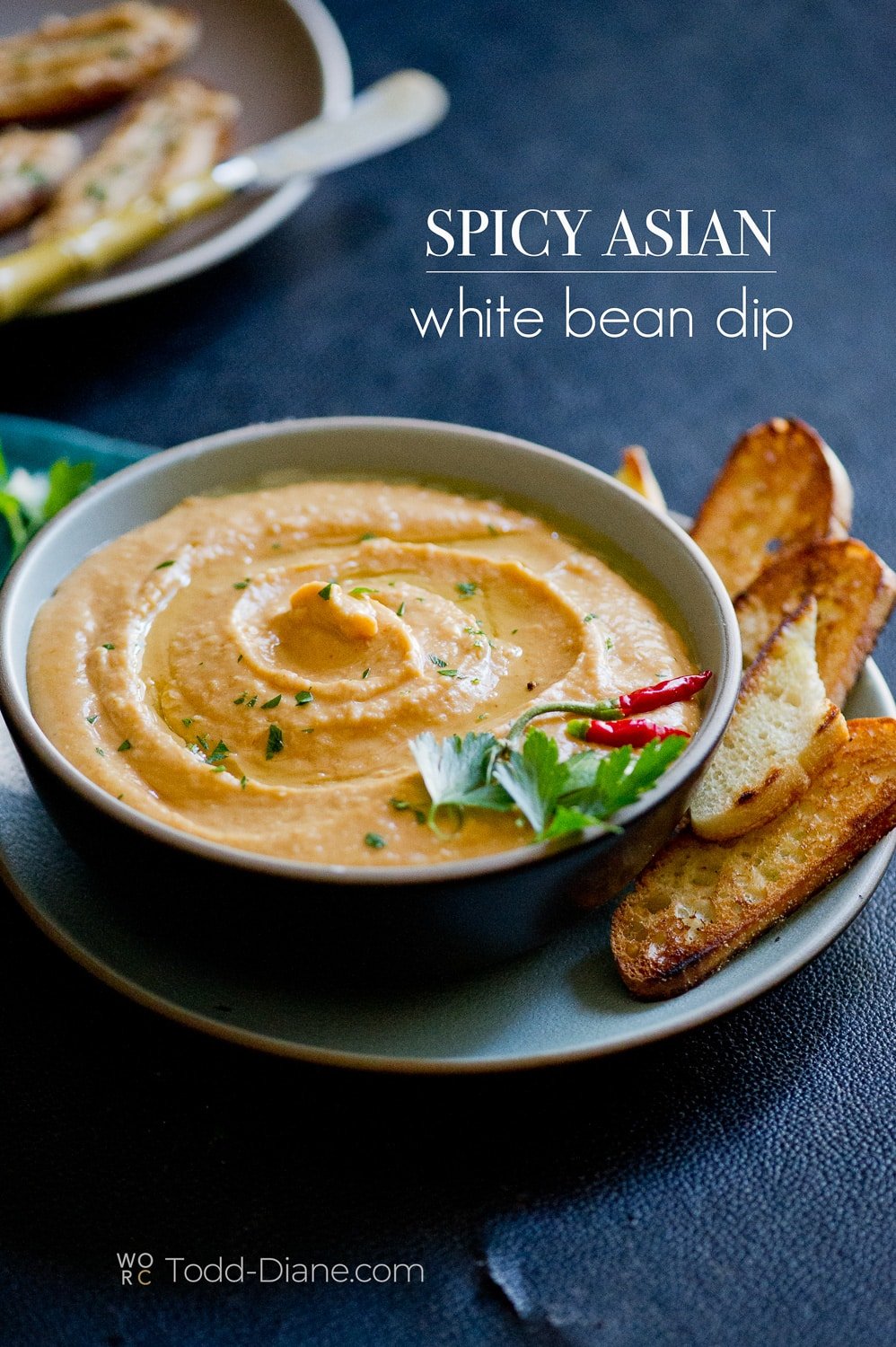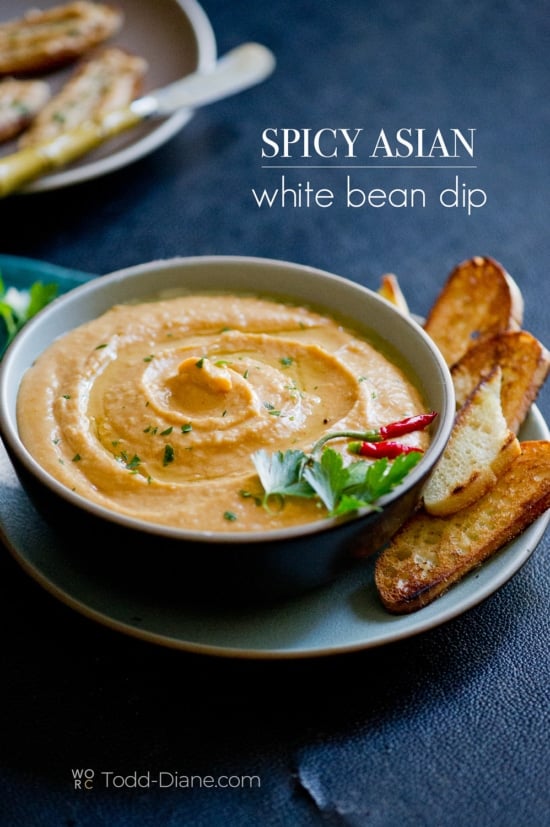 Video: Spicy White Bean Dip Recipe
White Bean or Cannellini Beans
We love the creamy texture of white beans and cannellini beans. When blended, the beans always end up creamy and fantastic. The smooth texture has a much better mouthfeel. They're not gritty or dry, so it doesn't take as much time to keep blending them. Great Northern beans are very similar as well and are perfect for this dip.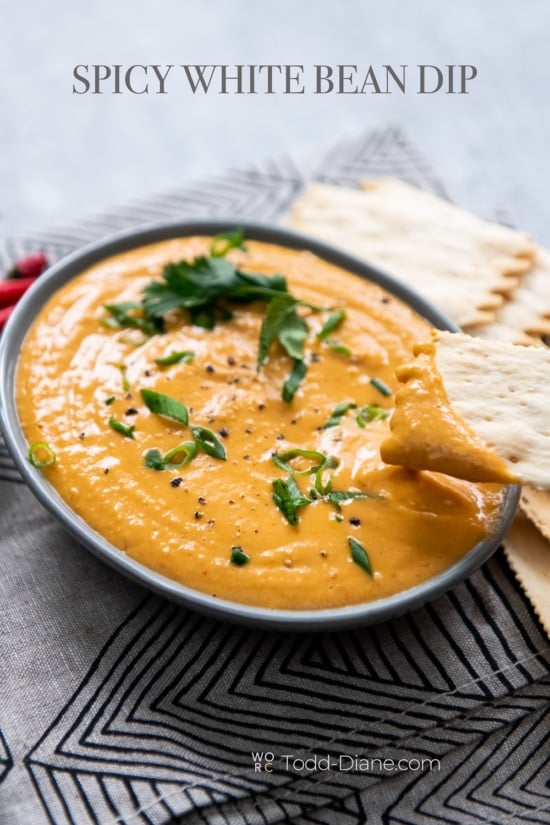 Can you use garbanzo beans or chick peas?
Sure, you can use canned garbanzo or chick peas.
These beans are more dry so you'll need to add more water (or olive oil) to get the beans smooth and creamy.
As you're blending them, stir the dip often in between blending.
Scraping down the sides helps as well so all the beans can be evenly incorporated into the dip.
Make-ahead party dip
You can make this dip about 3 days ahead of time. It's that easy! We'll make it and pour it into the bowl that we want to serve during the party. When we're ready to serve, we just bring out the bowl and surround it with some crackers, toasted bread or fresh cut vegetables. That's why this spicy white bean dip or cannellini bean dip is one of our favorite party appetizers. And best of all, the Asian flavors are fantastic.
hugs,
diane and todd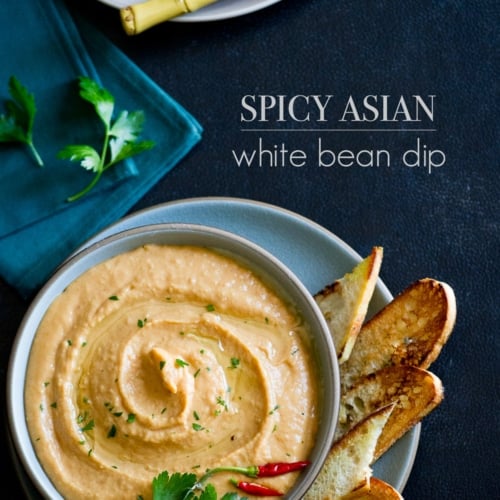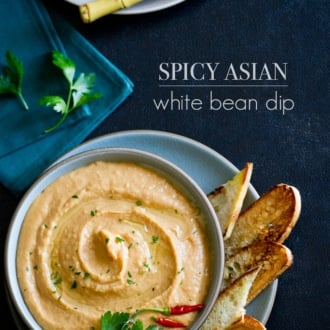 Spicy Asian White Bean Dip
This bean dip recipe is probably one of the easiest we've made and one of the crowd favorites. It's quite healthy and rather than dip with chips, we'll use raw vegetables. We love white beans because they're more moist and creamy. If using canned chickpeas, you might need more water because the beans are more dense and drier. Adjust the water amount to the beans used and your preferred texture. Start with 2 Tablespoons of water.
Ingredients
15 oz. (425 g) canned white beans (rinsed) , I prefer the creamy cannellini beans
2 Tablespoons (30 ml) olive oil
1/2 teaspoon (2.5 ml) sesame oil
2 teaspoons (10 ml) soy sauce ( or to taste)
1-2 Tablespoons (15-30 ml) sriracha hot sauce (or to taste)
1 clove (1 clove) garlic , minced
1/2 teaspoon (2.5 ml) curry powder
2-4 Tablespoons water (start with 2 Tablespoons and add more as needed)
1 Tablespoon (15 ml) lime juice
crackers or fried crispy bread
Instructions
In blender or small food processor, combine all ingredients (white beans, olive oil, sesame oil, soy sauce, sriracha sauce, garlic, curry powder, 2 Tablespoons water, and lime juice).

Blend until smooth. Occasionally scrape the sides of the blender/food processor.

If the dip is too thick, add additional water and blend again. Taste the dip and add additional seasonings if desired.

Serve with your favorite crackers, toasted bread or vegetables.
Nutrition Information
Calories: 192kcal, Carbohydrates: 23g, Protein: 8g, Fat: 7g, Saturated Fat: 1g, Sodium: 259mg, Potassium: 482mg, Fiber: 5g, Vitamin C: 3.8mg, Calcium: 78mg, Iron: 3.3mg
We are a participant in the Amazon Services LLC Associates Program, an affiliate advertising program designed to provide a means for us to earn fees by linking to Amazon.com and affiliated sites.