Roasted Garlic – warm soul food
Warm roasted garlic is definitely food for the soul. Add some bread, a glass of wine and life is grand.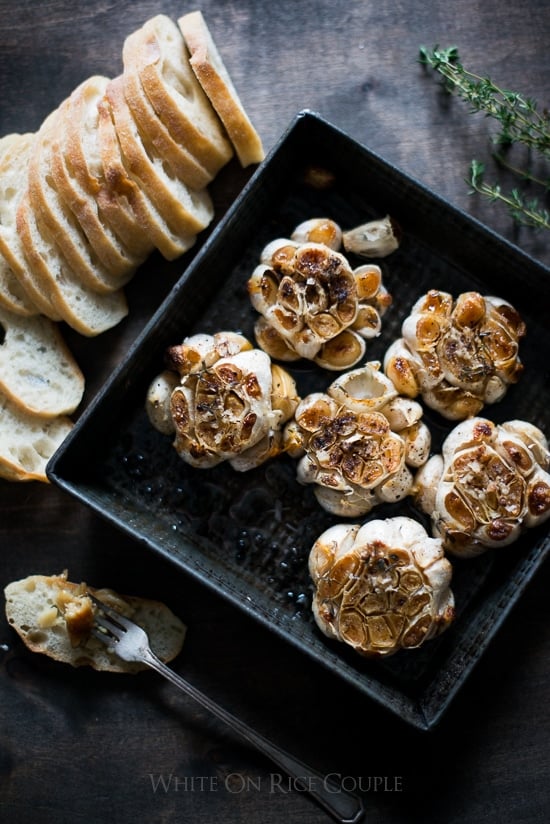 Roasted Garlic Recipe
The recent cooling in the weather recently had us craving some of our simple fall favorites. Even now while our weather is yo-yo-ing between warm and cool, our taste buds salivate at the thought of simple roasted food, and freshly roasted garlic heads topped with a flakey salt on slices of a nice baguette sounds like a perfect start to an evening meal.
We take advantage of every seasonal change and even if it drops to a chilly 60 degrees in our area, we're pulling out the warm fuzzy blankets and cranking up the oven for some warm, roasted food to satisfy the soul.
Watch the video making the roasted garlic. Can you smell it?:


Roasted garlic is an amazingly simple dish that needs only four ingredients, some oven love and dinner is served. Versatile in so many ways, simply spread on some crusty bread is a meal in itself, but taking the roasted garlic pieces into stews, sauces and dressing makes for more remarkable soul food. One clove of roasted garlic can easily add tons of flavor to a dish that needs that little extra kick! The left over oil makes an remarkable dressing, so make sure you save every bit of this oil.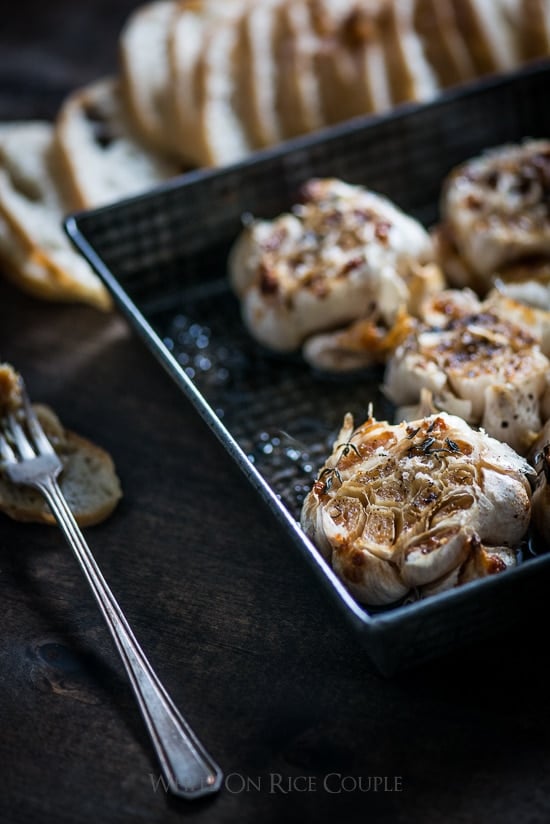 Best yet, filling up the house on a chilly day with the fragrance of warm roasting garlic is one way to stay warm, both inside and out. Add a nice loaf of crusty bread, a lovely bottle of wine and a group of your best friends for the perfect dinner party.
Enjoy,
Diane and Todd
Here's a great garlic roasted asparagus recipe with crispy ham and Winter guide to squashes.
This recipe was originally published in 2009 and re-published in 2016 with new photos and new video.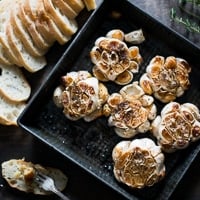 Roasted Garlic Recipe
No specific quantities are really needed for this recipe. Just roast as many heads as you'll use.
Ingredients
4 Garlic , whole heads
2 Tablespoons Olive Oil , or as needed
Flakey Salt , such as kosher salt, Murray River salt, Maldon salt
fresh cracked Black Pepper
optional-fresh thyme leaves
Instructions
Preheat oven 400º F.

Remove extra loose white skin around garlic heads. Place in a baking dish sized to fit all of your heads in a single layer, without too much extra space (small ramekins are great for just a head or two.) *optional - for a pretty presentation you can slice off the top of the head, exposing the individual garlic cloves

Pour a generous amount of olive oil over each head. Sprinkle a generous amount of salt and black pepper. If using optional fresh thyme, sprinkle leaves over garlic heads.

Cover with aluminum foil and place in oven. Roast for 45 minutes.

Remove foil and drizzle a little more olive oil. Return to oven and roast for 15 minutes more.

Remove from oven. Take garlic out of baking dishes and serve with baguette slices, crackers, etc., or use in whichever culinary dish you'd like. *Once oil has cooled in baking dishes, strain and save for future culinary uses. 😉
Nutrition Information per Serving
Calories: 33kcal, Carbohydrates: 1g, Protein: 1g, Fat: 4g, Saturated Fat: 1g, Sodium: 1mg, Potassium: 6mg, Fiber: 1g, Sugar: 1g, Vitamin A: 1IU, Vitamin C: 1mg, Calcium: 3mg, Iron: 1mg
We are a participant in the Amazon Services LLC Associates Program, an affiliate advertising program designed to provide a means for us to earn fees by linking to Amazon.com and affiliated sites.