Grandma's Persimmon Cookies
This popular persimmon cookies recipe is awesome with a cold glass of milk. When Fall arrives and persimmons are plentiful, make a batch of these to share! It's an old recipe that Grandma used to make and I still have her original written recipe! We originally published her recipe back in 2011 and have updated the information in this article about what the best persimmons are for her cookies. Enjoy!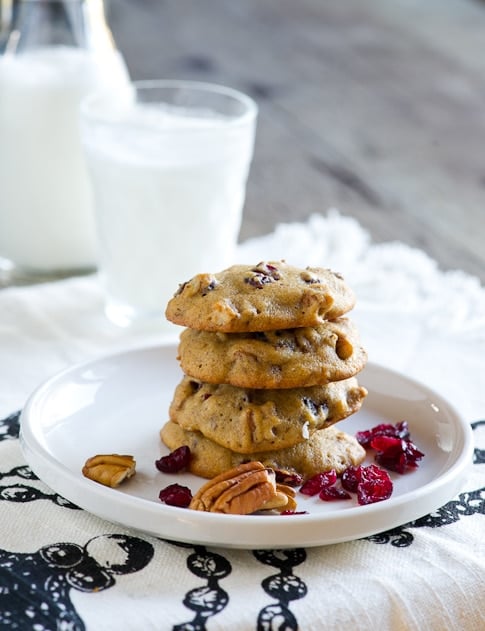 Persimmon Cookies Recipe from Grandma
This cookie recipe is direct from my Grandma's recipe box to you. They are a gloriously soft, moist cookie. Somewhere in-between the texture of a cookie and a fluffy cake, these persimmon cookies are similar to the cookie part of a whoopie pie cookie's texture, but with the addition of toasted nuts and dried raisins or cranberries.
Grandma will always be one of my greatest kitchen inspirations. Anything she had in her rotation would almost always be a guarantee that I'd like it. Grandma left me with my first memories of cooking, and of trying octopus, and of learning as a five-year-old that I actually liked cooked carrots. If there was something I didn't think I'd like, she would affectionately but unwaveringly insisted I try them. "You don't have to eat them all, just try them." After I found this recipe in Grandma's recipe box and my mom declared it was one of her favorite cookies that Grandma would make, Diane and I knew we had to make a batch. And then another, and another… Over the years it has become a must have for us every fall & winter.
Video Making Grandma's Persimmon Cookies
Best Fall and Winter Cookies
Why every fall & winter? That is the season for persimmons. It has always been one of our favorite trees to grow. As it's beautiful leaves change color then drop in the fall, they reveal the bounty of fruit slowly ripening on it's branches. As most of our garden in going dormant, the persimmon's ripening fruit, in it's stunning orange, fills our hearts.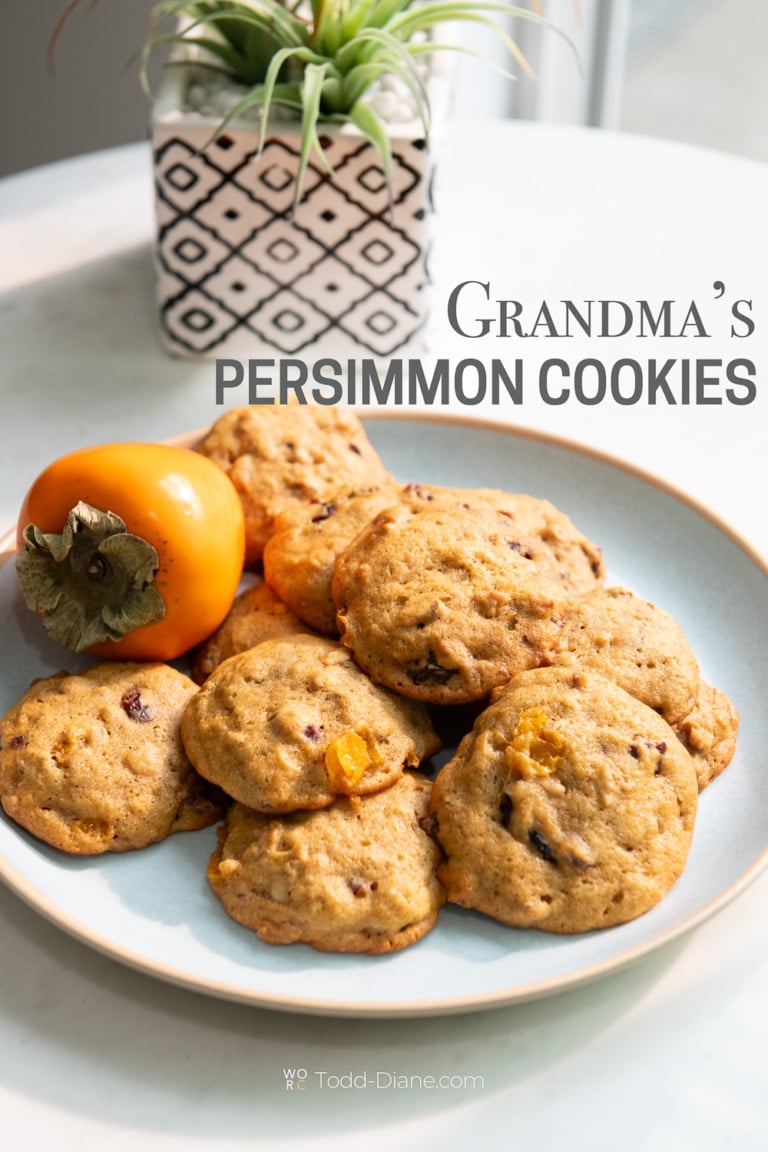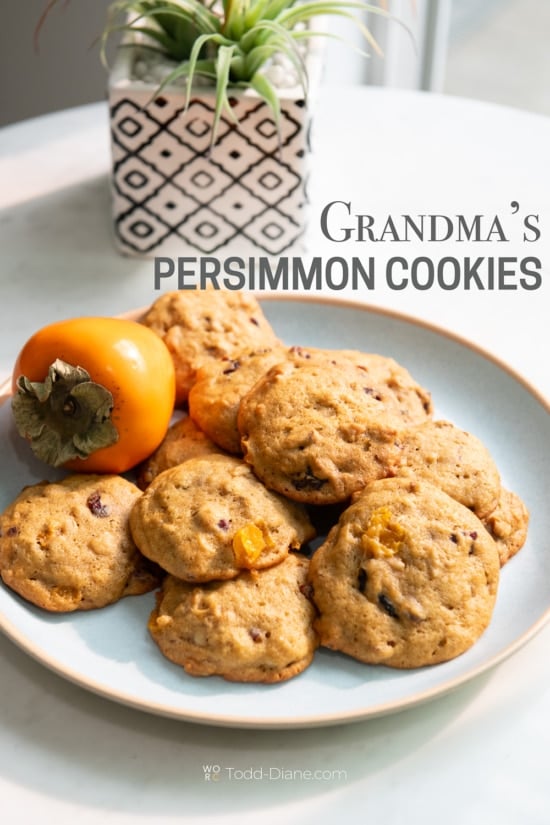 Different Persimmons for Baking or Eating: Hachiya vs Fuyu
There are two main types of persimmons: astringent and non-astringent. The Hachiya is by far the most common astringent persimmon, and Fuyu is the most common non-astringent variety. The Hachiya persimmons (and other astringent varieties) are nearly in-edible until they are complete ripe. When ripe the flesh will be soft like pudding, but anything less than gooey soft means they are not ready yet so just give them more time to ripen (they'll ripen fine on the counter). They Fuyu persimmons (and other non-astringent varieties) have a larger range of deliciousness. They'll still have an astringency when un-ripe, but once they get a nice color, the flavor becomes quite nice, even while they are still firm. You can eat or cook with them like a crunchy apple. Given enough time, they too can soften and become more pudding like (similar to the Hachiya persimmons), but most often they are eaten or cooked while crunchy. Here's a great article on different varieties of persimmons for all you persimmon-nerds like us.
Best Persimmon for Cookies
What is the best type of persimmon for this recipe? By far, the Hachiya (and similar varieties) are the best kind for the cookies. You want a soft persimmon puree, and the Hachiyas, when ripe are exactly that. Just pop off the top and scoop out the flesh. It should be so soft, you barely need to mix it to have a puree texture (a few smallish lumps are fine in the cookies). You can use the Fuyu types if they are given the chance to ripen up really soft, but they won't always ripe properly that soft if they are picked too soon (which often happens when picked commercially).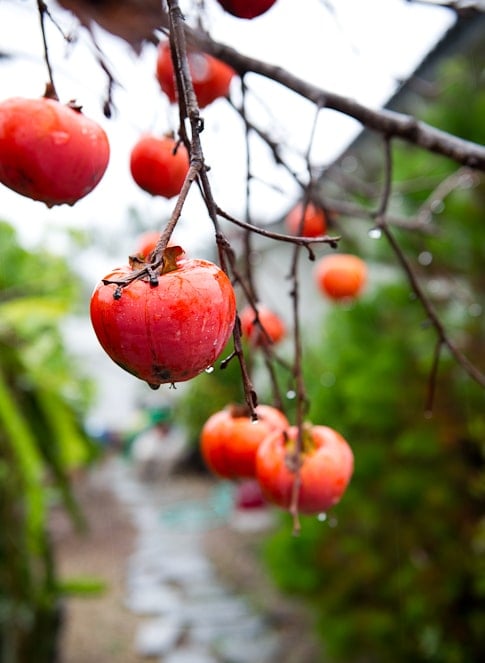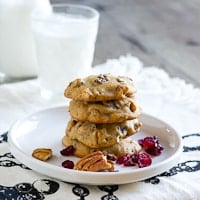 Persimmon Cookies Recipe
These are a gloriously soft, moist cookie. This recipe based on as written from my grandmother's recipe card. Dough freezes well.
Ingredients
1/2 cup (113 g) butter , softened
1 cup (200 g) granulated sugar
1 egg
1 teaspoon (5 ml) baking soda
1 cup (260 g) ripe persimmon pulp (about 1-2 very ripe persimmons)
2 cups (250 g) all-purpose flour
1/2 teaspoon (2.5 ml) kosher salt or sea salt
1/2 teaspoon (2.5 ml) ground cinnamon
1/4 teaspoon (1.25 ml) ground nutmeg
1/4 teaspoon (1.25 ml) ground clove
1 cup (120 g) chopped toasted nuts (walnuts or pecans are our favorite choices)
1 cup (145 g) raisins or dried cranberries
Nutrition Information per Serving
Calories: 115kcal, Carbohydrates: 17g, Protein: 2g, Fat: 5g, Saturated Fat: 2g, Trans Fat: 1g, Cholesterol: 11mg, Sodium: 67mg, Potassium: 88mg, Fiber: 1g, Sugar: 6g, Vitamin A: 86IU, Vitamin C: 5mg, Calcium: 9mg, Iron: 1mg
Love for our Persimmon Tree
Our Homegrown Persimmons (these are a giant fuyu that have been allowed to fully ripen). We were able to eat it crunchy like an apple and when they ripened soft, they were perfect for cookies. Update: Our persimmon tree died in 2016 due to the drought. But thankfully we have the photos to remember their gorgeous and delicious memories. We have a new tree (a regular fuyu – not a giant fuyu), that we've started and will hopefully take off and be as beautiful as its predecessor.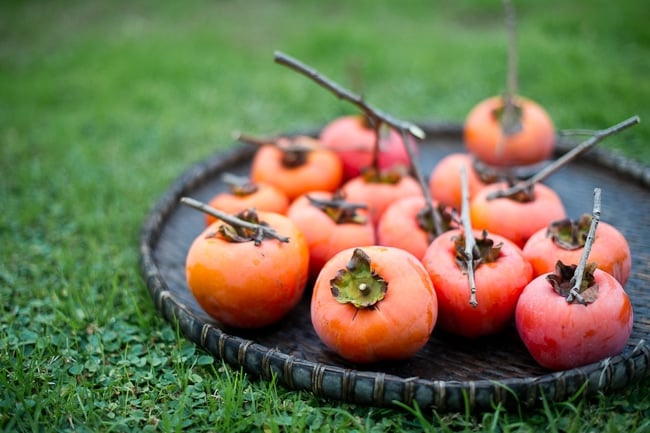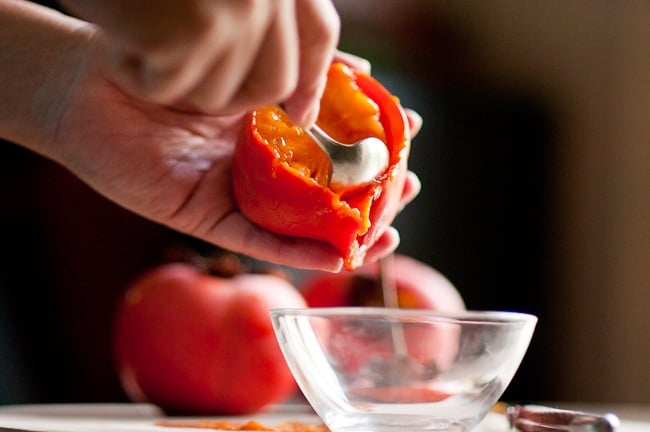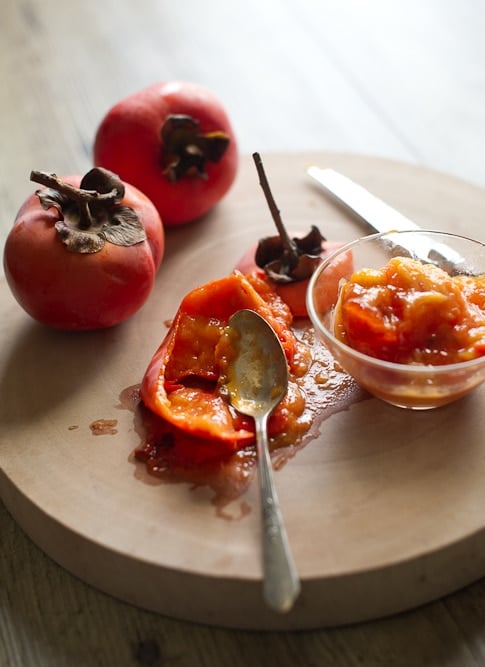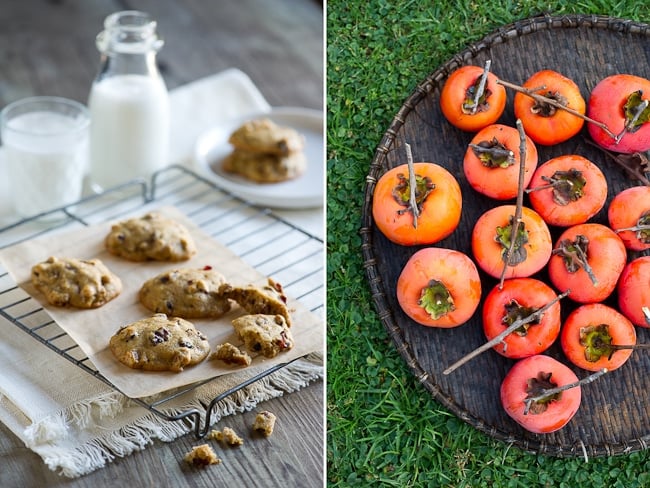 We are a participant in the Amazon Services LLC Associates Program, an affiliate advertising program designed to provide a means for us to earn fees by linking to Amazon.com and affiliated sites.