Air Fried Herb Turkey Breast
This air fryer turkey breast is a great starter recipe for newbies. Our air fried turkey breast recipe is juicy and fantastic for a healthy meal.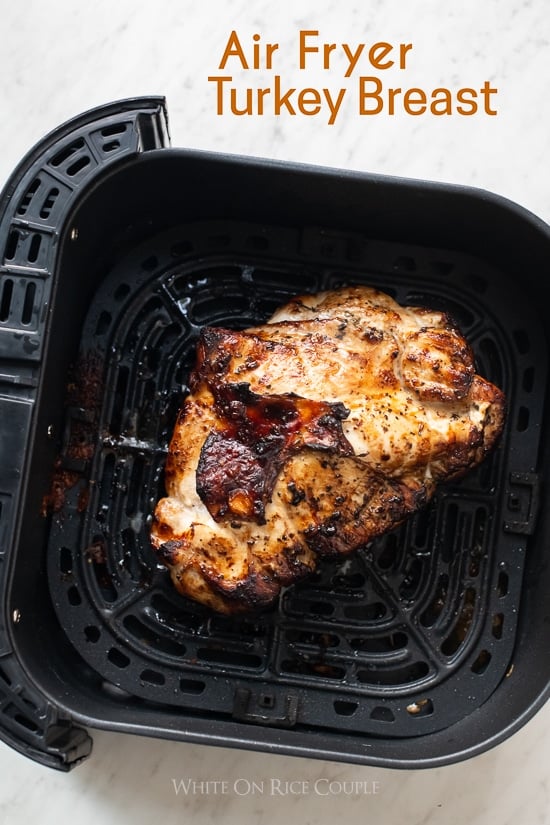 Easy Air Fryer Turkey Breast Recipe
If you ever wondered about air frying a turkey breast, your curiosity is answered. Air frying a turkey breast is fantastic! The turkey is juicy and the skin is crispy. In fact, it's so much quicker cooking a small turkey breast in the air fryer than roasting it in the oven. The hot circulating air keeps the juices sealed in the turkey meat while crisping the skin to a wonderful texture. Our air fried turkey recipe uses herbs but you can also add lemon and other seasonings if you want. The possibilities are endless. Enjoy the turkey with gravy, in a sandwich or chopped in a salad. You'll have lunch and dinner for a few days!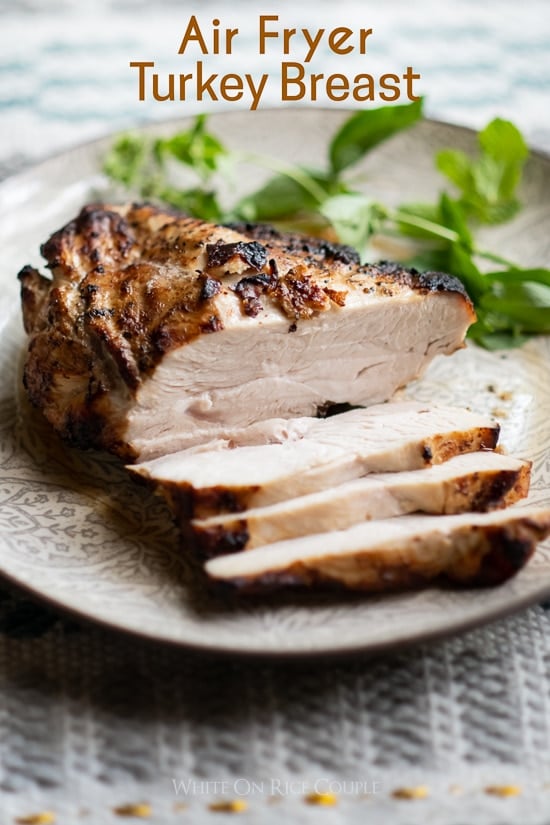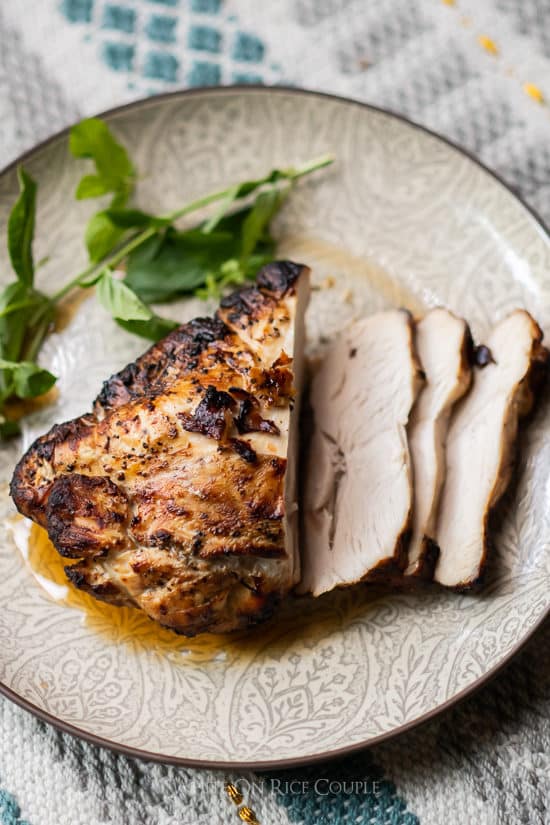 Tips for Air Fried Turkey Breast:
This portion is not only perfect for 2-3 people, it's quick to make. Air frying fresh turkey breast isn't just for Thanksgiving. There's so many ways to use this turkey breast throughout the year. It's way better, healthier and better than buying deli turkey meat. If you have the time to cook it this way, it's totally worth the effort. Here's some ideas for eat this all year round!
Simple turkey sandwich with your favorite bread and sandwich condiments.
In fresh spring rolls or rice paper wraps
Make a healthy turkey salad
Turkey grilled cheese melt
Make leftover turkey soup with veggies
Make healthy turkey chili with the leftovers
Add it to some brown fried rice
Turkey Enchiladas
Turkey quesadillas is great too.
Share any more ideas that you might have in the comments below!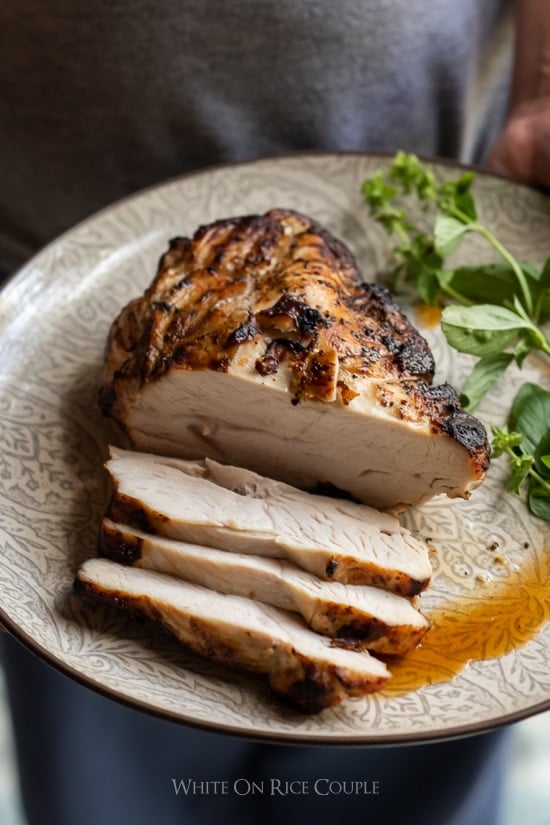 Want to Air Fryer a Whole turkey? Here's One Way to Cook an Air Fried Turkey Recipe.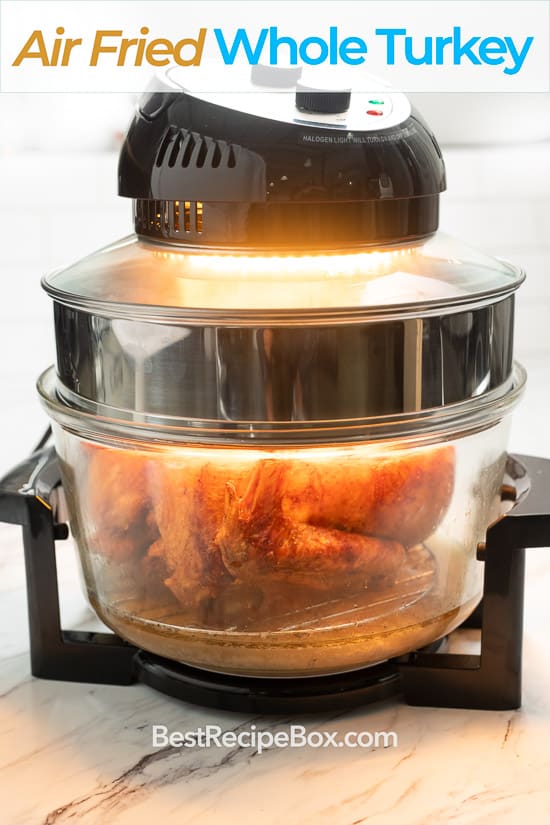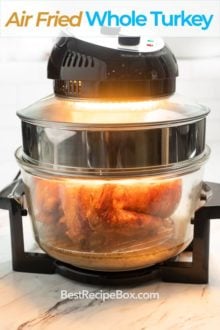 Learn –> How to Cook an Oil Less "Deep Fried" Air Fried Turkey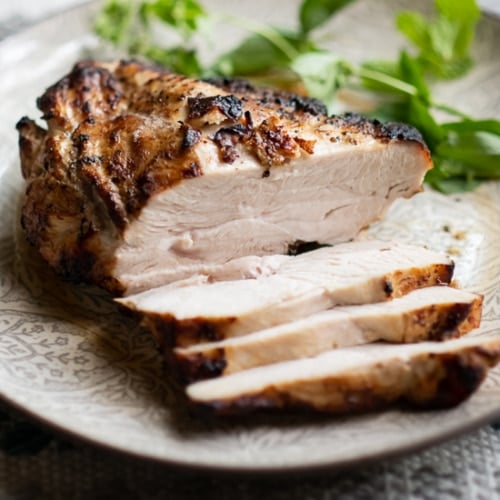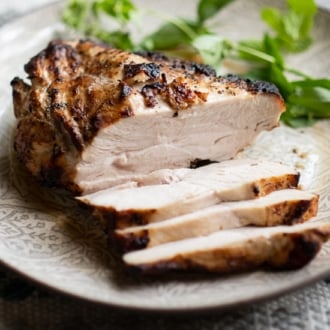 Air Fried Herbed Turkey Breast
Based on 3 pound deboned turkey breasts (or 4 pounds bone-in). Try to keep the skin-on turkey because it keeps the meat moist during cooking. It is very useful to have a kitchen thermometer to check temperature to ensure the turkey cooked all the way through.
Ingredients
3 pounds (1.36 kg) de-boned uncooked turkey breast preferrably skin-on *see recipe head note
2 Tablespoons (30 ml) oil
1 Tablespoon (15 ml) Worcestershire sauce
1 teaspoon (5 ml) Dried herb seaoning or lemon pepper
1/2 teaspoon (2.5 ml) salt , or to taste
Instructions
Pat the turkey dry.

In bowl, combine oil, Worcestershire sauce, dried herbs or lemon pepper, and salt. Add the turkey breast to the marinade, making sure the marinade completely coats the turkey breast. Marinate for 1-2 hours.

Spray the air fryer basket or rack with oil. Remove the turkey breast from the marinade and place the turkey breast skin-side down in the air fryer basket or rack.

Air Fry the turkey breast at 350°F for 25 minutes. Flip the turkey breast to skin side up, and Air Fry for another 25-35 minutes until internal temperature of turkey reaches 165°F in the thickest part. If you're cooking bone-in turkey breast, cook for additional 5-10 minutes if needed.

Allow the turkey breast to rest for about 5 minutes before serving.
Notes
NOTE: To keep turkey breast from drying out (especially if it is skinless), spray the turkey top and edges with a little oil a couple times during cooking to keep it moist. It's like "basting" the turkey breast with oil. This is helpful if you have a bigger breast. 

NOTE on SIZE: Some breasts are thinner or sometimes broken into several pieces including the tenderloin. If you're cooking separate smaller pieces, then cooking time is much less. If you want a "whole" looking breast when you have multiple pieces, then tie the pieces together with some kitchen string. This will give the breast a whole looking shape. Then marinate the breast according to the instructions. 

Nutrition Information
Calories: 273kcal, Carbohydrates: 1g, Protein: 49g, Fat: 8g, Saturated Fat: 1g, Cholesterol: 122mg, Sodium: 689mg, Potassium: 572mg, Fiber: 1g, Sugar: 1g, Vitamin A: 45IU, Vitamin C: 1mg, Calcium: 35mg, Iron: 1mg
Here's more turkey recipes to try:
We are a participant in the Amazon Services LLC Associates Program, an affiliate advertising program designed to provide a means for us to earn fees by linking to Amazon.com and affiliated sites.