Air Fried Herb Turkey Breast
This air fryer turkey breast is a great starter recipe for newbies. Our air fried turkey breast recipe is juicy and fantastic for a healthy meal.

Easy Air Fryer Turkey Breast Recipe
If you ever wondered about air frying a turkey breast, your curiosity is answered. Air frying a turkey breast is fantastic! The turkey is juicy and the skin is crispy. In fact, it's so much quicker cooking a small turkey breast in the air fryer than roasting it in the oven. The hot circulating air keeps the juices sealed in the turkey meat while crisping the skin to a wonderful texture. Our air fried turkey recipe uses herbs but you can also add lemon and other seasonings if you want. The possibilities are endless. Enjoy the turkey with gravy, in a sandwich or chopped in a salad. You'll have lunch and dinner for a few days!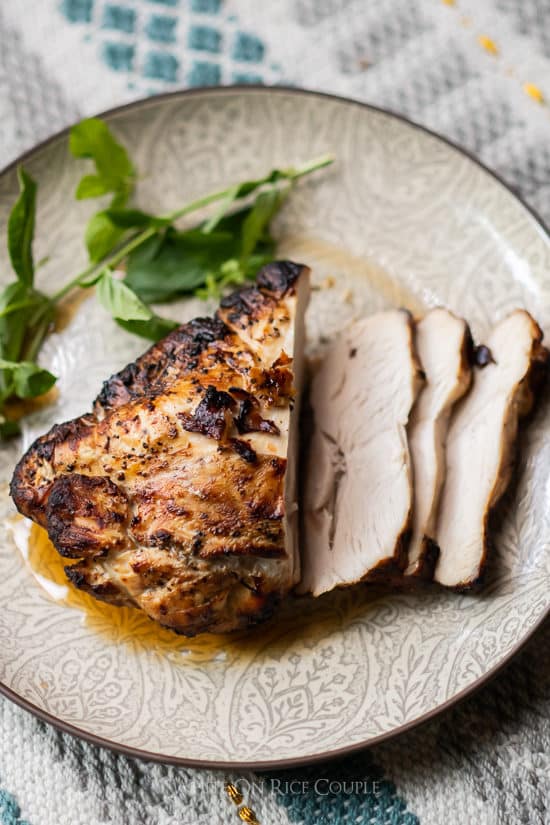 What Size of turkey breast?
For air frying a de-boned turkey breast, the size should be around 2-3 pounds. Any larger than that might not fit an average sized air fryer. Also, if the turkey breast is too thick or big, it might not cook all the way through without drying the outside.
You can find this de-boned turkey breast in the frozen meat section of your market.
If it's Bone-in, you can still air fry it. As long as it's no larger than 3 pounds, timing shouldn't change too much.
Invest in a good meat thermometer to check the breast to ensure it's fully cooked.
Ideas for Serving Air Fried Turkey Breast:
This portion is not only perfect for 2-3 people, it's quick to make. Air frying fresh turkey breast isn't just for Thanksgiving. There's so many ways to use this turkey breast throughout the year. It's way better, healthier and better than buying deli turkey meat. If you have the time to cook it this way, it's totally worth the effort. Here's some ideas for eat this all year round!
Simple turkey sandwich with your favorite bread and sandwich condiments.
In fresh spring rolls or rice paper wraps
Make a healthy turkey salad
Turkey grilled cheese melt
Make leftover turkey soup with veggies
Make healthy turkey chili with the leftovers
Add it to some brown fried rice
Turkey Enchiladas
Turkey quesadillas is great too.
Share any more ideas that you might have in the comments below!
Our Favorite Air Fryer Tools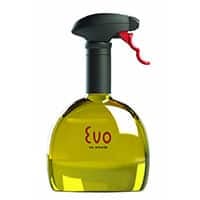 We LOVE the Evo Oil Sprayers. Great for grilling, air frying, and everyday cooking. They don't clog up like many others we've bought. There's different styles, but all seem to have the same great spray head. Works great for grilling!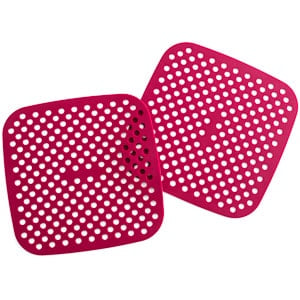 Square Mats or Round Mats depending on your needs. Perforated non-stick silicone mats minimize food sticking in your air fryer or steamer. Holes allow the hot air to circulate, cooking quick & even.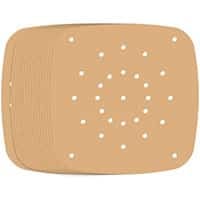 Parchment sheets make clean up easy and minimize sticking food in your air fryer or bamboo steamer. Choose from different sizes, shapes, white and brown (unbleached). Holes allow air to cook food evenly.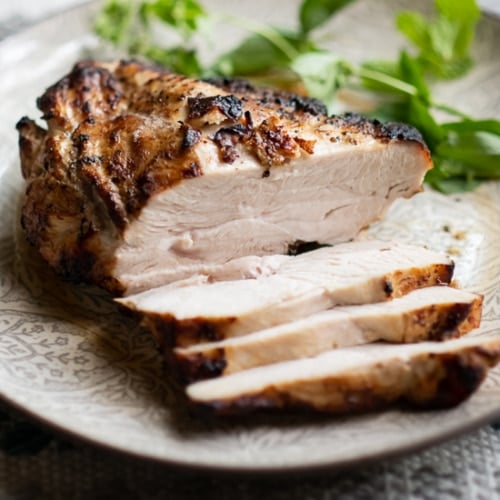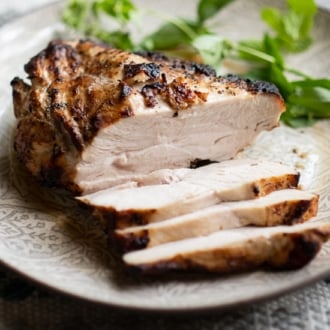 Air Fried Herbed Turkey Breast
Based on 3 pound deboned turkey breasts (or 4 pounds bone-in). Try to keep the skin-on turkey because it keeps the meat moist during cooking. It is very useful to have a kitchen thermometer to check temperature to ensure the turkey cooked all the way through.
Ingredients
3 pounds (1.36 kg) de-boned uncooked turkey breast preferrably skin-on *see recipe head note
2 Tablespoons (30 ml) oil
1 Tablespoon (15 ml) Worcestershire sauce
1 teaspoon (5 ml) Dried herb seaoning or lemon pepper
1/2 teaspoon (2.5 ml) salt , or to taste
Instructions
Pat the turkey dry.

In bowl, combine oil, Worcestershire sauce, dried herbs or lemon pepper, and salt. Add the turkey breast to the marinade, making sure the marinade completely coats the turkey breast. Marinate for 1-2 hours.

Spray the air fryer basket or rack with oil. Remove the turkey breast from the marinade and place the turkey breast skin-side down in the air fryer basket or rack.

Air Fry the turkey breast at 350°F for 25 minutes. Flip the turkey breast to skin side up, and Air Fry for another 25-35 minutes until internal temperature of turkey reaches 165°F in the thickest part. If you're cooking bone-in turkey breast, cook for additional 5-10 minutes if needed.

Allow the turkey breast to rest for about 5 minutes before serving.
Notes
NOTE: To keep turkey breast from drying out (especially if it is skinless), spray the turkey top and edges with a little oil a couple times during cooking to keep it moist. It's like "basting" the turkey breast with oil. This is helpful if you have a bigger breast. 

NOTE on SIZE: Some breasts are thinner or sometimes broken into several pieces including the tenderloin. If you're cooking separate smaller pieces, then cooking time is much less. If you want a "whole" looking breast when you have multiple pieces, then tie the pieces together with some kitchen string. This will give the breast a whole looking shape. Then marinate the breast according to the instructions. 

Nutrition Information per Serving
Calories: 273kcal, Carbohydrates: 1g, Protein: 49g, Fat: 8g, Saturated Fat: 1g, Cholesterol: 122mg, Sodium: 689mg, Potassium: 572mg, Fiber: 1g, Sugar: 1g, Vitamin A: 45IU, Vitamin C: 1mg, Calcium: 35mg, Iron: 1mg
What is the Best Air Fryer?
We have 15 different air fryers, all different brands and we definitely have our favorites.
Here's our extensive write up on Air Fryer World's Best Air Fryer Guide. There's so many on the market now. You just need to research and find the ones that fits your needs, capacity and style. We group the basket style air fryers into 2 main size groups: 3-4 qt. range & the 5-6 qt. range. There's oven style and basket style. With so many to choose from, we highlight the ones that are most popular for small to medium sized families. Here's our favorites:
Good Mid-Sized Air Fryers
The non-stick basket style (non-wire base) & smoothness of the basket tray is great for clean up. Easily cooks 2-3 servings of fish & meat.
Great ceramic coated basket for easy clean-up. Super powerful fan that often cooks food hotter & faster than other air fryers.
Good Larger Air Fryers
One of our favorite larger basket style air fryers. Great basket size for about 4 servings. Clean up is great. It has become one of our kitchen favorites.
Instant Pot Brand makes air fryers. The Vortex plus 9-in-1 is beyond the conventional air fryer. Broil, Bake, Dehydrate, Rotisserie, Roast and Re-heat.
Want to Air Fryer a Whole turkey? Here's One Way to Cook an Air Fried Turkey Recipe.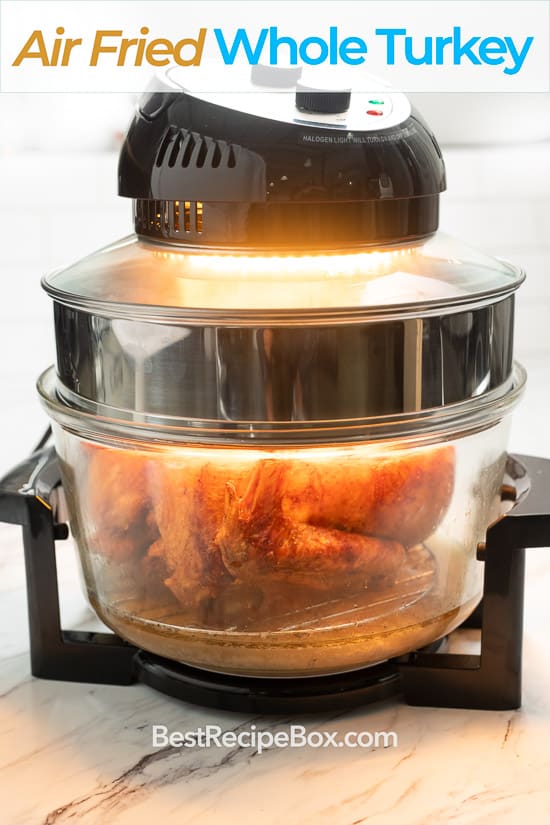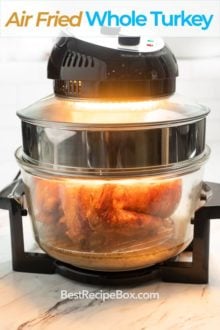 Learn –> How to Cook an Oil Less "Deep Fried" Air Fried Turkey
More Turkey Recipes to Try
We are a participant in the Amazon Services LLC Associates Program, an affiliate advertising program designed to provide a means for us to earn fees by linking to Amazon.com and affiliated sites.