Fresh Apricot Bars
Apricot bars are one of our favorite desserts to make when they're sweet and in season. If you can find a good apricot jam, that works great too.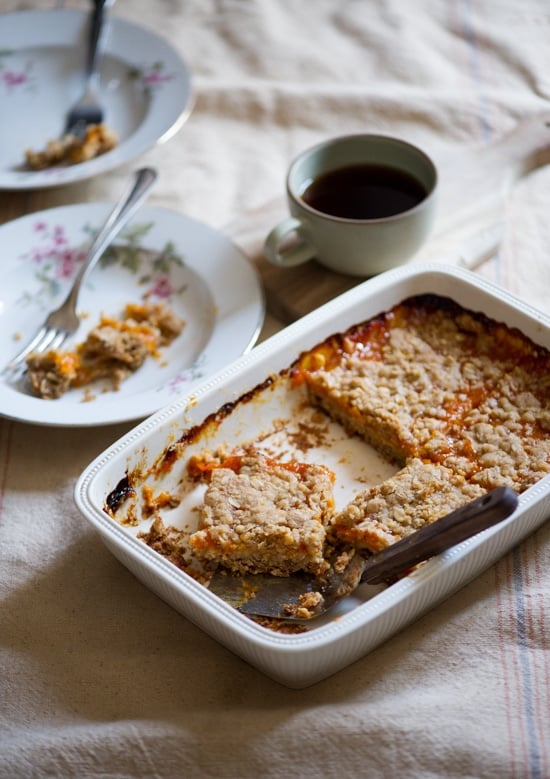 Fresh Apricot Bars
Lately it seems our cooking at home has been driven by an over abundance of ingredients. Creativity from Copiousness, if you will. Not that we are complaining. Quite the opposite really, we couldn't be happier. The garden is going blitzkrieg with its tomato production but we're hoping the rats don't get to them before we do. Driving up to Palm Springs a couple weeks ago we spotted the Dowling Fruit Orchard stand on the fringes of one of their orchards. We both looked at each other, not even needing to say that on the way home we must stop there.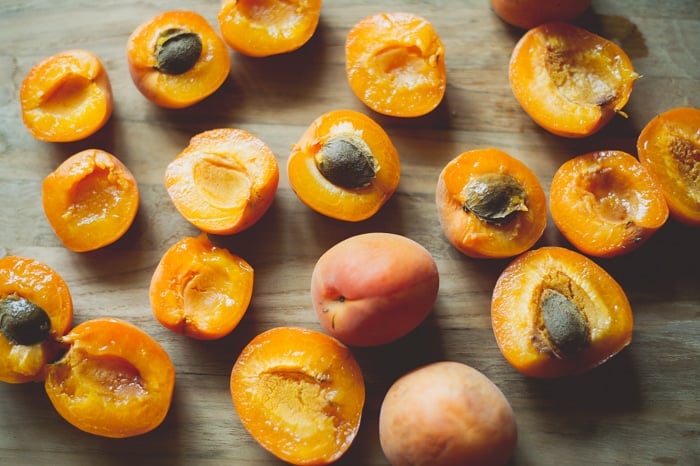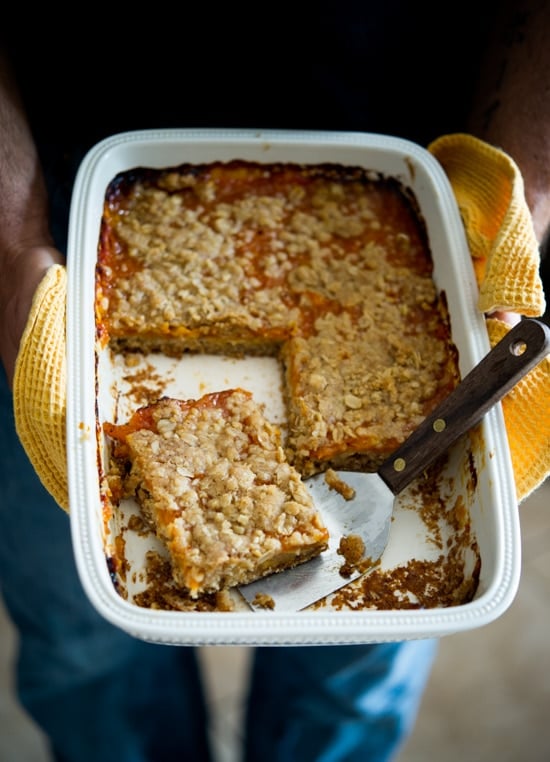 Lucky, on our way back we had just made it, 5 minutes before close! Flats of peaches for less than $10. Flats that tasted like home garden picked. Mounds of apricots. Watermelons. Oh the fruits in all their glory! We snatched up as much as we figured we would be able to eat in a few brief minutes, not wanting to delay the hard working staff in getting them home.
Amazing Fresh Apricots
We ate, sucking juices as we bit, nearly half the flat of peaches on the way home. Probably would have ate it all if it weren't for the apricots in all their deliciousness.
Once back home, the boxes of recently purchased tastiness now had to compete with the garden's bounty. With the apricots life short lived, we made these fresh apricot bars to enjoy them a little longer. Hope you love them as much as we did. The apricots were briefly cooked to help break them down, then pureed and spread over, and baked with a crisp type of crust with the oats, butter, and brown sugar. It is a great way to use up an abundance of apricots. If you happen to get some apricots which are bit of a let down in straight snacking ability, these apricot bars will give them a chance to regain glory.
-Diane & Todd
2019 Update: Since that trip we planted a Blenheim Royal apricot tree. We're now indulging in home grown apricots that are sweet like candy. And using all the extras for our apricot bars!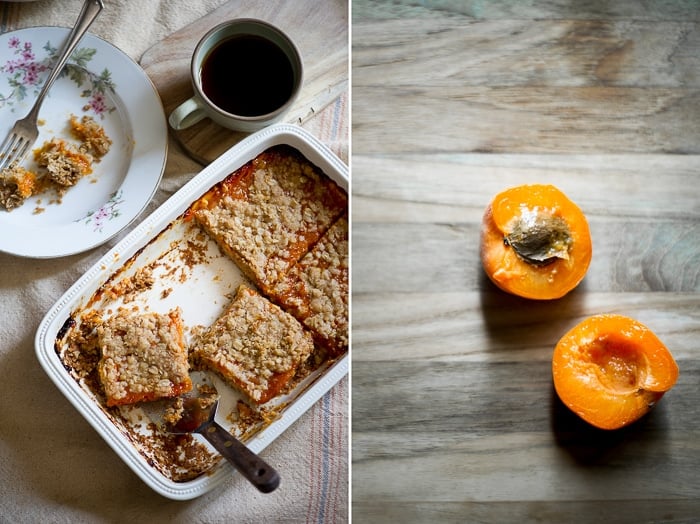 This recipe was originally published in 2013 and re-published in 2019.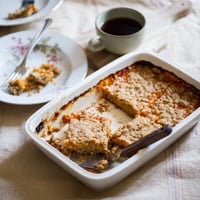 Fresh Apricot Bar Recipe
Makes great use of an overabundance of apricots, or revitalizes the flavor of off-season apricots. If you don't have fresh apricots on hand, substitute apricot jam. If your apricots aren't very sweet, adjust sugar amount to taste.
Ingredients
2 lbs (910g) ripe Apricots , cut in half & seeds removed
3/4 cup (150g) sugar , or to taste
1 Tablespoon (15ml) orange liqueur (such as Grand Marnier), optional
1 cup (125g) flour
1/2 cup (110g) packed brown sugar
1/4 teaspoon Kosher salt
1/4 teaspoon Baking Soda
1/2 cup (113g) cold unsalted butter (1 stick) , cut into small cubes
1 cup (90g) old fashioned oats
Instructions
Preheat oven to 350°F. Butter a 2 quart baking dish or 10" tart pan.

Combine the apricots and sugar in a saucepan. Cook over medium heat until the sugar is dissolved and the apricots are soft (will vary tremendously depending on the ripeness of the apricots-very ripe apricots will only take minute or two - very firm apricots may take up to 10 minutes or more). Stir in the orange liqueur.

Puree the apricots in a blender or food processor until smooth. Pour into a bowl and set in freezer to chill while you make the crust.

In a bowl, whisk together the flour, brown sugar, salt, and baking soda. Pinch in the butter pieces into the flour mixture (or cut them into the flour with a pastry cutter), until it resembles coarse sand. Pinch in the oats until well combined.

Press 2/3rds of the crust mixture evenly into the bottom of the prepared baking dish (if using a tart pan, press the crust mixture up the sides too). Spread the apricot puree over the crust bottom. Sprinkle the remaining crust over the top of the apricot puree.

Bake for 50-65 minutes or until the crust is golden brown.Allow to cool, then slice and serve. Store in the refrigerator.
Nutrition Information per Serving
Calories: 255kcal, Carbohydrates: 43g, Protein: 3g, Fat: 9g, Saturated Fat: 5g, Trans Fat: 1g, Cholesterol: 20mg, Sodium: 125mg, Potassium: 246mg, Fiber: 2g, Sugar: 29g, Vitamin A: 1692IU, Vitamin C: 8mg, Calcium: 25mg, Iron: 1mg
We are a participant in the Amazon Services LLC Associates Program, an affiliate advertising program designed to provide a means for us to earn fees by linking to Amazon.com and affiliated sites.