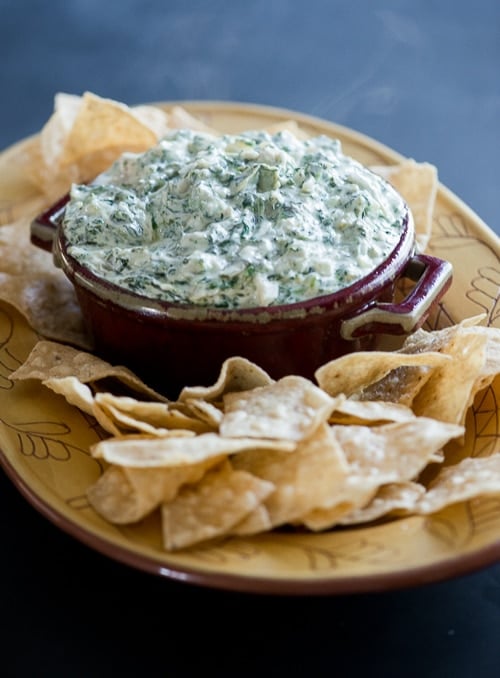 I'm clinging on to the last few days of 2012 so that I can indulge in my buffet of cheese dips and margaritas before 2013 hits. Starting next week, I'll focus on being a good girl and sticking to my new years health "goals". It'll probably be a few weeks before I break those goals or at least swerve off to the dark side again.
But with only a few days left, let's discuss the topic of cheese dips and how wonderful they make us feel. I honestly believe a warm batch of cheese dips made with my favorite parmesan cheese, cream cheese and spinach is chicken soup for the soul.
There's just something inherently pleasing, warming and soul satisfying in a bowl of cheese dips. So to end the year with a bang, I've added another recipe to my collection, a simple stove top artichoke spinach dip recipe to wow your friends.
This is an adaptation of my old stove top spinach dip, which had plenty of onions and water chestnuts. But then I realized that I was making this artichoke version all along and never posted it. So here it is, my favorite artichoke spinach dip that takes just a few minutes to make, but brings in loads of joy to the party.
I've also included my other favorite dip recipes that have been serious crowd pleasers over the last five years.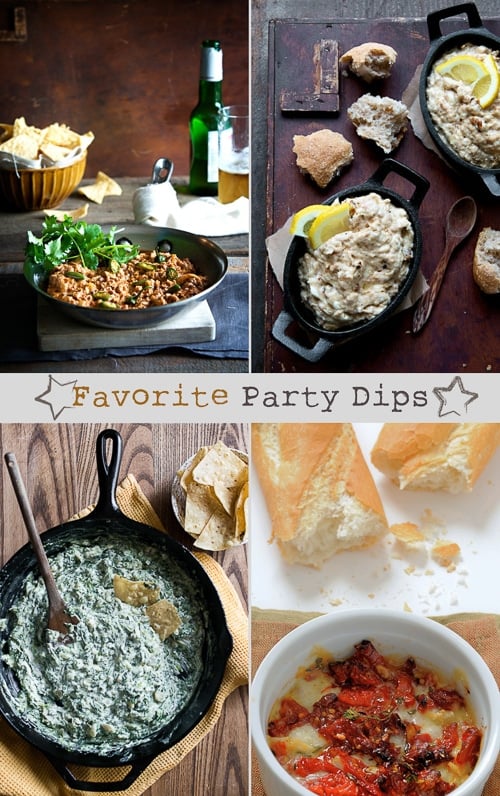 Sweet Onion "Crack Dip" – This warm, fragrant and savory onion dip is our most popular appetizer. It always makes an appearance at our parties.
Everyone has dubbed it as the "crack dip" because it's so addicting. And of course, it's got plenty of calories which makes it even more dangerous. But life is short and this dip is for special occasions, gatherings or anytime you're hankering for an amazing onion dip to wow your crowd of friends and guests. Make sure to make a double batch because it'll be devoured quick!
Sweet Onion "Crack Dip" with Roast Cherry Tomatoes: Here's the tomato version of the popular sweet onion dip filled with bubbly, blistered cherry tomatoes.
It comes out messy, bubbly, cheesy and warm. Thus have dubbed it the "Hot Mess Dip".
The cherry tomatoes are great because they help add a wonderful flavor and texture to the richness of the dip. Grill some bread and dive into this amazing dip. You just might be able to get anyone who has an aversion to tomatoes to appreciating tomatoes a bit more!
Hot Chorizo Dip: My younger brother adapted this chorizo dip from one of my recipes and adding the flavorful and salty sausage in it. His version took me by surprise because I didn't even think of adding chorizo in a dip. It's those simple ingredients that sometimes I tend to overlook.
Not only is his version a great recipe, he's also become popular amongst his own friends for this dip. As you can tell, big sister me is super proud of him. But I often wonder if he ever credits the original recipe to me when he's with his friends? hmmm….
Hot Crab Dip: This is another one of those dips that took me by surprise because I used to never add crab to a hot dip. I had heard from so many friends how they love a hot crab dip, so that got my mind churning on how I could adapt one of my existing dips to the addition of crab.
A few years ago I started to experiment and came up with this flavorful dip for crab lovers. It has plenty of texture from the onions with a nice balance of crab flavor that comes through in all the cheese.
Stove Stop Spinach Dip: This is my original stove top dip that inspired me to create dip recipes outside the oven. On sweltering hot summer days when we're having an outdoor party, spinach dip is always on the menu, but I get so exhausted just thinking about turning on the hot oven.
So I took my basic oven baked spinach dip and made it on the stove top. The results were equally fabulous, if not better because I was able to brown the onions and garlic for extra flavor.
Baked Brie & Sun Dried Tomato, Thyme Dip: Back in 2008 we were at a holiday party and a friend brought this incredible baked brie dip. I was already a fan of both brie and sun dried tomatoes, so the first bite was an exciting love affair for me. I was completely smitten with the flavor and texture of this incredible dip.
One of Todd's old co-workers, Jason, shared the recipe and I immediately shared it on the blog, with the added addition of fresh thyme.  This brie dip has been in my collection of dip recipes over all these years and it's always a top favorite too.
 Sriracha Beach Dip Recipe: On occasion, I've been known to make healthy dips too, ones with no cheese but still, with plenty of flavor and texture. This sriracha bean dip recipe was made on a whim when I was craving some light protein. With a can of white beans in my pantry combined with my love for spicy sriracha hot sauce, i made this super simple dip that has gotten raves from all around.
Add some fresh raw vegetables to dip and what you have is a guilt free party appetizer that even your cheese loving friends (like me!) can still appreciate.
 Mango Salsa Recipe: This is probably the healthiest "dip" in my collection, but some consider this more of a side dish than maybe a dip. Either way, it can be enjoyed with a bag of potato chips or as a side salad.
If it's a summer gathering or for a picnic, this mango salsa is something I'll reach for first. The super fresh flavors make this salsa really exciting on salads, seafood or tacos. It's bright, juicy, sweet and full of flavor. Add a margarita along side and you have a perfect celebration for Cinco de Mayo.
Whew. Now I feel my dip recipe collection is much more complete now that I've included the artichoke spinach version. And I do hope you treat yourself to something warm and cheesy before the year ends because I truly believe that we all deserve a heaping spoonful of decadent joy.
Enjoy!
diane
Cooking Method for Artichoke Spinach Dip on the Stove Top:
cook onions, garlic, artichoke hearts and spinach
Add milk, cream cheese, mayo and parmesan cheese. Combine till bubbly.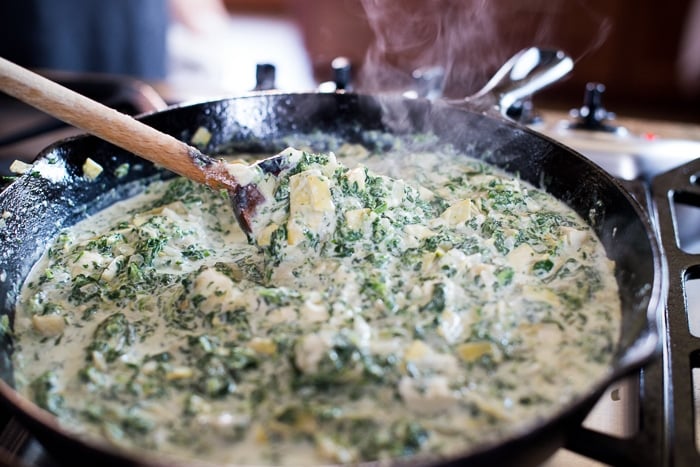 Serve hot immediately or (optional) you can bake in oven at 350 degrees after it's made to re-warm it for guests. But make sure you use a larger baking vessel and not overload the dip. Like I did. 🙂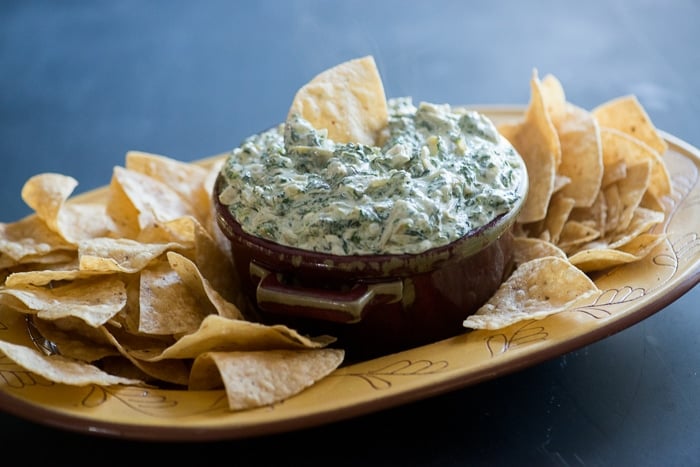 Hot Stove Top Artichoke Spinach Dip Recipe (or baked):
Yield: Serves 4-6
Total Time: 30 min
This artichoke spinach dip recipe is adapted from my older stove stop spinach dip. The other spinach dip has water chestnuts instead of artichoke hearts. You can also try baking this dip recipe in the oven at 350 degrees for about 45 minutes. If you do decide to bake this dip, eliminate the vegetable oil and only use 1/4 cup of milk. And make sure to soften the cream cheese first to make mixing the ingredients together much easier.
Pre-make: The night before a party, I've also pre-made large batches of this dip and placed them in baking dishes and chilled them in the fridge. When the party day arrives, I'll take out the dip and allow it to come to room temperature, then bake it at 350 degrees for about 20 minutes or until all the cheese is completely melted and hot.
Ingredients:
1 can of artichoke hearts (14 oz), drained and chopped
1 package of chopped frozen spinach (thawed & drained of excess water)
1 - 8 oz. package of cream cheese
1 Tablespoon vegetable oil
1 medium onion, minced
1 large clove of garlic, minced
1 cup of parmesan cheese, grated
3/4 cup of milk
1/4 cup of mayo
plenty of fresh cracked black pepper
1 teaspoon of kosher or sea salt
chips or crackers for dipping
Directions:
In large heated saucepan, add oil. When oil is hot, add the minced garlic and onions. Cook the onions and garlic till they are light brown, but not burnt.
Add chopped artichoke hearts, spinach, salt and black pepper. Cook for about 3 minutes until ingredients are combined well.
In this order: Add milk first, the stir. Then add cream cheese, mayo and parmesan cheese. When cream cheese begins to melt, turn heat to low.
Slowly stir and simmer ingredients till all cheese is completely melted and dip becomes creamy and well combined. Cook for about another 2-3 minutes to blend flavors together.
Serve immediately when it's warm with bread, crackers or tortilla chips.
Hello! All images & content are copyright protected. Please do not use our images without prior permission. If you want to republish this recipe, please re-write the recipe in your own words, or simply link back to this post for the recipe. Thank you.
Recipe Note for Salt: All recipes containing salt are based on kosher or sea salt amounts, not table salt. If using table salt, reduce the amount used to taste.