Spicy Sriracha White Bean Dip & Signs of Spring!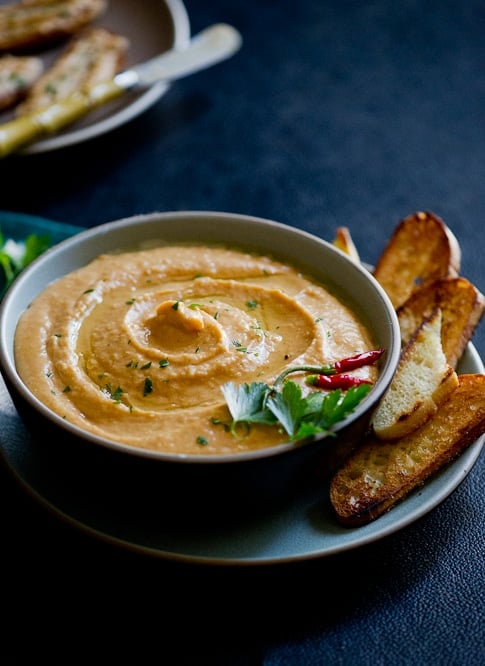 Homemade spicy sriracha, fresh chilies sauces and pretty much anything with dip recipes has been on our eating repertoire as  of late. Since making our last batch of spicy garlic knots, cravings for more heat keeps our stomachs rumbling for daily spice. Just the other day, we were making our latest batch of homemade kim chi and went triple the spicy level! Fingers crossed we don't regret adding all that heat.
In a few weeks, we'll be hosting a fun event at our studio with KitchenAid  and menu planning for this luncheon is always creative and inspiring. Spring is nearing so plenty of fresh vegetables, fresh citrus and homemade baked goods will fill the studio. Also on the menu are homemade crackers with parmesan, flax seed and possibly fresh rosemary? Not sure yet, but when we finally figure it out, we'll be sharing it with you all.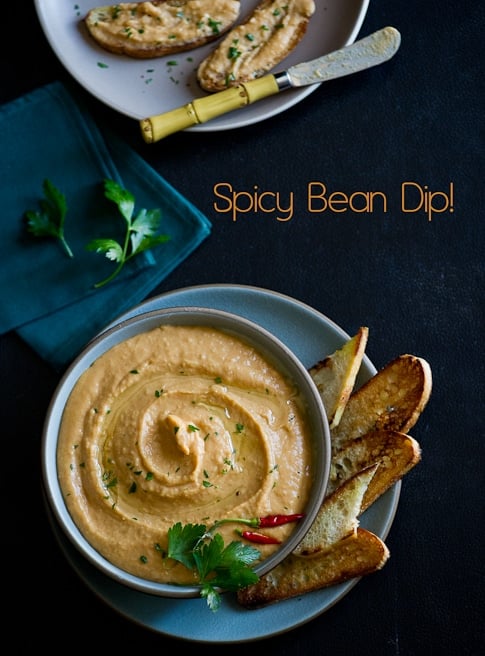 To accompany the homemade crackers we wanted to simple, yet flavorful dip recipe and fresh white bean dip seems to satisfy any hungry crowd. Since we still have spicy on the mind, it seems to appropriate to add a bit of fresh heat to this earthy and white bean dip.
The wonderful part of this dip is that is truly is so simple and fresh, yet so flavorful with Asian inspired flavors and heat. Touches of sesame oil, fresh live, zesty garlic and your choice of chili sauce gives this creamy dip so many layers of flavor.
Our spring plum blossoms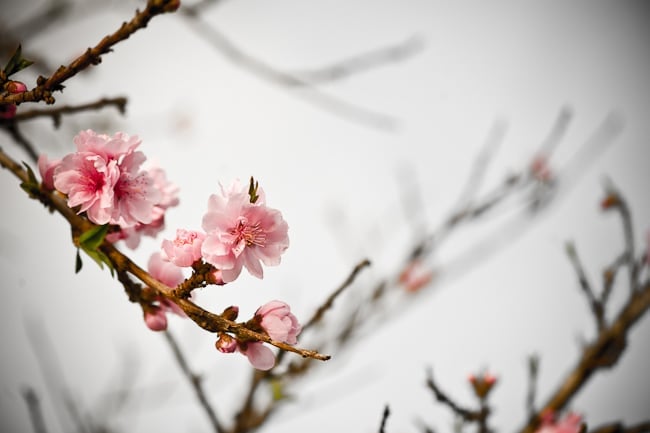 On the gardening front, we're finally catching up to some much needed digging. Over the last few weeks, we've been working slowly on adding 4 new citrus trees to our collection. Oro blanco, a second bearss lime, meyer lemon and kishu mandarin have made home in their new planters. We're super excited about all the new sprigs of growth on these baby citrus because that's the first sign of Spring.
Even our flowering plums were showered with blossoms last week and their endless explosion of pink petals from branch to branch!
Hope your weather is warming up slowly for all our friends outside of Southern California!
hugs,
diane
Here's a collection of our Hot Sauce and Sriracha Recipes, including our version of homemade sriracha hot sauce.
Spicy Asian White Bean Dip
This bean dip recipe is probably one of the easiest we've made and one of the crowd favorites. It's quite healthy and rather than dip with chips, we'll use raw vegetables.
Ingredients
15 oz. canned white beans (rinsed)  , I prefer the creamy cannellini beans
1 Tablespoons olive oil
1 teaspoon sesame oil
2 teaspoons soy sauce ( or to taste)
2 Tablespoons sriracha hot sauce or any spicy chili sauce, or one fresh thai chili
1 clove garlic
1/2 teaspoon curry powder
1/4 cup water (addition water needed if you need to make the dip smoother)
1 Tablespoon lime juice
crackers or fried crispy bread
Directions
In blender, combine all ingredients (white beans, olive oil, sesame oil, soy sauce, sriracha sauce, garlic, curry powder, water, and lime juice). Blend until smooth.

Serve with your favorite crackers or toasted, fried bread.
Did you make this recipe?
Let us know what you think!
Leave a Comment or share a photo on Instagram with the hashtag #whiteonricecouple.
We are a participant in the Amazon Services LLC Associates Program, an affiliate advertising program designed to provide a means for us to earn fees by linking to Amazon.com and affiliated sites.