Creamy Stovetop Spinach Dip
This Stove Top Spinach Dip recipe is a reader favorite since 2009. One of my brothers inspired this stovetop version and ever since, hot spinach dip has never been the same for us. It is so good!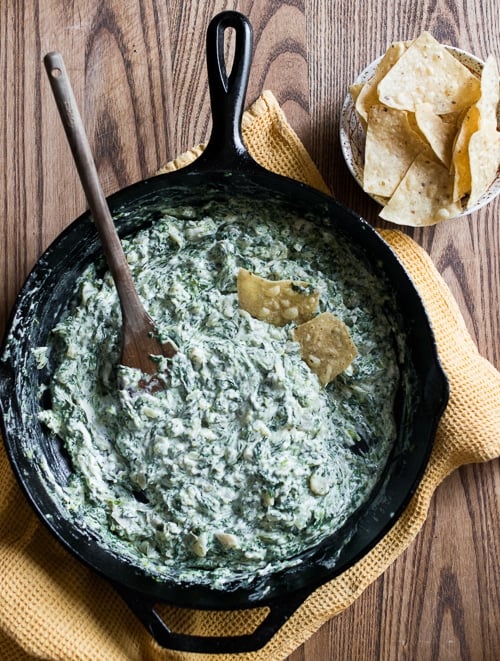 Stove Top Spinach Dip Recipe
I'm admitting that I have an eating issue when it comes to anything warm, rich, cheesy and gooey. Add a bold red glass of wine and a crusty baguette, I'll inhale a big bowl of any cheese dip that was accidentally left in front of me.
I'll even confess to the fact that I troll all party buffet tables until I can be the last one to scrape the bottom and the edges of the dip bowl. That's where the best part of the charred, burnt and crispy parts of the dip lie. Knowing where to find tastiest part of the dip was my hidden little secret, until now.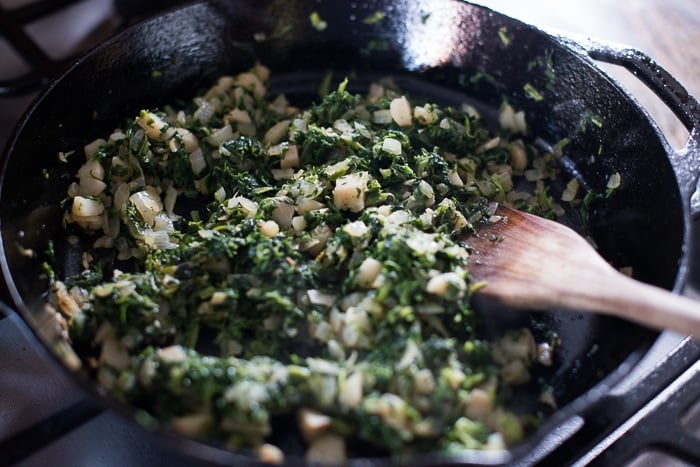 Oh, my pathetic heart. Cheese dips are my weakness and I know it won't be long before I keel over from a heart attack or start popping meds to lower my cholesterol. My only salvation is afterwards, when I take out all my "post dip eating gluttony guilt" with uppercuts, hooks, and left cross punches. Thank health goodness that I turn to kickboxing as my cheese calorie burning therapy.
It's not often that I make my appetizer dips outside of the oven. The slow, warm love that the oven lathers on to my cheese dip is amazing and there's no substitution to how well the oven melts everything together.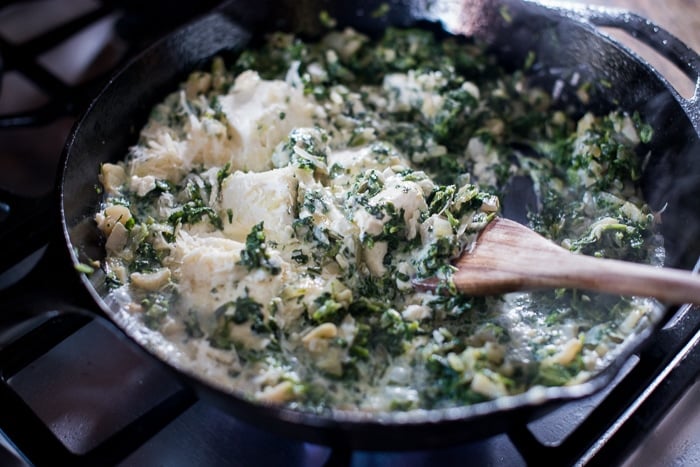 But when my brother #2, who also happens to be my #1 dip fan, made one of my appetizer dips on the stove top, I screamed out loud in dip mutiny. How could he rip apart my recipe and cook it in 10 minutes in a FRYING PAN?! I've always nurtured all my dips in the oven for about one hour and patiently waited out the long bake time. The results for my dip recipes were always so wonderful that I never, ever considered changing my cooking technique. Why mess with perfection?
"It's good, try it," he told me. Brother #2 has always been a quiet, gentle guy of few words. So when he made the effort to share his ideas, it was powerful enough to convince me to pull out my cast iron pan, think out side of the oven and give my warm spinach dip a try via the stove top.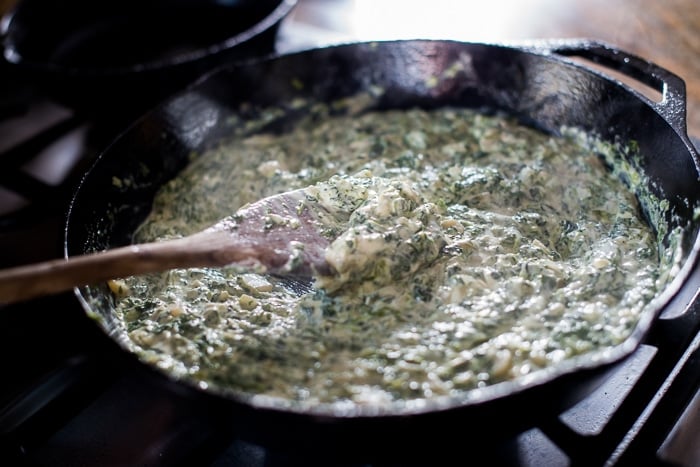 Lo and behold, he was right on the money. I made my spinach dip in a frying pan and within 10 minutes I had a rich, cheesy, beautifully melted and flavored dip that rivaled the 60 long minutes of oven cooking. I couldn't believe how fast, and well combined all the ingredients came together in the frying pan. The flavors of this spinach dip were actually BETTER in this stove top method because I was able to caramelize the onions and garlic until they became fragrant. The oven version never had that same caramelized epiphany.
I'm completely hooked to my brothers fast technique on this spinach dip and am thankful for his bachelor style cooking methods. But I blame him for making me eat this spinach dip more often because it's so EASY! Thanks Bro!
– Diane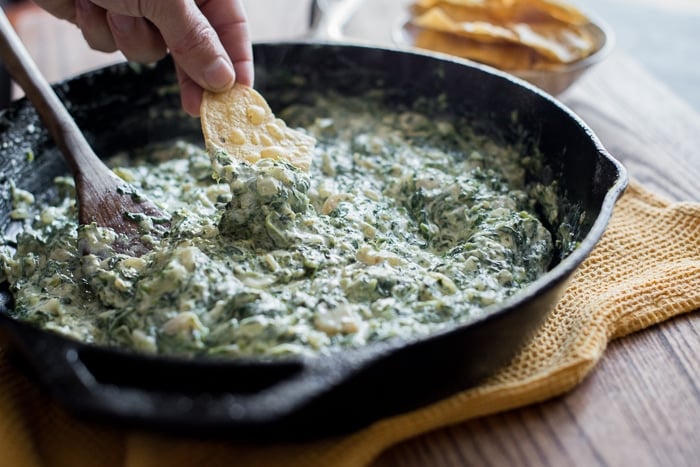 Stove-top Spinach Dip
Who doesn't love a good spinach dip? The best part about this dip recipe is that it's made with melted cream cheese and made on stove top. You can also make this ahead of time, and bake it in an oven proof dish right before serving
Servings: 4 Servings
Calories: 525kcal
Ingredients
10 oz. (284 g) package frozen chopped spinach , thawed & squeezed dry of excess water
8 oz. (227 g) canned water chestnuts , drained & chopped
8 oz. (227 g) cream cheese
1 cup (100 g) freshly grated Parmesan cheese
1 1/2 Tablespoons (22 ml) grapeseed or olive oil
1 medium onion , minced
3 cloves garlic , minced
1/2 cup (120 ml) milk
1/4 cup (56 g) mayonnaise
1 teaspoon (5 ml) salt
lots of fresh cracked black pepper to taste
crusty bread or crackers
Instructions
Over medium heat, heat oil in large saucepan. Then add onions and garlic. Saute until fragrant and light golden brown.

Add spinach and water chestnuts and continue to saute for a minute or two or until the spinach and chestnuts are heated through. Add salt and pepper

Add milk, cream cheese, grated Parmesan cheese and mayo. When cheese melts, turn down heat to low.

Continue stirring and allow dip to simmer until cheese and rest of ingredients are blended well together. Add additional salt/pepper to personal taste.Serve warm with bread and/or crackers.
Nutrition
Calories: 525kcal | Carbohydrates: 18g | Protein: 18g | Fat: 44g | Saturated Fat: 18g | Trans Fat: 1g | Cholesterol: 93mg | Sodium: 1306mg | Potassium: 514mg | Fiber: 4g | Sugar: 7g | Vitamin A: 9348IU | Vitamin C: 7mg | Calcium: 473mg | Iron: 2mg
We are a participant in the Amazon Services LLC Associates Program, an affiliate advertising program designed to provide a means for us to earn fees by linking to Amazon.com and affiliated sites.