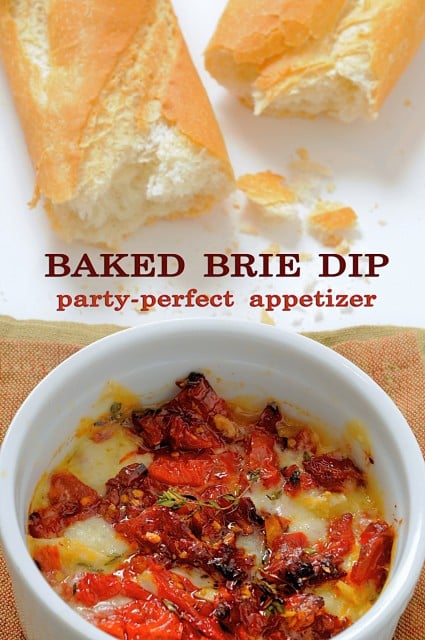 Warm. Cheesy. Flavorful. Dip. On. Bread. Need we say more?
This brie dip recipe post just needs to be short and simple. Call it cheating, we don't care. It's almost like a mathematical equation that doesn't need further explanation:
melted brie + tangy, sun dried tomatoes + aromatic garlic + fragrant thyme + heat + bread = Fabulous!
It's holiday party season for us and that means becoming the popular people at work (popularity is seasonal) because we bring the really good stuff: Cheesy dips.  Tis the season to indulge in all the cheese dip and bread that you can eat because SANTA says it's OK. We're good kids and listen to Santa.
So there it is kids, the math says it all. Words don't need to describe how good and fast this baked brie dip is.
We're ending this post here so that we can spend more time getting back to making this dip recipe and sharing with everyone at your table.
In the beginning…
during…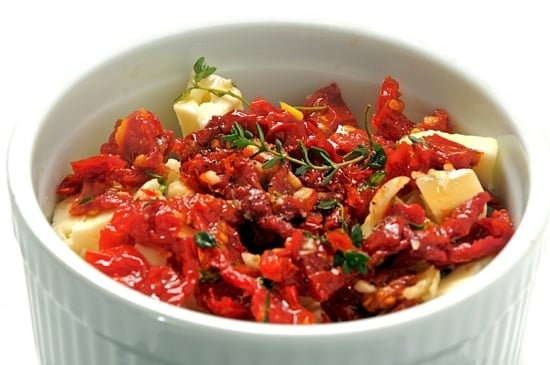 The End… The Final Dip.

Do you like? Dive in!

Baked Brie Recipe
Yield: 3-4
Cook Time: 30 min.
Ingredients:
about 10 oz. Brie
8 oz. jar of sun dried tomatoes packed in oil, drained & chopped
2 medium garlic cloves, minced
1 heaping teaspoon of dried thyme or 3/4 teaspoon fresh thyme leaves
fresh cracked black pepper
Baguette or crackers
Directions:
1. Preheat oven to 350 degrees
2. Remove rind from Brie, then cut brie into cubes.
3. In medium bowl, combine sun dried tomatoes, garlic, thyme, fresh cracked black pepper
4. In small-medium baking dish, layer the base with about 1/3 of the sun dried tomato mixture, then top with 1/2 of the chopped brie. Repeat the layering until the top layer is the sun dried tomato mixture.
6. Bake in oven for about 30 minutes, or until the brie completely melts and becomes bubbly. You may need to stir the dip one time, about 15 minutes into the baking to combine the layers.
7. Serve warm, with bread or crackers
Hello! All images & content are copyright protected. Please do not use our images without prior permission and do not re-publish this recipe. Simply link back to this post for the recipe. Thank you.
Recipe Note for Salt: All recipes containing salt are based on kosher or sea salt amounts, not table salt. If using table salt, reduce the amount used to taste.
[ad]