Great breakfasts: Baked tomatoes with parmesan cheese, scrambled eggs, toast.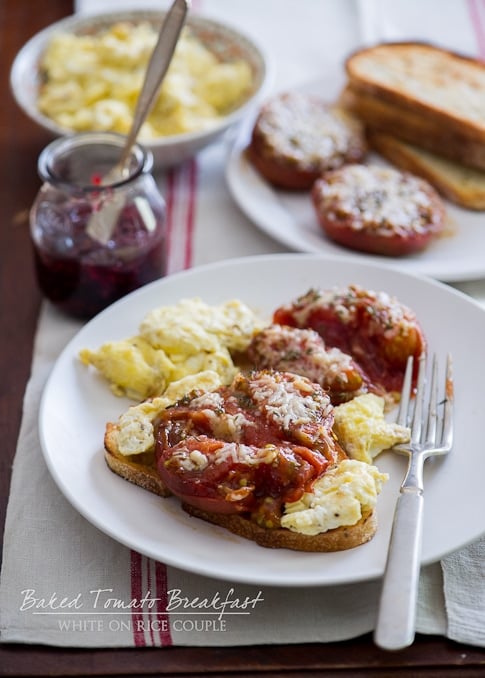 Easy Baked Tomatoes Recipe
Quiet mornings only last for a short while, but when the moment has arrived, we love making the most of the time that we have. Making breakfast and having a great meal to start the day is essential for us. This time allows us to slowly wake up together, make a meal and talk about how to plan our day. And adding some great coffee with the conversation can't go wrong! Over the last few weeks, breakfast always had a platter of fresh slices of tomatoes, olive oil, fresh basil and some sea salt. It hard to ever get tired of this simple dish, but sometimes we're craving tomatoes in a different form. Without compromising on the quality of a fresh garden tomato, the idea of a simple baked tomato for breakfast sounded wonderful.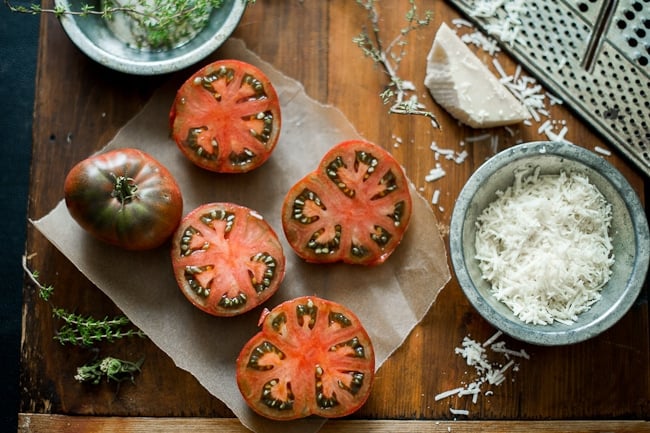 With our onslaught of tomatoes lately, we asked you all to share some of your favorite tomato recipes with us. Thank you all for the amazing, delicious responses. Now we can eat tomatoes for breakfast, lunch and dinner with all your input. We read over the list of recipes that you all shared and how convenient it was to find a link from Erina of Shut Up and Cook for baked tomatoes! This was just the push we needed to get our new breakfast agenda going with a different take on tomatoes. Her simple baked tomato recipe with pecorino , but with only parmigiano reggiano on hand, this worked just as wonderful. (Thanks Erina!)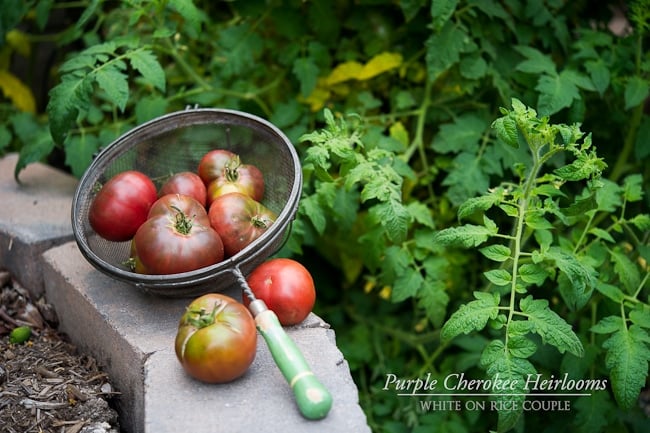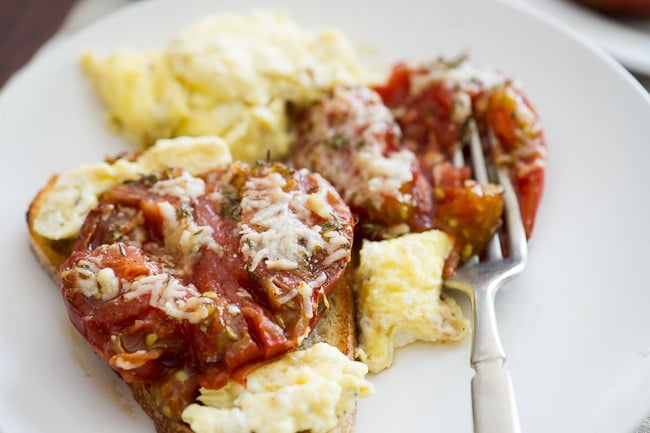 Baked Tomatoes with Scrambled Eggs
Baked tomatoes have such a wonderful juicy, sweet soft texture and when the cheese crisps on top with fragrant herbs, it's a meal in itself. Adding a nice serving of scrambled egg, crisp toast and great coffee takes this breakfast to a whole new and satisfying level. This is what you call a great breakfast. Baked tomatoes and scrambled eggs are to die for.
Adding to the excitement for us on this morning, we baked up some of our favorite purple cherokee heirloom tomatoes. Since our obsession with heirloom tomatoes started, these purple Cherokees have always been at the top of our list. Though they still need care and attention from diseases and pests, they fruit well and produce gorgeous, sweet and silky fruit. A few days ago we made Cherry tomato pizza, today was baked purple Cherokee tomatoes and tomorrow will be something new again! Thanks for your ideas and for keeping us busy with cooking up tomatoes. And let us know of any favorite breakfast recipes that you have!
hugs,
diane
More of our tomato recipes here.
Cut tomatoes in half & sprinkle with salt, pepper to taste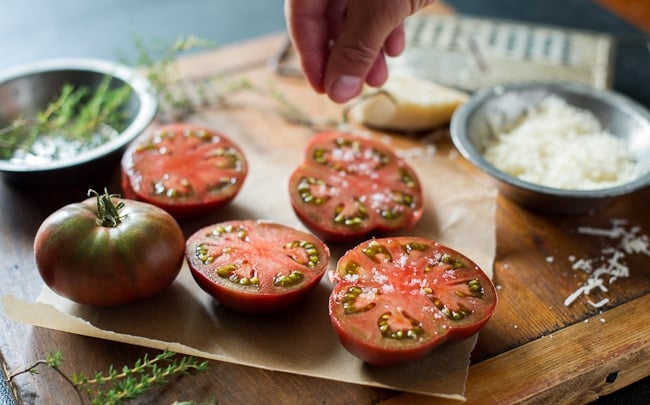 Generous topping of parmesan cheese, fresh thyme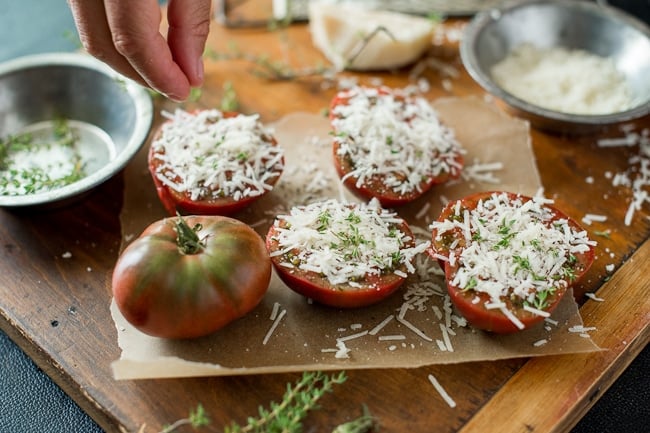 ready for the oven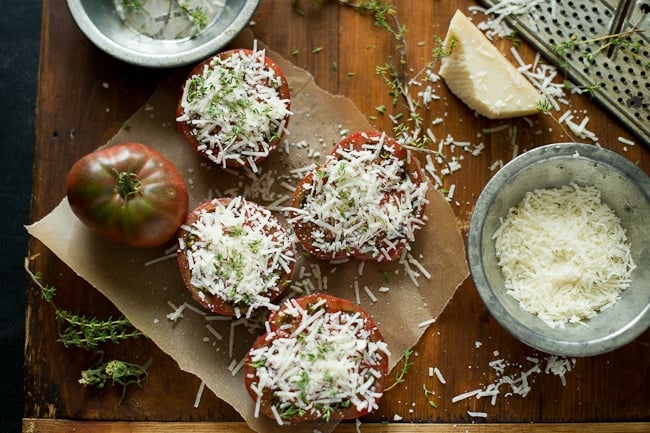 hot, warm and delicious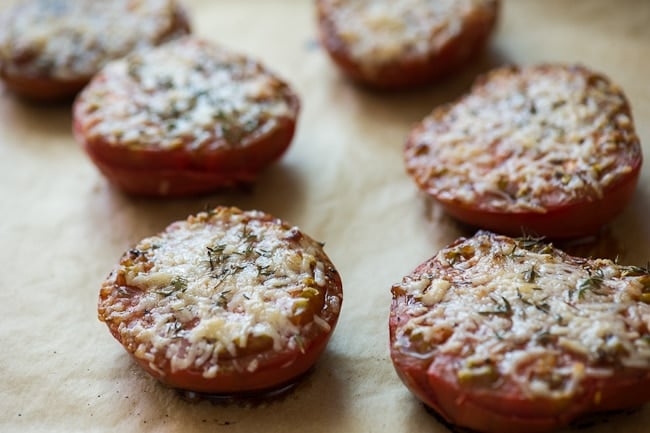 This recipe was originally published in 2012 and updated in 2019 with updated photos.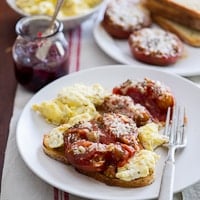 Baked Tomatoes with Parmesan Cheese & Fresh Herbs
Cooking time will vary depending on the size and firmness of your tomatoes. Keep checking the oven to determine how softly-cooked you want your tomatoes and how crisp your want your cheese to be. Enjoy these as a side dish with scrambled eggs or grilled dishes.
Ingredients
2 medium ripe tomatoes
2 teaspoons olive oil
salt and pepper to taste
1/4 cup freshly grated parmesan cheese
2 Tablespoons fresh thyme or herbs
Instructions
Pre-Heat oven to 450°F. Cut tomatoes in half, place cut side up.

Drizzle olive oil over tomatoes. Sprinkle with salt and pepper to taste. Add grated parmesan cheese on top to cover the tomato. Then sprinkle fresh chopped herbs or sprigs on top of cheese.

Bake tomatoes for about 10-15 minutes or until cheese has melted and/or when tomatoes are cooked to your preferred texture. We prefer our baked tomatoes rather soft, spreadable over bread. Yum!
Nutrition Information
Calories: 111kcal, Carbohydrates: 5g, Protein: 6g, Fat: 8g, Saturated Fat: 3g, Cholesterol: 11mg, Sodium: 197mg, Potassium: 307mg, Fiber: 1g, Sugar: 3g, Vitamin A: 1133IU, Vitamin C: 17mg, Calcium: 151mg, Iron: 1mg
We are a participant in the Amazon Services LLC Associates Program, an affiliate advertising program designed to provide a means for us to earn fees by linking to Amazon.com and affiliated sites.