Savory Sweet Potato Soup for the Soul
With so many different types of sweet potatoes popping up at our markets, it's time to indulge in this easy and savory sweet potato soup.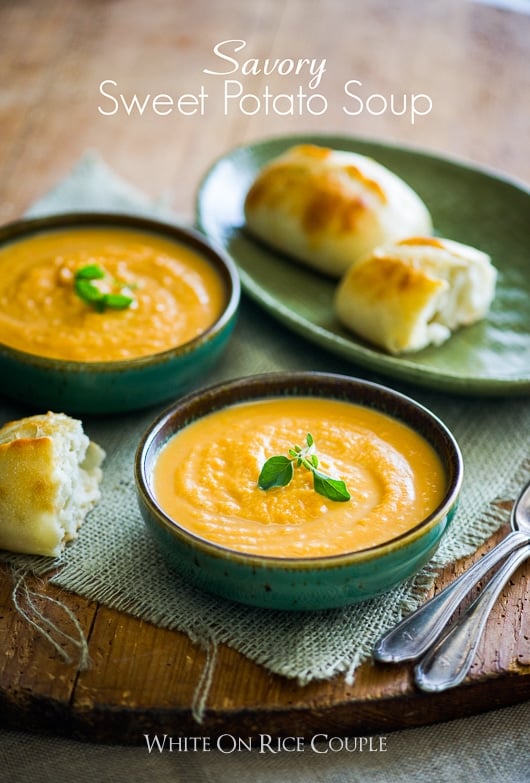 The past few days have been more chilly with early morning frost, it's hard to believe that we are entering Fall. Cooler weather means evenings are full of bundled blankets and a warm soup dinner. Aside from an oven hot casserole, few dishes are more comforting than a bowl of hot soup. Add on a few slices of crusty bread and it's a meal to fuel the soul, the tired, the cold and the hungry. Those are the perfect words to describe us over the last few days.
Watch the video making the sweet potato soup: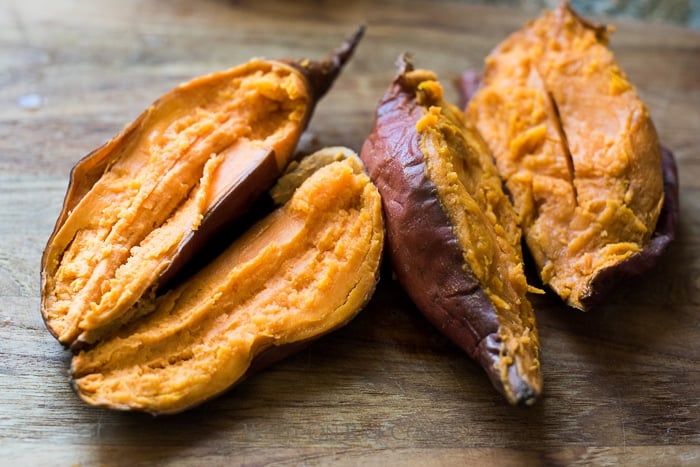 It's always nice to be able to enjoy a simple pleasure of sweet potatoes this time of year. These gorgeous roots shouldn't be limited to the holidays. Their sweet comfort is something that we should always be enjoyed as early as September, or as far as the cold weather will take us. Sweet potatoes are so versatile and we often take them for granted. First instinct is to grab a yukon gold potato for roasting or baking. But it's not often that we'll think of bagging up on some sweet potatoes for soups, desserts, fries and roasting. Now is the time to change all that.
We're happy to share this soup recipe from one of our last shoots with LA Brea Bakery. This soup recipe was on the shot list and it was one of our surprise wow moments again. Sweet potato soup? it's wonderful and why don't we ever make it more often? It was so good that we wanted to share it with you all to enjoy. Creamy, hearty, savory and satisfying, this sweet potato soup is the perfect bowl to warm our cold bodies after a long days work. And don't forget to have a loaf of wonderful bread because you'll need it to dive into soup!
Enjoy,
-Diane and Todd
This recipe was originally published with permission in 2013 and re-published in 2020 with a new video.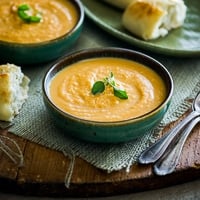 Savory Sweet Potato Soup
This easy recipe for sweet potato soup is perfect for Thanksgiving, holidays and cold winter days. Chicken stock and broth will vary greatly in salt. Make sure to adjust the recipe depending on the saltiness of your chicken stock. If you want more holiday flavor, just add some holiday spices and it becomes a more fragrant soup.
Ingredients
2 Tablespoons Olive Oil (30ml)
3 cloves Garlic , peeled, chopped
1 medium yellow Onion , diced 1/2"
3 cups Chicken or Veggie Stock (720ml)
3 cups (packed) baked Sweet Potato (630g) *see note 1, skin removed
1 Tablespoon Kosher Salt (15g) , or to taste
½ teaspoon freshly ground Black Pepper (2g)
½ cup Heavy Cream (120ml)
8 slices Baguette , 1/2" thick or for gluten free, serve with gluten free bread/crackers
Instructions
Heat a large pan over medium heat, add the olive oil and then the garlic, and onions and cook until tender, about 3-5 minutes, stirring regularly.

Add the chicken stock and potato, stirring to combine. Add the heavy cream, bring to a gentle boil and then reduce heat. Simmer gently for ten minutes.

Remove from heat and allow the soup to cool slightly, the blend the soup until smooth (this can be done in a blender or using a hand blender).

Adjust seasoning to taste and return to very low heat until serving.Toast the bread and serve with the soup.
Notes
Note 1: To Bake Sweet Potatoes: Preheat oven to 400°F (205°C). Pierce sweet potatoes several times with a fork. Wrap the sweet potatoes in foil. Bake for 45 minutes or until tender.
Nutrition Information per Serving
Calories: 224kcal, Carbohydrates: 29g, Protein: 4g, Fat: 10g, Saturated Fat: 4g, Cholesterol: 20mg, Sodium: 1455mg, Potassium: 241mg, Fiber: 3g, Sugar: 4g, Vitamin A: 7483IU, Vitamin C: 3mg, Calcium: 56mg, Iron: 1mg
We are a participant in the Amazon Services LLC Associates Program, an affiliate advertising program designed to provide a means for us to earn fees by linking to Amazon.com and affiliated sites.