Everyday Chicken Vegetable Soup in 30 minutes
If there's ever a chicken soup recipe that we crave on a daily basis or when we need a simple starter for a gathering, it is this 30 minute chicken vegetable soup. It's loaded with all the veggie-good stuff, including plenty of greens and rich flavor from the soy sauce or Worcestershire sauce.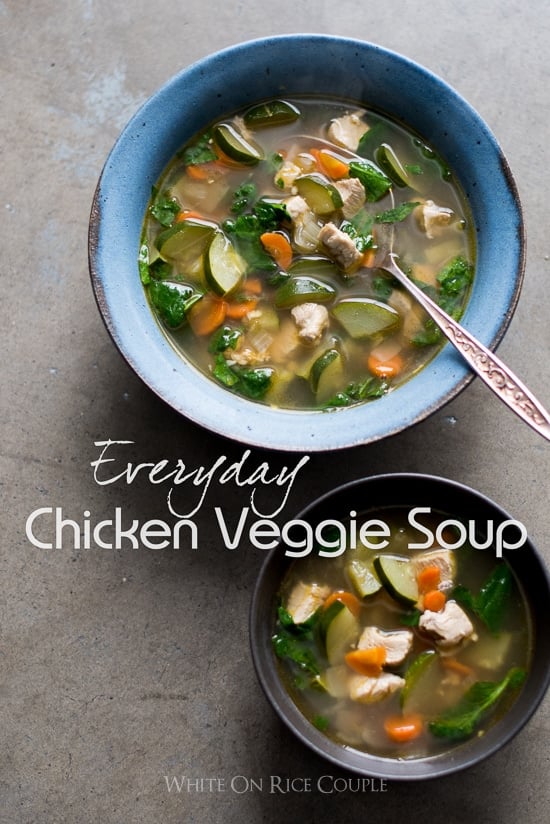 Chicken Soup Recipe with Healthy Veggies
This chicken vegetable soup recipe was made over 3 years ago when we had our ambitious idea of publishing our own little food magazine. Although put the idea on the back burner now, we ended up with thirty zucchini recipes. The whole project wasn't a waste because we learned so much during the process and spent two months eating more zucchini than most people eat in a lifetime!
Our chicken soup recipe definitely has evolved since then. We've added more spinach to make it more greens-focused. There's so many different possibilities with this soup and adding kale is just one fantastic example of incorporating more healthy greens.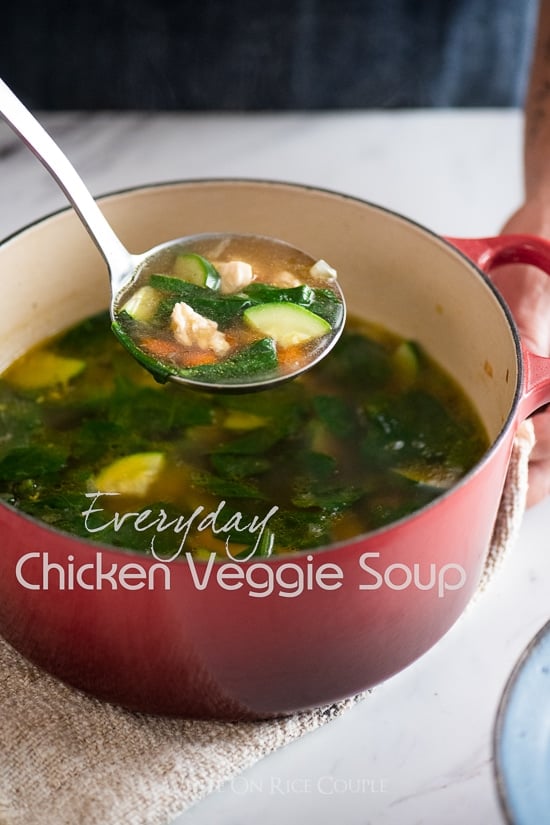 Video: Chicken Vegetable Soup Recipe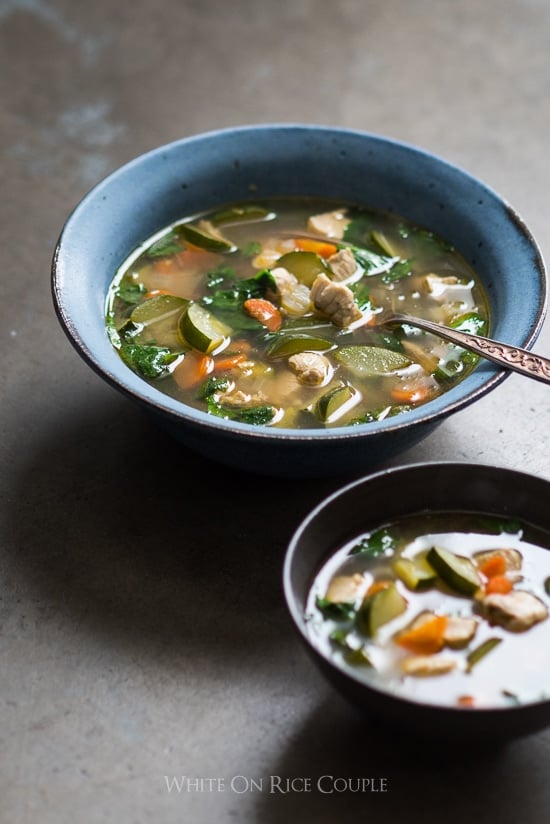 Low Carb Chicken Vegetable Soup : Healthy & Keto Friendly
A bowl of this comforting soup keep us warm and reminds us that we better get back on track soon if this magazine of ours is ever going to become a reality! Oh so many projects, so little time. In the meantime, what we got out of our research project was this fantastic chicken soup recipe. It's our go-to comforting soup all made within 30 minutes. The flavor and low carb nature of the soup makes it healthy. And if we ever want to make it more hearty, we'll add a handful of rice or small pasta. Homemade food can be quick, hearty and wholesome.
Enjoy,
diane and todd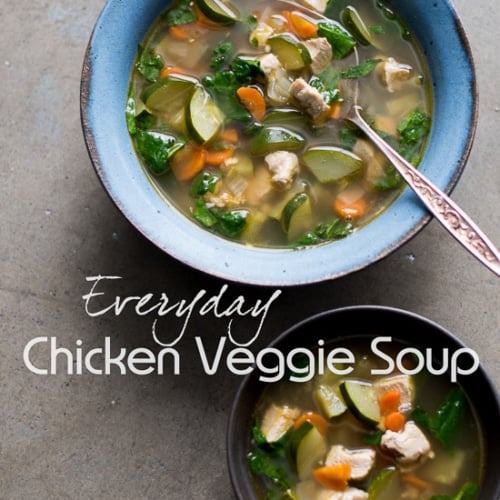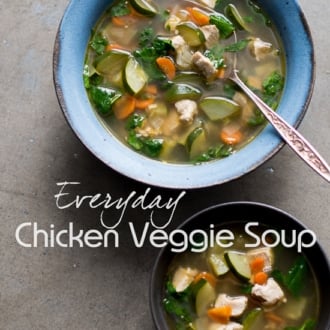 Everyday Chicken Spinach Vegetable Soup in 30 minutes
This is a very low carb and pretty healthy soup. If you want to make it more substantial, add a small handful of wild rice or small pasta for a chicken rice or chicken noodle soup.
Ingredients
½ pound (227 g) boneless skinless chicken breast or thigh meat
1 tablespoon (15 ml) olive oil
½ medium (0.5 medium) onion , diced
1-2 cloves (1-2 cloves) garlic , minced
2 (2) carrots , diced
1 -inch (2.5 cm) knob of ginger , peeled and smashed
¼ teaspoon (1.25 ml) ground cumin
1 teaspoon (5 ml) soy sauce or Worcestershire sauce
4 cups (960 ml) chicken stock
½ pound (227 g) zucchini , diced or sliced into thin half circles
2 cups (60 g) baby spinach
salt , to taste
black pepper , to taste
Instructions
Heat a stock pot over medium-high heat. Add oil, then add onions, garlic and carrots. Cook until onions and garlic are soft, about 2-3 minutes.

Add chicken and cook for about 3 minutes. Then add ginger, ground cumin and soy sauce. Stir and cook for about another minute to bring out the flavor of the sautéed chicken.

Add chicken stock, then turn heat on high and bring soup to a boil. Once soup boils, reduce the heat to low.

Add zucchini and simmer soup on low heat for about 5 minutes or until zucchini is cooked.

Add the spinach and cook for about 2 minutes or until the spinach is tender. Season with salt and pepper and enjoy!
Nutrition Information per Serving
Calories: 108kcal, Carbohydrates: 7g, Protein: 9g, Fat: 4g, Cholesterol: 21mg, Sodium: 265mg, Potassium: 405mg, Sugar: 3g, Vitamin A: 3315IU, Vitamin C: 9.3mg, Calcium: 24mg, Iron: 0.8mg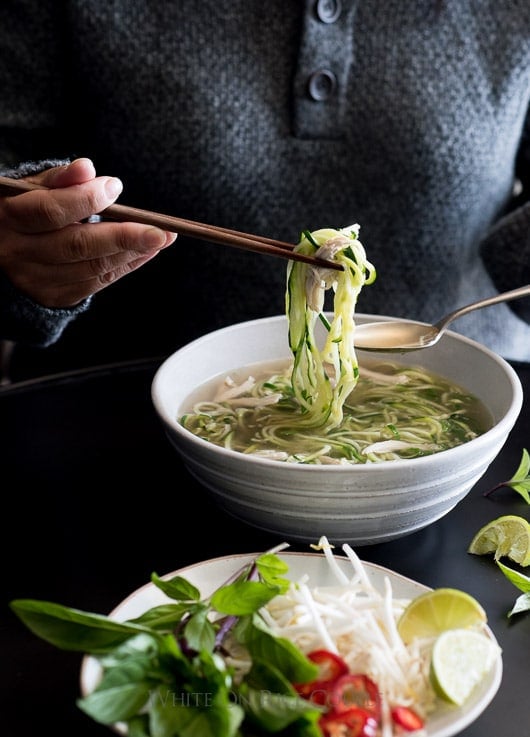 Need a delish chicken dinner? Here's more of our easy chicken recipes.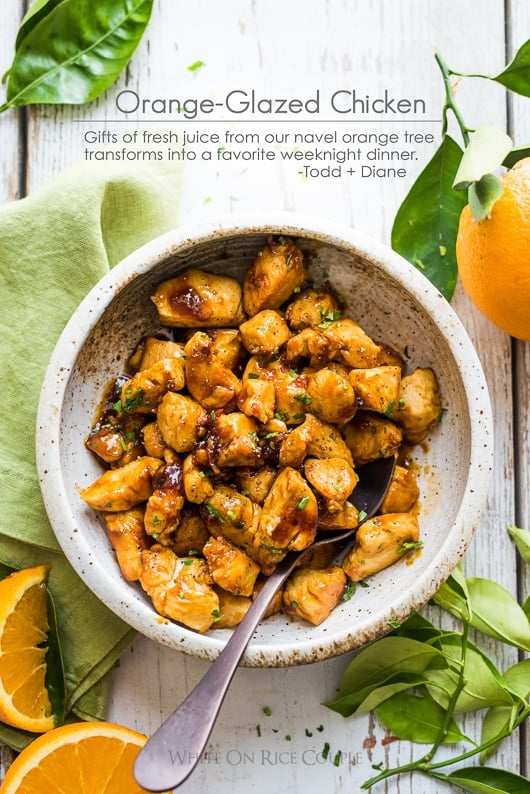 This recipe was originally published in 2019 and was updated in 2020.
We are a participant in the Amazon Services LLC Associates Program, an affiliate advertising program designed to provide a means for us to earn fees by linking to Amazon.com and affiliated sites.