No-Bake Fluffy Cranberry Pie with Graham Cracker Crust
Our no bake cranberry pie is fluffy, delicious and way too easy to make for the Thanksgiving and Christmas. Happy Holidays!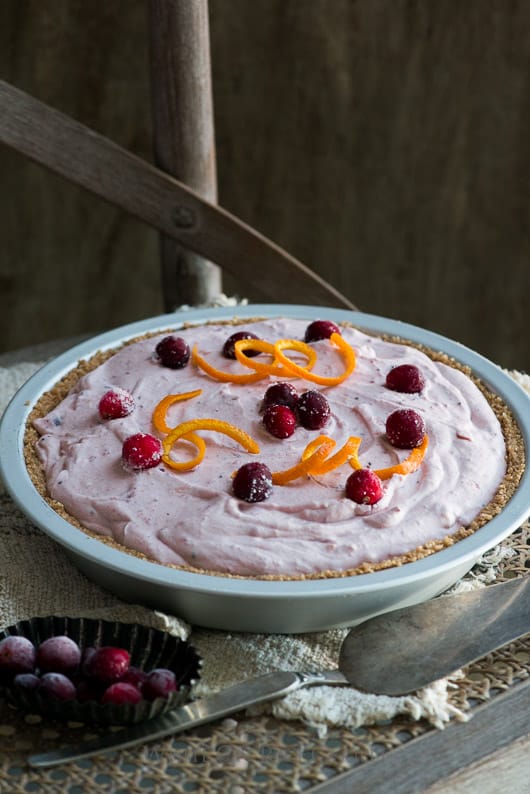 While developing some recipes for a client this past Summer, we started to think about easy desserts to make without the oven. No bake cranberry pies was one example that could be made without ever having to turn on the oven. For days when we're reaching hot dry temperatures, the very last thing in the world we'd ever want to do is to turn on the oven. We were inspired to make pies without the need for an oven. Essentially two words dominated our food creativity and conversations when the thermometer reached its sweat inducing peaks: don't bake.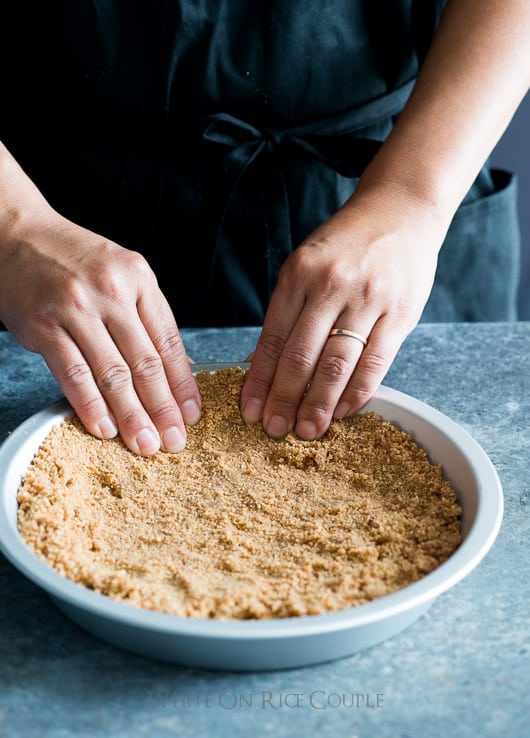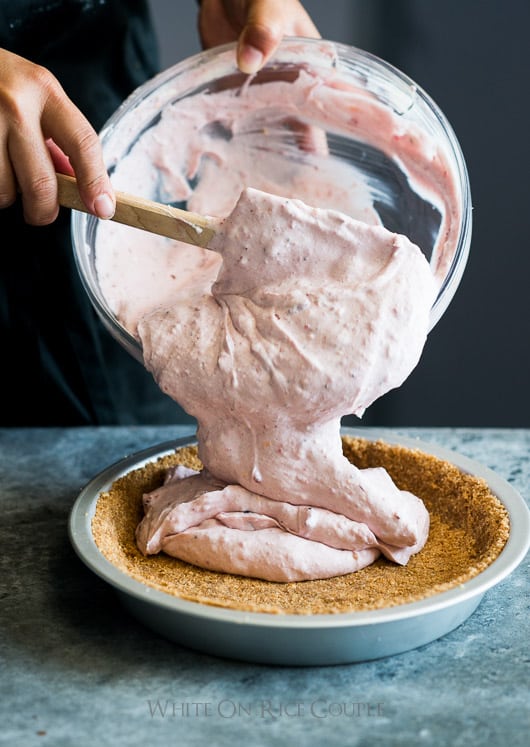 Watch this delicious No Bake Cranberry Pie Video:
Then we started researching and found some inspiration (whew!) on desserts that were no bake, no heat and no oven torture. A no-bake graham cracker crust filled with a whipped cream, fluffy filling. Fill it, chill it, and eat it. A delicious, creamy, fluffy pie and no oven time needed. We were hooked.
With the holidays here, especially the epic food holiday of Thanksgiving, having a no-bake dessert up our sleeves it more than handy.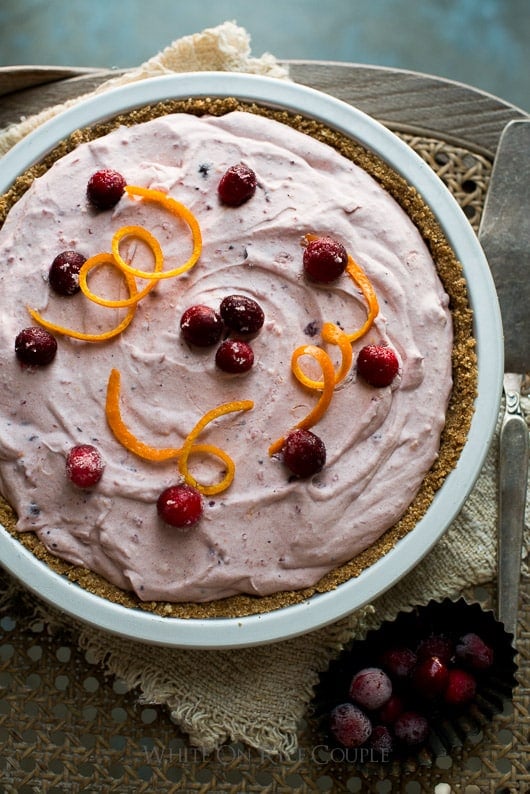 Sometimes it may be a requirement. There's nearly always going to be a turkey hogging up the oven for hours. And then we have to make our potatoes au gratin. Can't forget the sweet onion crack dip. With so many dishes needing oven time, even with a double oven there might not be enough thermal real-estate. Let alone if we happen to be some where with only a single oven at the ready.
So taking the no-bake pies we played with this summer, and have a holiday apropos version seemed like a no-brainer. We came up with this no bake cranberry pie version, garnished with an optional orange curls or sugared cranberries if you feel like dolling the pie up.
Holidays here we come and this no bake cranberry pie is the answer to making Holiday cooking more enjoyable.
-todd and diane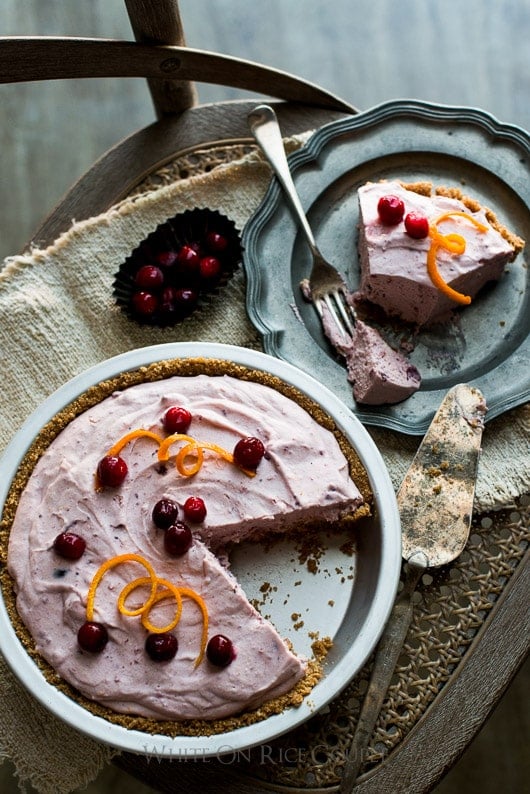 Enjoy more cold weather recipe like this sriracha roast chicken and more holiday dessert recipes here.
This recipe was originally published in 2014 and re-published in 2019 with updated video.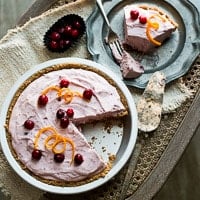 No Bake Fluffy Cranberry Pie with No Bake Graham Cracker Crust
Neither the crust or filling need baking. Just chill time.For tips on whipping cream stages, here is a great post.Makes one 9-inch pie.
Ingredients
No-Bake Graham Cracker Crust Ingredients
1 1/2 cups (360ml) graham cracker crumbs (about 9 whole crackers worth)
2 Tablespoons (30g) packed brown sugar
1 teaspoon (5ml) ground cinnamon
1/2 teaspoon ground ginger
1/8 teaspoon kosher salt
1/2 cup (1 stick or 113g) butter , melted
Fluffy Cranberry Pie Filling Ingredients
1 1/2 cups (360ml) heavy whipping cream
12 ounces (340g) cream cheese , softened
1/4 cup (50g) sugar
1 - 14 oz can (397g) whole berry cranberry sauce
1 teaspoon (5ml) vanilla
zest of 1 medium orange
optional - a few drops of red food coloring to achieve deeper pink color
optional - orange peel curls for garnish
optional - a few frozen cranberries for garnish (rolled in sugar)
Instructions
Make the pie crust: Combine the graham cracker crumbs, brown sugar, cinnamon, ginger, and salt. Mix in the melted butter until evenly combined.

Press the crust mixture into the bottom and sides of a 9-inch pie pan into an even layer. Press well to compact the crust. Set aside.

Make the cranberry pie filling: Beat the heavy whipping cream in a stand mixer or with a hand mixer until stiff peaks form. Set aside.

In large bowl, beat together the sugar and cream cheese until well combined and smooth. Stir in the cranberry sauce, vanilla, and orange zest until smooth.

Add the whipped cream mixture and enough food coloring to achieve your desired pink color. Continue to gently fold the entire mixture until well combined.

Fold in the cranberry pie filling into pie pan prepared with the graham cracker crust.

Chill the pie for about 6 hours or overnight, until firm.

Garnish with orange peel curls and/or sugared frozen cranberries.
Nutrition Information
Calories: 468kcal, Carbohydrates: 36g, Protein: 4g, Fat: 35g, Saturated Fat: 21g, Cholesterol: 111mg, Sodium: 329mg, Potassium: 107mg, Fiber: 1g, Sugar: 27g, Vitamin A: 1283IU, Vitamin C: 1mg, Calcium: 75mg, Iron: 1mg
We are a participant in the Amazon Services LLC Associates Program, an affiliate advertising program designed to provide a means for us to earn fees by linking to Amazon.com and affiliated sites.