Sausage Galette with Zucchini, Ricotta and Sage
Our sausage zucchini galette is a fantastic way to enjoy a savory pastry. Serve it for brunch or dinner and you'll be the hero!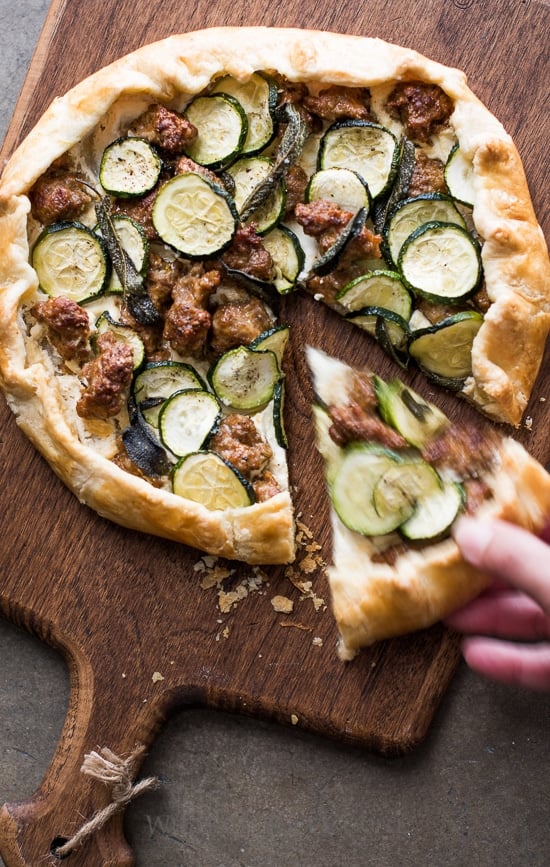 Sausage and Zucchini Galette
It's raining outside and all this hydration is such a welcome treat. Looks like we're finally out of the drought but won't take anything for granted. The rain has been pretty relentless for the past few weeks and though everyone is trying to stay out of it as much as possible, or at least heading to the snowy mountains.For so many of you around the country where Winter is truly a 4th season, our recent Winter is super exciting because we're actually getting rain! Funny how a little bit of rain get's so many of us giddy-happy down here.
Staying out of the rain means staying inside and cooking warm foods again. It's always an awesome day when it's storming outside and we can crank up our oven to make desserts and warm savory foods for dinner. Our go-to meals is always our favorite galettes not only because they're simple to assemble, but they can come in both savory AND sweet. What ever we're in the mood for, a galette always hits the spot.
Even in Winter, we can find some decent zucchini in the markets and though zucchini explodes in Summer, it's still one of our favorite vegetables to enjoy in Winter. From zucchini noodles to zucchini desserts, it's a vegetable that's always easy to please and always hiding somewhere in our vegetable bin. Adding some sausage and warm oven-love to some zucchini slices resulted in a super delicious galette that no one can ever say no to.
Galettes for Dinner, Not Just Dessert
Galettes such as this one are so adaptable to what ever filling you like. We addd ricotta and some sage because there were still a few leaves in the garden. But think of all the possibilities you can add to this tremendous galette. We often consider galettes like fried rice. You know, the type of meal where you can clear the fridge of leftover ingredients and actually make a really hearty and satisfying meal out of? This is definitely one of them.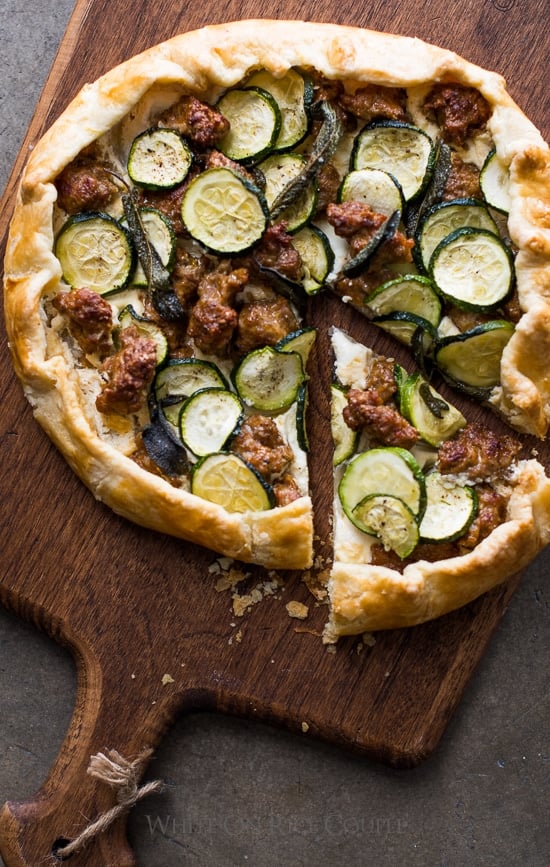 We checked the weather report again and it looks like so many parts of the county we're getting dumped on with rain and snow. Stay warm friends, stay safe and east lots of yummy warm foods. Before we know it, Summer will be greeting us around the corner and we'll be wondering where did January go to? Seriously, January is almost over and we haven't even had a chance to really enjoy this post-holiday crash.
Enjoy,
diane and todd
.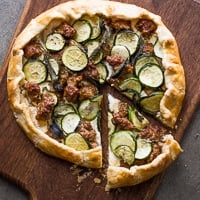 Sausage Galette with Zucchini, Ricotta, & Sage
Galettes like these are easily adaptable. It's the type of meal where you can clear the fridge of leftover ingredients and actually make a really hearty and satisfying meal out of. Adapt to your preference and ingredient availability.Makes one 9-inch Galette
Ingredients
For the Galette dough
1 1/4 cups (155g) all-purpose flour
1 stick (1/2 cup or 113g) unsalted butter, cut into 1/2-inch (12mm) pieces
1 teaspoon (5ml) sugar
1/2 teaspoon kosher or sea salt
1/4 cup (60ml) cold water (you may not end up using the full amount)
Egg Wash (1 egg beaten w/ 1 tablespoon water) or Cream, for brushing the crust
For the Filling:
8 ounces (225g) sausage , slightly cooked to render the fat
1 small zucchini , sliced 1/4-inch thick and lightly brushed with olive oil
3-4 sprigs fresh sage
1/2 cup (120ml) ricotta
kosher salt , to taste
fresh cracked black pepper , to taste
Instructions
Make the crust: In a bowl, pinch together the flour, butter, sugar, and salt with your fingertips until most of the big chunks of butter are flattened or broken up.

Incorporate the enough of the cold water into the flour until the mixture binds together and forms a rough ball (you may need to gently knead the ball to incorporate the last of the flour).

Roll the dough into a ball, and then flatten into a disk. Wrap in plastic wrap and chill for 10-15 minutes.

Preheat the oven to 375°F (190°C). Line a sheet pan with parchment paper.

On a floured surface, roll the disk out to a circle about 12 inches (30-cm) in diameter. Gently place the dough onto the prepared sheet pan (cooking tip: we'll often gently roll the dough around rolling pin and then unroll it onto the sheet pan to transfer it).

Layer the ricotta, sausage, zucchini and sage evenly to within about 2 inches (5 cm) of the outside edge. Season with salt and pepper. Fold the edges of the dough over the filling. Brush the crust with the egg wash or cream.

Bake for 50 to 60 minutes, or until the crust is golden, rotating the pan halfway through so the galette bakes evenly. Serve warm or at room temperature.
Nutrition Information per Serving
Calories: 252kcal, Carbohydrates: 22g, Protein: 11g, Fat: 13g, Saturated Fat: 5g, Trans Fat: 1g, Cholesterol: 38mg, Sodium: 454mg, Potassium: 196mg, Fiber: 1g, Sugar: 1g, Vitamin A: 159IU, Vitamin C: 4mg, Calcium: 55mg, Iron: 2mg
We are a participant in the Amazon Services LLC Associates Program, an affiliate advertising program designed to provide a means for us to earn fees by linking to Amazon.com and affiliated sites.