Roasted "Frosted" Cauliflower with Cheese
This frosted cauliflower with cheese recipe is very special to us. Over twenty years ago, this was one of the very first cookbooks that we dived into for vegetable inspired recipes. And it way back then that we came across this recipe for frosted cauliflower that we make on a regular basis. This recipe is like a part of our family now. Is it odd to ordain a cauliflower recipe onto our family tree? It's permanently there and we've been known to bring in some odd characters into our family unit. Take a look at our silly and crazy dogs and you'll now how far from normal we are.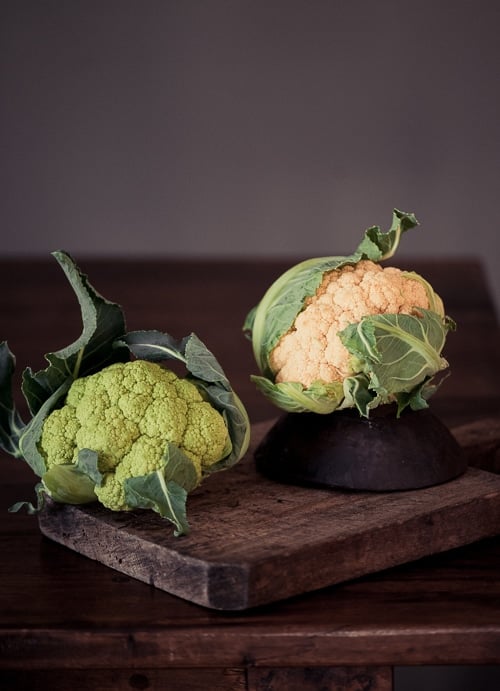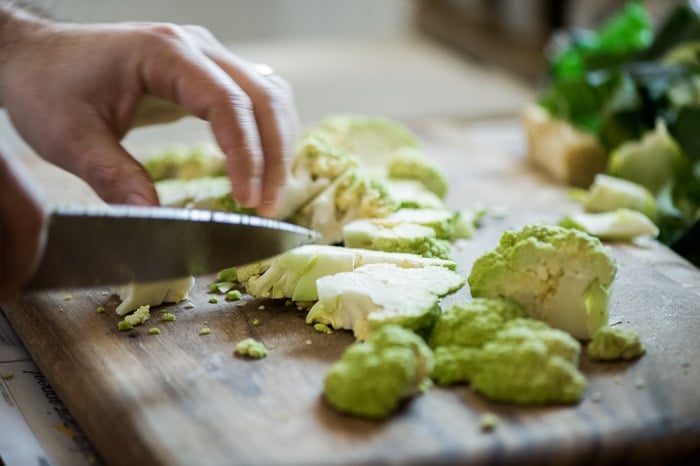 It's during this time of year that our farmers markets are exploding- repeat, exploding & overloading- with cauliflower. Colorful heads of gorgeous cauliflower in many different varieties, shapes and sizes are flooding market stalls and it's hard to not resist making this recipe every day of the week. These beautiful tuffs of florets are mesmerizing and we have the urge to buy these heads of cauliflower in every single color. If we had a fridge big enough, we totally would. It's that easy to be hypnotized by their beauty.
This frosted cauliflower with cheese is roasted to perfection in the oven and it's always our go-to recipe. You should consider making a huge batch if you're serving these at a party. Or even if you're only cooking for one, don't be surprised to find yourself eating these to the very last floret, with abandon.
Watch the video making the Frosted Cauliflower with Cheese:
Enjoy!
the colorful cauliflower before…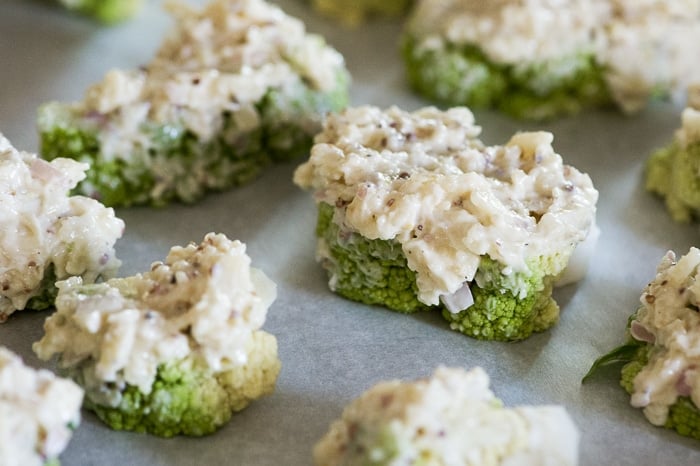 and after. Delicious.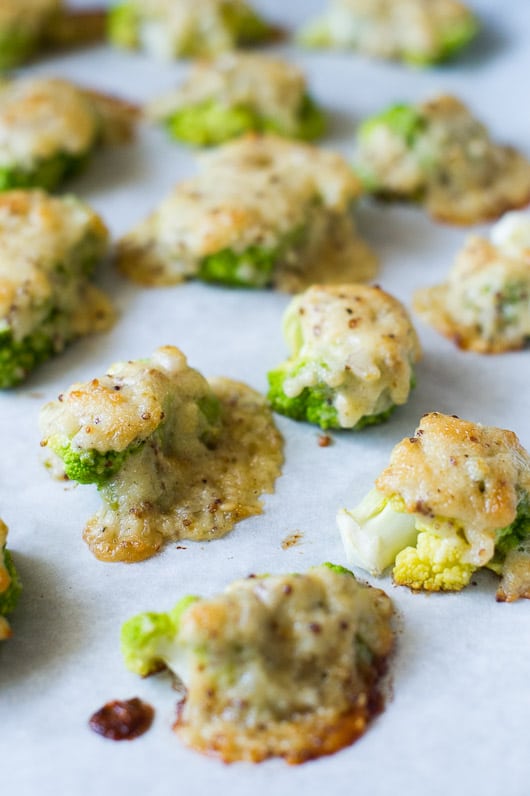 regular white cauliflower tastes fantastic too! We love it.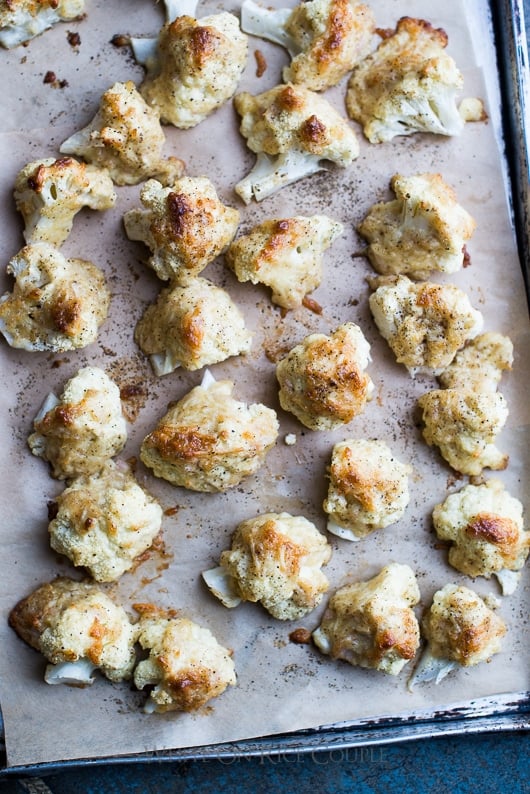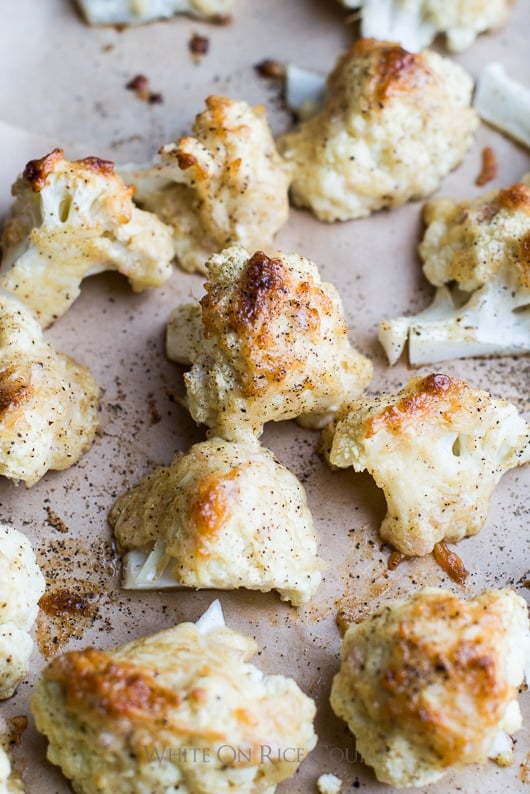 This delicious frosted cauliflower with cheese recipe was first published in 2013 and re-published in 2017 with new images and video. Enjoy!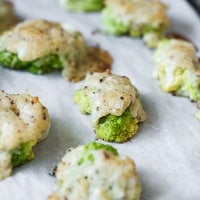 Frosted Cauliflower Recipe
Different mustards will give the recipe their own unique tang, so play around to find your favorite. The shallots are heavenly, but if you can't find them or they are too pricey, substitute sweet onions for the next best option. You also will be rewarded by splurging on a good parmesan. Either a Grana Padano or Parmigiana-Reggiano will give the frosting a perfect salty, sweet, milky bite which a poor knock-off will not accomplish. There are great domestic equivalents as well as other similar cheeses coming from other countries, just chose wisely. And don't be skimpy on the fresh cracked black pepper. Delish!
Ingredients
1 small head (@ 1 1/2 pounds - 680g) Cauliflower , cut into 1/2" thick florets
1/2 cup (120g) Mayonnaise
2 teaspoons (10g) Whole Grain Mustard
2 Tablespoons (20g) finely minced Shallots
3/4 cup (75g) freshly shredded Parmesan Cheese
fresh cracked Black Pepper , to taste
dash Worcestershire Sauce
Instructions
Preheat oven to 400°F. Line a sheet pan with parchment paper.

Combine the mayonnaise, mustard, shallots, cheese, black pepper, and Worcestershire sauce in a medium bowl. Mix until well combined.

Scoop and dip the cauliflower florets into the mixture, frosting the head of each with a good teaspoon or more of the mixture. Lay them onto the prepared sheet pan in a single layer (use a second lined sheet pan if necessary).

Bake for about 15-20 minutes or until the frosting is golden brown on top and edges and the cauliflower is tender but still has a bite. Serve warm.
Nutrition Information per Serving
Calories: 312kcal, Carbohydrates: 10g, Protein: 10g, Fat: 26g, Saturated Fat: 6g, Trans Fat: 1g, Cholesterol: 25mg, Sodium: 558mg, Potassium: 552mg, Fiber: 4g, Sugar: 4g, Vitamin A: 167IU, Vitamin C: 82mg, Calcium: 265mg, Iron: 1mg
We are a participant in the Amazon Services LLC Associates Program, an affiliate advertising program designed to provide a means for us to earn fees by linking to Amazon.com and affiliated sites.