Sharing The Love of Chocolate on Game Day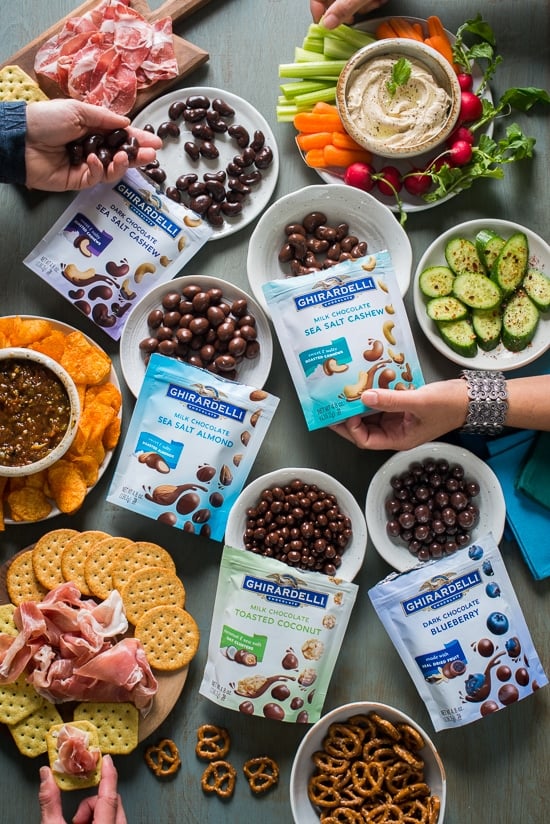 It's almost that time of year again that we all get together, eat, drink and celebrate football. The Big Game on Sunday isn't just for football fans, as we easily realize when we think about our eclectic group of friends. Some come for the football and are ready to root for their favorite team. Most arrive hungry and ready to eat, drink and just have a great time. For us, we appreciate both equally because we love watching our football games and eating some great munchies, all in an awesome afternoon.
Preparing food and deciding the game day menu takes quite a bit of thought and preparation. It's never just one appetizer that makes it to the Big Game feasting table, so we'll spend most of our time cooking and prepping the savories. But it's always towards the end of the cooking day that we think about dessert. With so much appetizers on our minds, it's easier to have a big spread of Ghirardelli chocolate.
Ghirardelli has a new line of chocolates that are perfect for all of our game day tables and best of all, there's no cooking involved and they are easy snackables so it makes it even easier to fill the table to the max with dessert! We're excited to share these with you guys because they truly are delicious and amazing. We shared them with 5 different taste testers and they all agreed that having a favorite was not possible.
Everyone loves chocolate and Ghirardelli's new chocolate covered lineup of nuts, coconut and dried blueberries is a winner to make game day delicious. Best of all, they're not fussy, but still elegant and casual enough to grab a handful and pair it with beer. Yes, the chocolate covered nuts definitely pair well with beer!
On fun and social days such as game days or any type of gathering, people love to graze. If everyone is hanging out for hours then appetizers and portable hand-held food is what everyone seems to gravitate to. So for anyone who loves nuts and chocolate, Ghirardelli's Milk Chocolate Sea Salt Cashews is the perfect dessert munchie to have on hand. There's something for everyone to love in this bag of chocolate.
We've always preferred dark chocolate but after tasting Ghirardellis' Milk Chocolate Sea Salt Cashews and Milk Chocolate Sea Salt Almonds, we're hooked! Their milk chocolate has so much rich chocolate flavor, we actually thought it was dark chocolate! And of course, their Dark Chocolate Sea Salt Cashews were even more flavorful. Perfect for the dark-chocoholic.
Sweet and salty food combinations are what we've always loved and pairing salty chips and dip with an occasional bite of the chocolate covered cashews was fabulous. Seriously, it was hard to stop popping these these chocolate nuggets in our mouths because they're way to easy to eat. That's the downfall of having a quick and easy dessert option on the table. Good sweet treats that's easy to eat combined with a gathering of good friends: that's a party worth repeating more often.
We're also obsessed with their Milk Chocolate Toasted Coconut Clusters and Dark Chocolate Blueberry. The coconut flavor really comes through and the dried blueberries covered in dark chocolate were outstanding! These are special flavors so make sure you grab a few bags before everyone else grabs them first.
Where to find all these Ghirardelli Chocolate treats? You can find them at Target, Walmart, CVS and other major grocery store chains, but the Sea Salt Almond is only sold at Target and Ahold for now.
Enjoy!
todd and diane
This is a chocolate-obsessed sponsored post and all our opinions are our own. We're sharing this because we love chocolate way too much to keep it all to ourselves. Seriously, go find yourself a bag and you'll know why we share what we love so much!
We are a participant in the Amazon Services LLC Associates Program, an affiliate advertising program designed to provide a means for us to earn fees by linking to Amazon.com and affiliated sites.