Roasted Cherry Tomato and Sweet Onion Dip- The Hot Mess
You're lookin' a hot mess or what we call our roast tomato sweet onion dip. And we're not talking about emotional issues or drama. We're throwing it all out there for you all to see, straight from the oven and ready to be devoured. This cheese dip is the epitome of a hot mess, but it's so freaking good, you'll be glad that we didn't make time to clean it up.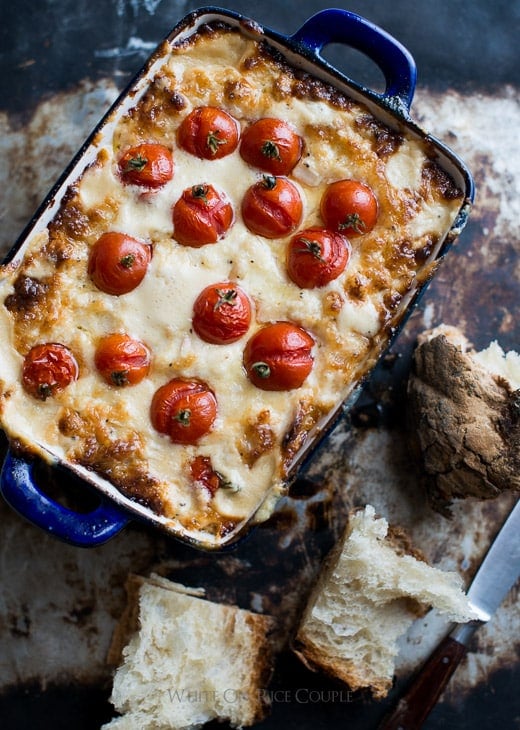 Roast Tomato Onion Dip
It was so hard to not face-plant into this dip when it was bubbly, drippy, hot and messy from the oven. Probably the realization that we'd burn ourselves is what kept us civilized. When it comes to cheese dips, our friends are like beasts and un-tamed hungry animals waiting to lick every smear of our sweet onion dip.
Our sweet onion dip, aka "Crack-dip", has made it's round quite a bit online. We first shared this recipe in 2008 but finally gave it a hero's welcome in our Bountiful cookbook and re-shared the recipe again last year on this blog post. Since then, it was given new life and enjoyed again on party tables across America.
Video of our scrumptious roast tomato sweet onion dip:
Thanks all for making us so proud. This sweet onion dip is our little baby and it's so great to know that for many of you, it's like cheese-crack.
Now are you ready for the latest version? We added fresh cherry tomatoes on top! It's was a totally random idea because our garden is giving off some seriously beautiful cherry tomatoes.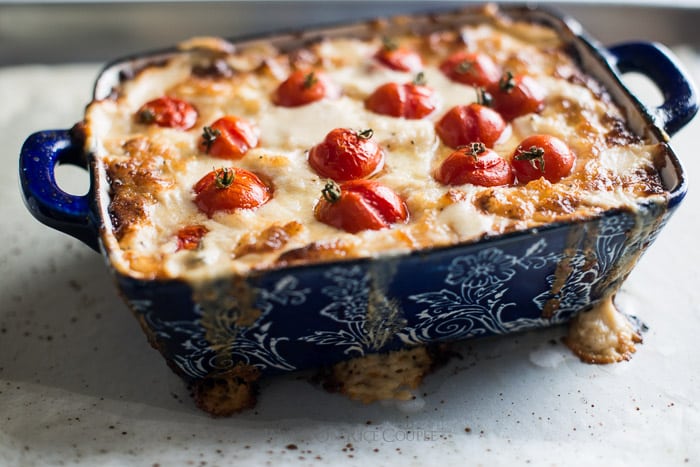 Our favorite way to eat the crack dip is to spread some of this cheesy-goodness on some fresh bread and top it with a slice of fresh heirloom tomato. The tomato is a nice balance to the rich dip and it's a match made in heaven.
So we thought it would be nice to have some roasted cherry tomatoes to eat with the dip and rather than roast them separately, we just plopped them on the dip and baked it all together. What resulted was a hot mess of delicious roasted tomatoes on top of the perfectly brown-crusted sweet onion dip.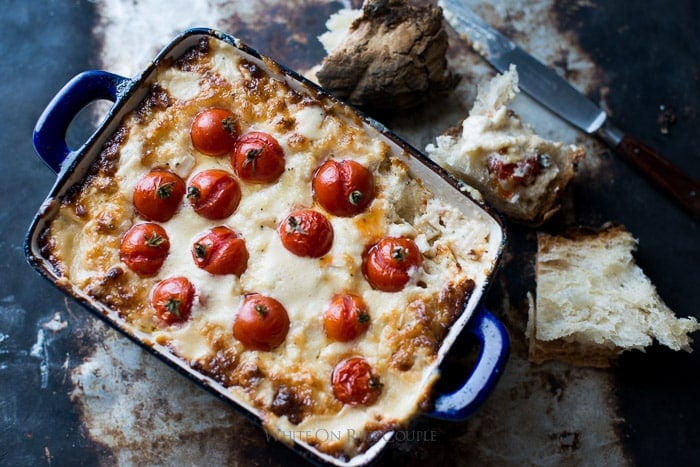 It's to die for and you can bet this hot mess will make an appearance at every single gathering we have this Summer, or at least until we run out of cherry tomatoes.
Hey, maybe we'll re-name this dip to "The Hot Mess" and if we were to couple it with the "Crack Dip", it could be the "Hot Mess Crack Dip". Yeah? Ok. Let's dive in.
enjoy,
diane and todd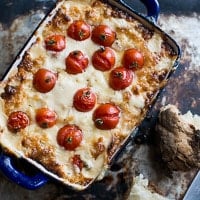 Roasted Cherry Tomato and Sweet Onion Cheese Dip Recipe
Ingredients
8 ounces (225g) cherry tomatoes , depending on baking dish you use & how many tomatoes you need to cover the dip
8 ounces (225-g) cream cheese (at room temperature)
1 cup (100g) freshly grated Parmesan
1 cup (240ml) mayo (preferably Best Foods brand)
1 medium sweet onion , diced (about 1 and 1/2 cups)
2 teaspoons freshly cracked black pepper
Instructions
Preheat the oven to 350°F (175°C).

In a bowl, mix together the cream cheese, mayonnaise, Parmesan, onion, and black pepper and until everything is thoroughly combined.

Spread the cheese mixture into a 6-inch (15-cm) baking dish or any oven-safe dish. Lay cherry tomatoes across the dip.

Bake for about 50 minutes to one hour, until the tomatoes are roasted and the cheese is bubbly hot and brown. We like to bake it further to get a really brown crust on the dip.

Serve with your favorite crackers, crusty bread or crunchy vegetables such as radishes, jicama, carrots, and celery. To make it gluten free or paleo, don't serve it with bread. Instead, just serve it with the crunchy vegetables or gluten free bread.
Nutrition Information
Calories: 481kcal, Carbohydrates: 9g, Protein: 10g, Fat: 46g, Saturated Fat: 15g, Trans Fat: 1g, Cholesterol: 72mg, Sodium: 622mg, Potassium: 237mg, Fiber: 1g, Sugar: 6g, Vitamin A: 865IU, Vitamin C: 11mg, Calcium: 243mg, Iron: 1mg
We are a participant in the Amazon Services LLC Associates Program, an affiliate advertising program designed to provide a means for us to earn fees by linking to Amazon.com and affiliated sites.