Hot Chorizo Cream Cheese Dip – A recipe inspired by my little brother
This chorizo cheese dip is not, flavorful and a perfect party dip or appetizer. Enjoy it with some friends, family for game day.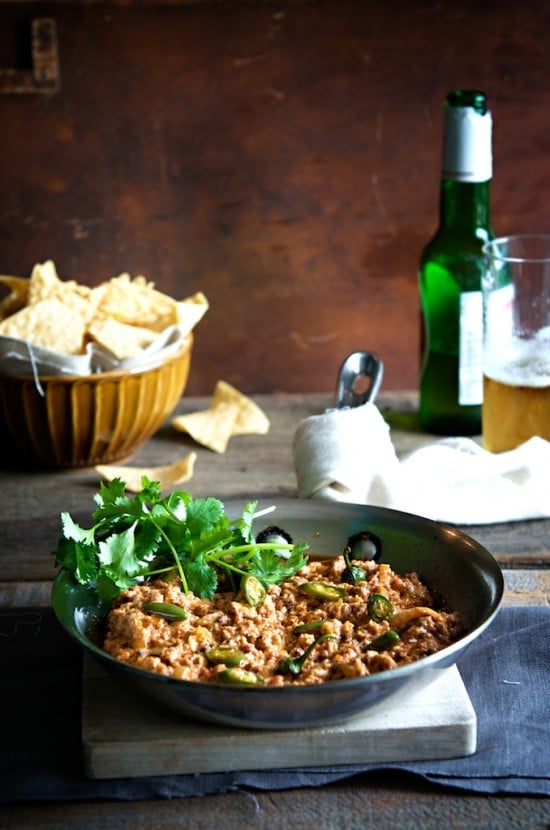 Chorizo Cheese Dip Recipe
My little brother is man of few words. Indeed, he's grown-up, a man who is only a few years my junior, but he'll always be a little brother to me.
Since childhood, his silence was often overlooked because with so many frolicking kids in one household, all the loud chatter and squabble over the one television was usually ignored. With 6 high energy kids between the ages of 5-16, my parents became selectively deaf to all our loud obsessions and disputes over the Atari game system. A household of 6 kids and two joysticks was never a quiet one.
Mom and Dad knew each of our strengths, weaknesses and tendencies to conjure up crafty excuses as to why we didn't finish our homework. Gosh, they're so smart. They know us so well. So my little brother's soft speech and gentile demeanor was of no surprise to them. The whole family and neighborhood friends accepted him as the "quiet kid" and we protected him with the armor of our sibling clan. No one dared tried to bully him in our hood.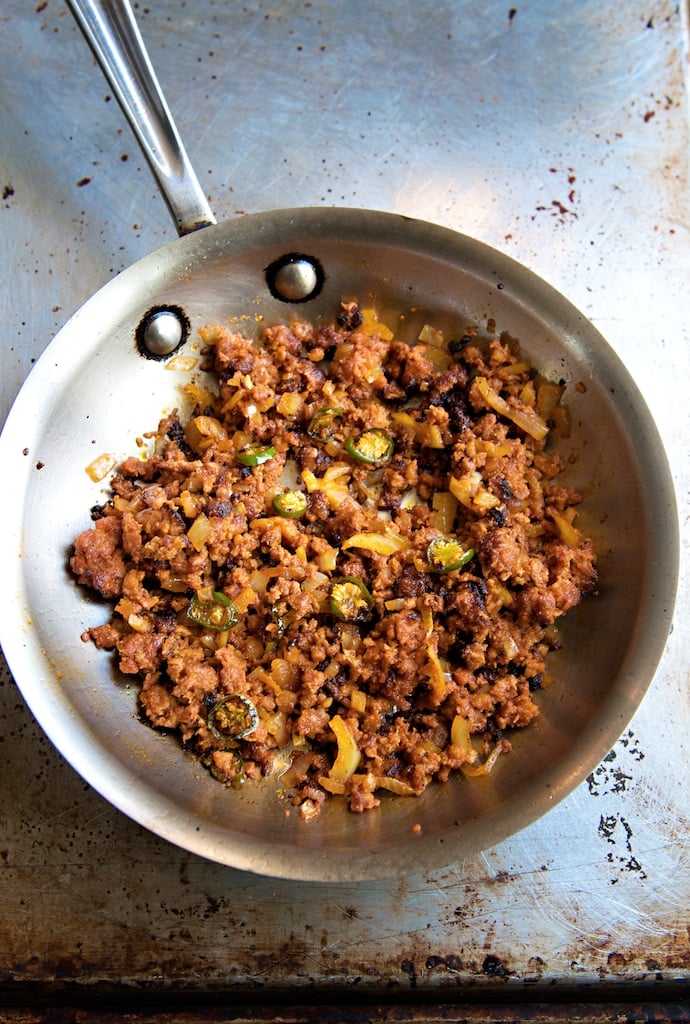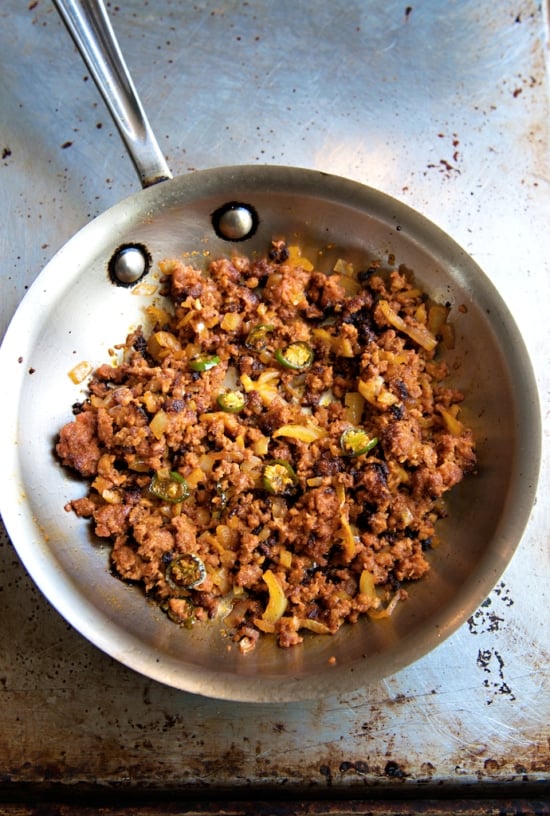 my brother's love for chorizo is boundless
It wasn't until middle school that school counselors found his silence to be too unusual, somewhat threatening and tried to label him as clinical. Despite his great grade point average, they "concluded" that he needed help, even possible medication. They eventually became the enemy. My family had to fight the school system and prove to them that he was a normal kid. The school administrators tried to intervene as ambassadors to better his mental health.He was just quiet. He wasn't a freak. To prove to the antagonists that he deserved to be in a normal school, he had to take a barrage of academic and mental health tests.
My parents told him to prove to everyone that he wasn't a mute nor a clinical case. The repercussions of him failing was to simply take away his Atari video game system. That was enough to pull him out of his shell.
Lo and behold, he went in there, chattered his way through the tests and passed with flying colors. Little Brother was able to keep his beloved Atari. It's amazing how kids make a 180 degree turnaround when they get threatened to have their toys taken away.
Till this day, he's still a quiet type; a tender, passionate, gentle soul who normally never sparks conversation with anyone he doesn't know. But when you bring up anything that has to do with video games, music, classical guitars, baseball, or fast cars, he'll speak more than just a few words. Little brother will give you an ear-full.
Recently, I found another subject that has sparked his interest and has him talking for minutes on end. It's his love of my sweet onion dip. He loves my sweet onion dip so much, that he actually adapted it and made it amazing. To have my little brother experiment with food has always been a miracle in itself, but to have him adapt a recipe of mine and make it his own was shocking to me.
Little Brother added chorizo to the sweet onion dip. He told me that. He talked with great excitement. He just couldn't stop talking his chorizo cheese dip version.
I sat and watched him rattle eloquently about how delicious the chorizo was. He talked my ear off on his onion browning techniques, the best timing for the cheese melt and how his dip became the hit at his last party. He made it obvious that his love for chorizo and melted cheese was boundless and eternal.
My little brother may be quiet, but like many of people I know, they only want to speak when there's a purpose. They're the flies on the wall, the attentive, observant ones who would much rather listen than speak. I don't find these folks threatening, but rather refreshing because it's nice to just be able to sit with someone you love and care about, in silence.
This hot chorizo dip recipe is dedicated to him and rightfully so.
-diane
This hot chorizo cheese dip recipe was originally published in 2010 and is a reader favorite. I've re-edited and updated the recipe to make it easier to read and clarified more of the steps. Thank you! Here's a roasted cherry tomato sweet onion dip and stove top artichoke dip you might enjoy.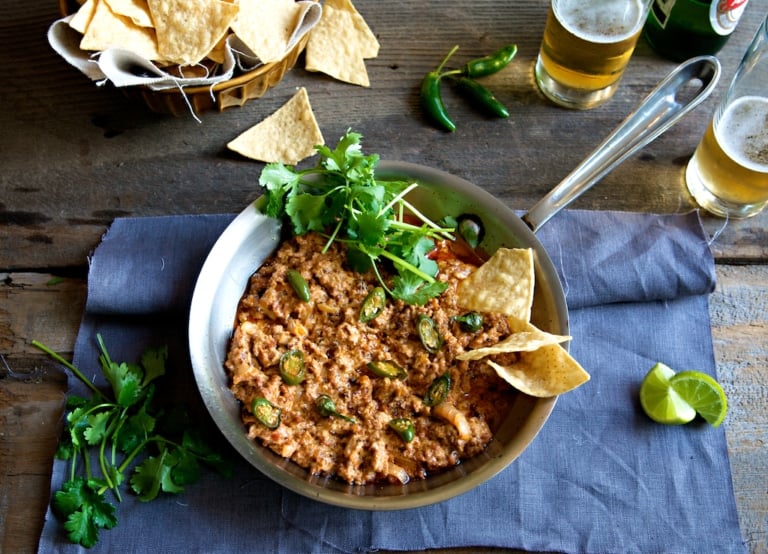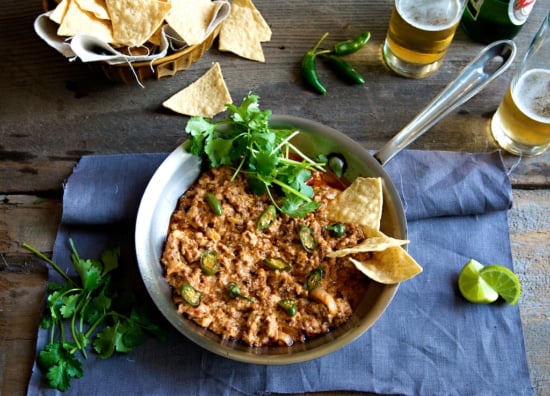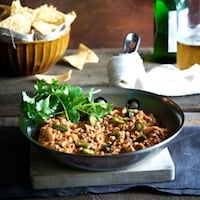 Hot Stove-Top Chorizo Cheese Dip Recipe
What is chorizo? Chorizo is a Spanish & Latin American style sausage. Chorizo is smoky and packed with flavorful spices. This cheesy cream cheese dip is out-of-this world wonderful! But this decadent dip is not for the light-hearted.Beans would also be another great addition to this recipe. Chorizo cheese and bean dip!
Ingredients
1 pound (455g) pork chorizo , most chorizo sold in packages come in 10-12 ounces. This amount will work fine too
1 tablespoon (30ml) vegetable oil (optional) , depending on the fat content of the chorizo. Leaner chorizo will need some oil coated on the pan, fattier chorizo will release plenty of fat for this dip.
1 cup (240ml) minced onion (about 1 small onion)
1 cup (240ml) mayo
8 ounces (227g) cream cheese
1/2 cup (120ml) freshly grated parmesan cheese
fresh jalapeno or serrano chili peppers , sliced (optional)
fresh chopped cilantro (optional)
Instructions
In large skillet, heat oil (if needed). Remove chorizo from casing and break-up into the pan. Cook for about 1 minute until fat is released. Add minced onion and chili peppers. Gently stir and cook for about 5 minutes or until chorizo and onions are cooked.

Add mayo, cream cheese and freshly grated parmesan cheese. Continue cooking until all the cheese is melted and mixed well into the chorizo.

If there is excess fat grease, soak up with paper towels (but you can leave the excess fat if desired because the fat is what makes it good!). Top with fresh chopped cilantro or cilantro sprigs.Serve with crunchy tortilla chips. And add a ice cold beer to complete the meal!
Nutrition Information per Serving
Calories: 499kcal, Carbohydrates: 3g, Protein: 14g, Fat: 47g, Saturated Fat: 16g, Trans Fat: 1g, Cholesterol: 84mg, Sodium: 1044mg, Potassium: 82mg, Fiber: 1g, Sugar: 2g, Vitamin A: 656IU, Vitamin C: 1mg, Calcium: 104mg, Iron: 1mg
We are a participant in the Amazon Services LLC Associates Program, an affiliate advertising program designed to provide a means for us to earn fees by linking to Amazon.com and affiliated sites.