Baked Brie Dip w/ Sun-dried Tomatoes & Thyme
Our popular baked brie dip recipe has been a staple for so many parties and gatherings over the years. Since 2008 during it's first publication, we've tested several other methods. There's an update now with our newest method that's just as delicious and easy.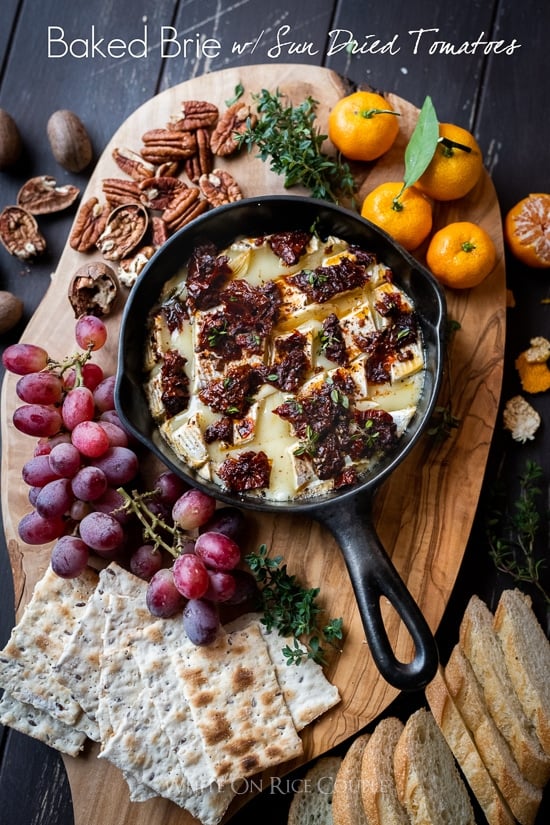 Warm. Cheesy. Flavorful. Dip. On. Bread. Need we say more? This brie dip recipe post just needs to be short and simple. Call it cheating, we don't care. It's almost like a mathematical equation that doesn't need further explanation:
melted brie + tangy, sun dried tomatoes + aromatic garlic + fragrant thyme + heat + bread = Fabulous!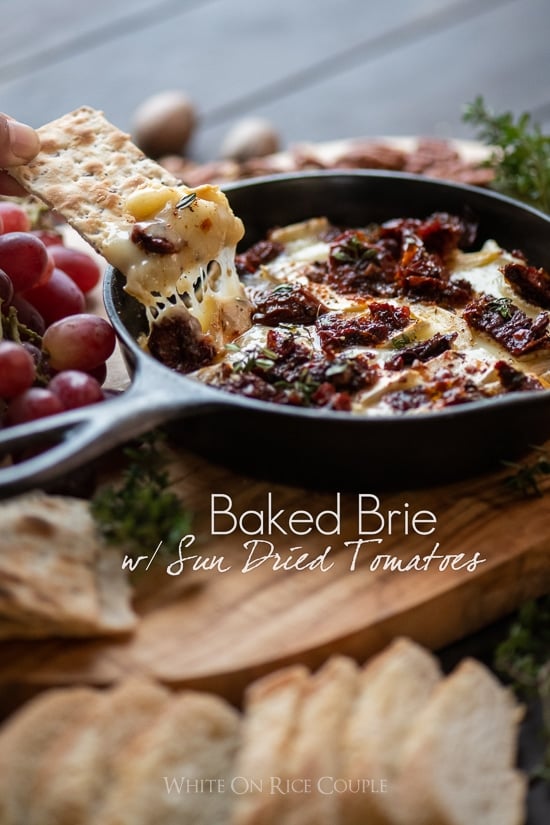 Video: Baked Brie Dip Recipe with Sun Dried Tomatoes: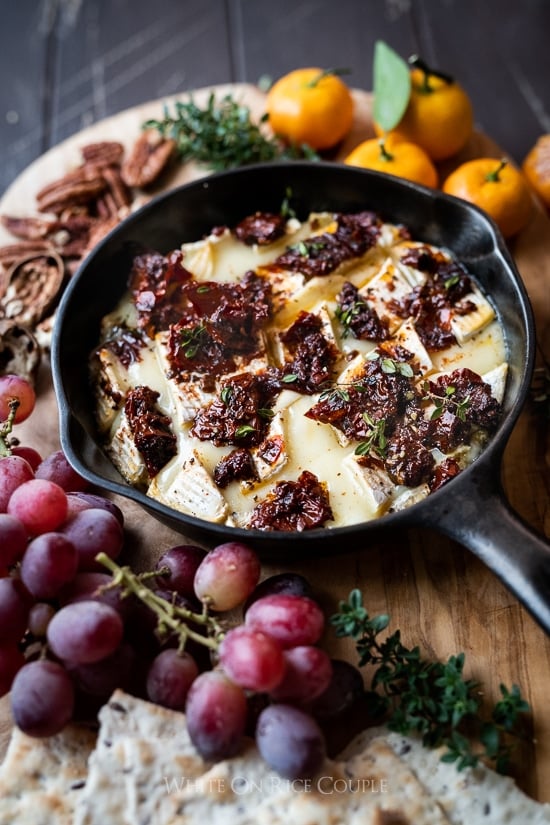 It's holiday party season for us and that means indulging in some really good stuff: Cheesy dips. Tis the season to indulge in all the cheese dip and bread that you can eat because SANTA says it's OK. We're good kids and listen to Santa. So there it is kids, the math says it all. Words don't need to describe how good and fast this baked brie dip is. We're ending this post here so that we can spend more time getting back to making this dip recipe and sharing with everyone at your table.
Enjoy your celebration!
-diane and todd
How To Make Easy Baked Brie Recipe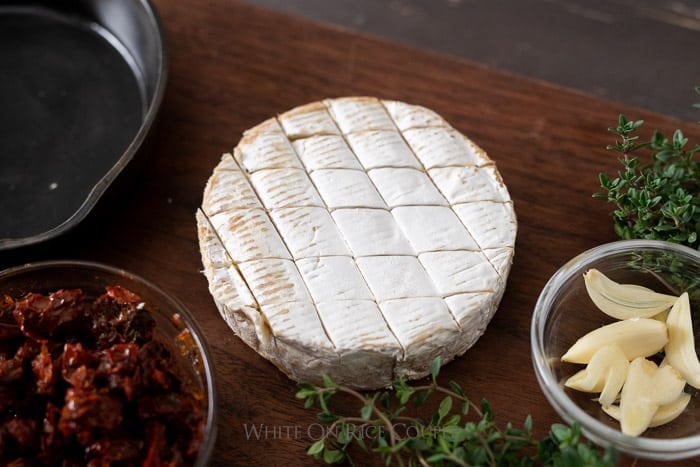 Score the top of the brie round, then insert sliced garlic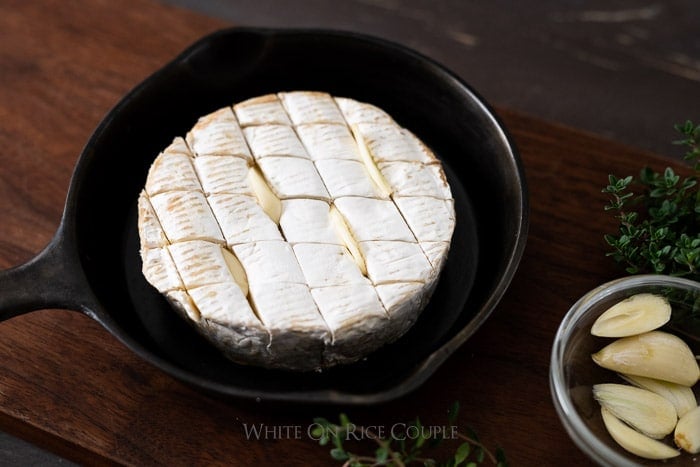 Add chopped sun dried tomatoes in oil, fresh thyme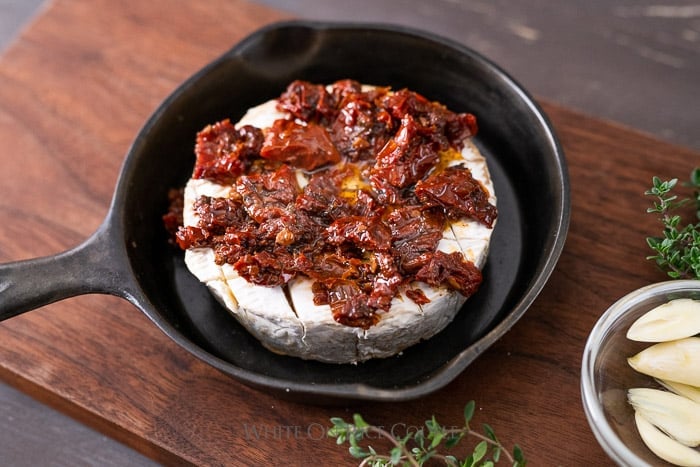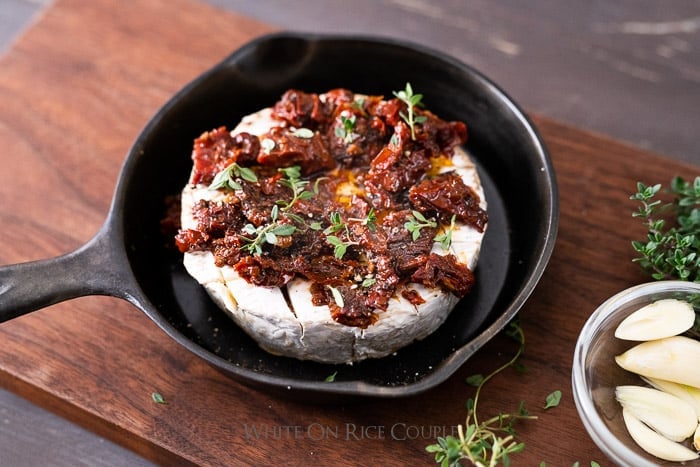 Bake and Celebrate. Enjoy!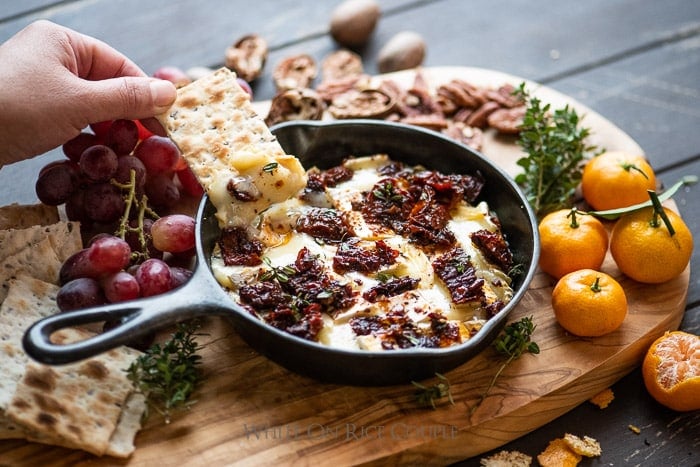 Our original 2008 Baked Brie method: Cube Brie and mix with sun dried tomatoes, garlic, thyme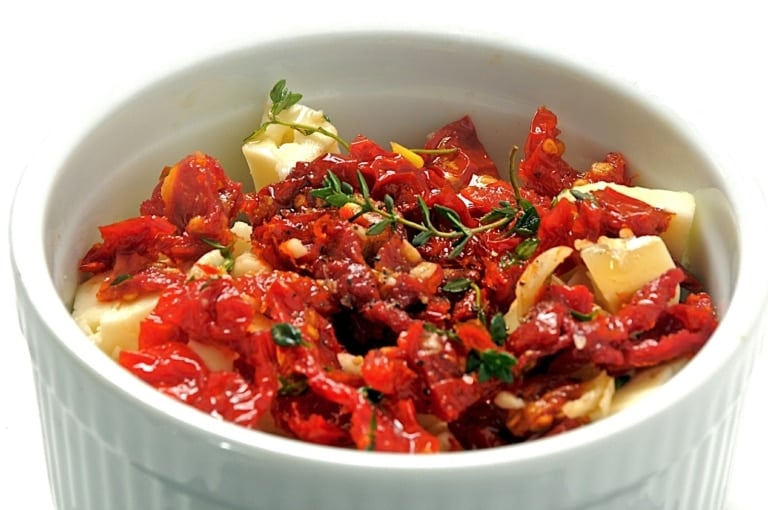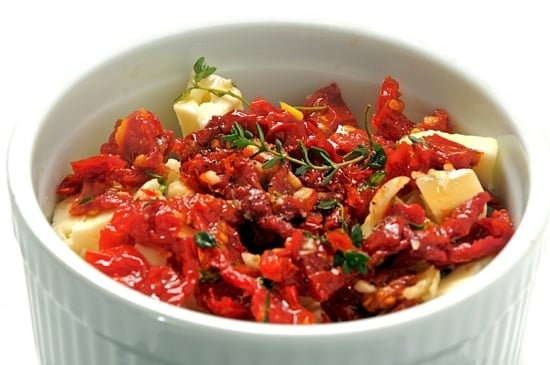 Fantastic Baked Brie for Parties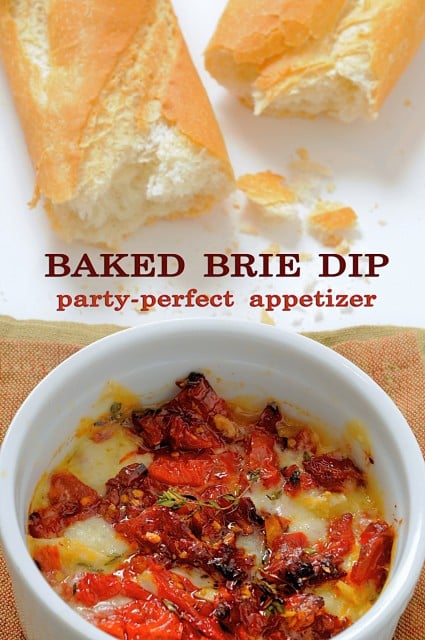 Our baked brie recipe was originally published in 2008 and re-published ten years later, in 2020 with new video, photos and technique! Hope you enjoy this recipe as much as we do. And if you made it, please share in the comments below. Thank you!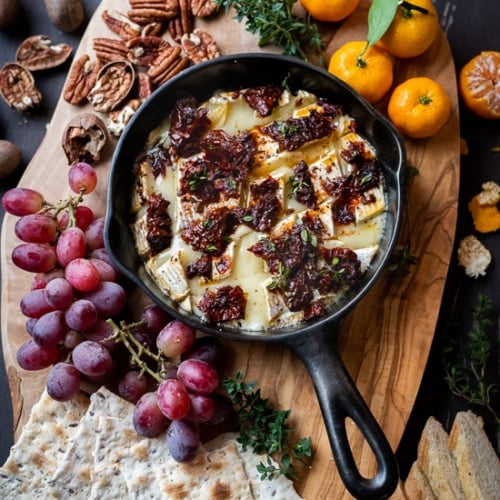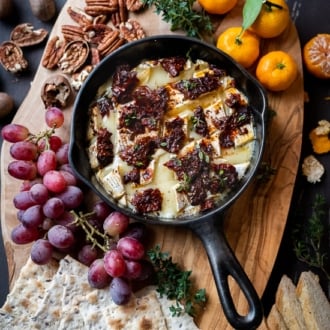 Baked Brie Recipe
Try to find an oven safe dish which just a bit bigger than your wheel of brie. Small cast iron pan and larger baking ramekins are usually perfect.
Ingredients
1 Round of Brie (8-12oz 227-340g)
4 ounces sun-dried tomatoes packed in oil, drained & chopped (@ 1/4 cup)
2 cloves garlic , sliced thin
1/2 teaspoon fresh thyme leaves or dried thyme
fresh cracked black pepper
* Crackers, bread, nuts and/or fruit , for serving
Instructions
Pre-heat oven to 375°F (190°C).

Score top of the brie about 1/2" deep in criss cross cuts. Place brie in small oven safe baking dish.

Insert garlic slices between the cuts in the brie. Spread sun dried tomatoes on top of brie. Sprinkle brie with thyme leaves and fresh cracked black pepper.

Bake for about 10-15 minutes, or until brie is melted. Serve baked brie warm with crackers, bread, nuts and/or fruit.
Notes
Our Original 2008 Baked Brie
The method was a little different. Still delicious. Here's the old version for those who prefer it (use minced garlic instead of the slices in the above version):
Preheat oven to 375°F (190°C).

Remove rind from Brie, then cut into cubes. In bowl, combine brie, sun dried tomatoes, garlic, thyme, fresh cracked black pepper. Pour mixture into to oven safe baking dish.

Bake for about 10-15 minutes, or until the brie completely melts and becomes bubbly. Serve warm, with bread or crackers
Nutrition Information per Serving
Calories: 177kcal, Carbohydrates: 11g, Protein: 11g, Fat: 11g, Saturated Fat: 7g, Cholesterol: 38mg, Sodium: 285mg, Potassium: 705mg, Fiber: 2g, Sugar: 7g, Vitamin A: 389IU, Vitamin C: 8mg, Calcium: 92mg, Iron: 2mg
We are a participant in the Amazon Services LLC Associates Program, an affiliate advertising program designed to provide a means for us to earn fees by linking to Amazon.com and affiliated sites.