Happy Birthday Lemon Bundt Cake Recipe for Bountiful Cookbook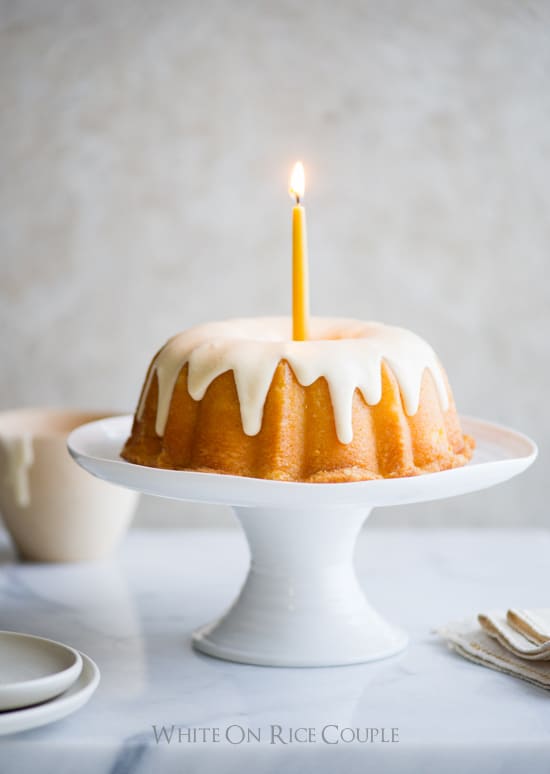 We're celebrating a birthday today! Our cookbook, Bountiful, is finally released and we can give a big exhale to the last year and a half of writing, photographing, recipe developing and eating-till-we-drop.
In the cookbook, we actually don't have any cake recipes, however for this occasion, we made cake.  A lemon bundt cake for Bountiful, our 3.7 pounds and  10.6 x 8.5 x 1.3  inch baby.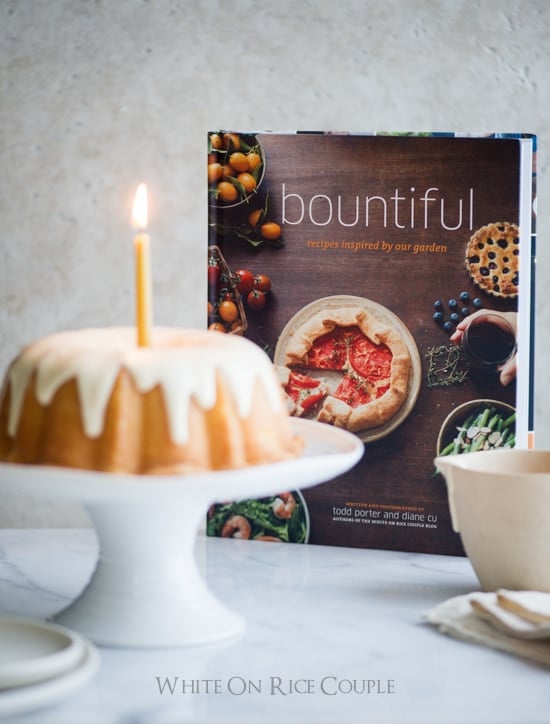 We learned so much over this process of cookbook-making. First off: don't try to eat everything you make because you'll quickly feel how tight your pants will get. Find some neighbors to pass the goodies to. Make friends with your mail man. What ever you do, find good-eaters. They are as important as your recipe testers. Secondly, regardless of what topic you're writing about, try to incorporate a cocktail recipe in there, some how. Trust us, after hours editing the manuscript, recipe details, conversations and photo editing, you'll NEED that evening inebriation.
So do we have cocktail recipes in Bountiful too? Of course we do. Seven, to be exact.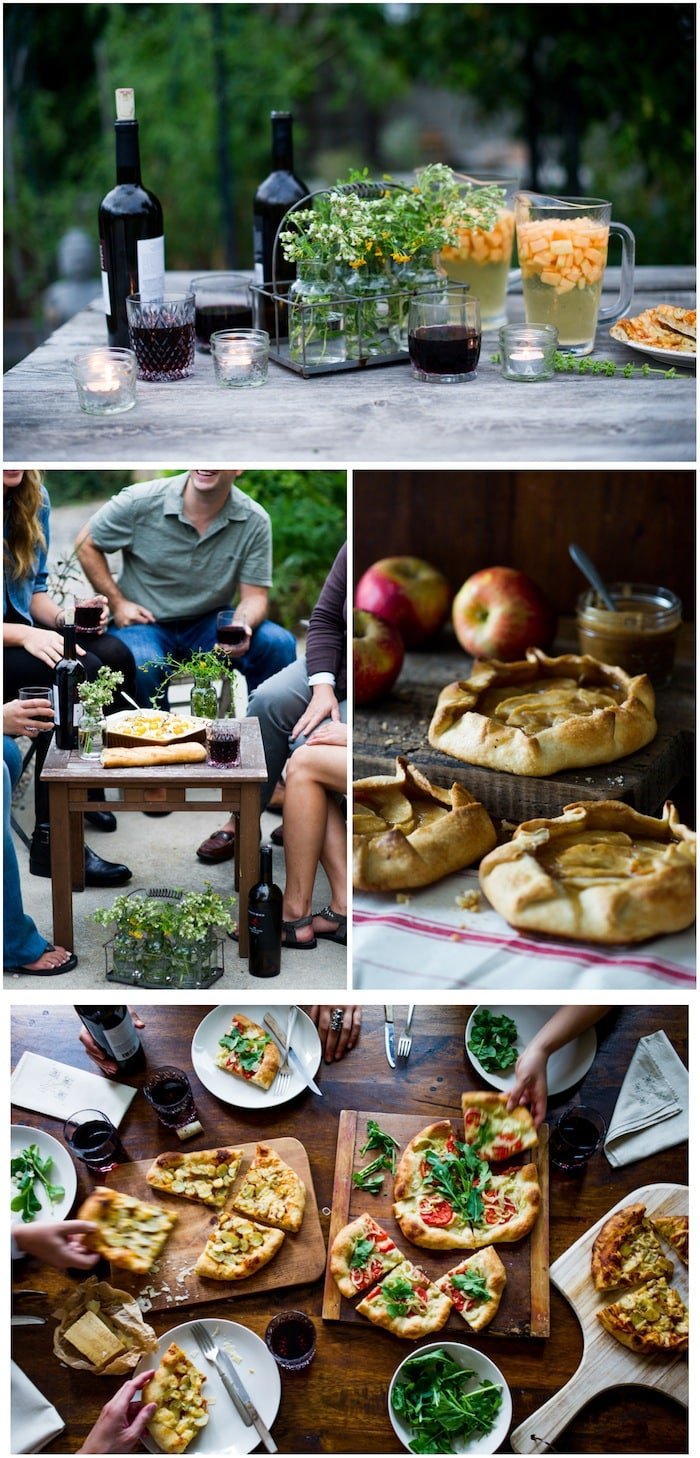 Now the next stage starts: meeting all of you who we kinda-know-but-really-don't. How odd it is to tell our parents that we'll be traveling the country to meet our friends that we've never met before. This is the internet life, no doubt.  It'll be fun to finally meet up with all of you who have supported us through the years on the blog.
If you're free, stop by one of our signings and give us a hug. We want to see your purty faces.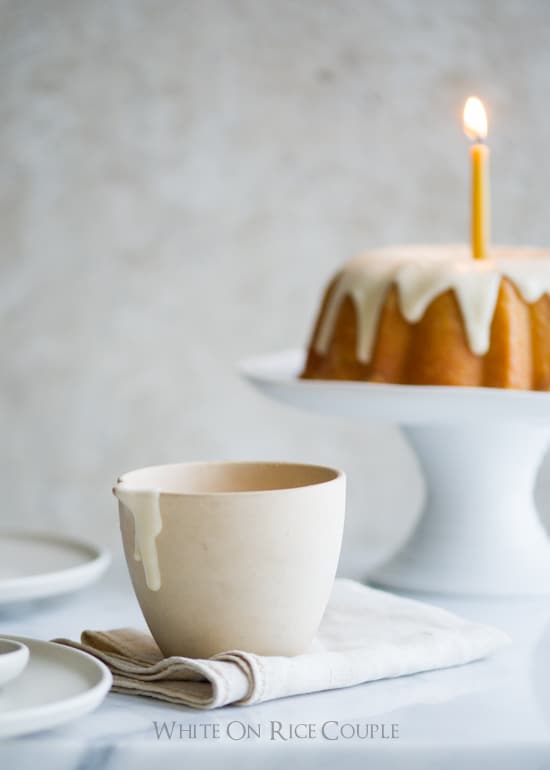 Every single one of you have a special place in our lives. This blog wouldn't be as rewarding without you. And the book? Bountiful? We'll we wouldn't have had the inspiration to make it without your support and encouragement.
Thank you a million times for making our lives so incredibly inspired and fulfilling.
You all mean so much to us. And in the meantime, here's a slice of a wonderful and tender bundt cake for you all.
Happy Day!
Todd, Diane, Sierra and Lexi
Where to buy the book online? Here's also a list of some great independent bookstores in areas we've visited. Please support them!
Amazon
Indiebound
Book Larder, Seattle
Book Soup and Vromans, Los Angeles
Kings English, Salt Lake City, Utah
Powells Books, Portland, Oregon
Barnes and Nobles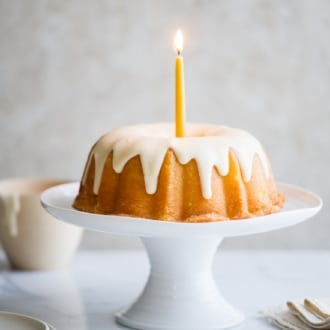 Insanely Moist Lemon Bundt Cake with Lemon Icing
This is not a recipe from our cookbook, we didn't have any in
Bountiful
. However the occasion needed a cake and this is an insanely moist and tender bundt cake. Easily the best we've ever eaten, let alone made. Because of its moistness, the batter doesn't work well in a regular pan, the center will fall in, however in a bundt form it is perfect. It also works great to divide between a couple smaller 6-cup bundt forms instead of the larger 12-cup bundt form. Just reduce the baking time as needed for the smaller forms.
Cooking times will vary quite a bit depending on the shape and material of the bundt pans, so make sure to check the cake with toothpicks to see if it is cooked through. Better to slightly overcook than to undercook if you aren't sure. The glaze helps seal in the moisture and gives the bundt a nice lemon punch. The icing is a nice decorative finish plus it also gives an added lemon brightness. Make sure to serve the cake at room temperature. Nearly an cold cake will seem stale or drier than it actually is.
Ingredients
cake ingredients
3 cups flour
1 teaspoon baking powder
1 teaspoon kosher salt or sea salt
1 cup unsalted butter , (2 sticks) softened
2.5 cups sugar
1/2 cup canola oil
zest from 3-4 large lemons
1/4 cup fresh lemon juice
1 tablespoon vanilla extract
5 eggs
lemon glaze ingredients
1/3 cup fresh lemon juice
1/2 cup sugar
lemon icing ingredients
1 cup powdered sugar
1 tablespoon lemon juice , or as needed
Directions
Make Lemon Cake:
Preheat the oven to 350°F (175°C).

In a bowl, whisk or sift together the flour, baking powder, and salt until well combined. Set aside.

In an another bowl, cream together the butter and sugar until light and fluffy, about 3 minutes if by stand mixer.

Beat in the oil, lemon zest, lemon juice, and vanilla extract. On the lowest speed, gradually beat in the eggs until just incorporated. Mix in the flour mixture, until just combined.

Coat a 12-cup bundt pan or two 6-cup bundt pans with cooking spray.

Pour the batter into the prepared bundt pan. Firmly tap the pan against the countertop to knock out any bubbles.

Bake on the middle oven rack for 50-70 minutes for a 12-cup bundt pan (45-65 minutes for two 6-cup bundt pans), or until a toothpick comes out clean near the center. Allow to cool for 10 minutes, then loosen the cake by tapping it against the counter. Invert the cake onto a serving platter.
Make the Lemon Glaze:
Stir together lemon glaze ingredients (lemon juice & sugar - if needed, heat them briefly to help dissolve the sugar). Brush on the hot cake until all of the glaze is absorbed (you may not end up using all of the glaze). After it has cooled, if serving within a day or two continue to final step, or if serving later in the week, wrap in plastic wrap and refrigerate until ready to serve (keeps 4-5 days wrapped in the fridge).
Make Lemon Icing & Serve:
On the day you are ready to serve (or the night before), take the bundt out of the fridge to come up to room temperature. In a bowl, whisk together the icing ingredients (powdered sugar & lemon juice), adjusting the lemon juice amount to make the icing fairly thick but pourable, however not too runny. If the icing is close to the thickness you want, but still a touch too thick to pour, warm it slightly and it will become more fluid until it cools off (perfect for icing the bundt cake). Drizzle the icing over the top of the bundt cake and serve when the icing sets.
Recipe Notes
Whipped Cream Note: In a previous version of this recipe, we had a 1/2 cup of heavy cream, whipped and then folded into the batter. After several taste tests, we found eliminating the heavy cream from the recipe had a super minimal affect on the texture and flavor. So we've removed that step from the recipe to make it more efficient and remove some of the calories. If you love the older version, feel free to add it back into the batter as the last step before putting the batter into the prepared bundt pan(s). 
Did you make this recipe?
Let us know what you think!
Leave a Comment or share a photo on Instagram with the hashtag #whiteonricecouple.
We are a participant in the Amazon Services LLC Associates Program, an affiliate advertising program designed to provide a means for us to earn fees by linking to Amazon.com and affiliated sites.