Video: Colorado Gold & Apple Cider Waffles
Apple Cider Waffles Recipe
Can't believe it's been about three years since we've gone apple picking. Normally every October we venture up to the San Ynez Valley to make a day of gigantic-pumpkin searching and apple picking. And when we say gigantic, we really do mean the really huge pumpkins that you can use as a seating stool for two. Yup, we used to like our pumpkins big and our October apples fresh and super crunchy.
But life got the best of us and our yearly tradition of apple picking disappeared until a fee weeks ago. Not only did we pick our bags of apples again, but we also picked beautiful pears and crunched on local Colorado apples with our friend Jen Yu at Use Real Butter.
We made the most of our Colorado vacation with a fly fishing trip with family, then road tripped down to crusted butte to visit Jen, Jeremy and Kaweah. We love those three. They're great people. And Kaweah? She's our favorite mountain dog, ever.
Visit Jen and Jeremy for two days meant having to adjust to high altitude living. This means being winded every time we hike up their stairs. Gosh, we must be out of shape. Luckily we had a few days to acclimate before Jen took us on morning hikes where the Fall scenery was breathtaking.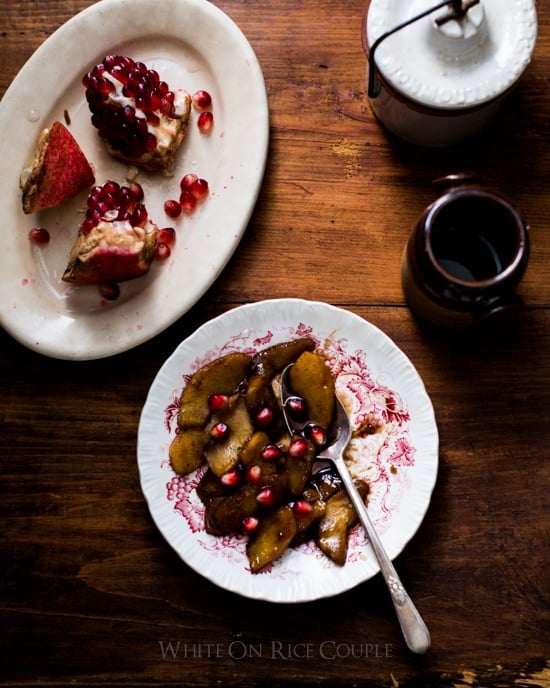 Breathtaking. We mean it literally cause our jaws kept dropping at the gorgeous mountain scenery and gasping for air at the same time while we gained every 100 feet of elevation. And we loved every single minute of it!
We caught the first changing of the fall colors. It was glorious. So glorious that we tried our best to capture those gold-aspen-moments when the leaves we're signing and swaying in the wind.
It was magical. Hopefully this video will convey a fraction of the beauty that we experienced:

Aside from the beauty that Jen and Jeremy shared with us, they fed us extremely well too. It's hard not to love these two, their hospitality and food.
On our last morning Jen made is an incredible power breakfast: homemade apple cider pancakes with all the trimmings. It was like thanksgiving, but with pancakes and bacon. It was a special meal with those we love.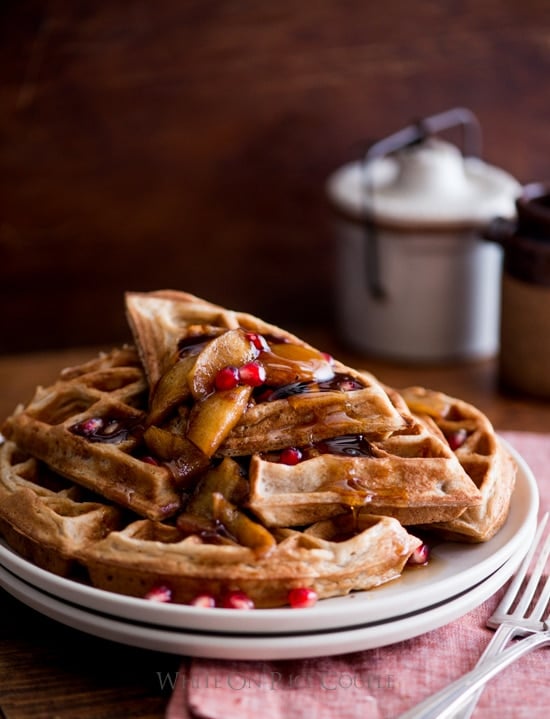 To relive that amazing breakfast we adopted her recipe (that she adapted from Rachael) and made waffles out of it. Our apple cider waffles breakfast was still great, though we still miss their company and seeing Colorado mountains out the window. Till next year!
Happy Fall,
diane and todd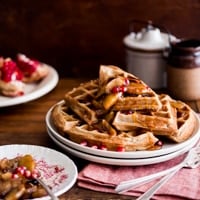 Apple Cider Waffles
Adapted from Jen at UseRealButter.com's Apple Cider Pancakes she made for us while we were visiting. You can always skip the step of separating the eggs and whisking the whites to a soft peak if you are pressed for time. Just beat the whole eggs into the buttermilk milk mixture, however if you have time, the whisked whites give the waffles a nice texture. If you want to go over the top, you can reduce down a larger amount of cider and use 3/4 cup of apple cider reduction in this recipe for an extra apple punch.
Ingredients
2 cups (250 g) flour
2 tablespoons (30 ml) sugar
1 teaspoon (5 ml) ground cinnamon
1 teaspoon (5 ml) baking powder
1/2 teaspoon (2.5 ml) baking soda
1 teaspoon (5 ml) kosher salt
2 (2 ) eggs , separated
1 cup (240 ml) buttermilk *see note 1
1/4 cup (57 g) unsalted butter , melted
3/4 cup (180 ml) apple cider
Instructions
In a bowl, whisk together the flour, sugar, cinnamon, baking powder, baking soda, and salt for at least 20 seconds. Set aside.

In another bowl, whisk the egg whites to soft peaks. Set aside.

In another bowl, beat together the egg yolks, buttermilk, melted butter, and apple cider until well combined. Stir in the flour mixture. Fold in the whisked egg whites.

Heat the waffle iron, spray or brush with oil or butter, and cook according to manufacturers instructions until golden. Serve with berries, butter, maple syrup, apple cider reduction, whipped cream, or whatever else you prefer.
Notes
note 1:
To make a buttermilk substitute, for every cup of milk add one tablespoon of lemon juice. Stir and set aside for 5 minutes. Use as directed in recipe.
Nutrition Information
Calories: 444kcal, Carbohydrates: 63g, Protein: 11g, Fat: 16g, Saturated Fat: 9g, Trans Fat: 1g, Cholesterol: 119mg, Sodium: 818mg, Potassium: 330mg, Fiber: 2g, Sugar: 13g, Vitamin A: 574IU, Vitamin C: 1mg, Calcium: 146mg, Iron: 3mg
We are a participant in the Amazon Services LLC Associates Program, an affiliate advertising program designed to provide a means for us to earn fees by linking to Amazon.com and affiliated sites.